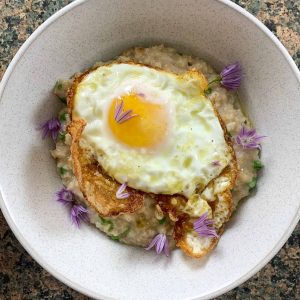 3 Savoury Porridge Ideas
This is my basic quick oats recipe and 3 ideas for savoury porridge combinations to play around with. I encourage you to get creative and use up what's in your fridge, what's in season, and what you feel like eating!
1 1/3

cups

quick oats (120 grams)

2 2/3

cups

liquid (640 ml)

3/4

teaspoon

salt
Savoury Toppings Version 1
Savoury Toppings Version 2
1

cup

cooked porridge

1

teaspoon

everything bagel seasoning

2

teaspoons

nutritional yeast

1

teaspoon

chili oil or hot sauce of your choice
Savoury Toppings Version 3
1

cup

cooked porridge

1

teaspoon

vegetable oil

1

clove

garlic, minced, crushed, or grated

1

handful

cooking greens

1

teaspoon

soy sauce

1

teaspoon

toasted sesame oil

1

teaspoon

toasted sesame seeds
For the Porridge
Combine the oats, liquid, and salt in a pot and bring to a boil.

Reduce the heat to medium and simmer for 2-3 minutes, stirring occasionally until the porridge reaches the desired consistency.
For Savoury Porridge Version 1
Stir the parmesan cheese into the cooked porridge and adjust the consistency with water, stock, or milk as desired.

Top with the egg and sprinkle with chopped chives.
For Savoury Porridge Version 2
For Savoury Porridge Version 3
Heat the vegetable oil in a small frying pan over medium-high heat.

Add the greens and the garlic and sauté until the greens are wilted slightly.

Add the sesame oil and soy sauce to the pan and stir to combine.

Add the saucy greens to your porridge bowl and top with toasted sesame seeds.
Everything Bagel seasoning is available to purchase in certain grocery stores, but you can also make it yourself by combining sesame seeds, poppyseeds, and dehydrated garlic and onion.
By "cooking greens" I mean any leafy greens that you would like to eat cooked. Things like spinach, Swiss chard, bok choy, and kale are perfect here.