Don't you just love knowing that there are people all over the world enjoying certain food and drinks that other people in the world have never even heard of? It's becoming more and more rare (thanks internet) but I love stumbling across a new thing—especially when that thing is simple, inexpensive, and delicious. Kompot is one of those things.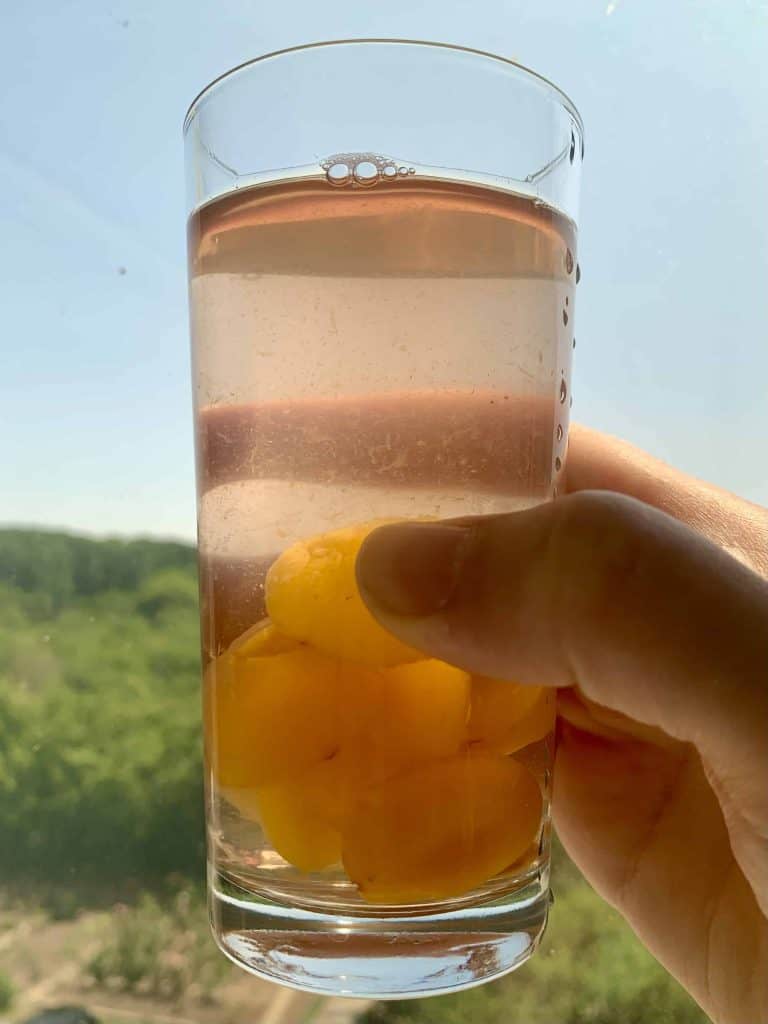 What is Kompot?
Kompot is a super refreshing fresh fruit drink made by bringing fruit and water to a boil, and allowing it to cool. Some recipes call for sugar, but I don't think it's necessary. It is sometimes referred to as 'homemade fruit juice,' but I think the word juice doesn't quite fit, because you really aren't juicing the fruit. What you're doing is more akin to brewing. So I'm calling it "fruit brew."
I've seen recipes for kompot made with various types of fruit, but it is most commonly made with stone fruit like plums, cherries, peaches, and apricots. I was introduced to kompot in Bulgaria, but this homemade fruit brew is popular all over Eastern Europe.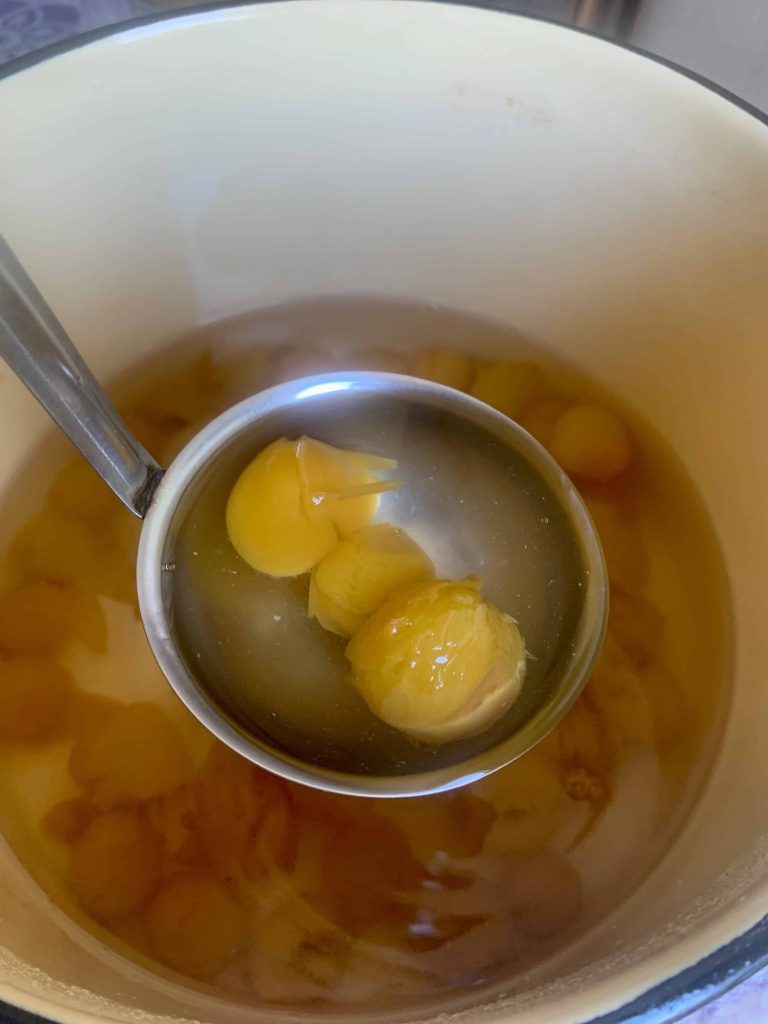 Ditch the juice, drink this instead!
We all know that drinking large volumes of fruit juice isn't a great idea, even if it's freshly squeezed (which, let's face it, it's usually not). I've never been a huge juice fan, but I also have a hard time drinking a lot of water because, well… it doesn't taste like anything. Kompot is the solution! It is such a great alternative to juice. It has wayyyy less sugar (especially when you don't add sugar), and it's super hydrating because it's mostly just water. It's bound to be a total hit for the kids and grown-ups in your life!
A perfect non-alc option!
In our booze-centric culture, at least where I live in North America, it's hard to find good options for non-alcoholic drinks! Most non-drinkers that I know struggle because in many cases, the only alternatives are juice, sugary sodas (AKA pop), or expensive non-alcoholic specialty drinks like kombucha. Kompot is perfect for these occasions because it's low sugar, low cost, and superbly delicious and refreshing. A lovely drink to offer at your next backyard BBQ or summer picnic!
What ingredients do you need?
Of all the things that don't need a recipe, kompot is definitely up there! You only need two ingredients to make it—fruit, and water. The basic ratio is one part fruit to four parts water. Some kompot recipes call for sugar, but if the fruit is sweet and ripe enough, you really don't need it. I'm amazed at how sweet the sugar-free version is.
Because all of the flavor in kompot comes from the fruit, it's important that you use ripe, sweet fruit. If you have access to fruit trees, this is a great way to use that fruit before it falls to the ground!
How to make kompot
Making kompot could not be more simple.
Wash your fruit, cut it into bite-sized pieces, and dump the fruit pieces into a large pot
Fill the pot with cold water
Bring the water and fruit to a boil, and allow it to boil for 5 minutes
Turn the heat off and allow it to cool to room temperature, then transfer it to the fridge to make it nice and cold.
Drink up! I like getting some of the fruit bits in each glass, but others might want it bit-free. (More bits for me!)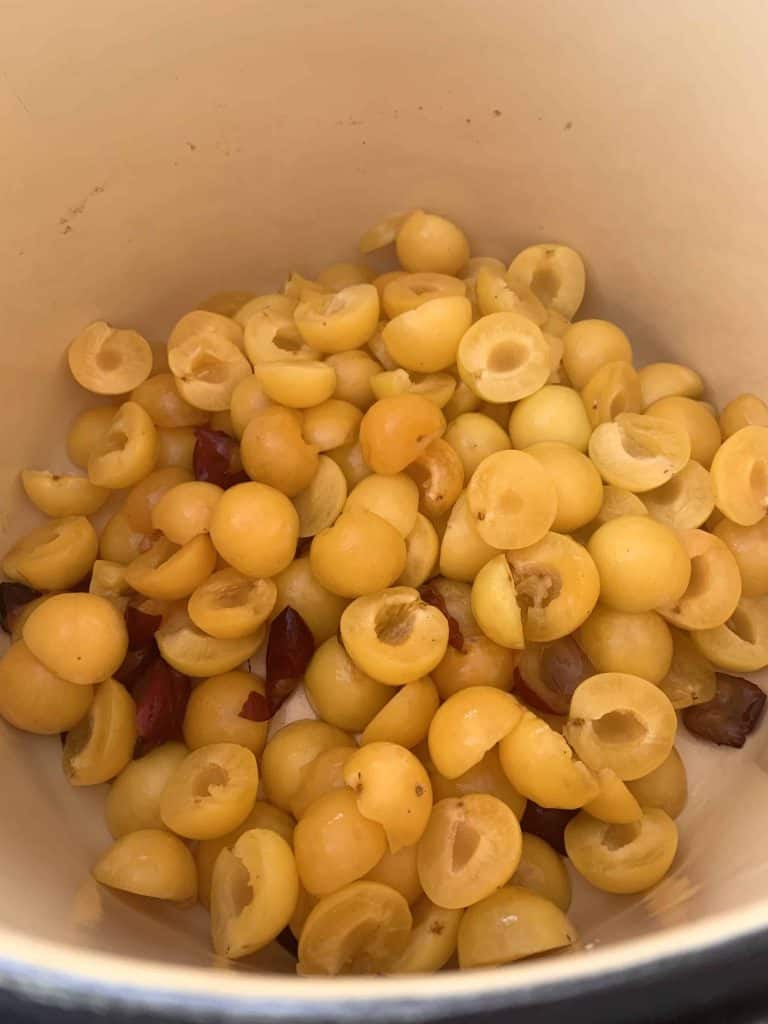 How long does kompot last?
Stored in the fridge, kompot lasts 2-3 days before it starts going a bit weird. I haven't tried freezing it but I'm sure it would work fine!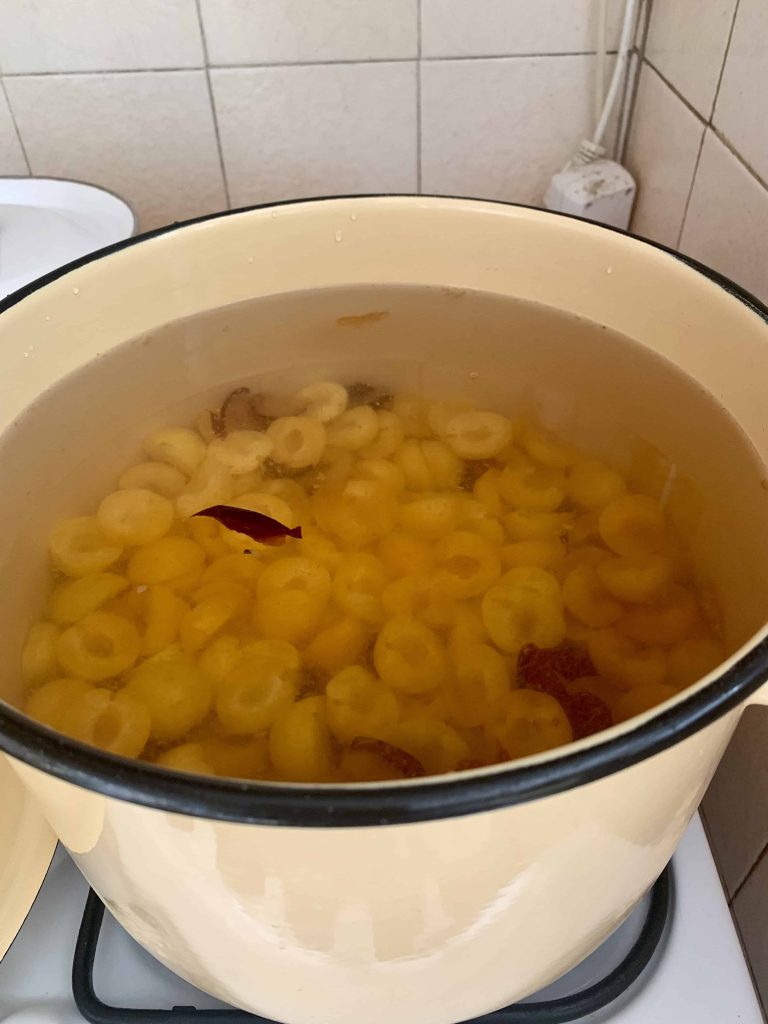 Frequently asked questions
Can you make kompot with frozen fruit?
Yes! Frozen fruit works really well for kompot. In fact, if you have frozen cherries or small plums, you don't even have to chop them up before you use them. The freezer will split the skins so the juice can transfer into the kompot on its own.
Can you make kompot with dried fruit?
Although cooking dried fruit in water would definitely pull some flavour out and make a sweet, drinkable liquid, I believe the best part of kompot is the fresh, summery flavour, and dried fruit wouldn't deliver that. It might be an interesting new invention though!
What fruit can you make kompot with?
Stone fruit like apricots, plums, and cherries seem to be the most common, but I've seen kompot recipes that use berries, apples, and pears as well.
Is it necessary to chop the fruit?
If you prefer larger pieces in your kompot (and you want to cut down on prep time), you don't need to chop the fruit at all. Especially if you are using small fruit like cherries or small plums. If you forego the chopping (or at least cutting the fruit in half), throw the fruit into the freezer for a couple of hours before making the kompot. The water in the fruit will expand in the freezer and the skins will split, allowing the juice to come out in the cooking process. *And if you go this route, remember to warn people that the fruit has pits! (Or strain out the fruit entirely).
If you enjoy slightly sweet, refreshing, flavourful drinks in the summer (and who doesn't?) you have to try this easy kompot recipe! It has become a staple in my kitchen and I hope you love it too.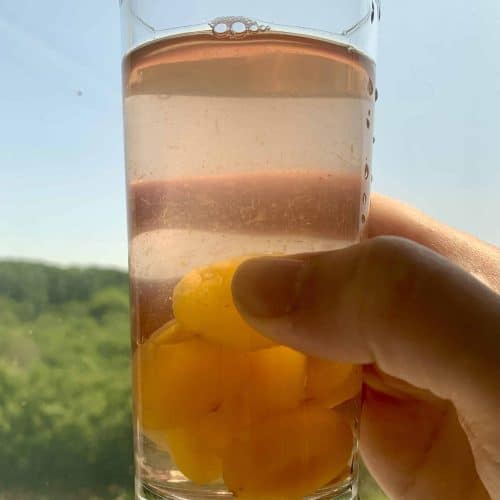 Homemade Kompot Recipe: A Refreshing Sugar-Free Fruit Drink
Kompot is a super refreshing homemade fruit drink that is easy and inexpensive to make, and super healthy. A great alternative to juice, perfect for kids and grownups alike.
Ingredients
4

Cups

fresh stone fruit

washed, pitted, chopped

4

Litres

water

cold
Instructions
Prepare the fruit by washing it, removing the pits, and chopping it into pieces of your desired size

Place the fruit pieces in the bottom of a large pot, and add the cold water

With the lid on, bring the mixture to a boil, and allow to boil for 5 minutes

Allow the mixture to cool to room temperature, then transfer to the fridge for storage

Enjoy it super cold, with or without bits!
Notes
This recipe can easily be scaled up or down. Just use the ratio of 1 part fruit to 4 parts water.