This post has been a long time coming. I helped dream up this Kimchi Egg Sandwich back in 2015 when some friends of mine were opening a Korean-inspired lunch joint in town called "Dak". It was the first menu item we came up with, and we all loved it.
Soon after opening, a lot more people loved it too. It became a bit of a cult favourite in the breakfast sandwich scene in Victoria (and it is a scene). It was featured in a book called "First We Brunch" by local cookbook author Rebecca Wellman, and it even made a TV appearance. Here I am making the sandwich for CTV news.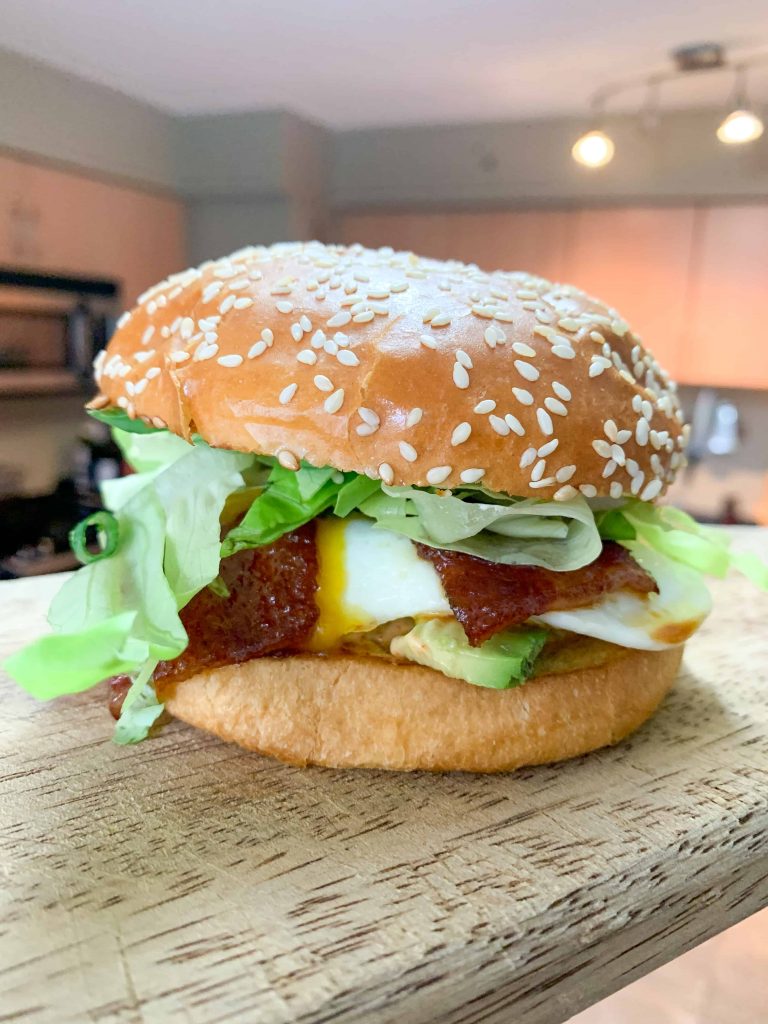 Occasionally, I still get text messages from my friends asking for the recipe. 
Unfortunately, the restaurant is now closed, but the Dak Breakfast Sandwich available as a feature sometimes at the owners' other restaurant, Picnic. If you're ever in Victoria, I highly recommend you visit and say hi to Jon and Melissa. If the Dak Sandwich isn't available, try their other famous breakfast sandwich, "The Owen". You'll thank me later.
What makes this Kimchi Egg Sandwich so special?
This Kimchi Egg Sandwich offers a really unique flavour and texture experience. The soft brioche bun is sweet and eggy, and if you toast it just right, it's squishy and crispy at the same time. The bacon is sweet from brown sugar and spicy from gochugaru, the runny egg and avocado offer creamy richness, and the greens and green onion add a refreshing crunch.
What you'll need to make this Kimchi Egg Sandwich
Equipment-wise, all you need is a baking sheet and a frying pan.
For the ingredients, you'll need:
Brioche buns (Ideally with sesame seeds on top)
Eggs
Bacon
Gochugaru (Korean chili flakes)
Brown sugar
Kimchi
Mayo
Mixed greens, or lettuce
Green onion
Avocado
How to make this Kimchi Egg Sandwich
To prepare the ingredients:
Lay the bacon out on a parchment paper-lined baking sheet. Sprinkle with brown sugar and gochugaru, and bake. You can prepare the bacon in advance, and reheat it in the frying pan when you're ready to make your sandwich.
Make the kimchi mayo by finely chopping the kimchi and stirring it into the mayo. This can also be done well in advance.
Slice the green onions, prep the greens, and get your avocado ready.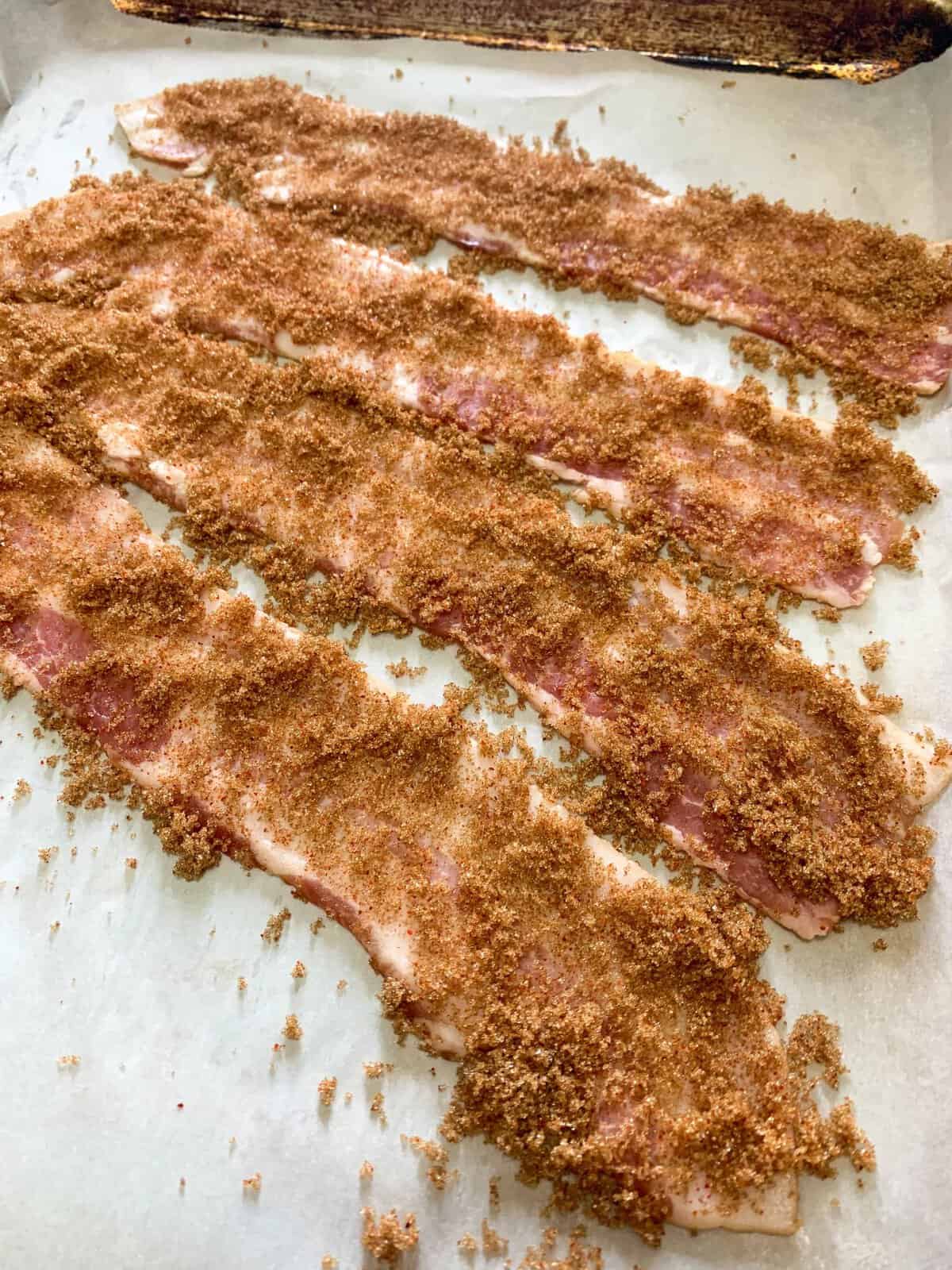 When you're ready to make the sandwich:
Fry the egg on one side, then flip it,over-easy-style. I like to poke a hole in the top of the egg so the yolk doesn't explode when you bite into it. (More on that later).
While the egg is frying, toast the bun by cutting it in half, placing it cut-side-down into the pan and letting it get lightly brown.
Reheat the bacon in the pan if needed.
Spread kimchi mayo on both sides of the toasted bun
Lay ¼ of an avocado (sliced or smushed) on the bottom bun
Add the egg, then the bacon, then top with the greens and green onions.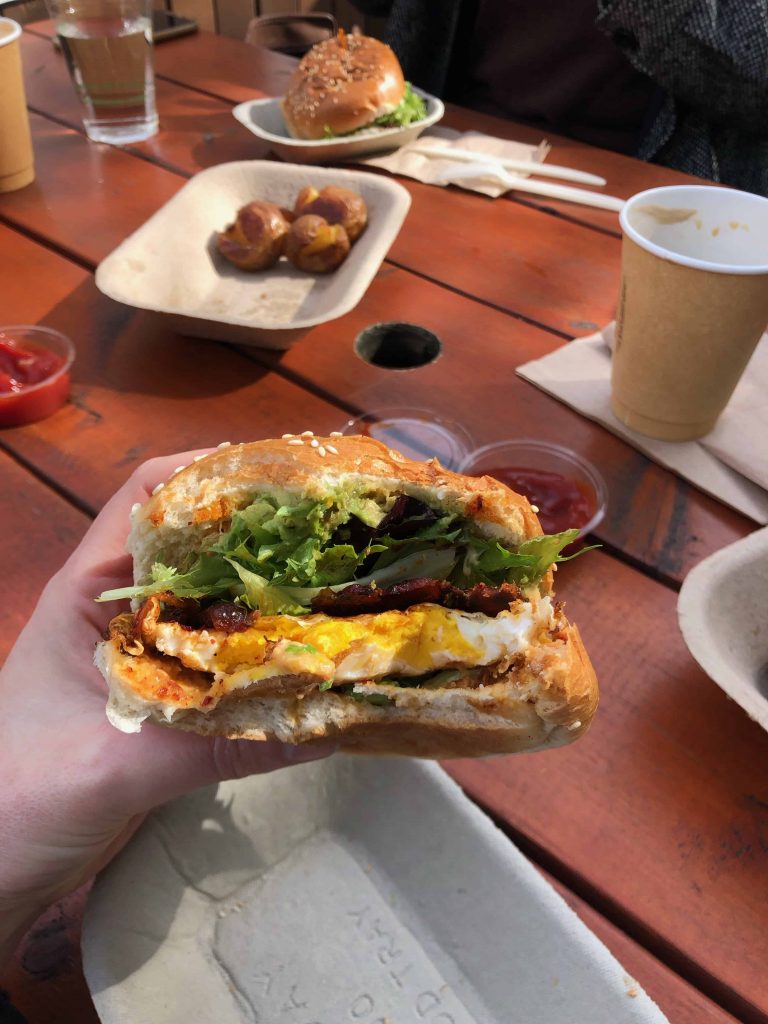 Success tips
To avoid an egg yolk explosion, employ "The Dempster Technique". This technique is named after my dear friend Lauren. I once served her this sandwich (in the early days) with the egg yolk completely intact. A few minutes later, I heard Lauren laugh and say: "It went right up my sleeve!" With one fateful bite, she hit yolk (and hit it hard) and the entire thing exploded up the sleeve of her beautiful tweed coat. From that moment on, I employed a proprietary technique that involves poking the yolk with a toothpick right after flipping. This means you still get a runny gooey yolk, but the yolk oozes where you want it to, rather than where you don't (ie. up your sleeve).

Don't skip the green onions! Because there's so much sweet richness going on in this breakfast sandwich, the green onions are key for cutting through all that with their grassy refreshing flavour and crunch.
What goes well with this Kimchi Egg Sandwich
If you're doing an all-out brunch thing, I'd recommend some fruit salad or hashbrown potatoes to eat alongside this breakfast sandwich. More often than not, all I really want with this sandwich is a nice cup of coffee.
Storage, freezing, and reheating tips
This sandwich is a 'make-it and eat it right away' kinda thing. But you can definitely make the bacon ahead of time and keep it in the fridge for up to 4 days.
The kimchi mayo will stay fresh in the fridge for a few days too!
Frequently asked questions
Where can I find gochugaru?
If you have a Korean store in your town or city, they will definitely have it. If not, you might have to order it online.
Can I use homemade kimchi for the kimchi mayo?
Yes indeed! Here's a link to a great kimchi recipe from Kimchimari. Her website is a wealth of information about authentic Korean cooking.
Can I use my own homemade mayo?
I thought you'd never ask! I love making homemade mayo and I do it in less than a minute with the mason jar technique. Here's how!
Shoutouts to my friends for helping make this post possible
Kimber – for texting me a few weeks ago asking for the recipe
Dan – for joining the Dak Sand get together on the weekend
Steph – for taking photos and videos of our experience
Lauren – for inspiring the "Dempster Technique" (Patent pending)
Jon and Melissa – for letting me share the joy of Dak Sand on the internet, and for the wonderful experience at PICNIC. (@picniccoffee)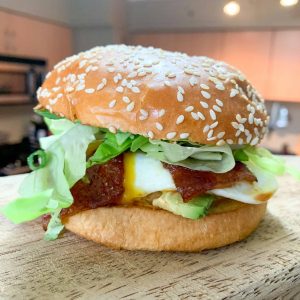 Ultimate Kimchi Egg Sandwich with Spicy Bacon and Avocado
This sandwich delivers so much in the flavour and texture departments. Spicy sweet bacon, zesty kimchi, creamy avocado, crunchy lettuce, and a sweet squishy brioche bun.
Ingredients
For the bacon (see recipe note below):
1

tablespoon

brown sugar

1/2

teaspoon

gochugaru

1

slice

bacon
For the kimchi mayo:
1

tablespoon

chopped kimchi

1

tablespoon

mayo
For the sandwich:
1

brioche bun

1

egg

1

slice

spicy sweet bacon

2

tablespoons

kimchi mayo

1/4

avocado

handful

mixed greens or lettuce

5-6

slices

green onion
Video
Notes
I'm giving you the quantities to make ONE slice of bacon and ONE sandwich worth of kimchi mayo. Obviously, you will likely want to make more than that, but I thought the easiest way to explain it would be to base it on one sandwich. I tend to make about 6 slices of this bacon at a time and freeze it if I don't go through it all within a few days.