So, I ran out of butter. It happens! But I really wanted to make biscuits. I didn't feel like going grocery shopping, so I decided to whip up some biscuits without butter. And that's how my Rosemary Olive Oil Biscuits came to be!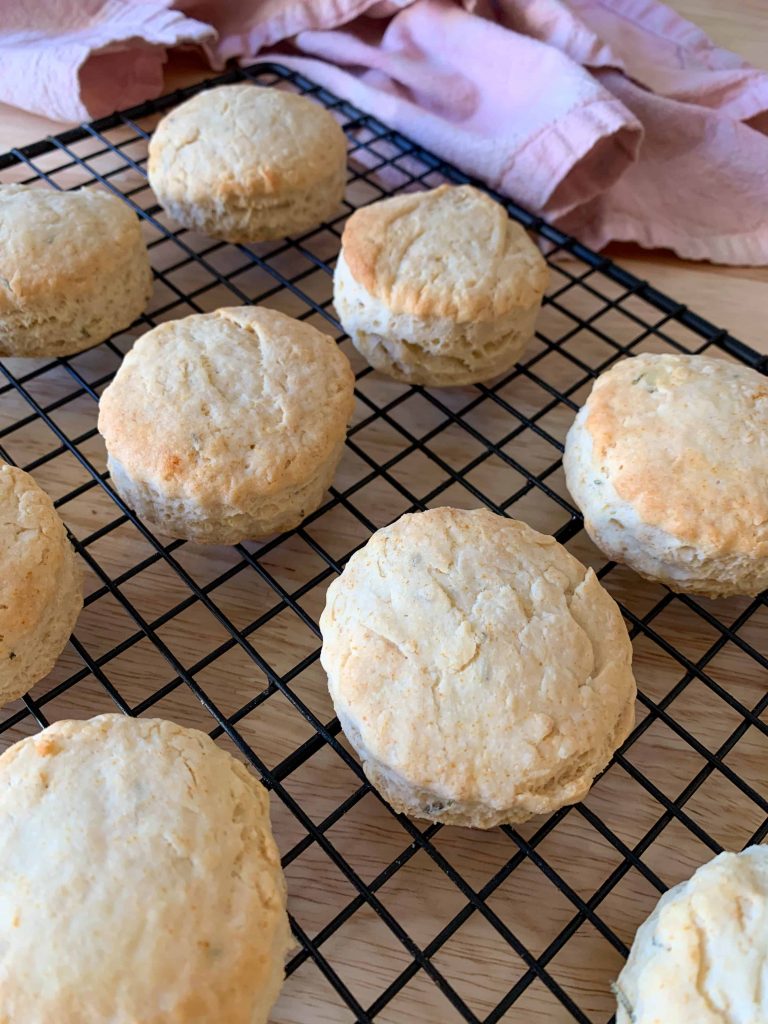 These Olive Oil Biscuits without butter are so tender and flaky, they go so nicely with everything (sweet or savory) and they're super easy to make.
What you'll need to make this olive oil biscuit recipe
Flour – all-purpose or cake/pastry flour both work great
Baking powder – for that much-needed poof
Baking soda – Just a 1/4 teaspoon, for even more poof
Salt – for flavour
Rosemary – I use dried, but you could use fresh if you have it
Olive oil – extra virgin for that lovely flavour
Honey – for a touch of sweetness
Yogurt – to bring it all together. You could also use buttermilk if you prefer
How to make these Olive Oil Biscuits Without Butter
Preheat the oven to 425 degrees.


Sift the flour, salt, baking powder and baking soda into a mixing bowl.




Crumble the dried rosemary between your fingers and add it to the dry ingredients.




Mix the olive oil, honey, and yogurt together and pour it into the dry ingredients.




Use a fork to combine the mixture, then ditch the fork and finish bringing the dough together with your hands. Try to work it as little as possible.


Divide the dough into 4 balls. Flatten the balls into discs, spread a bit of olive oil over each disc, and stack the disks.



Using a rolling pin, roll out the stacked dough until it is ¾ inch thick. Then use a cookie cutter to cut the dough into biscuits. Using a 2-inch cutter, you should get 10-12 biscuits.




Distribute the biscuits onto a parchment paper-lined baking sheet.


Pat the tops of the biscuits with the last drops of the yogurt and olive oil mixture (optional). You can use egg wash if you prefer a glossy top.


Bake the biscuits for 12-14 minutes or until lightly golden brown.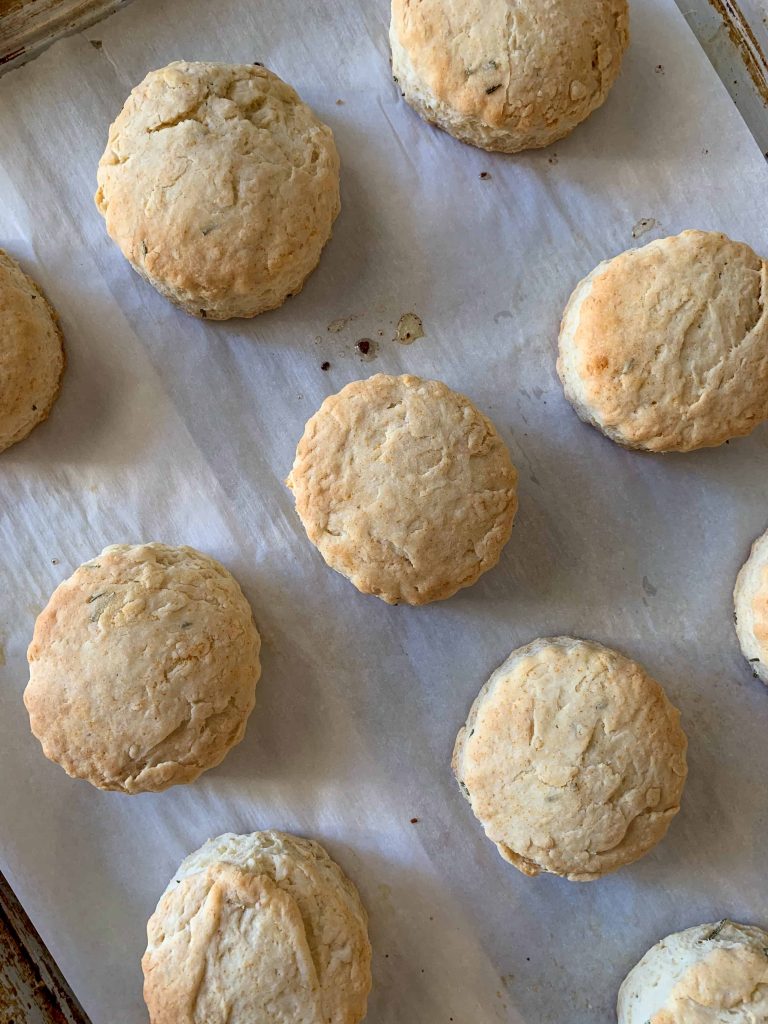 Success tips
The most important tip for making tender biscuits is to work the dough as little as possible. The more you work the dough, the more gluten gets developed in the flour, resulting in a tougher dough.
Use a nice sharp cookie cutter to cut the biscuits, rather than a glass. This will help them rise, as the edges will not be compacted together.
You can really taste the olive oil in this recipe, so it's important to use a good quality extra virgin olive oil.
What goes well with these Olive Oil Biscuits?
These Rosemary Olive Oil Biscuits go well with anything, sweet or savoury. I love serving these biscuits with soup for a cozy lunch or spreading them with jam.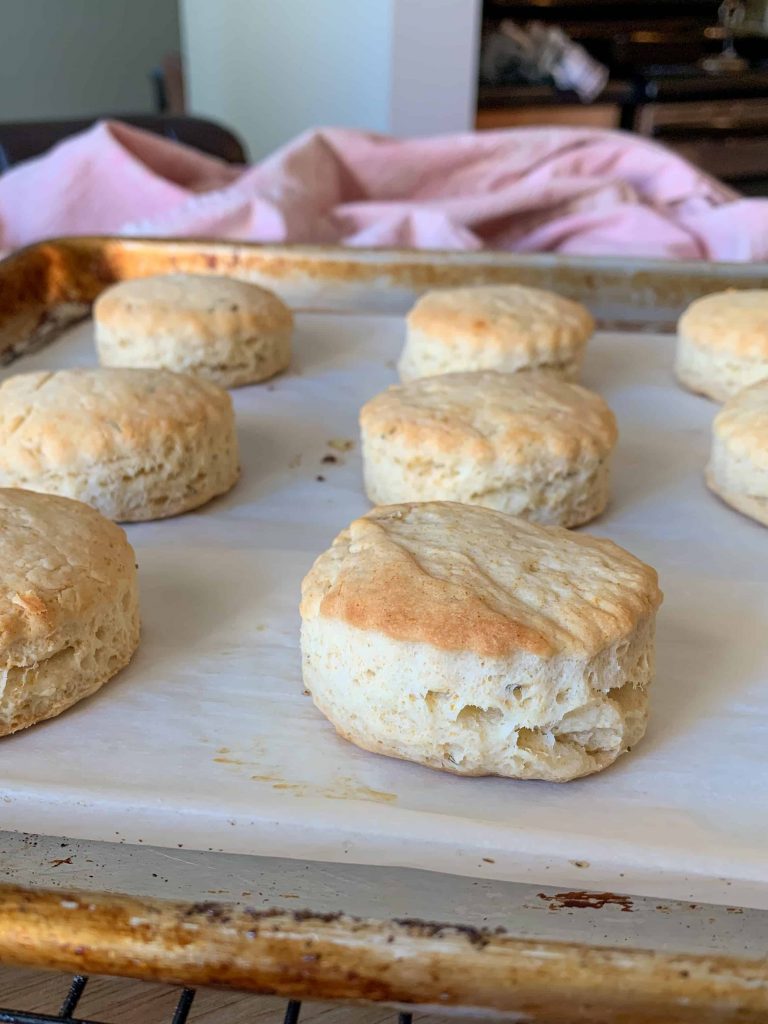 Storage, freezing, and reheating tips
These olive oil biscuits can be frozen in their pre-baked state. Lay them out on a tray and place them in the freezer until they are completely frozen. Once frozen, transfer them to an airtight container or a resealable bag. When you're ready to bake the biscuits, pull them out of the freezer. Lay them out on a baking sheet and leave them to thaw at room temperature for 30-60 minutes, or in the fridge overnight. Then, bake as usual!
Once baked, these biscuits are best when they're super fresh. But they will still be good for 2-3 days if kept in a sealed container. On the 2nd or 3rd day, they'll benefit greatly from a little warm-up in the oven or toaster oven.
Frequently asked questions
Can I use any other oil? Or does it have to be olive oil?
You can use any type of oil for these biscuits, but they won't have that extra virgin olive oil flavour.
Can I use bread flour for these biscuits?
I don't recommend using bread flour because it has a high gluten content which could make your biscuits tough. All-purpose or cake flour is best.
Still hungry?
These biscuits will go really well with the following recipes:
I hope you like this delicious biscuit recipe! Be sure to tag me @howtomakedinner on Instagram if you make them!
Rosemary Olive Oil Biscuits (Without Butter)
These Rosemary Olive Oil Biscuits Without Butter are so tender and flaky. They're perfect with a bowl of hot soup or a spoonful of jam.
Ingredients
350

g

all-purpose flour

1/2

tsp

salt

2

tsp

baking powder

1/4

tsp

baking soda

1

tsp

dried rosemary

100

ml

extra virgin olive oil

50

ml

honey

150

ml

yogurt
Instructions
Preheat the oven to 450 degrees

Sift the flour, salt, baking soda and baking powder into a medium-sized bowl, and add the rosemary

Measure the oil, honey, and yogurt into a 500ml measuring jug and stir to combine

Pour the liquid mixture into the dry mixture and combine with a fork until the mixture forms a nice dough.

Divide the dough into 3 balls, flatten the balls slightly then stack them on top of each other. This will help create layers in the biscuits.

Use a rolling pin to roll out the dough until it is 3/4 inch thick.

Use a cookie cutter to cut out the biscuits. You can re-roll the scraps into biscuits, but try to work the dough as little as possible to avoid getting tough biscuits. You should end up with 10-12 biscuits if you use a 2" round cutter.

Lay the biscuits out on a parchment-lined baking sheet and put them in your preheated oven and bake for 12-14 minutes or until the biscuits are a light golden brown.
Video
Nutrition
Serving:
1
biscuit
Calories:
202
kcal
Carbohydrates:
28.5
g
Protein:
3.8
g
Fat:
8.4
g
Saturated Fat:
1.3
g
Cholesterol:
1
mg
Sodium:
135
mg
Potassium:
149
mg
Fiber:
0.9
g
Sugar:
5.9
g
Calcium:
66
mg
Iron:
1
mg