I talk about chicken thighs a lot. If I'm going to buy any individual chicken part, as in anything other than a whole chicken, I'll choose thighs about 90% of the time. And these oven braised chicken thighs are a wonderful way to use them.
Why Chicken Thighs Are So Great:
They're pretty cheap compared to chicken breasts
They have a lot of meat on them (compared to wings & drumsticks)
They stay juicy no matter what! When was the last time you had a dry thigh?
They're great with or without skin and bones
They're versatile as heck. You can grill them, roast them, stir fry them, or in today's case, braise them in the oven with lemons & capers.
I'm a bit surprised that chicken thighs haven't skyrocketed in price since they've become more popular. Remember when flank steak doubled in price as soon as it became trendy?
Dinner For Two, Or Twenty.
Chicken thighs are a no brainer when you're feeding a crowd. You can make them ahead of time and keep them warm in the oven without them drying out. I once made boneless skinless chicken thighs for over 100 people when I catered my friend's wedding. They were super juicy and everyone loved them.
Unlike breast meat, chicken thighs have tons of really good flavour with or without the skin and bones. Both ways can be great, depending on the dining situation.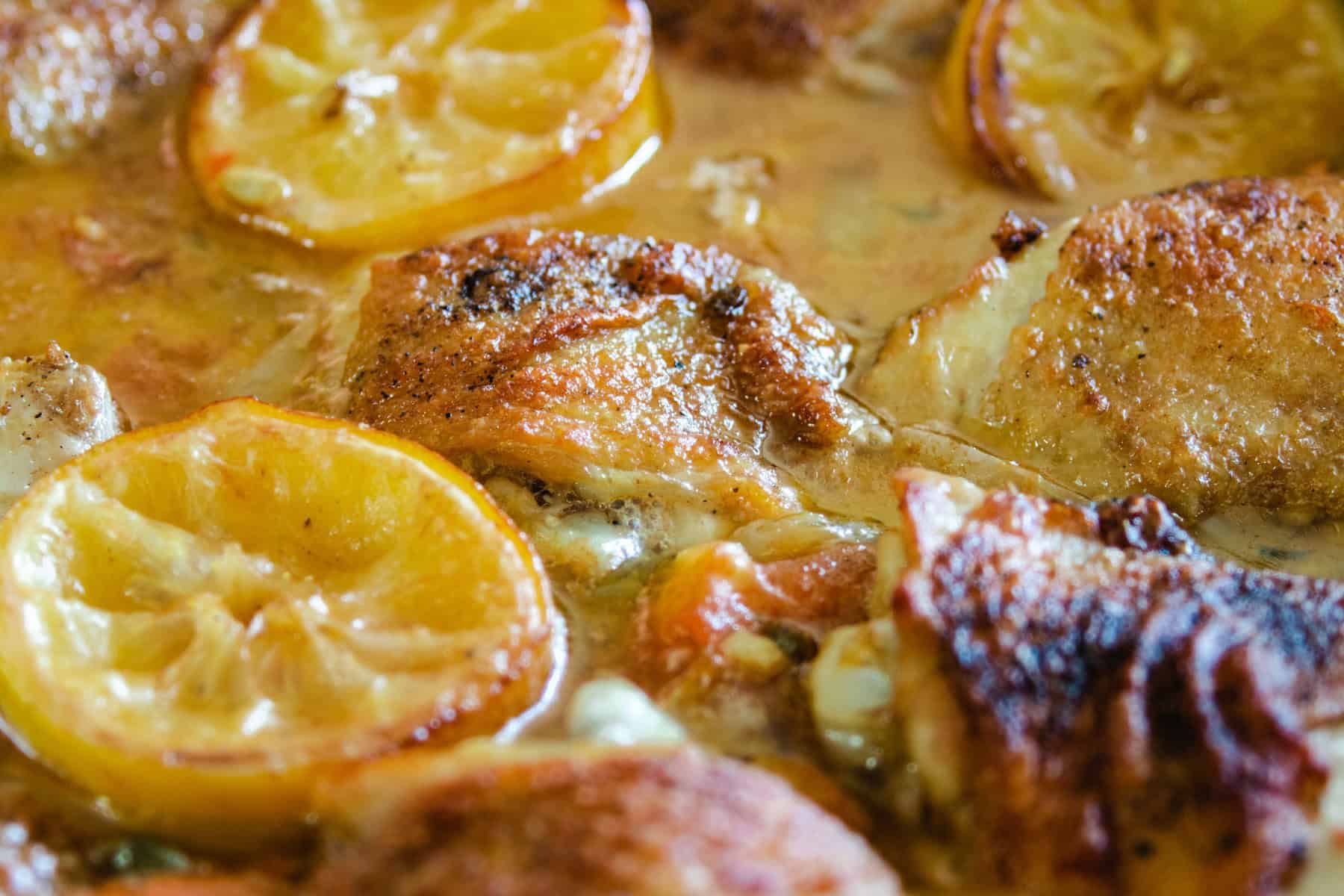 Boneless skinless or bone-in, skin-on?
There are a few questions you should ask yourself when pondering this decision.
Are you really going to manage to get crispy skin?
When I catered that wedding, I opted for skinless thighs because I knew that with that large of a volume, there was no way I'd manage to achieve and maintain crispy skin on each and every one of those thighs. And I don't know about you, but I'm not a fan of soft chicken skin.
What level of convenience do you want to provide your eaters?
If you're at a sit down dinner where it's easy to move your bones to the side of your plate and you have napkins and other tools at your guests disposal, bone-in can be a good option. But if I'm hosting a barbecue, or some other casual festivity where people want to be more hands-free, I'll go for boneless thighs so there's less fuss for people.
What I'm giving you here is a flexible method for braising chicken thighs. This same method can be used and would work really well with endless different flavour profiles.
Example: Swap the white wine for red wine, and swap the lemons for quartered mushrooms and you've got a cozy fall or winter version.
What is Braising?
Braising is a moist cooking method (I know, everybody loves that word right?) as opposed to a dry cooking method. Moist cooking methods are when liquid, or moisture is used to transfer heat to the food. Other examples of moist heat cooking are boiling, steaming, and stewing.
Dry heat cooking includes baking, roasting, sautéing, and yes even deep frying. Deep frying is considered a dry method because oil doesn't count as moisture. With deep frying, the fat is cooking the food, rather than water.
Braising occurs when the food is partially submerged in liquid and usually cooked slowly for a long period of time. Meat takes longer than veggies, and tough cuts of meat like lamb shanks take longer to braise than tender meats like these oven braised chicken thighs.
The Cookware Question
As far as pots and pans are concerned, you can braise these chicken thighs in a Dutch oven, a wide cast iron skillet or a wide stainless steel pan. Just make sure that whatever you're using has a good heavy bottom for adequate crisping, is safe for both the stovetop and the oven, and is wide enough to allow each thigh to have full exposure to the dry oven heat. Any skin that is submerged in the cooking liquid will not retain its crispiness in the oven. If the pot or pan you choose doesn't have a lid, you can use tinfoil to cover the pan for those first 20 minutes in the oven.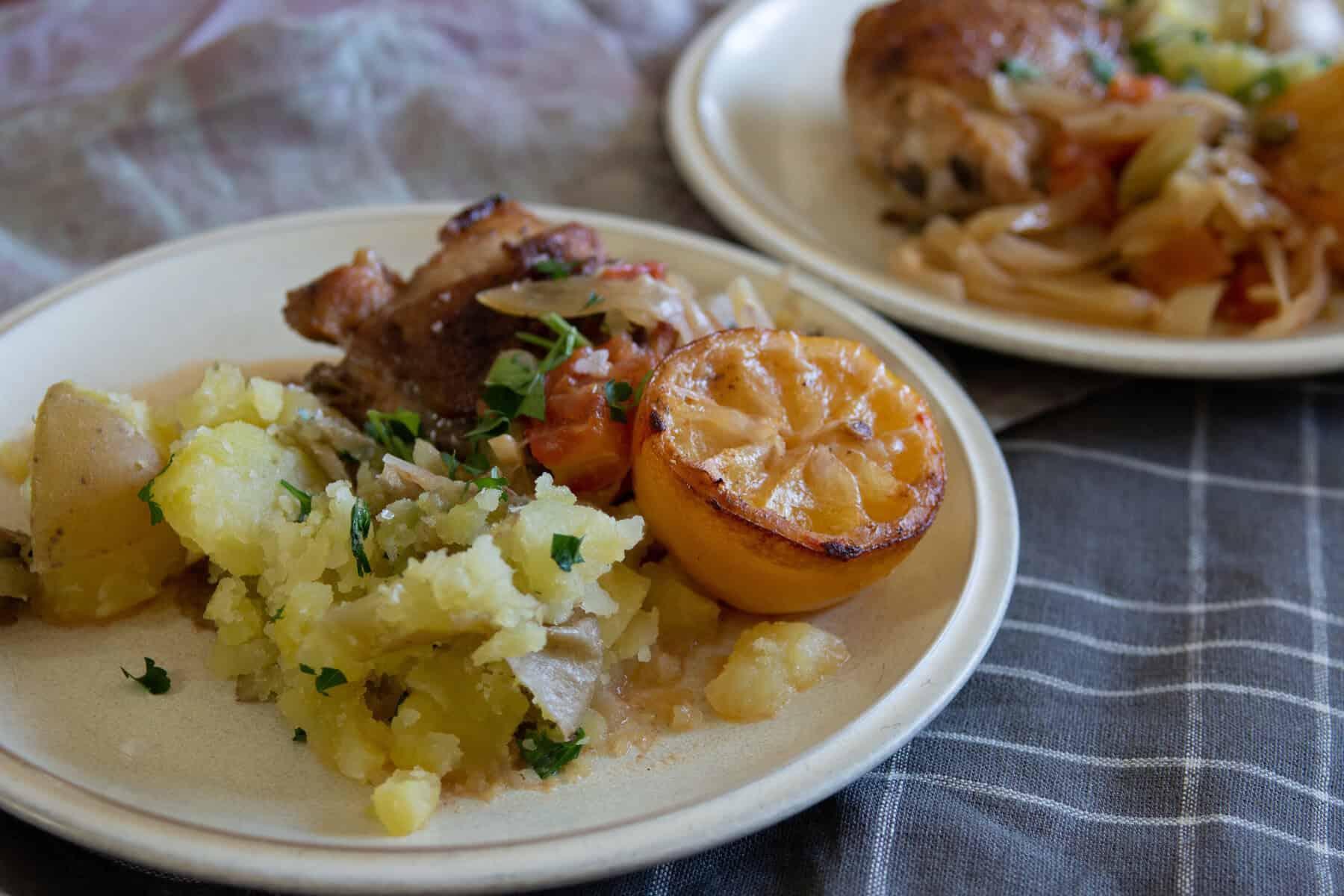 Crispy Skin – The Holy Grail of Chicken
I'll be the first to admit that achieving and maintaining crispy skin on chicken is a culinary feat that most of us never truly master, unless the conditions are totally perfect. In a braising situation, the moist environment can sometimes sabotage your quest.
If you are hell bent on crispy skin (as I am), and at the end of all this your skin isn't as crispy as you'd like, simply take the chicken thighs out of the braising liquid, transfer them to a baking sheet, and put them under the broiler for 4-5 minutes. Then, when crispy peace has been restored, nestle them back into the braising liquid and serve.
Enjoy these oven braised chicken thighs with plenty of bottles of white wine, a few good pals, and a starchy companion of your choice. Smashed potatoes or garlicky roasted bread cubes would probably get my vote.
Bringing a salad to this chicken thigh party? I'd recommend something that holds up to these big briny flavours, like my ultimate Creamy Kale Caesar Salad.
Looking for more thighs in your life?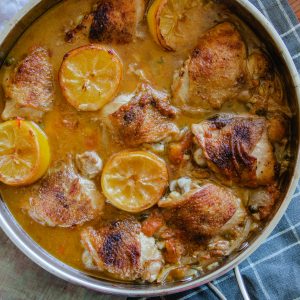 Oven Braised Chicken Thighs with Lemons and Capers
These saucy, sticky chicken thighs are SO flavourful. Get the best of all worlds with juicy chicken thighs, crispy skin, and lemony, briny sauce. Delicious!
Ingredients
8

Chicken thighs, bone-in, skin-on.

2

tablespoons

Olive oil

1

medium onion (or 3 shallots)

6

garlic cloves

2

bay leaves

1

sprig

Fresh thyme

2

lemons

1

tomato

100

millilitres

dry white wine

250

millilitres

chicken stock

2

tablespoons

capers

Fresh parsley for garnish

Salt & Pepper to taste
Instructions
Preheat the oven to 350 degrees

Heat the olive oil over medium high heat in your chosen skillet until the oil shimmers & starts to smoke slightly.

Pat the chicken thighs dry with paper towel, and season with salt and pepper

Place 4 of the chicken thighs skin side down in your pan. Don't move the chicken around, just let them crisp up.

While the chicken is crisping, slice the onions or shallots, mince the garlic, and cut the lemons in half so they're all ready to go.

When each thigh has crispy golden brown skin, remove the chicken from the pan and set aside.

Place the lemons cut side down into the dutch oven so they caramelize slightly, and remove.

Add the onions or shallots to the pan. Cook, stirring, for 3-4 minutes until they soften slightly. The onions should help pick up the sticky browned bits off the bottom of the pan. You want these bits in your braised chicken.

Add the garlic, capers, tomatoes, wine, herbs, salt, and stock.

Bring to a boil, and taste for seasoning. Add salt and pepper if needed.

Add the chicken thighs skin side up – back to the dutch oven with the this delicious juicy mixture you've created. Add the lemons in too.

Cover with the lid and place the whole thing into your preheated oven. Cook for 20 minutes covered, then remove the lid, crank the oven to 425, and cook for another 20-25 minutes. The goal here is to crisp the skin a bit more.

Finish with fresh parsley, or other fresh herbs like chervil, chives, or tarragon
Nutrition
Calories:
423
kcal
Carbohydrates:
9.7
g
Protein:
32.6
g
Fat:
26.6
g
Saturated Fat:
6.4
g
Cholesterol:
115
mg
Sodium:
438
mg
Potassium:
458
mg
Fiber:
2.2
g
Sugar:
3.1
g
Calcium:
49
mg
Iron:
2
mg