When it starts to get chilly outside there is nothing in the world better than a cozy warm house filled with the savoury aroma of dinner in the oven. And if that dinner happens to revolve around some delicious chicken? Even better. These sheet pan chicken dinners are just the thing.
As the days get shorter, I get less and less excited about having a massive pile of dirty dishes and pots and pans to contend with after dinner. Sheet pan chicken dinners are the solution. They deliver the absolute best of both worlds. Maximum chicken scent wafting through the house, minimum cleanup. 
Sheet pan dinners are usually fairly easy to prep too. There's no need to mess around with marinading or deboning anything. Just a bit of light veg chopping and throw it all on the tray.
In general, sheet pan recipes are really easy to freestyle. You can mix up the veggies and spices and swap out the protein no problem, as long as you follow a few principles.
Sheet Pan Dinner Principles
Consider the cook time of all your ingredients. Cut your veggies into sizes that compensate for their various cook times, so you don't end up with mushy veggies and raw meat. Longer cooking veggies like potatoes should be cut a bit smaller, whereas faster cooking things like peppers can be cut a bit larger. The chicken is cooked when the internal temperature reaches 165 F.
Don't overcrowd the pan. Make sure your ingredients are spread out enough that they all cook evenly and get a good roast. Ingredients stacked up on top of each other will cause them to steam rather than bake. We don't want that.
The in-bowl pre-toss is highly recommended. Coating all your ingredients well with the oil and seasonings before they hit the tray means they'll roast evenly and get good colour all around. I know, it means dirtying another bowl, but I really think it's worth it (and that should mean a lot coming from me!)
Although all the sheet pan chicken dinners outlined below are totally satisfying on their own, I do tend to subscribe to the belief that a big bowl of salad on the table is a welcome companion to any dinner. It's nice to have some fresh vibrant crunch alongside that cozy crispy roasty stuff.
The first sheet pan chicken dinner we're talking about here is a non recipe (more of a method) from my dear Instagram friend Karen Carbone (Find her on the gram at @whatskarencooking). I love Karen's no nonsense approach to cooking, and I was SO pleased when she agreed to contribute to this post!
Here's Karen with her lovely no recipe required sheet pan chicken dinner:
Sheet Pan Chicken Breast With Brussels & Sweet Potatoes
Fall's a busy time, but I'm here to help with this non-recipe recipe. You have only five minutes to run into the market after work to get fixings for dinner, right? Well, a sheet pan dinner is perfect for a weekday meal, so here goes: Walk in the door and preheat the oven to 400 degrees. Rip open those boneless chicken breasts and toss them in a bowl with a drizzle of maple syrup, a scoop of dijon mustard, a splash of olive oil, salt and pepper.
Now toss the Brussels sprouts you have in the fridge with a little oil and salt. I like some cubed butternut squash with this ensemble but you do you if you have a few other veggies kicking about. Lay out the chicken and veggies on a rimmed sheet pan. By the time you've done this, your oven will be hot. Stick the sheet in and about 25 minutes later you should have a colorful, healthy and delicious dinner. (Cut into one of your chicken breasts to make sure there's no pink.) You might even have some for leftovers over rice for lunch. Look at you, you're eating and you haven't even opened the mail or told Alexa about your day. – Karen Carbone
2. Sheet Pan Chicken & Chickpea Shawarma Bowls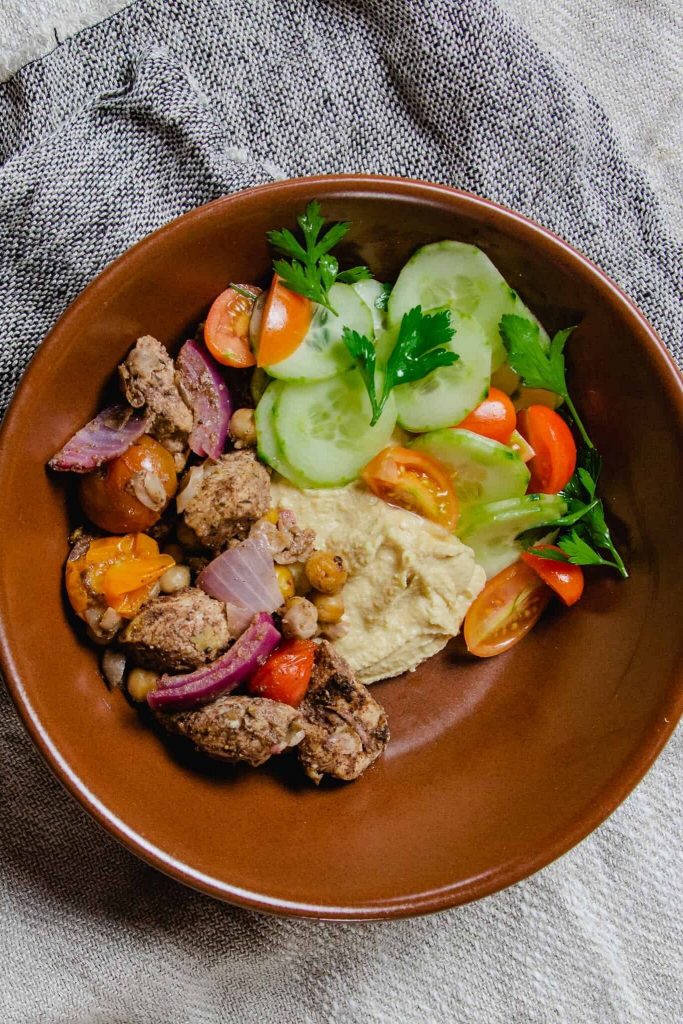 Probably one of my all-time favourite flavours is the sweet warming spice of shawarma. This chicken and chickpea one-tray wonder will fill your house with the most amazing scent, and because it's all happening on one tray, you won't have to deal with a massive pile of dishes at the end.
I'm using chicken tenders for this recipe, mostly because they cook quickly so the chickpeas won't dry out from spending too much time in the oven. The shawarma seasoning is a mix of a pretty long list of spices, but if you cook with spices a lot you probably have many of them at hand already. I've also seen pre-made shawarma seasoning at my local bulk store, so that's definitely worth looking into. Once you've made this once, you'll be making it all the time, so don't worry about whether or not you'll be able to use it up!
Once you've slicked the chicken, chickpeas, and veggies with olive oil and lemon juice and tossed them around with this intoxicating spice mix, lay everything out on a parchment lined baking sheet and fire it into a hot oven at 450 for about 15 minutes.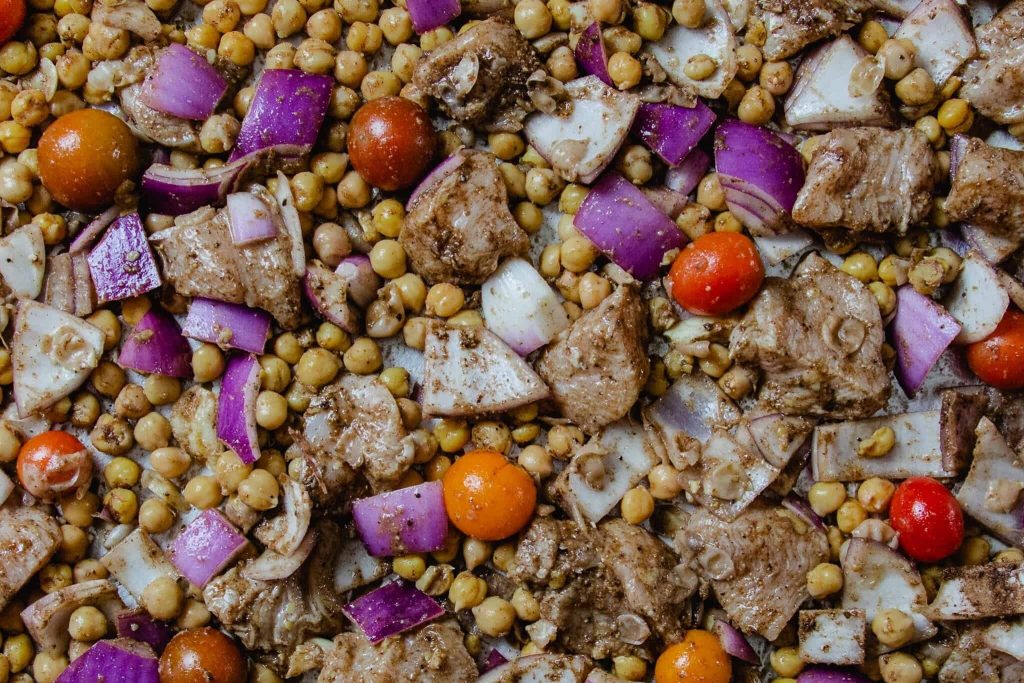 My favourite way to eat this is in a bowl on top of a big blob of hummus along with some fresh crunchy veggies like tomatoes, cucumbers, arugula or other leafy greens, as well as some pickles, and a drizzle of lemon tahini dressing.
This is seriously one of my all time favourite chicken recipes.
*You can make a great summer version of this by grilling the chicken and veggies and toss the chickpeas in with the tomatoes, cucumbers, and whatever other 'salad' type veggies you're using.
Sheet Pan Chicken And Chickpea Shawarma
This chicken and chickpea Shawarma is a one-tray wonder that will fill your house with the most amazing scent. Bonus: you won't have to deal with a massive pile of dishes at the end. 
Ingredients
For The Shawarma Spice Mix
1

tablespoon

garlic powder

1

tablespoon

black pepper

1

tablespoon

allspice

1.5

teaspoon

nutmeg

1.5

teaspoon

cardamom

1.5

teaspoon

cinnamon

1

teaspoon

chili powder

1

teaspoon

dried oregano

1

teaspoon

salt

1

teaspoon

ground clove
For The Chicken
500

grams

boneless skinless chicken, cut into large cubes

400

grams

chickpeas (1 large can)

1

red onion, roughly diced

300

grams

cherry Tomatoes, whole

5

cloves

garlic, peeled and smashed

1

lemon, juice and zest

2

tablespoons

shawarma spice mix (see details above)

1

teaspoon

salt

2

tablespoons

olive oil
Instructions
Preheat the oven to 450 degrees

Cut chicken in to large-ish cubes. You can use chicken breasts, tenders, or thighs, just make sure they are boneless and skinless.

Throw the chicken cubes into a bowl and add tomatoes, onions, shawarma spice mix, olive oil, and lemon juice and zest to the bowl. Mix well to combine.

Spread the mixture out on a baking sheet so nothing is overlapping and everything has good access to the heat of the pan, and the oven.

Bake for 15 minutes.

Serve in a large bowl with hummus, salad, fresh herbs and pickles, (rice would be good too). This is a great opportunity to let people build their own bowls the way they like. Enjoy!
Nutrition
Calories:
598
kcal
Carbohydrates:
67.5
g
Protein:
47.1
g
Fat:
16.4
g
Saturated Fat:
1.7
g
Cholesterol:
80
mg
Sodium:
676
mg
Potassium:
1580
mg
Fiber:
19
g
Sugar:
14
g
Calcium:
133
mg
Iron:
7
mg
Sheet Pan Chicken Thighs With Honey Mustard Vinaigrette
This is one of those recipes that you can get away with making really often without anyone getting tired of it. The combination of honey and mustard with chicken and potatoes never gets old.
Whenever I'm roasting chicken with the skin on, I like the oven to be cranked pretty high to maximize my chances of getting really crispy skin. We're using bone-in skin-on chicken thighs here, which means they're going to want to stay in the oven for quite awhile, at least 35 minutes. Because thighs are dark meat, they won't dry out like breasts can, and the longer baking time allows for more fat to render out of the skin, giving you crispier skin and juicier, more fall-apart chicken.
For the honey mustard vinaigrette, the ratio of oil and vinegar is quite low compared to the amount of honey and mustard in this. That's because I want it to be REALLY honey mustard-y and be sure to pack a punch. Plus, we've already tossed the chicken in some oil, and it gives off more fat as it roasts, so if we added too much oil to the vinaigrette we'd end up with a real greasy situation. I like to use grainy mustard if you have it, but regular dijon is also nice!
I like to use fennel and peppers as the veg component to this tray bake because they add a nice colour and texture. They will be really nicely roasted by the time the chicken thighs are done (about 45 minutes).
Sheet Pan Chicken Thighs With Honey Mustard Vinaigrette
Paula Hingley | Oct 19 2019
prep time: 10 minutes
cook time: 40 minutes
total time: 50 minutes
Servings: 2 or 3
Ingredients
4 Chicken thighs, bone in, skin on
1/2 Fennel bulb, sliced
1 Bell Pepper, sliced
1/2 Red Onion, sliced
4 Small Waxy Potatoes, sliced slightly thinner than the other veggies because they take longer to cook
1 Heaped tsp paprika
1 Pinch dried rosemary
1 tsp salt
Black pepper to taste
5 Garlic cloves
2 Tbsp olive oil
For The Honey Mustard Vinaigrette
2 Tbsp Grainy Dijon mustard
2 Tbsp Honey
1 Tbsp Apple cider Vinegar
1 Tbsp Olive oil
1/2 tsp salt
Directions
Preheat the oven to 425

Toss the chicken thighs with the spices, veggies, and oil in a bowl.

Spread the mixture out on a large baking sheet, ensuring that the chicken skin is facing up, to allow for crispiness to happen.

Roast at 425 degrees for 40 minutes. The chicken skin should be nice and crispy and the veggies will be nicely roasted and cooked all the way through.
Drizzle the honey mustard vinaigrette over the whole thing, and enjoy with a salad, or not!
So there you have it! Three juicy and delicious one pan meals for you to cozy up this chilly fall and winter. I hope you and your family love these dinners as much as I do!
If you make any of these recipes, share a photo on Instagram and tag it #howtomakedinner. I'd love to see what you're cooking!