There is no salad dressing on earth that makes me want to eat salad more than this one. This creamy nutritional yeast dressing makes anything you put it on taste insanely delicious. Salad is an obvious place to start, but I love this dressing on steamed rice, potatoes, chicken, fish, and just about any 'bowl' you can think of. (Ok maybe not a bowl of cereal, but you know what I mean.)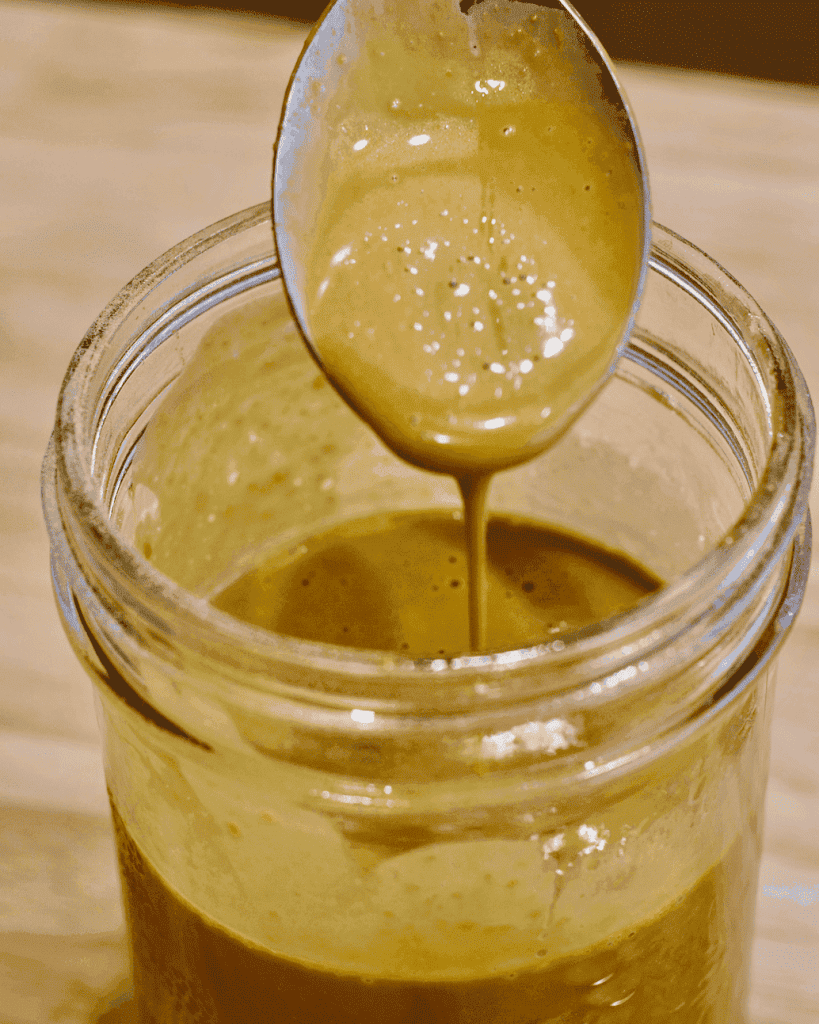 I love a good salad. In fact, I often keep an entire salad bar in my fridge so I can whip up salads at a moment's notice. But let's be honest, sometimes salad can leave us feeling unsatisfied. Using a variety of ingredients with different textures and flavours is fundamental for making more interesting salads, but when you have a dressing as good as this one, even a bowl of plain ol' leafy greens tastes good.
Bonus: This highly addictive dressing is (almost) as simple to make as a basic oil and vinegar dressing. I highly recommend you give it a go!
What's the deal with nutritional yeast?
Nutritional yeast is a deactivated yeast that's commonly used as a cheese substitute in vegan recipes. Not only does it add a cheesy flavor to anything you put it on, but it's also a great source of protein, fiber, vitamins, and minerals. Vegans love it because it's particularly high in B vitamins, including vitamin B12 (especially the fortified versions), which is tricky to find in plant-based foods. I've been singing the praises of nutritional yeast for awhile now. Check out this blog post and corresponding video to see some of my favorite ways to use it!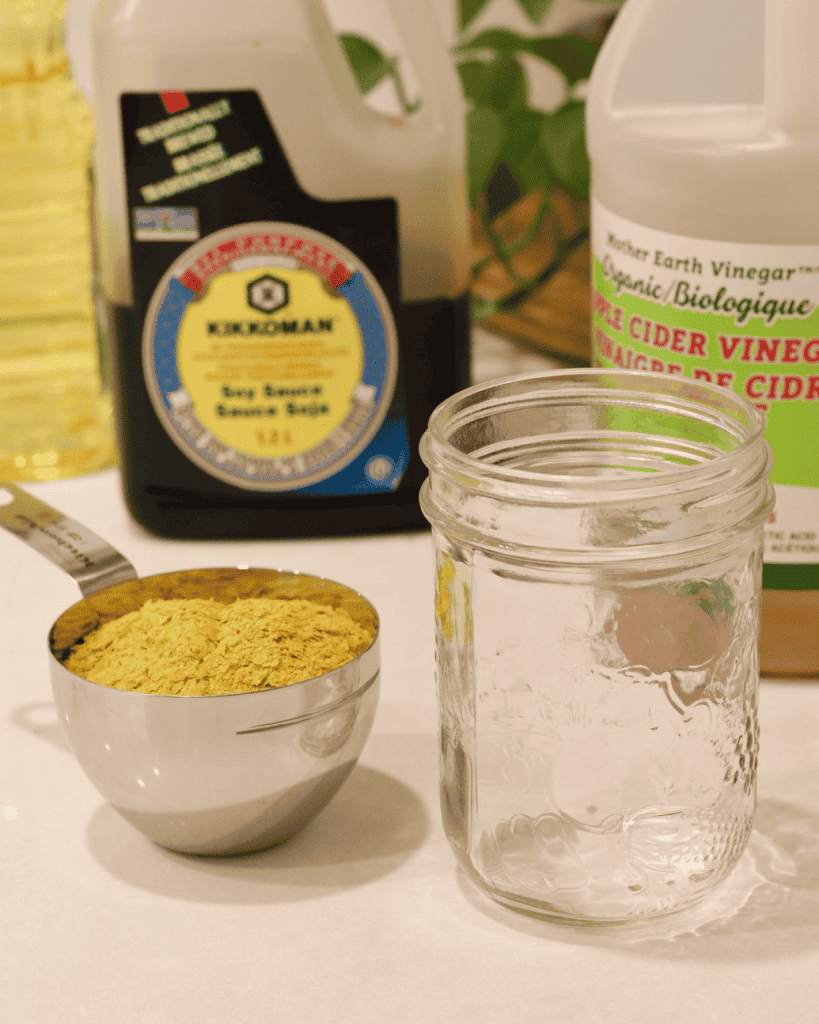 How to make nutritional yeast dressing
Making your own nutritional yeast dressing is super easy and you can customize it in a number of ways. Here's my go-to recipe to get you started:
1 cup nutritional yeast
1/3 cup neutral oil (I use sunflower, avocado, or grapeseed)
1/3 cup apple cider vinegar
1/3 cup soy sauce
1 clove garlic (or a pinch of garlic powder)
Add all the ingredients to a wide-mouth jar and blend with an immersion (stick) blender (no need to make excess dirty dishes). Proceed to drizzle dump it on everything. 😂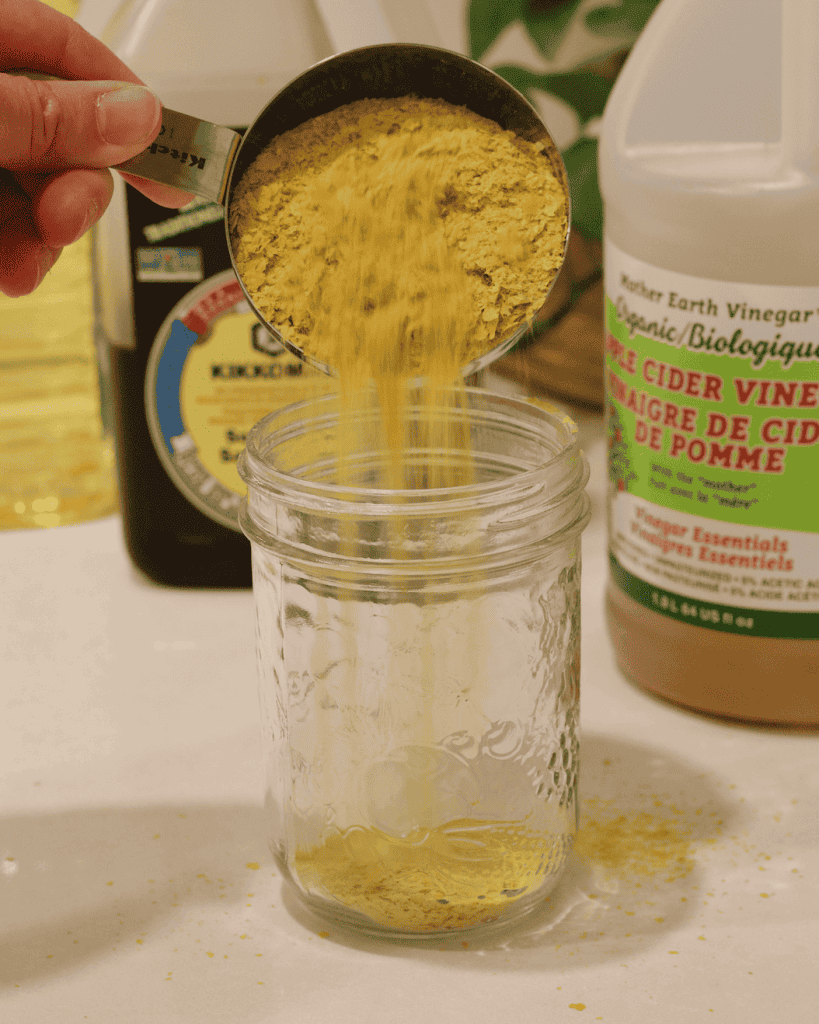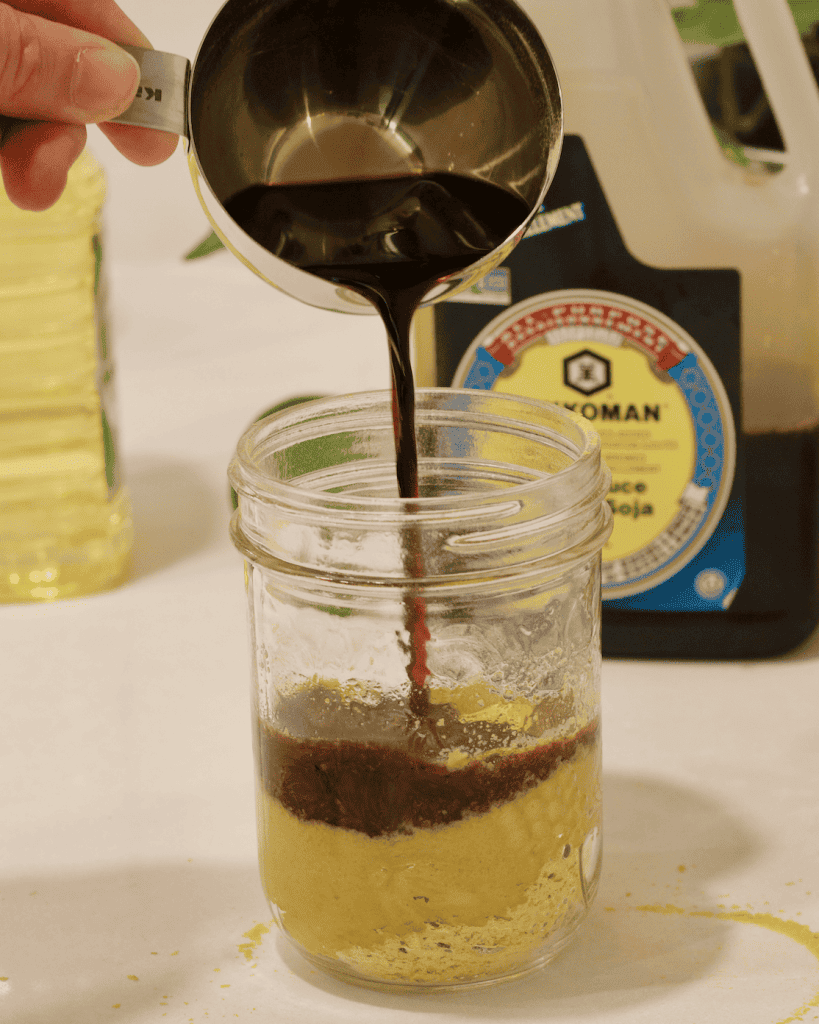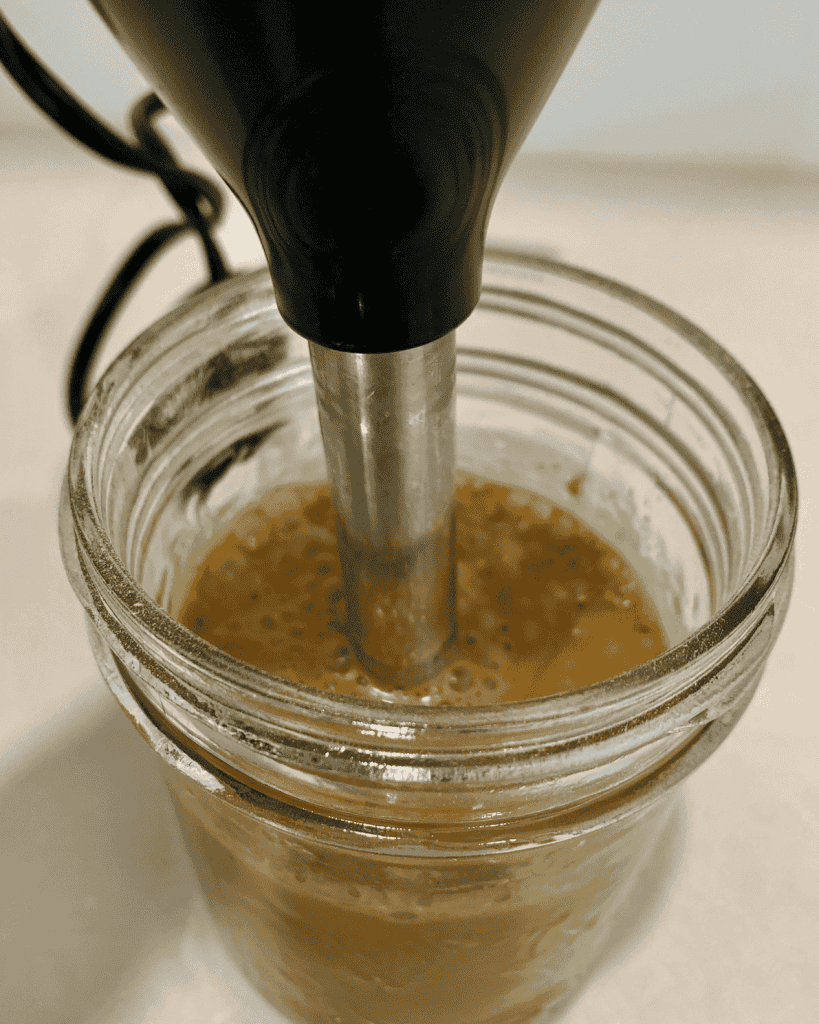 How to customize nutritional yeast dressing
The recipe above is definitely the one I make the most often, but in the spirit of mixing things up, here are some ideas on extra ingredients to add to your dressing.
Ginger
Cilantro
Green onion
Fresh chilies, or chili sauce like Sambal Oeleck
Toasted sesame oil
Toasted sesame seeds
Honey or maple syrup
What goes well with nutritional yeast dressing?
Honestly, it'd be easier to list out the few things foods that wouldn't go well with this dressing. It's delicious on all types of salads, grain bowls, potatoes, steamed rice, fried tofu, chicken, fish, raw veggie sticks… you name it. One of my favourite ways to use it is to just pour it over simply steamed rice with a few toasted sesame seeds on top. It's comfort in a bowl.
Of course, it's a great option to go with any number of salads, but if all you have is a bag of baby spinach on hand, nutritional yeast dressing can transform that spinach into an irresistible snack.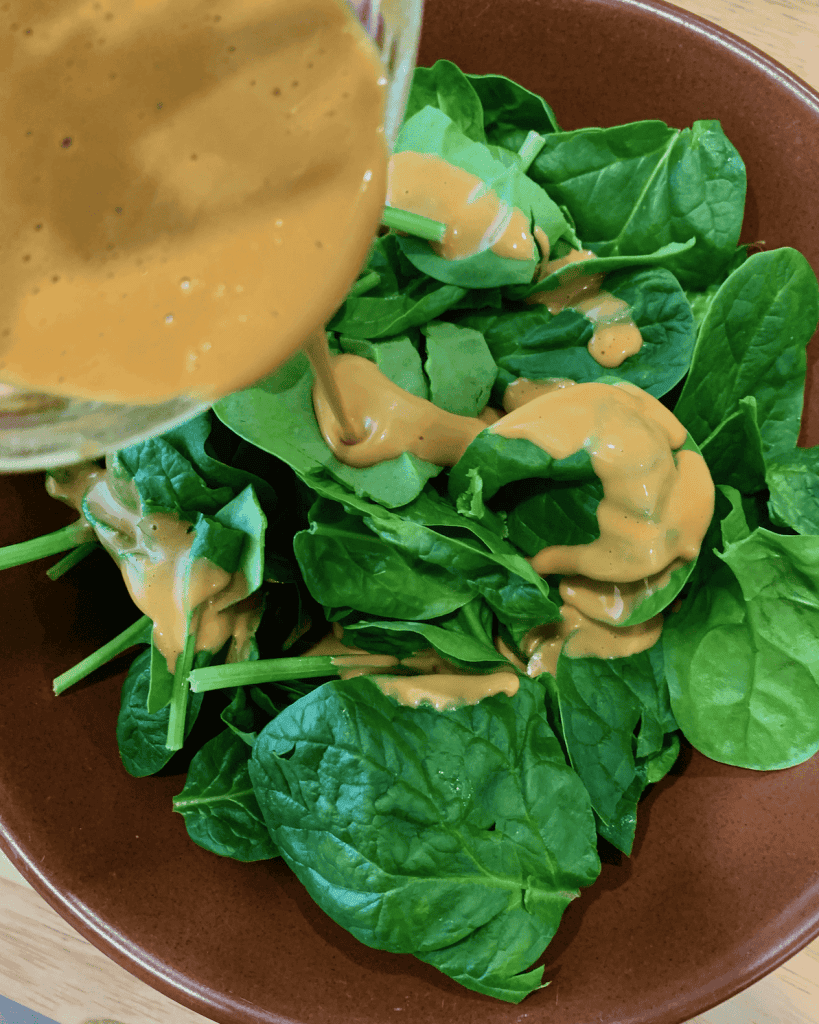 Storage tips
This nutritional yeast dressing lasts in the fridge for at least a week, probably longer. I like to make it and store it in a glass jar, so it's easy to slap a lid on and keep it in my fridge door. Depending on how well you've blended it, it will most likely not separate in the fridge, however, it doesn't hurt to give it a little shake before using it, especially if it's been a few days since you've used it.
Frequently asked questions
Can this dressing be made in a regular blender?
Yes. This dressing can be mixed with a stick (immersion) blender, a regular blender, or a food processor. I don't recommend mixing this dressing by hand, because it won't become as creamy.
Can this dressing be made oil-free?
To convert this recipe to an oil-free nutritional yeast salad dressing, simply replace the 1/3 cup of oil with 1/3 cup of cold water, and add an additional 3 Tablespoons of nutritional yeast. You could also replace the oil with plain yogurt if you want an extra creamy version.
Can this dressing be made with brewers yeast or engevita yeast?
There are many types of deactivated yeast out there, but for this salad dressing, you need the one that is labeled "nutritional yeast flakes."
Nutritional yeast dressing is a crazy delicious and fairly healthy condiment to keep on hand. Its creamy, cheesy flavor can turn a boring salad into something you can't get enough of. Give this recipe a try and let me know if you love it as much as I do!
Check these out next:
Highly Addictive Nutritional Yeast Dressing
This drinkable nutritional yeast dressing makes just about everything taste great. Keep a jar on hand and proceed to drizzle it on everything.
Equipment
1 immersion blender, blender, or food processor

1 wide-mouth jar
Ingredients
1

cup

nutritional yeast flakes

1/3

cup

apple cider vinegar

1/3

cup

soy sauce

1/3

cup

neutral-flavoured oil

like sunflower, avocado, or grapeseed

1

clove

garlic

roughly chopped (to help the blending)
Instructions
Add all ingredients to a jar
Nutrition
Serving:
1
Tbsp
Calories:
80
kcal
Protein:
4.6
g
Fat:
5.1
g
Saturated Fat:
1
g
Sodium:
306
mg
Fiber:
2.6
g
Sugar:
0.1
g
Calcium:
9
mg
Iron:
2
mg