If you have yet to explore all the wonderful ways to use nutritional yeast, read on. You're about to dive in to a delicious new world!
You've probably never heard me use the term 'superfood' before. I wholeheartedly subscribe to the belief that all food is super. But if there was ever a food that was extra super, it would be nutritional yeast. I love this stuff so much. It's loaded with vitamins and minerals (it even has some protein in it), and it makes everything delicious.
What is nutritional yeast?
Nutritional yeast is an inactive yeast that grows on molasses. By inactive, I mean that it isn't alive. It doesn't, for example, have the ability to make bread rise. It's basically dead weight. Which is good news for us, because it means it won't do anything weird to our bodies–like throw off our yeast/bacteria balance. These things are important.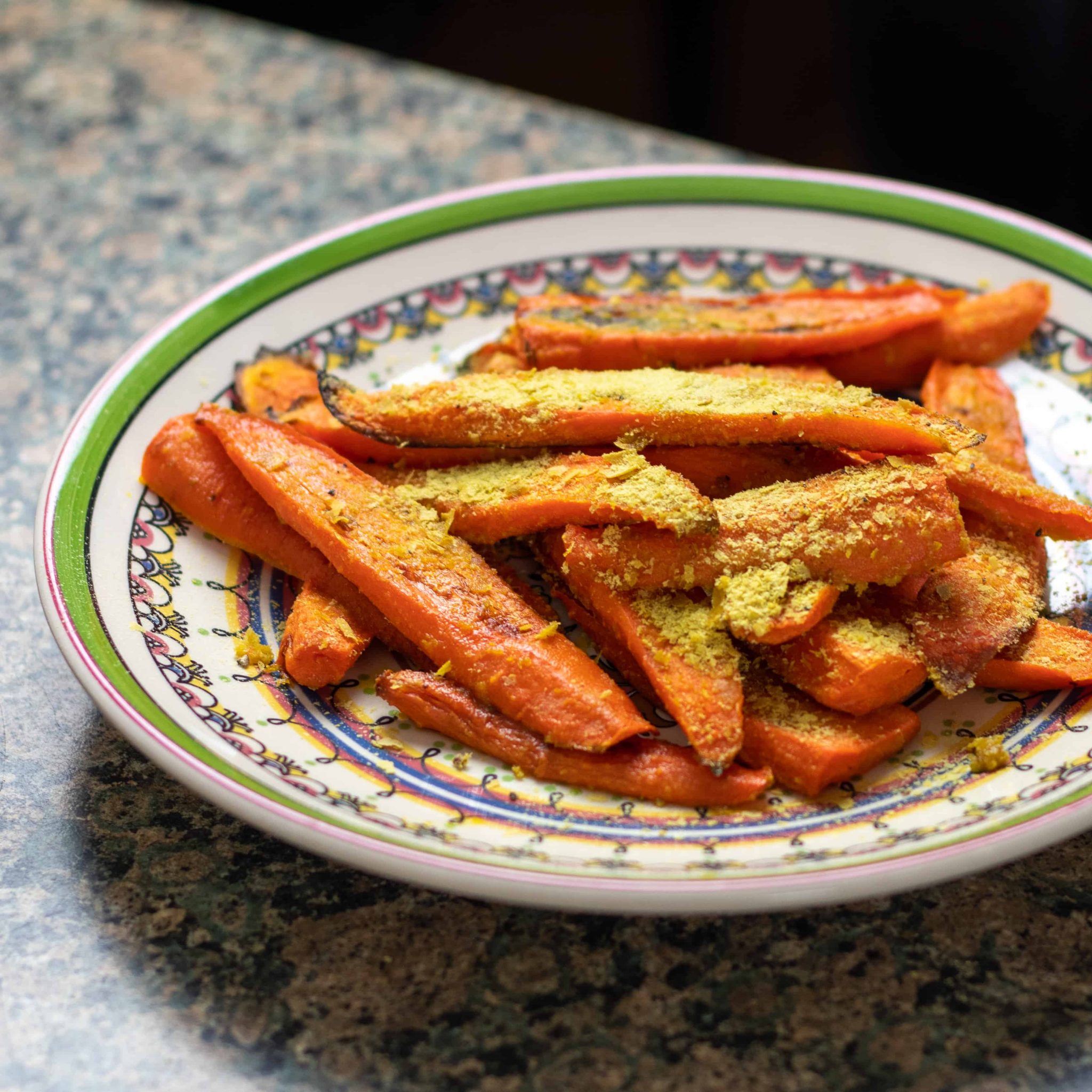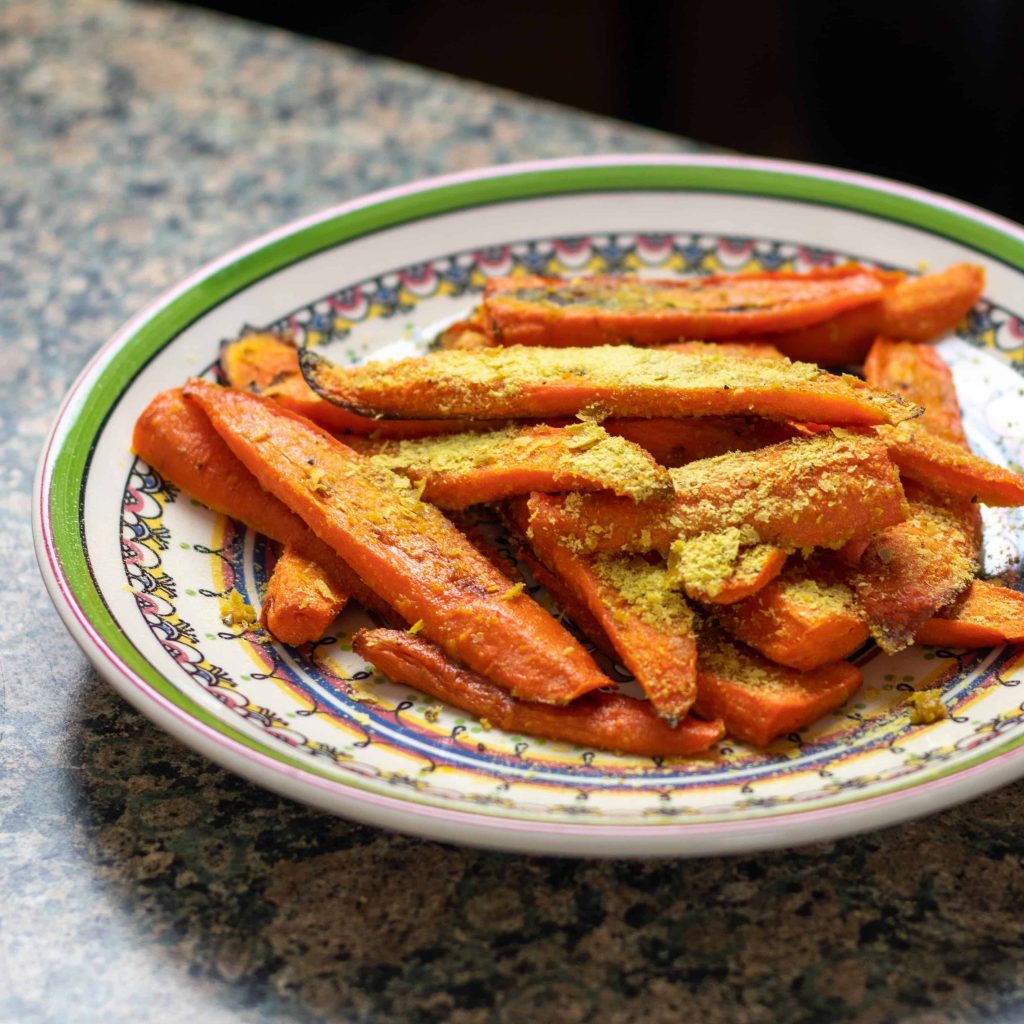 Where to buy nutritional yeast
If you go looking for nutritional yeast in the health food store you might be bombarded with an entire wall of different varieties. There are tons of similar inactive yeasts on the market like brewers yeast, and torula yeast to name a few. But the most common one–and the one we're talking about today, goes by the name of "nutritional yeast flakes" or "engevita yeast flakes."
If you're shopping at a normal grocery store, you'll likely find nutritional yeast in either the bulk section or the herbs and spices section. If your store annoyingly has a "natural foods" section (my annoyance for this section is long-winded and will probably warrant another blog post one day), you will likely find it there. As with most things, you can also buy it online!
Nutritional yeast popularity
Nutritional yeast has been a popular topping for popcorn for a long time, especially in the nutrition and health nut communities. Lately, I've seen it popping up in more mainstream settings. Cool restaurants are using it, cool foodie magazines are talking about it, and it's starting to become more readily available. I've also noticed some commercialized applications for this stuff going under the nickname "nooch" which I think is pretty cute since "nutritional yeast" sounds super clinical and pretty unappetizing.
Now let's get into how to use nooch in some really delicious ways at home.
How to use nutritional yeast (3 wonderful ways)
1. Make anything creamy
If you have something creamy and you want to make it more creamy, nutritional yeast is a great way to achieve that. Things like broccoli soup, cauliflower soup, mashed potatoes, risotto, and creamy pasta. It has an amazing way of becoming super cheesy and smooth when mixed into anything warm. You'll often notice it in tons of vegan recipes for this reason. Vegan mac and cheese, caulifreddo, it's perfect for that stuff. On top of the rich nutty flavour, it has a beautiful earthy yellow colour which makes it extra appetizing.
Fun fact: The rich flavour of nutritional yeast is not unlike the rich flavour of… MARMITE! Which is also made from yeast.
Scroll to the end of this post for a ridiculously easy "nooch noodles" recipe. It is comparable to my beloved marmite spaghetti, but slightly more sophisticated. It's amazing.
2. The "roast & sprinkle" technique
Nutritional yeast is such an amazing addition to literally any roasted vegetable. Whether you're roasting squash, potato wedges, Brussels sprouts or broccoli, sprinkle it with tons of this stuff when it comes out of the oven. It's so freaking delicious.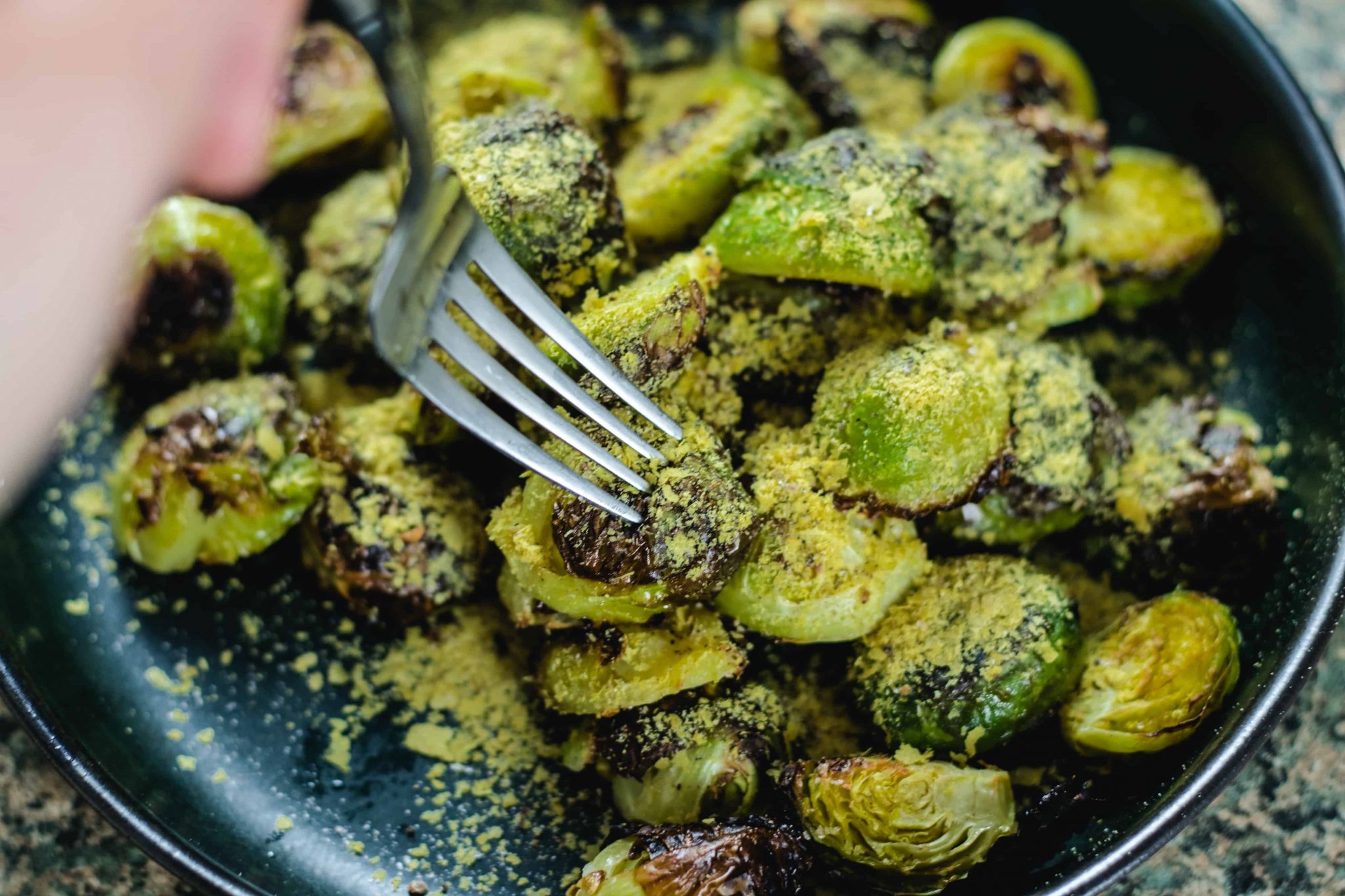 Other veggies to try it on:
Sweet potatoes
Cauliflower
Peppers (especially shishito peppers)
Carrots
Parsnips
3. Nutritional yeast salad dressing
You can find a million different variations of this dressing online, but here's my go-to recipe for nutritional yeast dressing.
I'm not totally sure where this concept for a dressing got its start, but two similar versions were printed around the same time in two separate cookbooks I happened to own. Whitewater cooks, and Hollyhock Cooks. Since then, I've seen iterations of the same dressing all over the place. Recently I've seen a company making a store-bought version of this dressing and selling it in bottles for almost $10.
No need to bust out the big bucks though. Making this creamy dressing yourself is really cheap and very easy. Plus, it'll keep in your fridge for at least a week or two.
You won't even believe how good this dressing is, you'll literally want to dump it on everything.
Scroll down for a recipe for my "Nooch Noodles." It's yet another wonderful way to use this delicious stuff, and it kinda tastes like boxed mac & cheese. I personally love it, especially curled up with a good book or a movie.
Nutritional yeast FAQ's
Is Nutritional yeast the same thing as brewer's yeast?
Not exactly. Nutritional yeast and brewer's yeast are both deactivated forms of yeast, but while brewer's yeast is a by-product of the beer-brewing process, nutritional yeast is grown on sugar cane or molasses. Nutritional yeast is often fortified with vitamin B12 which makes it a great staple in vegan diets that tend to lack B12.
Brewer's yeast is naturally quite bitter, but a de-bittered version can be used in cooking in similar ways to nutritional yeast.
What's the difference between fortified and unfortified nutritional yeast?
Unfortified nutritional yeast naturally contains vitamins and minerals, but the fortified version has had more vitamins and minerals added to it during the manufacturing process. Both versions taste great, but if it's the vitamins (notably the B12) you're after, best go with the fortified version. The fortified version is also more common than non-fortified. Below are screenshots of each label so you can compare values: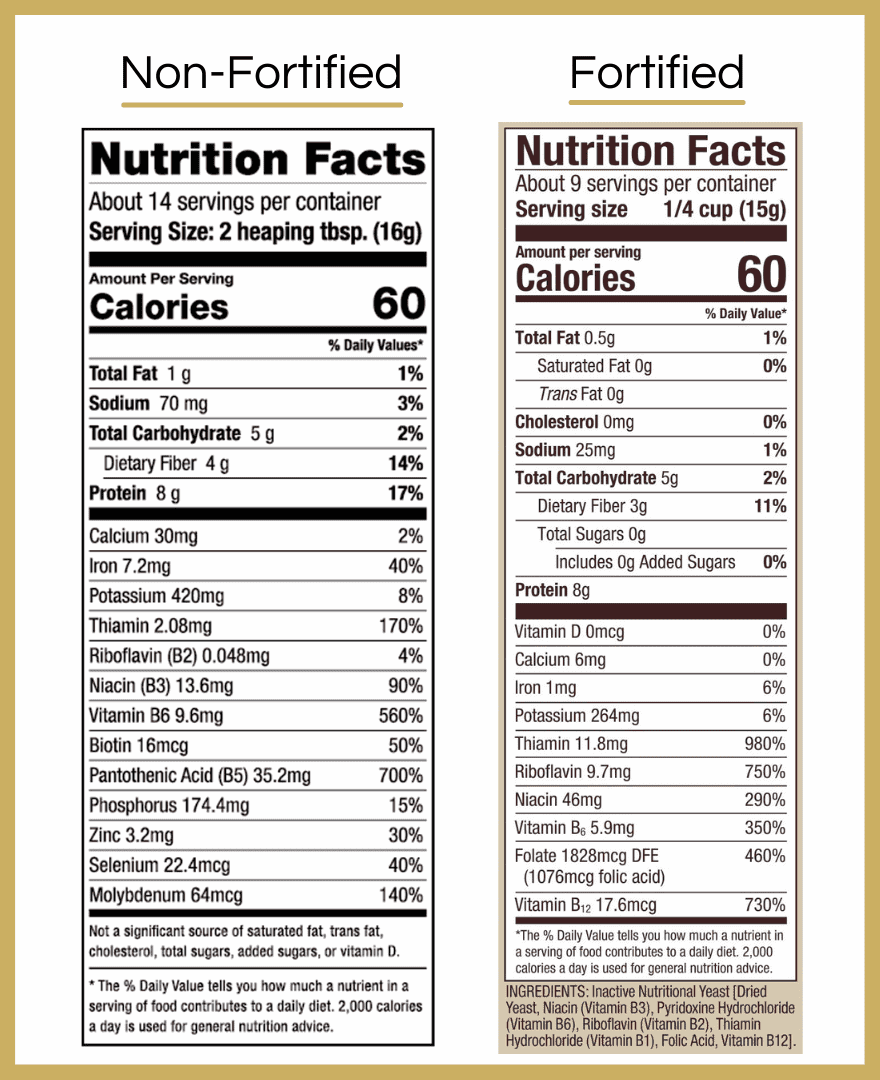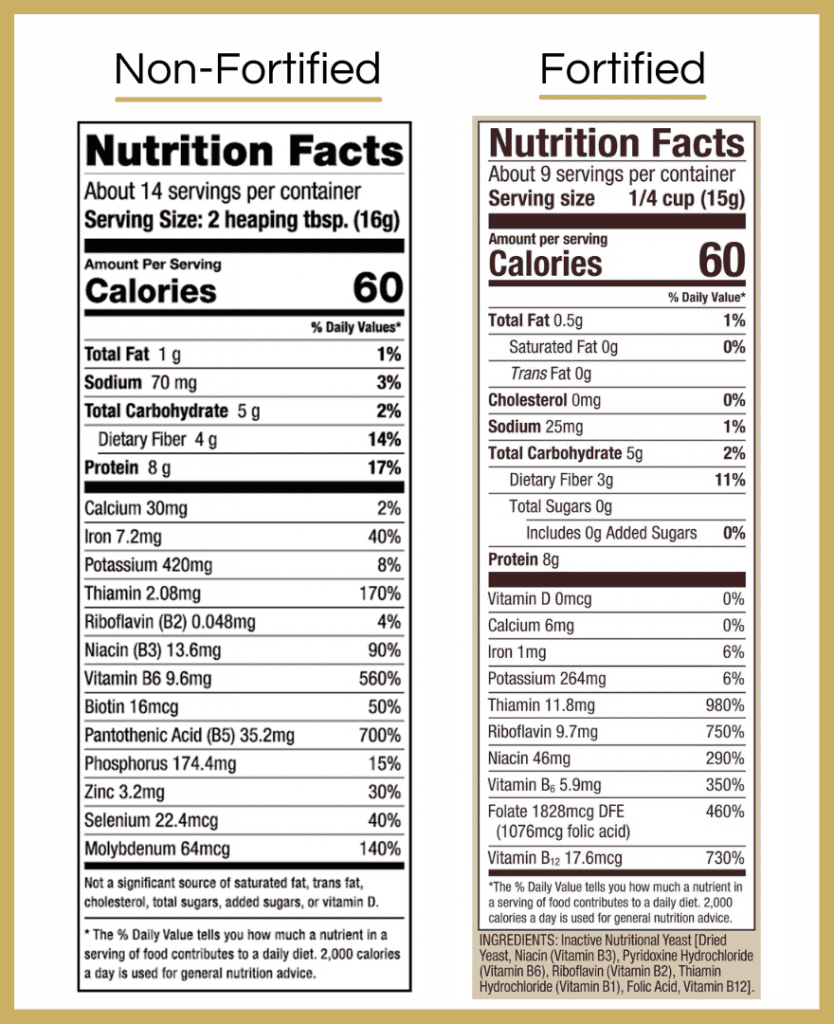 Still hungry?
If you're looking for more salad dressing tricks and tips, feel free to grab my downloadable guide. It gives you a solid salad dressing framework to start with, and tons of combos to get you inspired.
And if you've made all these things and you still have a bunch of it kicking around in your cupboards, it is still one of the best things you can do for your popcorn. And if you ever run out of ideas on ways to use this wonderful stuff, shoot me a message and I'll help you solve this very delicious problem.
Nooch Noodles
This easy pasta gets its incredibly satisfying flavour from nutritional yeast and white miso. It is a perfect quick dinner for one
Ingredients
80

grams

dried pasta

1

Tbsp

olive oil or butter

1

Tbsp

white miso

2

Tbsp

nutritional yeast flakes

1

pinch

chili flakes (optional)
Instructions
Cook the pasta to the doneness of your choice

Drain, reserving some of the cooking water to thin the sauce if needed.

Stir the fat, miso, and nutritional yeast flakes into the pasta

Adjust the consistency with the pasta cooking water if needed.

Sprinkle with chili flakes if you want a bit of a kick.
Nutrition
Calories:
455
kcal
Carbohydrates:
57.5
g
Protein:
20.3
g
Fat:
18
g
Saturated Fat:
2.6
g
Cholesterol:
58
mg
Sodium:
674
mg
Potassium:
660
mg
Fiber:
6
g
Sugar:
1.1
g
Calcium:
37
mg
Iron:
7
mg