This Cheesy Pasta With Butternut Squash is my favourite version of mac & cheese. The butternut squash makes the creamiest sauce, and the real cheese makes it perfectly cheesy. Of course, if you wanted to make this into a vegan recipe, you could swap out the cheese for vegan cheese.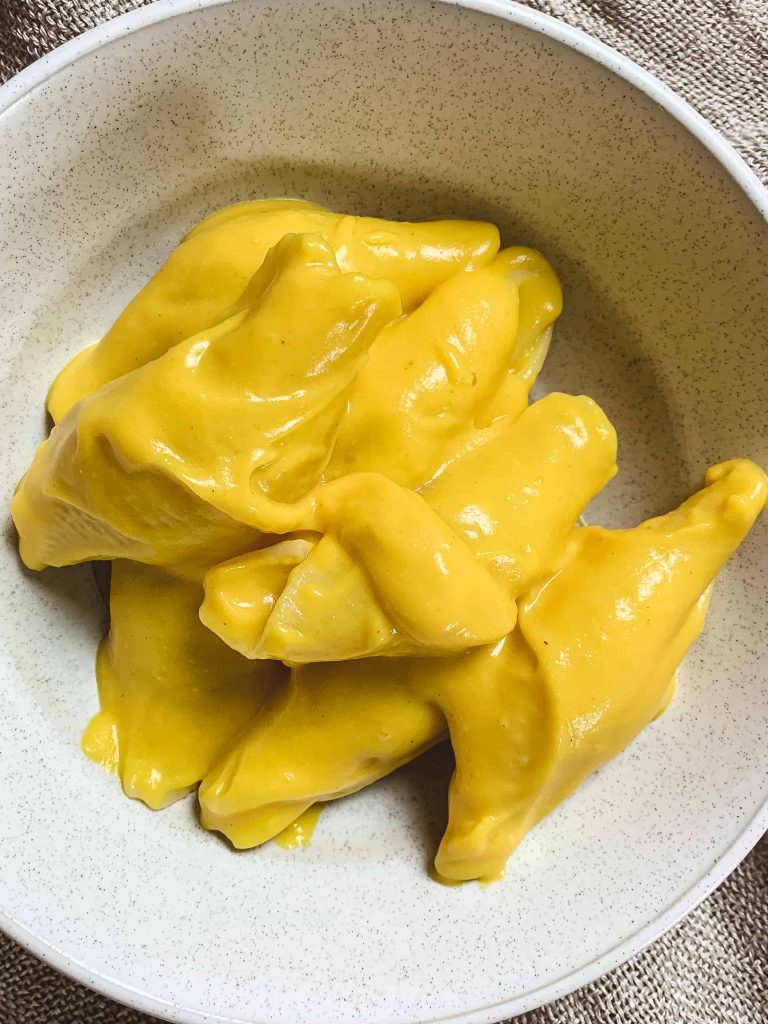 I'm not a huge fan of hiding vegetables in food. I know it's easy for me to say because I was never a picky eater and I've never had to feed a picky child either. But even if I did, I don't think I would try to hide vegetables from them. 
When I hear people say things like "You can't even taste the vegetables!" It's kinda like when teenagers say "you can't even taste the alcohol!" in their vodka iced teas or whatever. 
But once in awhile a concept comes around that presents itself like a healthier "hidden vegetable" substitution for the real thing, and it turns out that it's actually better than the real thing. 
I think this is the case when using butternut squash in a creamy cheesy pasta sauce.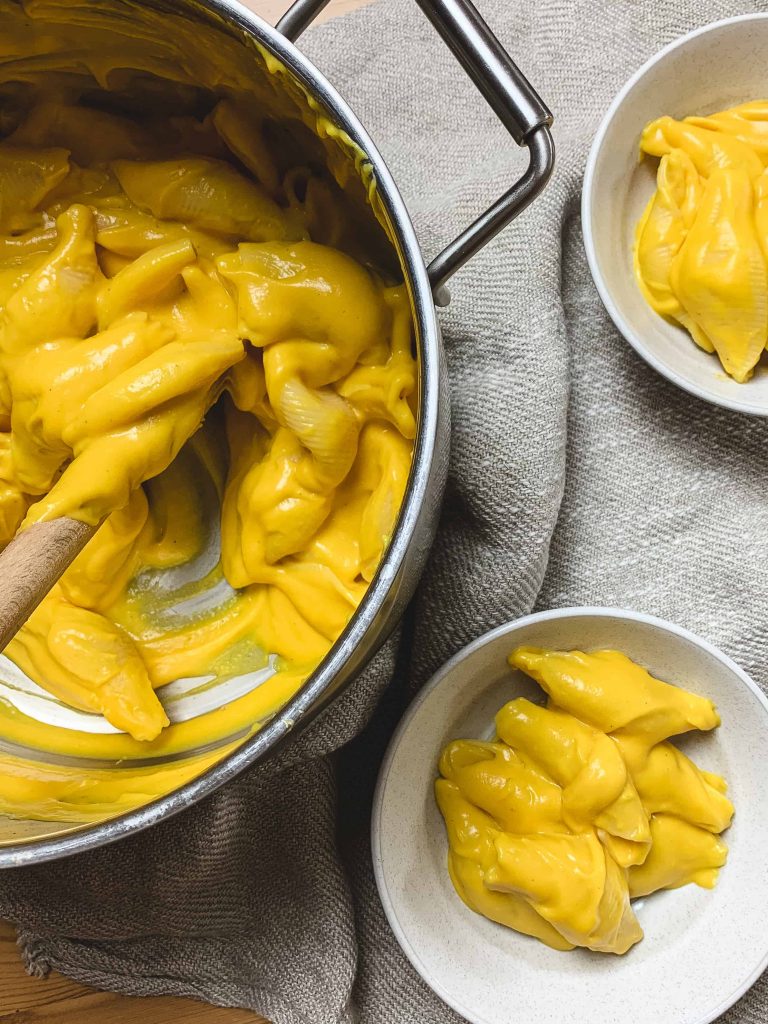 Mac and cheese is the ultimate comfort food, and butternut squash is your ticket to an easier and arguably better mac and cheese than the original milk-based one.
Butternut squash makes the best cheese sauce! Here's why:
Butternut squash are orange, which is a colour that we often associate with cheesiness. (Even though orange cheese isn't naturally orange, it's dyed with annatto seed, but you get the point.)
Butternut squash is SUPER creamy. Just what you need for a creamy cheesy sauce.
Squash (especially roasted butternut squash) have a delightful sweet flavour that works perfectly against the flavour of tangy cheese.
I'd say that this cheesy pasta is a great way to celebrate the butternut.
Why I love this Cheesy Butternut Squash Pasta recipe
I love this recipe because it's easier and more hands-off than a standard white sauce. AND, instead of congealing into a cheesy dense block in the fridge overnight, It stays smooth creamy! 
Stovetop or baked?
For this recipe I use a stovetop method instead of baking it in the oven. I prefer the stovetop method because it keeps the pasta as creamy as possible and removes the risk of it drying out in the oven. I also like this method because I end up with fewer dirty dishes at the end of the day. (I don't love scrubbing cheese-crusted casserole dishes, but that's just me!)
If you decide to bake your pasta to get a crispy melty cheesy top, I'd recommend not to bake it for more than 15 minutes or you'll risk it drying out.
*If you're making this in advance and reheating it, the baked method can be a good option. See the section about storage, freezing, and reheating below.
What about the crispy topping?
If I am in the mood for a crispy topping, I like to toast bread crumbs in olive oil in a cast iron pan until they're crispy. I season them with salt and black pepper, and occasionally throw a bit of garlic in there too. You can make your breadcrumbs cheesy by stirring in some grated parmesan cheese after they have cooled slightly.
How to make this Cheesy Butternut Squash Pasta
The method for this lovely cheesy pasta recipe is simple.
Roast the squash: Preheat the oven to 375 (or 400 if you want more browning), Toss the butternut squash and onion in some olive oil and salt, and roast for about 25 minutes or until tender. 
Cook your pasta until al dente, and set it aside while you finish your sauce. 
Blend the sauce: Blend up the squash, onion, some cheese – I like a combination of gruyere, cheddar cheese, and Parmesan, and a few tablespoons of cream cheese or butter. Use enough cooking liquid to thin out the sauce just right, then toss the cooked pasta with the sauce. The sauce can be blended in a food processor or blender. I used a Vitamix because I just got one and I'm really excited about it. It also makes the smoothest sauces in the land. 
*NOTE: This butternut squash pasta could easily be made gluten free if you choose some gf noodles, and if you go that route, you can sub out the bread crumbs with salt and pepper seasoned ground almonds. (And get some cheese in there too if you like!)
Storage, freezing, and reheating
This Cheesy Pasta With Butternut Squash makes for some top notch leftovers. To store it in the fridge, cool the pasta completely before refrigerating in an air-tight container. It should last for up to 4 days that way.
This pasta also freezes really well. To freeze it, chill it thoroughly and wrap tightly or cover with a tight-fitting lid and freeze for up to 1 month.
To reheat the refrigerated pasta, you can either bake it an oven-safe dish until the internal temperature reaches 165 degrees, or you can reheat smaller portions in the microwave as needed.
To reheat the pasta from frozen, defrost it overnight in the fridge first, then bake it in a covered, oven-safe casserole dish until the internal temperature reaches 165 degrees. This should take 45-60 minutes.
Creamy Cheesy Pasta With Butternut Squash
This Creamy Cheesy Pasta With Butternut Squash is the creamiest mac and cheese out there! Butternut squash is the perfect addition to make a super silky (still cheesy) mac.
Ingredients
800

grams

butternut squash (approx. 1 squash)

1

onion, medium

1

tablespoon

olive oil

2

teaspoons

salt

450

grams

dry pasta

1

teaspoon

garlic powder

1

pinch

grated nutmeg

1

tablespoon

Dijon mustard

4

tablespoons

cream cheese or butter

150

grams

grated cheese. I like a blend of Swiss and Cheddar
Instructions
Preheat the oven to 375 degrees

Peel and chop the squash and onion, toss with olive oil and salt, and roast for 25-30 minutes or until tender.

While the squash is roasting, cook your pasta in plenty of boiling salted water until al dente.

Drain the pasta and reserve the cooking water. Set the pasta aside.

Once the squash and onion are tender, transfer them to your blender or food processer and add the cheeses, mustard, spices, and 1 cup of the pasta cooking water.

Blend, and add more cooking water as needed until the sauce forms a creamy consistency.

Add the sauce to the cooked pasta and stir to combine.

Serve with crispy bread crumbs and whatever condiments your heart desires. For me, it's hot sauce, black pepper, and ketchup.
Notes
If you have added too much of the pasta cooking liquid and your sauce is too thin, turn it into a baked mac and cheese! It'll thicken up in the oven.
Nutrition
Calories:
493
kcal
Carbohydrates:
74.3
g
Protein:
18.2
g
Fat:
14.3
g
Saturated Fat:
7.3
g
Cholesterol:
34
mg
Sodium:
990
mg
Potassium:
705
mg
Fiber:
5.6
g
Sugar:
6
g
Calcium:
272
mg
Iron:
4
mg