Maybe not the most appetizing name, but the internet is a busy place and at hit single needs a catchy name, right?
I'm SO glad you've found your way here, because this cake recipe is such a handy one to keep in your back pocket. It truly is the most adaptable fresh fruit cake ever. I'm calling it compost cake, because it is the most delicious last stop for all the random fruit you have lying around, when you just don't have the heart to chuck it in the compost.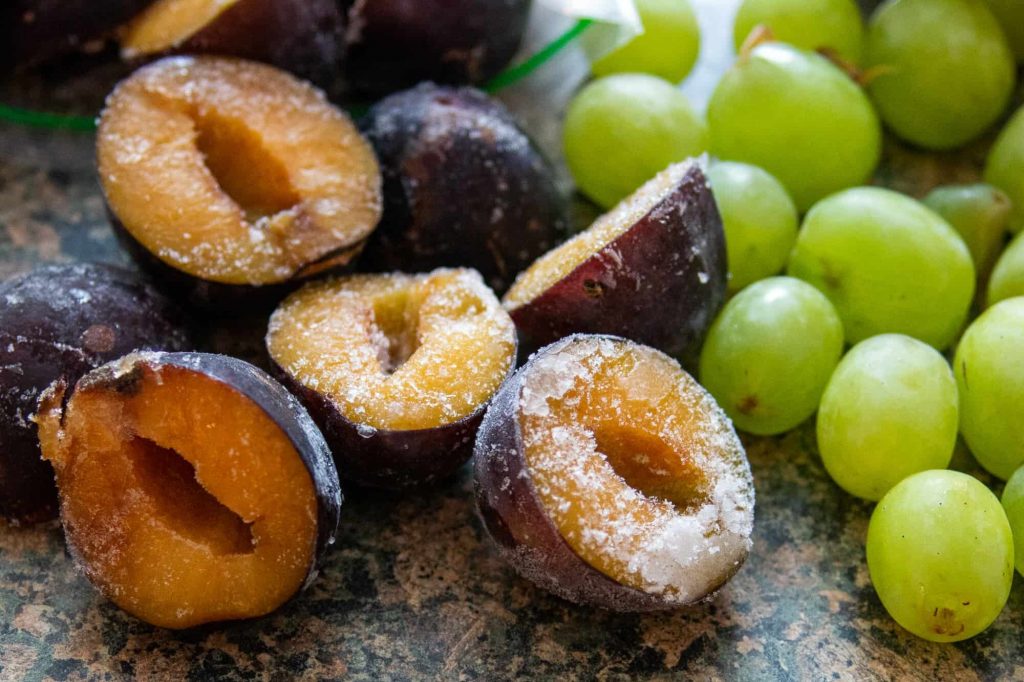 This was originally a plum cake recipe, and I admit the version with fresh plums is probably still my favourite. But I've adapted it so that you can put virtually anything into it, and it will work perfectly. I mean it. It's truly a miracle fruit cake.
The Backstory
I originally fell in love with this cake while working in a farm shop in Scotland. It's an amazing place called Loch Arthur in a tiny village called Beeswing. (And yes, the name of the village was a big draw for me). The Loch Arthur kitchen cranks out the most beautiful pies, soups, salads, scones (yep, the same scones I've written about) and cakes, like this one.
The community also produces award winning cheese, meat, bread, as well as non-edibles like woven textiles and wood work. In the kitchen, we always had to find creative ways to use up the sometimes overwhelming abundance of fresh organic fruit and veg the property produced.
This cake was a life saver in that kitchen. We relied on its ultra flexibility when we had too many plums, too many apples (if there is such a thing) or other delicious bits that were hard to find homes for.
Why is it so good
There are so many reasons to love this fruit cake.
First, It's ridiculously easy. I truly believe that no matter how hard you try, you will not screw it up.
Second, it's super moist. The fruit to cake ratio in this recipe is almost 50/50, which makes it pretty much impossible to dry out and it actually manages to get better over time. Three days on the counter at room temperature and it's still totally fruity, juicy and delicious.
Third, it is "fancy" enough to serve to friends at a dinner party, maybe with a little vanilla ice cream or whipped cream. (Or creme fraiche for ultra fancy) But because it's so fruit-forward, you can even get away with having it for breakfast with a spoonful of yogurt, or packing it in your kid's lunch.
Bonus: This cake is dairy free, which is handy when some of your friends are lactose intolerant.
Endless Combinations Of Ingredients
I feel a bit weird even calling this a recipe. It's so flexible that you can almost do whatever you want with it. What I'm giving you is a framework within which you can take in an endless number of directions based on what you like, and what you have on hand. You can add nuts, you can leave nuts out. You can add whatever spices you want, and you can bake it in whatever shape you want.
"This cake recipe is so flexible it's basically doing the splits."
– Compost cake eater and enthusiast
Here are a few combination ideas to kick things off and get your creative juices flowing:
Plum and almond – with flaked almonds on top
Apple and cinnamon – with oats on top
Banana and chocolate chip
Pineapple and coconut
Pear and fresh ginger, with sliced pears on top
Grape and rosemary, with olive oil
*Update: I recently made this cake replacing 80% of the fresh fruit with pulp from juiced fruit and vegetables. It was DELICIOUS. I made up the remaining 20% with some good ol' raisins.
I find that sticking to one or two 'showcase' ingredients, like the combinations above, make the cake feel more sophisticated. For those situations, you can name it by the ingredients you use. Because if you give it a name, it's a thing!
For example, serving a 'pear and ginger cake' sounds much more fancy than serving a 'fruit and nut cake.' But when its Tuesday night, and you have a half a zucchini, 2 mushy bananas, a bruised apple and a handful of raisins, you've got yourself a fruit cake. And a damn good one too.
My only advice would be to avoid using 100% dried fruits. Some raisins or dates are great, but the juiciness of this cake really comes from the fresh fruit. And I won't even talk about candied fruits. Let's not go there.
Assembly Is A Breeze
One of my favourite things about this recipe is how easy it goes together. You only need one large bowl, there's no need to add eggs one at a time or separate them, there is no butter to cream, and it can be easily mixed by hand. It comes out super juicy, light and fluffy without any fuss.
The process for making this cake could not be simpler. Preheat the oven to 350. Whisk the wet ingredients, then fold in the flour mixture followed by the chopped fruit. Dump the batter into a prepared pan, and bake for about an hour or until a toothpick inserted into the center comes out clean.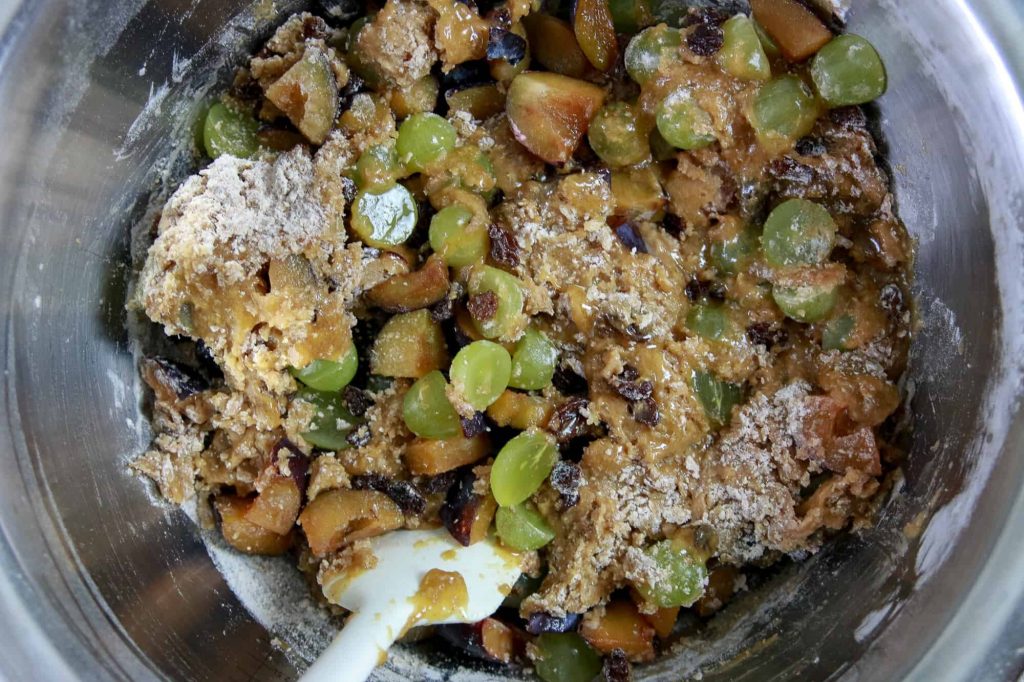 A Few Words On Measuring Techniques
Ok so I'm a humongous proponent of using a digital scale for baking. Using a scale means that I can easily use one bowl for recipes like this. My method is to mix with the wet ingredients in a large bowl, then set a sieve on top and weigh the dry ingredients into the sieve, zeroing out the scale after each addition. That way, the dry ingredients are being combined through the sifting process, alleviating the need for me to whisk together the flour, baking powder and spices in a separate bowl.
If you aren't into sifting, which I can relate with because I didn't used to be either, you can mix the dry ingredients in a separate bowl. No problemo. I've included both weights and cup measures in the recipe so don't panic if you haven't converted to team digital scale yet.
Loaves, Slabs, or Rounds. It's Your Call.
You can bake this cake in almost whatever shape you want. For a slab cake, use an 8 x 12 brownie tin. For loaves, use two loaf pans. If you prefer a round cake, which is often a nice option if you're entertaining guests, use two 8 inch round cake tins.
Note: I do not recommend you bake this recipe in muffin tins. It's just so damn juicy that the muffins don't hold together that well.
I hope you find this cake as delicious and flexible as I do. Be sure to comment with your favourite combinations!
-Paula
Zero Waste Fresh Fruit Cake (AKA Compost Cake)
Make this fresh fruit cake when you have tons of random fruit that needs to be used! Quick, before it hits the compost!
Ingredients
3

eggs

235

grams

(230 ml) oil

200

grams

(1 cup) granulated sugar

220

grams

(1 cup + 2 Tbsp) light brown sugar

250

grams

(2 cups) all purpose flour

120

grams

(1 cup) whole wheat flour

1

teaspoon

salt

2

teaspoon

cinnamon

1

teaspoon

baking soda

1/2

teaspoon

baking powder

925

grams

(approx. 6 full cups) chopped fruit of your choice
Instructions
Preheat the oven to 350 degrees.

In a large bowl, whisk together the eggs, oil, and sugars.

Add the dry ingredients and fold to combine.

Fold in the fruit.

Transfer the batter into your parchement paper lined pan. This recipe fits one 8 x 12 brownie tin, two round 8″ cake pans, or two loaf tins.

Bake for one hour or until a toothpick comes out clean.
Notes
If you have fruit or vegetable juice pulp you'd like to avoid throwing away, use it in this cake to replace up to 700g of the fresh fruit!
Nutrition
Calories:
207
kcal
Carbohydrates:
29.6
g
Protein:
2.2
g
Fat:
9.6
g
Saturated Fat:
1.9
g
Cholesterol:
20
mg
Sodium:
159
mg
Potassium:
87
mg
Fiber:
0.9
g
Sugar:
20
g
Calcium:
19
mg
Iron:
1
mg