The first time I read about smashing cucumbers I was a bit skeptical.
I was like… why?
But, my reaction to smashing cucumbers was the same reaction I initially had to the idea of peeling cucumbers, and I've since been convinced that both of these activities are a good idea.
First, a little rant about the peeling, because I'm very enthusiastic about it.
Why I love peeled cucumbers
I was first introduced to peeled cucumbers in the 1980s when moms and Girl Guide leaders everywhere used a peeler to make striped patterns down the sides of cucumbers. This semi-peeled vibe was considered to be kinda fancy because of the way the cukes looked when they were sliced.
Sometime around then, another thing was happening. All of the short, stubby field cucumbers in the grocery stores were being replaced by Long English Cucumbers. This new style of cuke had no seeds and thin skin. So we all ditched the racing stripes and started eating the skin in its entirety.
There's no going back now
Fast forward to a couple decades later, and I find myself making a salad with my boyfriend who is from Bulgaria. We were chopping, and chatting, and he starts to peel the cucumbers. This isn't something I ever did, but apparently, in Bulgaria, nobody eats cucumber skin. It's always peeled.
At first I thought this was a bit silly, I mean—everybody knows that the skin has the most nutrients, it's full of fibre, and its 100% edible. What was the point of peeling it?
But despite my hesitation, I decided to try it on for size. I peeled my next several cucumbers to see how it felt.
And you know what? It felt good.
It tasted SO GOOD! The cucumbers tasted more cucumber-y than ever before.
So it dawned on me that although it's good for you, keeping the skin on is like keeping a massive lock on a huge amount of delicate cucumber flavour that I love.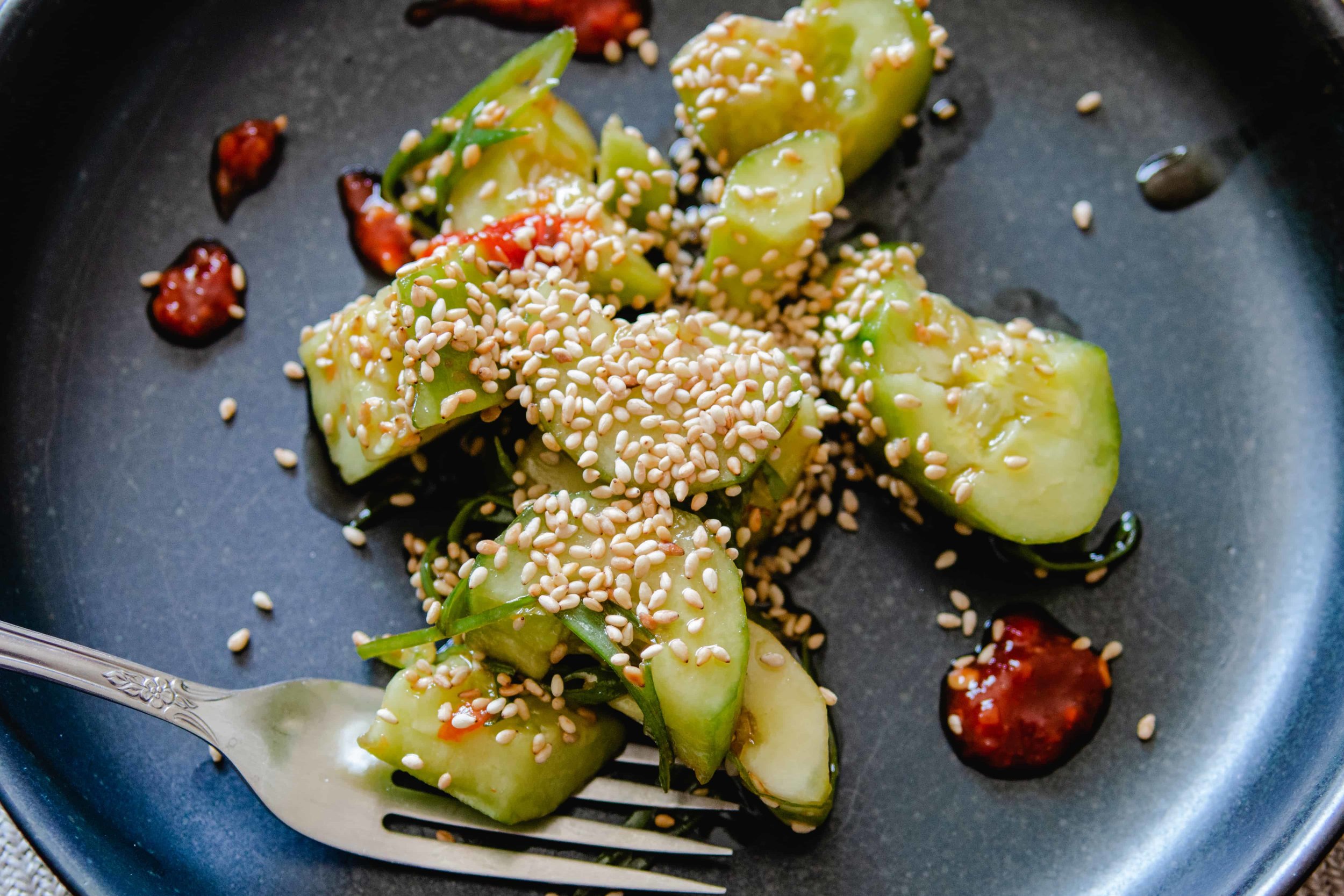 So, I peel almost all my cukes now.
What does this have to do with Smashed Cucumber Salad?
The point of my story is that the wonderful flavour-unlocking thing that happens with you peel cucumbers also happens when you smash cucumbers. You're busting up all the little flavour cells and releasing their cucumbery-ness to the world. The smashing also creates tons of little nooks and crannies for the dressing to get into. It's great!
Smashed cucumber salads are common all over Asia—from Japan, to China, and it's especially common in Szechuan cuisine. The technique and flavours in this salad are definitely Asian-inspired, however I'm not claiming that this particular version is in any way traditional. It's just really delicious.
How to make this Smashed Cucumber Salad
Step 1 – Peel and smash the cukes. Smashing can be done with the side of a heavy knife, the bottom of a heavy pan, or a rolling pin.
Step 2 – Cut the cucumbers into rough bite-sized pieces. Place the pieces into a colander and sprinkle with a pinch of salt. Sea salt or kosher salt will do. Toss to coat, and let them drain in the colander set over a large bowl in the fridge for anywhere from 10 to 30 minutes.
Step 3 – In a small bowl, combine minced garlic, soy sauce, sesame oil and rice vinegar. If you like heat, add some red pepper flakes, sambal oelek, or a sliced red chili. I like fresh cilantro in mine, but sliced green onions are a good alternative. Toss the cucumbers into the dressing and other ingredients and top with a lot of roasted sesame seeds.
Bring this smashed cucumber salad to a potluck or serve at home among other side dishes like steamed rice, noodles, or sweet chili green beans. It goes really well with grilled fish or chicken.
If you like the vibe of this salad, you might also like this quick veggie slaw with sesame miso dressing!
Smashed Cucumber Salad
Cucumber salad is great but peeled & smashed cucumber salad is even better. This one is spicy with chillies and so refreshing.
Ingredients
1

cucumber, long English

1

clove

1 garlic clove, minced

1

tablespoon

soy sauce

1

tablespoon

toasted sesame oil

1

tablespoon

rice vinegar

1

tablespoon

fresh chilli or chilli paste (optional)

1

green onion

1

tablespoon

roasted sesame seeds

1

pinch

salt
Instructions
Peel the cucumber and smash with a rolling pin or the bottom of a frying pan.

Chop cucumbers and place them into a colander set over a bowl, and drain for 10-30 minutes.

Combine the minced garlic, soy sauce, sesame oil, rice vinegar, chilli paste and cilantro in a bowl.

Add the drained cucumbers to the dressing mixture and toss to combine.

Sprinkle generously with roasted sesame seeds and serve.
Nutrition
Calories:
147
kcal
Carbohydrates:
11.2
g
Protein:
3
g
Fat:
10.5
g
Saturated Fat:
1.3
g
Cholesterol:
3
mg
Sodium:
693
mg
Potassium:
286
mg
Fiber:
1.6
g
Sugar:
4.9
g
Calcium:
88
mg
Iron:
2
mg