Do you ever attempt to recreate the things you eat at restaurants?
I don't do it very often. When I go to restaurants I tend to just kick back and enjoy, and appreciate the food and the moments shared at that specific time and place.
But once in awhile I eat something in a restaurant that is so simple and straightforward that I can't resist replicating it for an at-home version. This miso sesame slaw is one of those. It's a spinoff of a salad I had at a trendy little restaurant in Vancouver recently. The chairs were uncomfortable and the place itself was a bit pretentious, but the salad was delicious!
Before I sat down to write this recipe, I did a bit of coleslaw-related research. Apparently the word 'coleslaw' specifically refers to a shredded cabbage salad with a creamy dressing. This one isn't creamy, so I guess it's not technically coleslaw. I think I can still get away with calling it slaw though. So there you have it. It's just a lovely shredded cabbage and veggie slaw with crunchy seeds and a zippy little miso sesame dressing.
What veggies can you use in this quick veggie slaw?
When I'm choosing the veggies for this slaw, I tend to stick with the usual slaw suspects. Green or white cabbage, red cabbage, carrots and/or beets. I like to shred the cabbage on a mandoline, and I grate the carrots and beets on a box grater. If you don't have a mandoline but you have a shredding attachment on your food processor, that's a great way to speed things up. Other veggies you could include in here are celery root, kohlrabi, broccoli, or even cauliflower. The veggies are the important foundation to this veggie slaw of course, but the real star of the show is the zippy miso sesame dressing.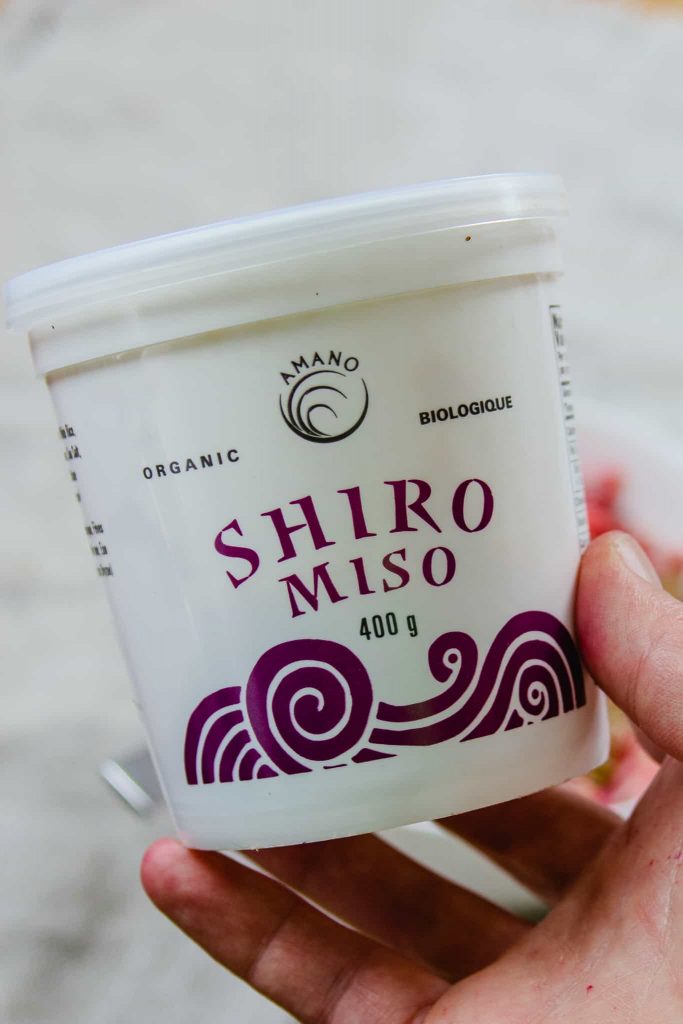 Are you a miso newbie?
If you haven't introduced miso into your arsenal of pantry staples yet, I'd highly recommend getting on it! It's a fermented soybean paste that comes in a variety of shades and colours, all of which have a unique flavour profile. If you're new to miso, I'd recommend buying a tub of white miso or Shiro Miso (pictured), as the flavour is lovely and mild. It's a great 'gateway' miso. Miso is not only great for salad dressing, but it adds a rich salty flavour to soup, roasted veggies, I've even seen it baked into apple pie. It's one of those pantry staples that is hard to live without once you've gotten hooked!
How to make sesame miso dressing
The dressing for this salad is so simple. You can make it in a jar or a separate bowl if you want, but I usually just make it right in the bowl I'm going to make the salad in. In a medium bowl combine the miso paste with the toasted sesame oil and maple syrup, and whisk. The miso is really thick so sometimes it can be a bit tricky to smooth out. Once it's smooth, add in the cider vinegar, and whisk to combine.
You may notice that this dressing has barely any oil. Aside from the sesame oil, this is an almost oil-free dressing. It doesn't follow the usual 2-1 acid to fat ratio that I talk about in my salad dressing guide, and that's because cabbage is a hard and fairly bland vegetable that can stand up to a really intense punch of flavour. This dressing would not be ideal for a delicate leafy green kinda salad. Delicate leaves would quickly be overwhelmed by such a ruthless dressing. But for our purposes here, it's perfect.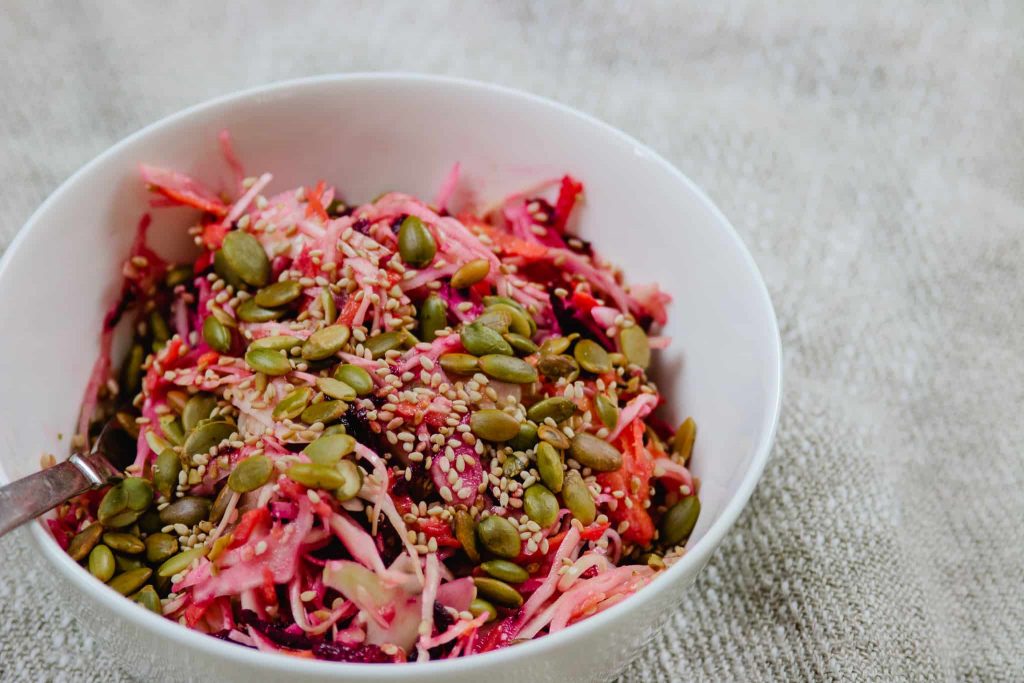 How to assemble the quick veggie slaw
When I say quick, I mean it. This salad comes together in a flash. Gather up your shredded or grated vegetables and throw them into the bowl on top of the dressing.
Toss the veggies and miso sesame dressing together with your hands. This is SO much easier than trying to use a spoon or a set of tongs. Your hands are really the best way to make sure this dressing is combined well with the veggies.
The only thing left to do is add some crunch. I like to top this veggie slaw with lots of seeds. If I have pumpkin seeds on hand I'll use those. If I have toasted sesame seeds, those are very well suited with the miso sesame vibe. If you have both of those things available, use both!
Possible substitutions and additions
I love this salad and salad dressing just as it is, but I love providing options for you so you don't have to go running out and buying a bunch of stuff you don't have. So here is the list of switcheroos you might want to make:
If you don't have cider vinegar
You can absolutely substitute with red wine vinegar, rice vinegar, or lemon or lime juice. If you use rice vinegar, you might want to add a splash more than the recipe calls for since rice vinegar is quite mild.
If you don't have maple syrup
No problem! You can use honey or another sweetener like agave syrup or brown rice syrup. Heck, even plain old sugar will do in a pinch.
If you want a little extra heat
By all means, feel free to add some fresh ginger or even a sliced fresh chili to the dressing. I wanted to keep the ingredient list small and approachable, but those are both very welcome additions.
Fancy a bit more salt?
I left the salt and pepper out of this recipe because I don't think pepper really does much for this salad, and miso is quite salty which means you probably won't need salt. If you do find it a little bland, you can increase the miso slightly, or add a splash of soy sauce to the dressing. I'm a salt tooth too, so no judgement there!
How to serve this slaw
This veggie slaw is a great addition to any dinner. Serve it in a large bowl right in the middle of the table. Because it doesn't have any mayo or dairy in it, it's great at room temperature so it's a good option to bring to a potluck dinner. It's also a perfect thing to pack for lunch, topped with grilled chicken or a couple of hard boiled eggs.
I hope you love this slaw! If you make this recipe, share a photo on Instagram and tag me @howtomakedinner. I'd love to see your spin on it!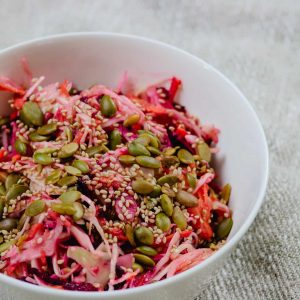 Quick Veggie Slaw With Miso Sesame Dressing

This quick veggie slaw with miso sesame dressing is so zippy and fresh. Crunchy pumpkin and sesame seeds give it the perfect crunch!
Ingredients
400

grams

shredded cabbage, carrots, or other hard vegetables

2

tablespoons

white miso paste

4

teaspoons

apple cider vinegar

2

teaspoons

toasted sesame oil

2

teaspoons

maple syrup

2

Tablespoons

toasted pumpkin seeds

1

Tablespoon

toasted sesame seeds
Instructions
Combine the miso, vinegar, sesame oil, and maple syrup in a medium-sized bowl, and whisk to combine.

Add the shredded veggies to your bowl and mix well.

Garnish with pumpkin seeds and sesame seeds. Enjoy!
Nutrition
Calories:
108
kcal
Carbohydrates:
11.7
g
Protein:
3.7
g
Fat:
6
g
Saturated Fat:
1
g
Sodium:
340
mg
Potassium:
244
mg
Fiber:
3.4
g
Sugar:
5.8
g
Calcium:
71
mg
Iron:
2
mg