These sweet sambal green beans are the most addictive thing I've ever eaten BESIDES the ginger fried beef from my favourite takeout place.
And if you know me, you know I love my ginger fried beef.
Getting accustomed to the heat
I never used to like spicy food. In fact, I used to get VERY annoyed at my brother when he would put Emeril's "essence" on everything he cooked at our house. (Any old school Food Network fans out there?) 
It really is true though, the more heat you expose yourself to, the more you can handle. And now I'm a total die hard hot sauce loving animal. Who knew?
This sambal green bean recipe one of my all time favourite things to make. It kinda reminds me of the green beans you get at Szechuan restaurants – the ones that are really blistered and come with about a pound of chilis on top.
Authenticity is in the eye of the maker
This recipe is in no way traditional. It's authentic to me, because I made it just the way I wanted it, and it turned out to be so good that I had to share it with you.
The whole thing comes together in about 5 minutes which means it's the perfect thing to make when you're feeling real lazy and all you really want to do is watch back-to-back episodes of the Golden Girls – or whatever the kids are watching these days. 
Spicy hot Sambal Oelek is balanced out with Maple Syrup, tons of ginger and garlic, and the beans get coated so nicely in all of this magic before the final touch of salted roasted peanuts.
You'll end up with a sticky plate of sweet spicy morsels that you literally can't stop eating. The heat keeps you coming back for more, and more, until they're gone. As for what to eat along with these beans? I wouldn't say no my Creamy Gochujang Noodles. This combo will kill any hangover in a heartbeat.
Easy to find ingredients
All the ingredients you need for this can be found at your regular grocery store. If you're unfamiliar with Sambal Oelek, look in the Asian section. It'll be there. If you can't find it there, it's definitely online! It's a wonderful chili paste that is a pantry staple for me, and I have a feeling it might become the same for you.
So grab a cold beer and let's make these guys! Heck, we can make them together if you want. Click here or scroll down past the recipe for the video.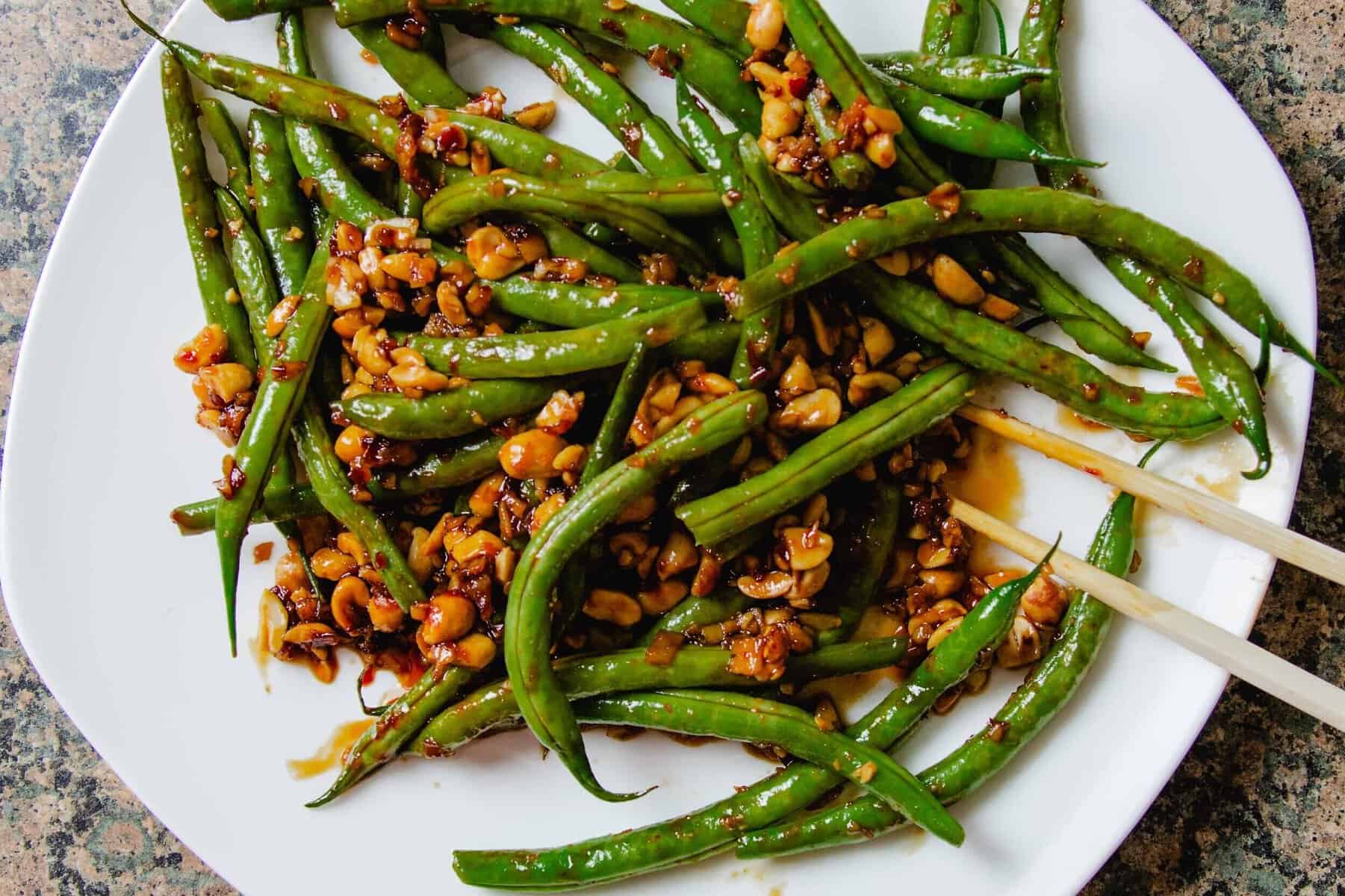 One little note: In the video, I accidentally used fish sauce instead of sesame oil. I guess I was too busy being in awkward YouTuber mode and I wasn't paying attention!
But it turns out, the fish sauce was an AMAZING mistake. If you go this route, be sure to add a little more maple syrup to balance out all the salt. I do recommend that you follow my mistake though, it's freaking delish.
Snuggle up and enjoy!
This sambal green bean recipe is sure to please the heat lovers in your life. If you're not a heat lover, you can definitely reduce the sambal to tone it down a notch or two.
Eat this as a side dish, bring to a potluck, and feel free to add diced chicken or put an egg on it if you feel that you need that protein. 
But for me, this is a perfect dinner just as it is, to be demolished with a cold beer and a snuggly cozy movie on a lazy Sunday evening. 
Enjoy!
Sweet Sambal Green Beans
These Sambal Green Beans are spicy, and crunchy, and fresh. The perfect thing to enjoy while curled up in front of the TV.
Ingredients
400

grams

trimmed green beans

1

tablespoon

vegetable oil

3

cloves

garlic, minced

2

tablespoons

minced fresh ginger

1

tablespoon

maple syrup

2

tablespoons

soy sauce

1

tablespoon

toasted sesame oil

2

tablespoons

Sambal Oelek

100

grams

peanuts, roasted & salted
Instructions
Heat a wok or large skillet over medium high heat

Add 1 Tbsp oil to the wok. This could be peanut oil, canola oil, sunflower oil, or any neutral oil.

Add the ginger and garlic to the pan, and stir around for a few seconds.

Add the green beans and cook, stirring, for about 3 minutes or until the green beans are crisp, tender and bright green. The skin will also start to blister, which is what we want.

Add the soy sauce, chili paste, maple syrup, and sesame oil, and stir fry until the green beans are coated, and the sauce starts to look sticky. You're basically making homemade sweet chili sauce right in the wok.

Toss in the chopped peanuts and toss for another few seconds until they get coated in the sauce too.
Nutrition
Calories:
251
kcal
Carbohydrates:
14.6
g
Protein:
9.2
g
Fat:
19.4
g
Saturated Fat:
2.7
g
Sodium:
513
mg
Potassium:
456
mg
Fiber:
6
g
Sugar:
2.8
g
Calcium:
69
mg
Iron:
3
mg