These creamy gochujang noodles were inspired by the most insanely delicious stir-fried chicken ramen noodles I had at a Korean restaurant one summer day.
I was sitting on a patio with a cold beer in a tall glass, and I ordered these noodles from a photo on the menu. When they arrived, I was thrilled. They were spicy, and creamy, and perfect, and they cured my hangover like nobody's business.
Maybe the cold beer had something to do with that too…
My homemade version of these Korean-inspired spicy noodles makes for a perfect easy dinner for one. Especially on those lazy evenings when you just want to curl up with some bad TV shows and stuff your face with spicy noodles. I'm not the only one who's into that, right?
Note: If you want to learn about authentic Korean cooking, I recommend checking out Maangchi and Kimchimari. Both of these women have an incredible wealth of information and inspiration to share and I've learned a ton from them.
What Kind Of Noodles Are We Talking?
The original inspiration for these creamy gochujang noodles was actually a ramen dish. However, I find it can be tricky to find ramen noodles in regular grocery stores. You can definitely buy instant noodle packets and leave the seasoning out (instant ramen seasoning makes a great easy chip dip FYI), or you can use any number of noodles you may have available to you. You can use spaghetti, sure. What's even better, is to make your spaghetti more ramen-like by adding baking soda to the cooking water. I learned that trick from this article from Serious Eats.
The noodles I tend to go for are translucent, glassy sweet potato noodles. They're gluten-free, they cook in about 6 minutes, and they're available in many grocery stores nowadays. I love their bouncy texture. Whichever you go with, you're going to cook the noodles according to package directions.
What Is Gochujang?
I had never heard of gochujang until about 2014 but in recent years it has become the "it" ingredient across North America. Korean food is rightfully surging in popularity these days, and Gochujang is a key player. It's a fermented red chilli and bean paste and it's used most commonly in the popular Bibimbap, which is an amazing rice dish served in a stone bowl. Nowadays you'll likely see gochujang popping up on restaurant menus – Korean and otherwise. I wouldn't be surprised to see a Gochujang mayo being served with yam fries at my local pub. (I'd breathe a sigh of relief that the chipotle mayo trend is finally over).
Gochujang typically comes in a bright red plastic rectangular tub, but you can also find it in smaller glass jars. If you see it, get it. It lasts forever and it's a great thing to add to the spicy condiment section of your fridge.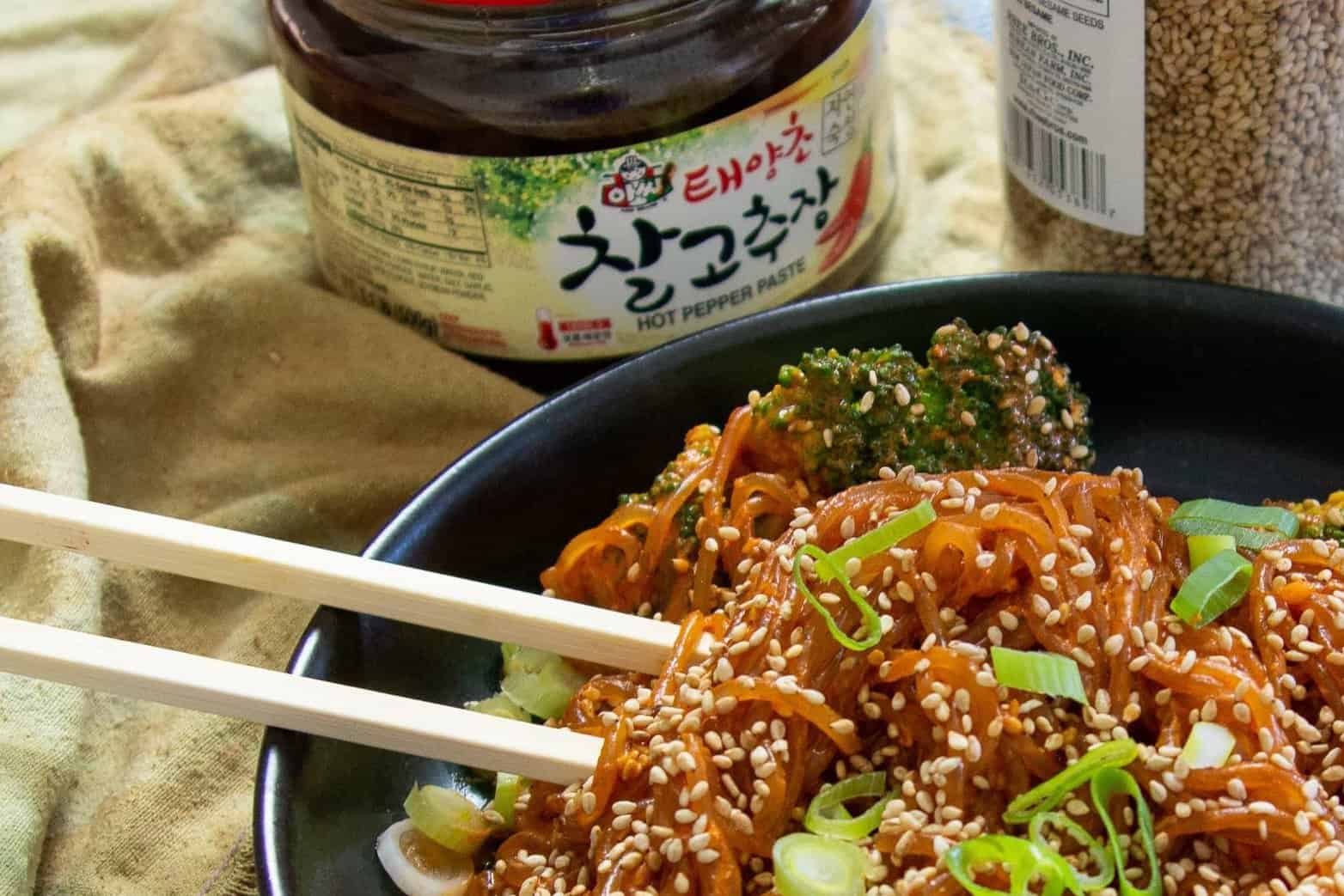 This simple noodle dish is so quick and easy. It's spicy with gochujang, creamy with cream cheese, vinegary with rice vinegar, and fresh with thinly sliced green onions. You can easily load it up with protein by adding chicken breast, ground pork, or black beans. It's a great recipe for a single serving, and if you have sauce ingredients like sesame oil and fish sauce on hand, it's nearly instant.
What goes well with these Creamy Gochujang Noodles?
You really don't need a side dish with these creamy gochujang noodles, as bringing too many dishes into bed with you can get messy. But, if you wanted something refreshing to make you feel better about yourself, these sweet sambal green beans or this smashed cucumber salad is just the thing.
Prefer video? Jump down to just below the recipe card to watch.
I hope you like my noodles! Let me know how it goes for you by tagging me on Instagram or commenting here. Happy dinner making!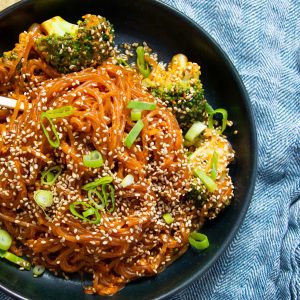 Creamy Gochujang Noodles
These creamy gochujang noodles are a perfect dinner for one! Curl up with your favourite tv show and dive in!
Ingredients
80

grams

dried sweet potato noodles, or your noodle of choice

1

clove

garlic, minced

2

tablespoons

gochujang (Korean chili paste)

1

teaspoon

toasted sesame oil

2

teaspoons

fish sauce

1

tablespoons

rice vinegar

3

tablespoons

cream cheese

toasted sesame seeds, to garnish

sliced green onions, to garnish

steamed broccoli (optional)
Instructions
Cook the noodles according to the package instructions

While the noodles are cooking, mix the garlic, gochujang, rice vinegar, sesame oil, and fish sauce together in a small bowl

Drain the noodles and put them back into the hot pot with the cream cheese

Add the gochujang mixture and stir until the creamcheese melts and you have a creamy sauce nicely coating the noodles

Add a splash of hot water to loosen the sauce if needed

Garnish with toasted sesame seeds and sliced green onion

Serve with steamed broccoli or other green veg if desired
Notes
This sauce is thick! You may need to thin out the sauce after it's all tossed together! Keep some noodle cooking water handy and add enough to get the right consistency.
Nutrition
Calories:
488
kcal
Carbohydrates:
81.3
g
Protein:
4.1
g
Fat:
15
g
Saturated Fat:
7.2
g
Cholesterol:
33
mg
Sodium:
1444
mg
Potassium:
4.1
mg
Fiber:
4.7
g
Sugar:
7
g
Calcium:
49
mg
Iron:
1
mg