I know it may sound counterintuitive, but I love a hearty soup in the summer! Soup doesn't have to be an all-day heating up the whole house affair. There are tons of great soups and chowders that can be made with fresh in-season ingredients and within 20 minutes. (My tomato coconut soup is another great example of that.) This summer corn and zucchini chowder is a great example of that. It's quick, it's easy, and weirdly light for a creamy potato-forward dish. It takes around 30 minutes total and it goes very well with a big tall beer and a garden patio! My favourite way to eat this chowder is to bring the whole darn pot outside and stick it on the table with a stack of bowls, some rustic bread from a local bakery, and a few hungry friends or family members.
The Easiest Road To Creamy Soup
The way we learned how to do things in cooking school is a fair bit different than the way I do things now. For example, in cooking school we learned to make creamy soups the French way. That is to make a roux (a combination of flour and fat, used as a thickener) and slowly add in milk to make what is essentially a loose Bechamel sauce. At home, I almost never do it that way. Here are a few reasons why:
It's fussy. Sometimes the roux and the milk don't come together absolutely perfectly and you end up with lumps.
You have to know EXACTLY how much soup you're making before you make it, so you thicken it just right. If you don't get it right from the start, your soup will be too thin or too thick. That's just annoying.
So many folks are gluten-free these days, so putting flour into food unnecessarily just seems silly.
Sometimes, a roux-and-milk thickened soup has a bit of a stodgy texture.
Ok I hope that gives you enough reasons to buy into my rationale. I like to cream up my soups the same way I cream up my coffee. Add cream at the end until I like the way it looks and tastes.
That's it! It seems almost too easy doesn't it? Oh, but if you're not into the creamy thing, you can totally leave it out too! It's still really really good! It'll look more like this:
Ok we're moving right along. Here are the key components to this dreamy creamy summer corn chowder.
The Corn
This corn chowder recipe uses fresh corn kernels, because where I live, we get really good in the summertime. That said, you can absolutely 100% use frozen corn if fresh corn on the cob isn't available where you live, or if you're in a different season.
The Liquid
I use a specific brand of chicken broth bouillon in this recipe because I think it is very very good. The brand I like uses real meat juices so it's meaty rather than salty. I tend to always have a jar or two on hand for these types of purposes. However, if you have homemade chicken stock or vegetable stock on hand, even better. If you don't have any stock (store bought OR homemade) you can just use water! There is absolutely nothing wrong with using water, especially in a chowder like this that is so packed with good stuff. Whatever liquid you choose, make sure your chowder is well seasoned with salt and pepper and you'll be in good shape. Oh… and don't forget the bay leaf. NEVER forget the bay leaf!
The Other Veggies
Sweating a good base of onion, carrots, and celery over medium heat will give you a solid foundation for a flavourful chowder. From there, you'll want to add plenty of diced potatoes – I like to use a waxier new potato over a starchy russet, and diced fresh zucchini. I like using a combination of yellow AND green zucchini because it looks nice.
The Optional Add-Ins
If you want this chowder to have a smoky meaty vibe, it's totally your prerogative to kick things up by sautéing some bacon or sausage with the onion, celery, carrot mixture. To keep it light, you could cook the bacon in the pot before starting the veggies, and drain it on a paper towel lined plate. That way you'll get the sticky bits in the pot, without the extra bacon grease. I've made this recipe with the addition of a few links of chorizo sausage, and it was damn good. That being said, it's a really hearty flavourful soup without the pork products, so I've decided to stick to the veggies.
I do like to sprinkle in some fresh extras at the very end. Fresh herbs, halved cherry tomatoes, sliced green onions or a handful of fresh spinach are always invited to the corn chowder party.
Making the Chowder
Making this thing is really straight forward. Sweat the base veggies, add the potatoes and zucchini, then add the stock and bring to a boil. Once it boils, reduce heat to medium and simmer, stirring occasionally until the potatoes are tender. Towards the end, add the corn, sour cream, and the optional add-ins.
I always like to rest my soups for a few minutes before diving in. If possible, I'll take this off the heat and let it sit in the pot for 20 minutes before eating. I feel like the soup kind of has a chance to settle into itself. It's just better.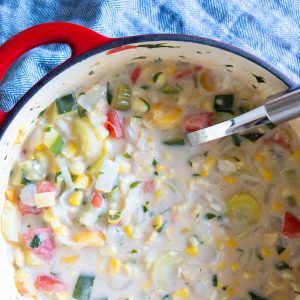 Easy Breezy Corn Chowder
This easy corn chowder is so delicious! The creaminess comes from adding sour cream at the end, so there is no need to mess around with a roux. That makes it lighter, brighter, and much much simpler to make. It's loaded with fresh corn and zucchini and it hits the spot any time of year.
Ingredients
2

tablespoons

butter

1

tablespoon

vegetable oil

1

teaspoon

salt

1

onion, large diced

2

stalks

celery, diced

3

carrots, diced or sliced

5

red potatoes, medium

2

cobs

corn

1

zucchini, small

3

bay leaves

1-2

litres

stock or water

200

grams

sour cream, full-fat
Optional Add-Ins
Small handful fresh parsley, chopped

3 green onions, sliced

10-15 cherry tomatoes. halved
Instructions
Sweat the onions, carrots, celery in a large pot over medium heat

Add the potatoes and zucchini

Add the stock or water – just enough to cover the veggies

Bring to a boil, then simmer over medium heat for 8-10 minutes or until the potatoes are nearly tender

Add the corn and simmer for another 3-5 minutes

Remove from heat

Stir in the sour cream and optional add-ins

Add cracked black pepper to taste, and adjust the salt if needed
Notes
If you are making this in a season when fresh corn on the cob isn't available, use frozen corn. Try to avoid canned corn as it has extra sugar added to it.
Nutrition
Calories:
320
kcal
Carbohydrates:
46.6
g
Protein:
6.6
g
Fat:
13.4
g
Saturated Fat:
7.1
g
Cholesterol:
25
mg
Sodium:
479
mg
Potassium:
996
mg
Fiber:
6.5
g
Sugar:
7
g
Calcium:
77
mg
Iron:
1
mg
That's it! I hope you enjoy this great recipe. As usual, send your chowder pics to me on Instagram! It'll make my day.
Happy dinner making!