A good tomato soup is a wonderful thing. Not only is it delicious on its own, but it can also provide a solid foundation for so many other meals. This quick tortilla soup is built on the foundation of a basic tomato soup, but takes on an exciting personality with some zippy herbs and spices.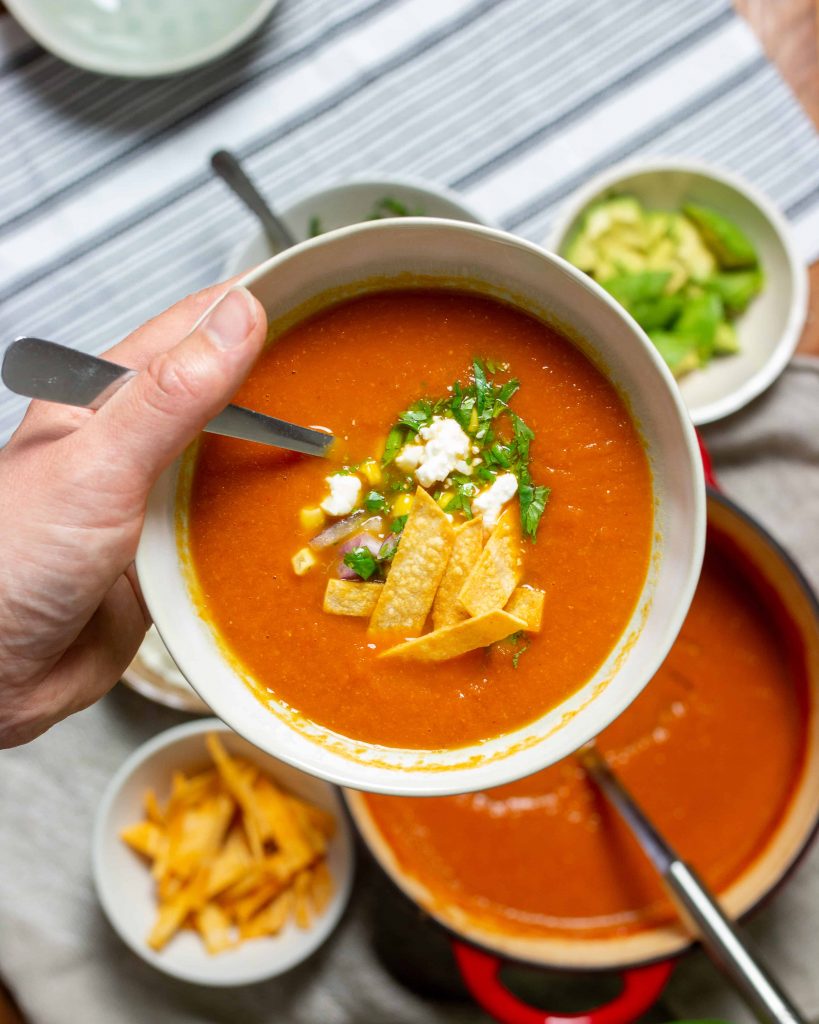 I'll walk you through how to make this little gem, and at the end I'll share a really great way to give the leftovers a brand new life of their own with my tortilla soup enchiladas.
Start with a good foundation
Any soup worth its salt starts with an aromatic foundation of onions, and sometimes carrots and celery are often in there too. This vegetable base, (A.K.A mirepoix) is the base for almost every soup in the world. Once these three veggies are making magic together in a big pot, you're in good shape.
Once the mirepoix is sizzling away, you get to decide which direction you want your soup to go. It's time to think about spices, other vegetables, canned beans, dried lentils, canned tomatoes… what direction is this soup going to go in? in our case, for this quick tortilla soup, we are going in the Mexican direction–which my pantry dictates as canned tomatoes, ground cumin, fresh cilantro and lime.
To blend or not to blend?
This is a question that you should answer early on in the soup-making process, because it will inform how you are going to chop your ingredients. If you're planning on blending your soup, who cares what shape your carrots are? As long as everything cooks in a reasonable amount of time, your chopping skills won't be on display in the final product.
If you aren't blending, you'll want to decide how big or small you want your ingredients to be in the finished soup.
This quick tortilla soup is going to be blended, so I don't care what shape they're in. For these blended soups, I am even inclined to chop the veggies up in the food processor if it's handy.
What about toppings?
The meat of this soup (mind the pun, it's actually vegetarian) really lies in the toppings. I like using things like avocado, lime wedges, cilantro, chopped tomatoes, sour cream, tortillas (obvs), thinly sliced radishes, sliced green chile, cooked spicy sausage, rotisserie chicken, corn, and black beans. Sounds good right!?
The tortillas
For the tortilla component of the tortilla soup, the easiest approach is to crush up some store bought tortilla chips. If you're feeling industrious, feel free to slice up your own tortilla strips from corn or flour tortillas, toss them lightly with oil, sprinkle them with salt, and bake them for about 12 minutes on a baking sheet in a 325 oven.
Should you host a tortilla soup party?
What a great idea! The abundance of topping options for this quick tortilla soup makes it a great thing to serve at a party. Everyone gets to jazz up their own bowl however they want. I am a huge fan of feeding people something that they get to top themselves. Baked potato parties are another personal favourite of mine for that reason.
Next day leftovers (nextovers)
Nextovers is a bit of a cutesy name, but it really makes sense. They're the most clever kind of leftovers. The concept: Making a big batch of something and reheating it the next day is kinda boring, right? Nextovers are when you make one basic thing, and add a new twist to it each day you eat it.
This tortilla soup makes great nextovers because it's blended and smooth. And although it is flavourful, it's also fairly flexible in its flavour profile. It can be taken a few different directions pretty easily.
Note: This soup is really tasty and super easy, but I'm not a Mexican food expert. If you want to learn about Mexican cooking, check out Pati Jinich's blog. It is lovely, and full of beautiful photos and Mexican recipes.
Bonus recipe: Tortilla Soup Enchiladas
Here's how to take this quick tortilla soup and turn it into the sauce for some simple black bean and corn enchiladas.
Cover the bottom of a 9" ovenproof glass dish with a few ladles of leftover tortilla soup. This is your enchilada sauce.
In a sauté pan, throw together some frozen corn, black beans, a few spoonfuls of tortilla soup, a pinch of chili powder, and some fresh cilantro. Cook until the corn is defrosted and warm and the mixture looks tasty. (You can really make any mixture you want here. If you have shredded chicken – throw it in. Pulled pork? You bet. Got an old zucchini in the back of the fridge? Chop it up and get it in there. This is your moment to use what you've got, and what you're in the mood for.)
Roll a small amount of this mixture into 6-8 corn tortillas, and nestle those seam side down into the soupy bottom of the ovenproof baking dish. Use as many tortillas as you need to fill the dish.
Cover with a few more ladles of the soup, sprinkle with cheese, and bake in a 425 degree oven for 12 – 15 minutes. It should be nice and bubbly and golden brown.
Top your enchiladas with sour cream, more fresh cilantro, more avocado, squeeze it with lime, and enjoy!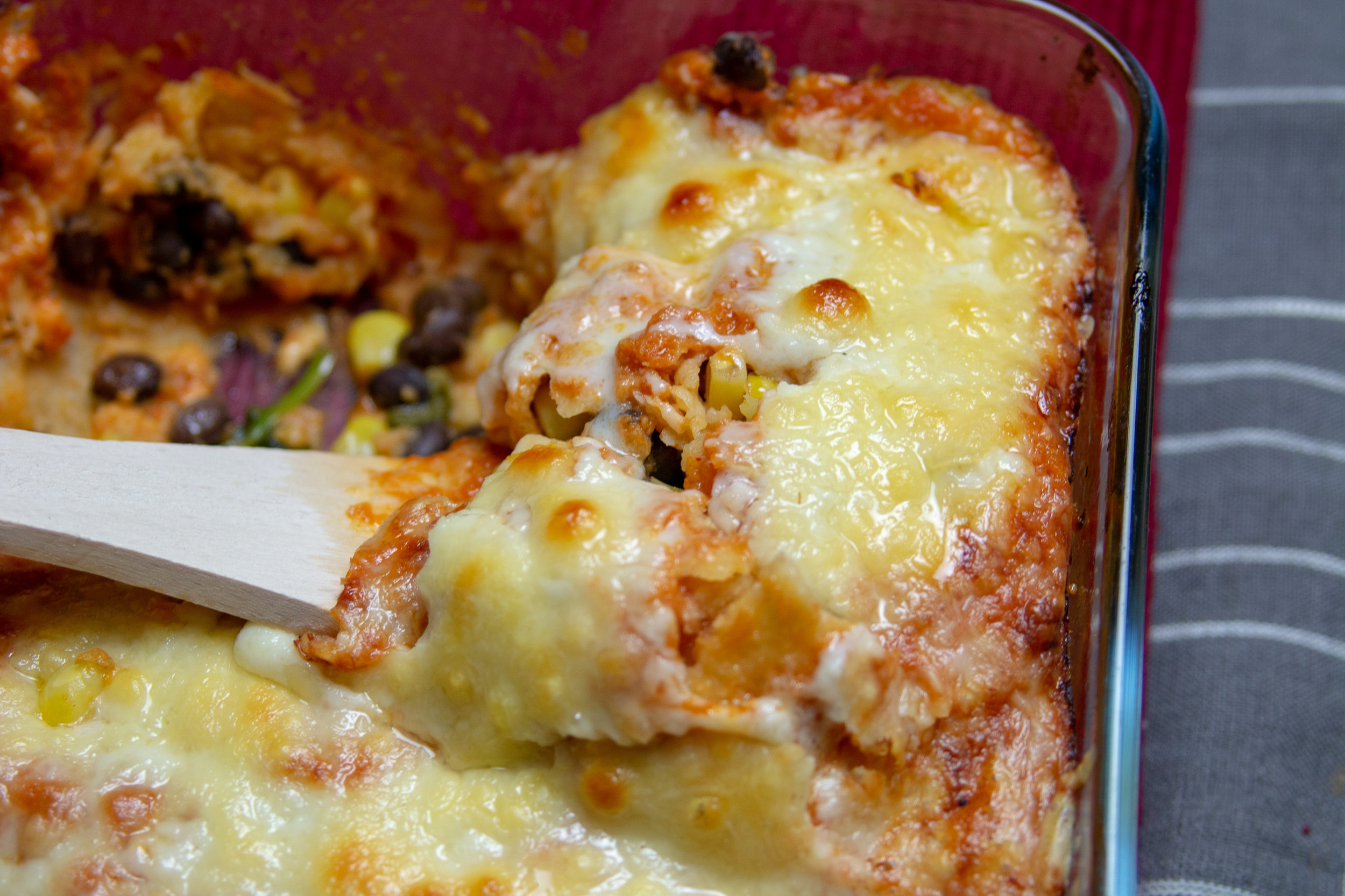 the "nextover" strategy is one of my favourite approaches to weeknight dinners. Start with a base, riff on it, and let it evolve throughout the week. This is the best way to keep your fridge organized, your taste buds excited, and your grocery bill low.
Freezing and storage tips
This quick tortilla soup (sans toppings) can be stored in a sealed food container in the fridge for up to a week.
If you really want to get ahead of the game, you can also make a giant batch and freeze it for a month or more.
Still Hungry?
I hear you. If you like this recipe, you'll probably also like these quick and delicious soup recipes:
I hope you love this soup recipe! Let me know if you make it by tagging me on Instagram @howtomakedinner.
Quick Tortilla Soup
This quick tortilla soup is a perfect weeknight dinner. And you can use it the next day to make some delicious enchiladas!
Ingredients
1

tablespoon

Olive or vegetable oil

1

onion

2

stalks

celery

2

carrots

1

tablespoon

salt

4

cloves

garlic

1

jalapeño

2

tablespoons

ground cumin

1

tablespoon

ground ancho chili powder

540

grams

crushed tomatoes (1 large can)

500

millilitres

water or stock
Instructions
Heat the oil in a large pot.

Add the onion, celery, carrots, & jalapeño in the oil along with the salt.

Sauté over medium high heat for 5 minutes until they have softened slightly. Covering with the lid helps the veggies sweat with the steam trapped inside.

Add the garlic, cumin, and chili powder, and sauté for another 2-3 minutes

Add the tomatoes and water. Bring to a boil, cover, reduce the heat, and let simmer for about 15-20 minutes.

Blend until smooth and adjust the seasoning as needed.

Pour into bowls and adorn with tons of fresh toppings!
Nutrition
Calories:
76
kcal
Carbohydrates:
11.8
g
Protein:
2.7
g
Sodium:
578
mg
Potassium:
112
mg
Fiber:
3.9
g
Sugar:
7
g
Calcium:
59
mg
Iron:
1
mg