I always assumed that minestrone translated "mixed vegetable and bean" but I learned recently that it literally just means "soup." When most of us think of minestrone our minds go directly to a thick, tomato-based, starchy, thick, dried-herb-heavy soup. To be honest, I was never a huge fan. What I am a big fan of, is spring minestrone.
Spring minestrone soup is just like regular minestrone soup, but… springier.
Spring minestrone is decidedly less tomato-forward than the other style. There's an emphasis on fresh ingredients like green veggies & leafy herbs (this is not the place for dried Italian seasoning).
Spring minestrone is a lovely little soup that takes cues from the classic minestrone but is much lighter and more refreshing. It's something you could enjoy in any weather, even on a really warm day.
This spring minestrone is less of a recipe and more of a method. It's meant to guide you to use what you have, or what looks good in the market, and run with it. This is a non-blended soup, so everything should be chopped somewhat finely and consistently so every spoonful gets a cheery combination of veggies, beans, and noodles, suspended in a flavourful broth. This basic method can be the source of a million homemade vegetable soup recipes.
This Spring Minestrone Soup consists of the following
Base veggies (aromatics)
Beans or legumes
Pasta
Bright green veggies
Liquid
Finishers
The base veggies:
For the base veggies, or aromatics, you'll need an onion, a stick of celery, a carrot, and about 5 garlic cloves. This is the base for so many of my soups. The carrots, celery, and garlic are optional, but the onion is not. In my opinion, if you don't have an onion, you don't have soup.
To kick things off, simply heat oil or butter in a dutch oven or large pot, and cook stirring the base veggies with a hefty pinch of salt over medium heat until they soften slightly, and the onions become translucent.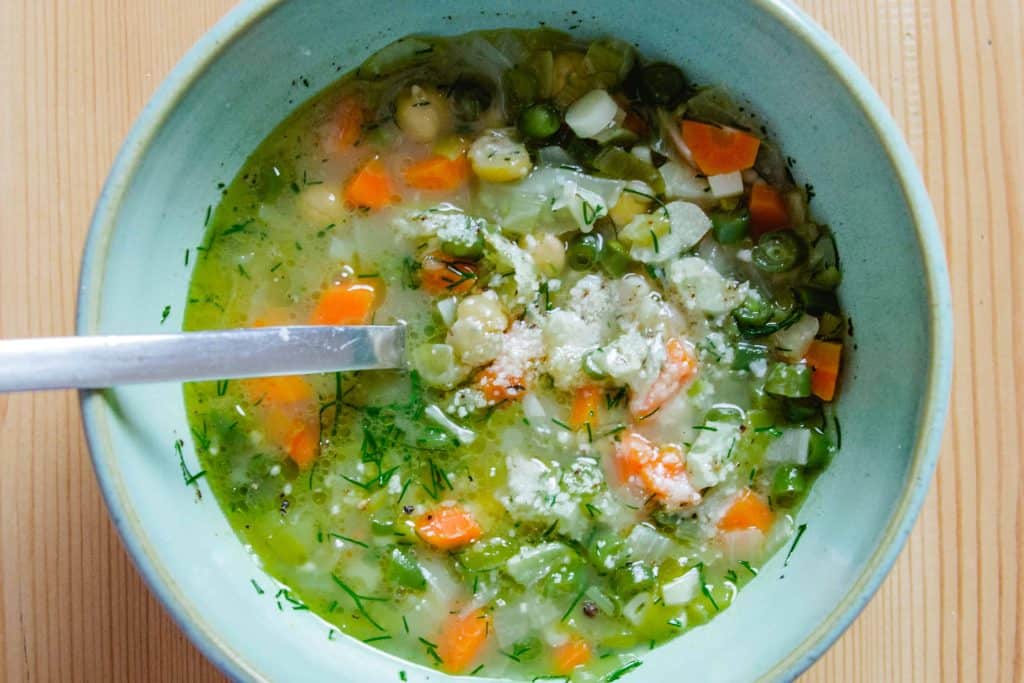 The bean or legume:
You can use anything from lentils, chickpeas, white kidney or Cannellini beans. Whatever you choose, I'd recommend sticking with a bean that is light in colour, as opposed to something like a regular kidney bean or black bean, mostly to stick with the springy aesthetic. I'm using about the equivalent of a standard sized can, somewhere in the 300 gram range.
The pasta:
It's always been my understanding that Minestrone always involves some type of pasta, ideally a small shape that allows for multiple noodles to be delivered in a standard spoonful. There is nothing stopping you from using some other starchy thing in place of pasta, like rice or barley, but with any starchy thing you add, be careful with it. A small handful is probably all you need. If you add too much, it will absorb all the liquid and turn your soup into a veggie casserole in no time.
The greens:
A spring minestrone should have some nice bright green action going on. Green things can include leafy things like spinach or Swiss chard, or heartier things like peas, green beans, or sugar snap peas. Whether you choose one green thing to focus on, or a variety of different greens, they should be added after the aromatic sweating process so they retain their bright colour.
If you're using something really delicate like spinach, I'd advise adding it towards the very end of the cooking process, even after the pasta is cooked.
The liquid:
The liquid goes in after the base veggies have sweated and softened. I recommend adding only enough liquid to just cover the contents of the pot. You can always add more if needed, but if you overdo the liquid you're going to have watery soup.
The liquid can be vegetable broth, chicken stock, chickpea cooking liquid, or just plain water. I use chicken stock whenever I have it, because it adds a delightful depth of flavour to everything it touches. I will happily use water in a pinch, and when I do, I am sure to include bay leaves and am not shy with the salt.
Now is also the time to bust out the parmesan rinds you've been hoarding. They will add some really nice salty richness to the broth.
Once you've added the liquid, bring to a boil and simmer the soup over medium high heat until the vegetables are tender.
Time to check for seasoning. Add salt (and pepper) if needed, and adjust the amount of liquid so the soup reaches your desired consistency. Remember to take out the bay leaves and parmesan rinds if any were used.
The finishers:
The finishers are the last things to enter the pot, as well as the things you add to your individual bowls when serving. I'll usually throw some fresh herbs like parsley, fennel fronds, green onions or chives into the pot towards the end of cooking. I always finish with a drizzle of extra virgin olive oil and a few shreds of parmesan cheese.
If you're looking for something nice to enjoy on the side, I'd recommend making a batch of parmesan cheese and herb scones. Here's the link to my best scone method.
I hope this method provides you with just the right balance of guidance and flexibility so you can feel confident in your own spring minestrone creations. As always, feel free to jump into the comments with any questions you may have about this soup or anything else for that matter!
Happy soup making!