This Creamy Carrot Tahini Soup is one of my new fall/winter favourites. It's so flavourful and satisfying, and I often don't need to go out and buy any groceries to make it because I already have everything on hand.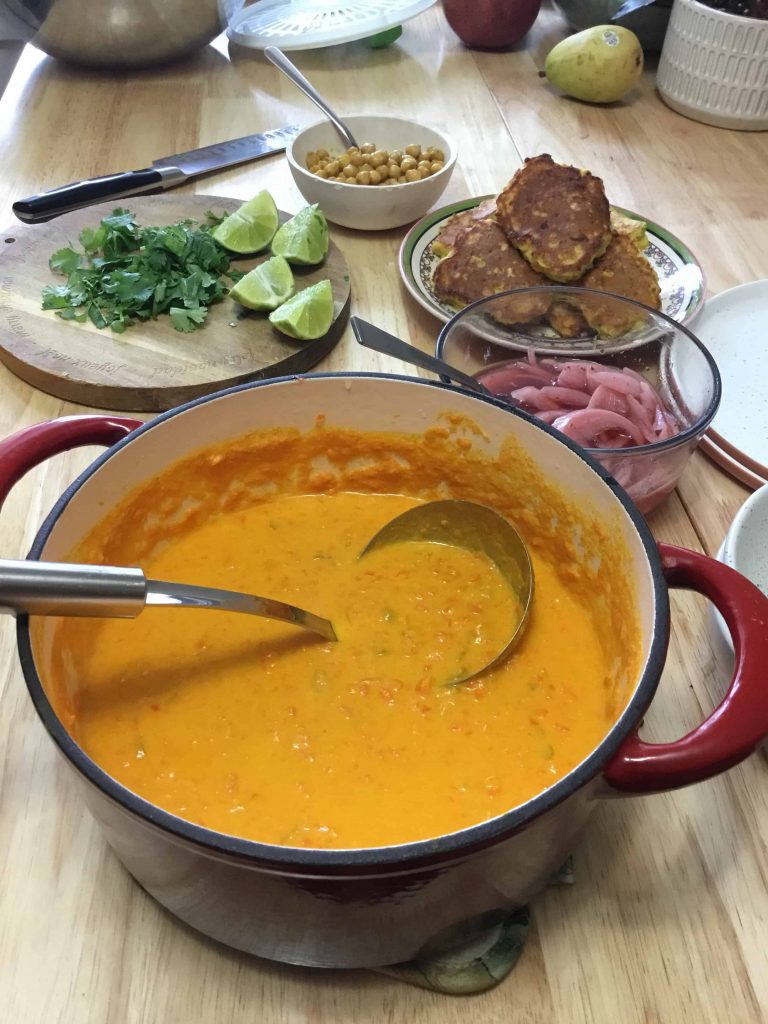 I first made this soup for a friend who was popping by for lunch. And as much as she loved it, I was probably the most impressed. I kept raving about my own soup and how good it was—basically, I was my own best house guest 🙂
Tahini in soup?
Tahini is one of my favourite ingredients. I've talked about it a lot, and shared quite a few recipes using tahini in the past. I love how versatile it is. You can do so much with tahini, besides making hummus (see also: Tahini Chocolate Chip Cookies). Tahini is a great addition to soup because it makes it super creamy and rich without adding any dairy. It's a great pantry staple because it lasts forever in the cupboards. Tahini does have a slight bitterness, so pairing it with naturally sweet ingredients like carrots is generally a really good move. 
This Creamy Carrot Tahini soup is completely vegan and gluten-free, and it only takes about 25 minutes to make. Perfect for busy weeknights (and totally welcome on lazy weekends too!)  
What ingredients you'll need for this recipe:
Carrots – Because you can't have a carrot soup without carrots.
 
Celery – Celery provides a lovely background flavour. It's especially welcome here because we're using water instead of stock.
 
Onion – I can't think of a soup that doesn't use onion!
 
Tahini – I tend to buy mine at a Middle Eastern grocery store because it's cheaper and I can get huge jars of it. 
 
Dried spices – This soup uses ground ginger, turmeric, garlic powder and onion powder. You can definitely use fresh ginger and garlic if you'd like but when I originally made the soup I only had dried on hand so that's what I used. 
 
Salt – Because you always need salt. 
 
Oil – I tend to use olive oil but any oil (or even butter) would do!
 
Water – Vegetable stock or chicken stock would also be really great here but water is all you need. 
Equipment needed
We're going for a coarse texture on the veggies here, which you can achieve really easily with a food processor. 
 
A large pot or Dutch oven
 
I often use an immersion blender (stick blender) to blend in the tahini, but you can also use the aforementioned food processor for that step.
How to make this Carrot Tahini Soup
Roughly chop the onions and celery then add them to the bowl of a food processor to chop further. They should be coarsely chopped, not puréed.
 
Sauté the onions and celery in a fairly large pot with some olive oil and salt. Sweat those down for a few minutes—mine usually go for about three minutes because I'm impatient, but five minutes is even better to extract maximum sweetness from the onions.
 
 
Roughly chop the carrots, then add them to the food processor and pulse until they reach a pebbly consistency.
 
Add the carrots and spices to the pot. Let the spices cook with the vegetables for 30 seconds or so, until you start to smell the aroma wafting up.
 
Add the water, and bring the whole thing to a boil. Reduce the heat, pop the lid on, and simmer for 15 to 20 minutes.
 
 
At this point, the carrots should be nice and tender. Now it's time to add the tahini. Add the tahini to about 1 litre of the soup. With an immersion blender (or food processor), blend the soup and the tahini together until you get a very smooth and creamy mixture.
 
Add that creamy blended carrot tahini mixture back to the pot with the rest of the soup, and stir to combine. You should have a lovely hearty satisfying soup that has a little bit of texture from the carrots, celery and onions, and a lot of creaminess from that blended tahini carrot mixture.
 
 
Check for seasoning and add salt, pepper, and any other adjustments that you like.
*Note: if you're using carrots that aren't very sweet, it might be nice to add up to a teaspoon of sugar to your soup. This will make up for the lack of sweetness in the carrots, and help balance out the bitterness of the tahini.
9. Serve the soup with a slice of toast, a hunk of bread, Pea Fritters (or any other vegetable fritters) or just about anything you normally eat your soup with.
*Feel free to go wild with toppings too! I love topping this soup with warmed, spiced chickpeas, pickled onions, fresh cilantro, sour cream or yogurt, finely sliced green onions, croutons, or a drizzle of chilli oil.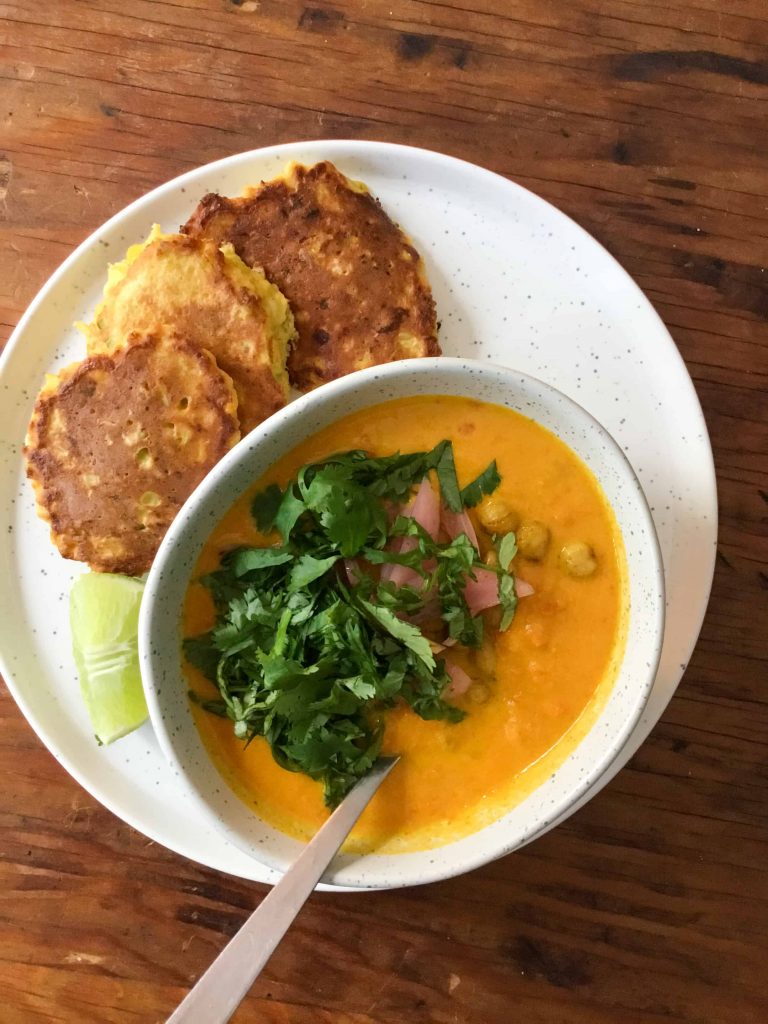 Success tips
These tips for success will help you make the best Carrot Tahini Soup:
Try and find nice, sweet carrots. If you're making this in the fall or early winter, you might be able to find some locally grown carrots. If you grow carrots in your garden, even better. Carrots are one of those vegetables where you can really taste the difference between a great one and a crappy one. The sweeter the carrots, the better this soup will be.
Be careful with the amount of tahini you use. Too much tahini will add too much bitterness to this soup. This recipe calls for ¼ cup, which is a nice starting point. It's always possible to add more, but impossible to take it away. (Words to live by).
Fridge-cooking is recommended! As with most soups and stews, this Carrot Tahini Soup is even better the next day. Make it a day in advance of when you want to eat it and you'll be glad you did 🙂
What goes well with this Creamy Carrot Tahini Soup?
As with most soups, I love having something on the side for dipping. That could be as simple as a slice of hearty bread or a scone (my go-to scone recipe is not vegan but my friend Mel's Sweet Potato Biscuits are!)
Sometimes I'll whip up some 2-Ingredient Flatbread (so quick and easy), but my favourite dipper for this soup is probably my Green Pea Fritters.
Before you add tahini to any recipe, be sure to give it a good stir, getting all the way to the bottom with your spoon. Otherwise, you'll end up with dry, chalky tahini at the bottom of the container as the oil tends to rise to the top.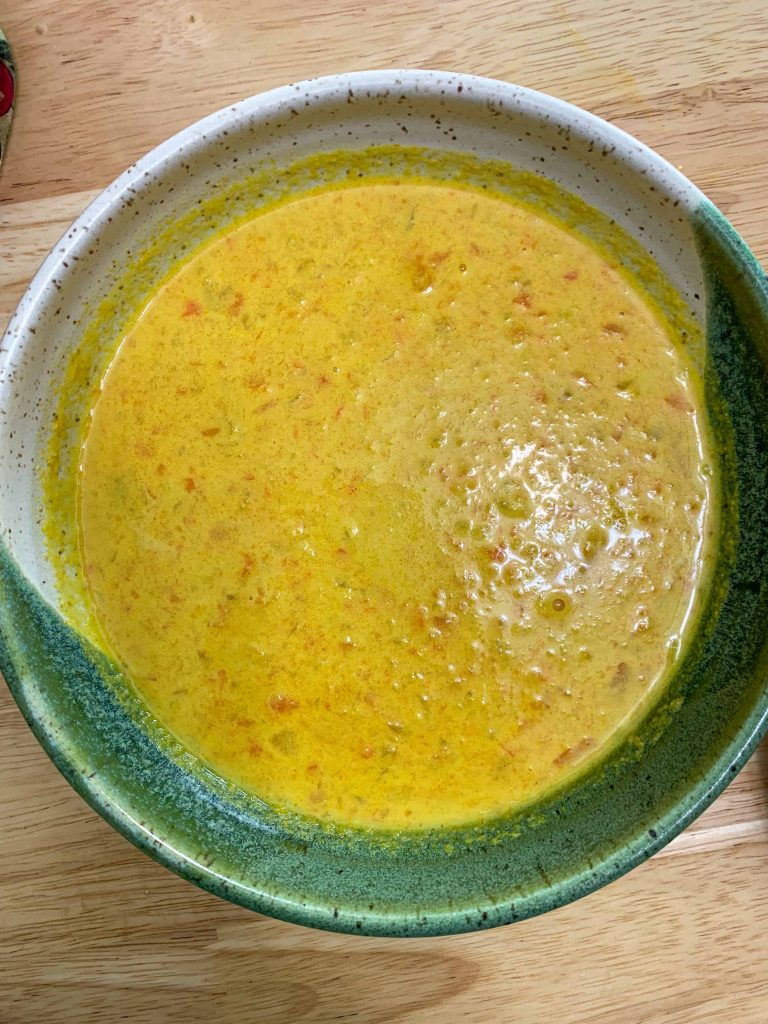 Storage, freezing, and reheating tips
This lovely soup is best on day two and can be stored in the fridge for up to 5 days or so. If you're looking to stock up, you can freeze it too.
Remember to cool the soup completely before putting it in the fridge or freezer. (This goes for any food btw). To cool soups down faster, it's a good idea to transfer them out of the pot you cooked them in, and into a shallow container (lid off) to allow the heat to escape faster.
Looking for more veggie-packed soup recipes?
Try these next:
If you make this recipe, I'd love to know about it! Tag me on Instagram @howtomakedinner and show me your soup!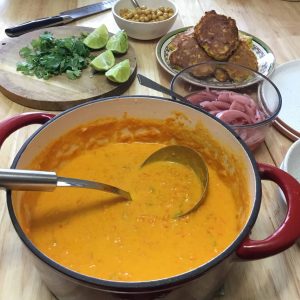 Creamy Carrot Tahini Soup
This Creamy Carrot Tahini soup is rich and delicious. It's completely vegan and gluten-free, and it only takes about 25 minutes to make. Perfect for busy weeknights (and totally welcome on lazy weekends too!)  
Equipment
1 Food processor

1 Large pot or Dutch oven

1 Immersion blender

optional
Ingredients
1

tablespoon

olive oil

2

onions

2

sticks

celery

8

carrots (approx. 500 grams)

2

teaspoons

salt

2

teaspoons

onion powder

2

teaspoons

ground ginger

2

teaspoons

garlic powder

1

teaspoon

turmeric

1

litre

water (to cover)

1/4

cup

tahini (65 grams)
Instructions
Heat a large pot or Dutch oven on medium heat. Roughly chop the onions and celery and chop them finely in the food processor, and add them to the pot along with the olive oil and salt. Allow them to sauté for 3-5 minutes before adding the carrots.

Roughly chop the carrots and chop them finely in the food processor. Add the carrots to the pot with the onions and celery.

Add the spices to the pot, and cook, stirring, for 30 seconds or until you can smell the spices.

Add the water. It should be enough to barely cover the vegetables. Bring the pot to a boil, then reduce the heat and cover the pot with a lid. Allow the soup to simmer for 15-20 minutes, or until the carrots are tender.

Measure the tahini and add approximately 1 litre of the soup to the tahini. You can do this in a measuring jug, and blend with an immersion blender, or you can use a regular blender or food processor – although food processors don't always do well with liquid, so be careful.

Add the creamy tahini and carrot mixture back to the soup pot and stir to combine.

Serve this soup with something nice for dipping. Toppings optional.
Video
Nutrition
Serving:
1
bowl
Calories:
103
kcal
Carbohydrates:
11.8
g
Protein:
2.4
g
Fat:
5.9
g
Saturated Fat:
0.8
g
Sodium:
637
mg
Potassium:
304
mg
Fiber:
3.1
g
Sugar:
4.7
g
Calcium:
64
mg
Iron:
1
mg