Celery root is such a wonderful–but fairly under-used ingredient. It's super versatile, really nutritious, not starchy at all, and it tastes like celery. What more could you ask for? I decided to throw together this really easy celery root soup and I only used about 5 ingredients, give or take a couple of optional garnishes. This smooth and creamy soup is low fat, low carb, and low maintenance. It's fancy enough for a dinner party, but simple enough for a weeknight dinner. It also makes a perfect desk lunch. Here goes.
How To Use Celery Root in Soup
Celery root–which by the way is also known as celeriac, is the perfect veg to blend into a soup for a number of reasons. Reason one – it's big and substantial. If you get a nice big one, you can get a whole pot of soup out of just one celery root. Reason two – celery root blends so nicely into a silky smooth consistency, which makes for a luxuriously creamy soup, without needing to add cream or other dairy products.
How To Prepare Celery Root For Soup
Celery root has a really thick skin. So in order to prepare it for its soupy destiny, you'll first have to peel it pretty aggressively. A vegetable peeler won't really cut it for this guy. The easiest way to peel celery root is to chop off the top and the bottom, and place it on your cutting board cut side down so it sits flat. Then take a large chef's knife and cut down the sides, being mindful to maintain the curve of the celery root so you don't lose too much of the flesh. Once peeled, you can cut it into chunks and it's ready to hit the soup pot.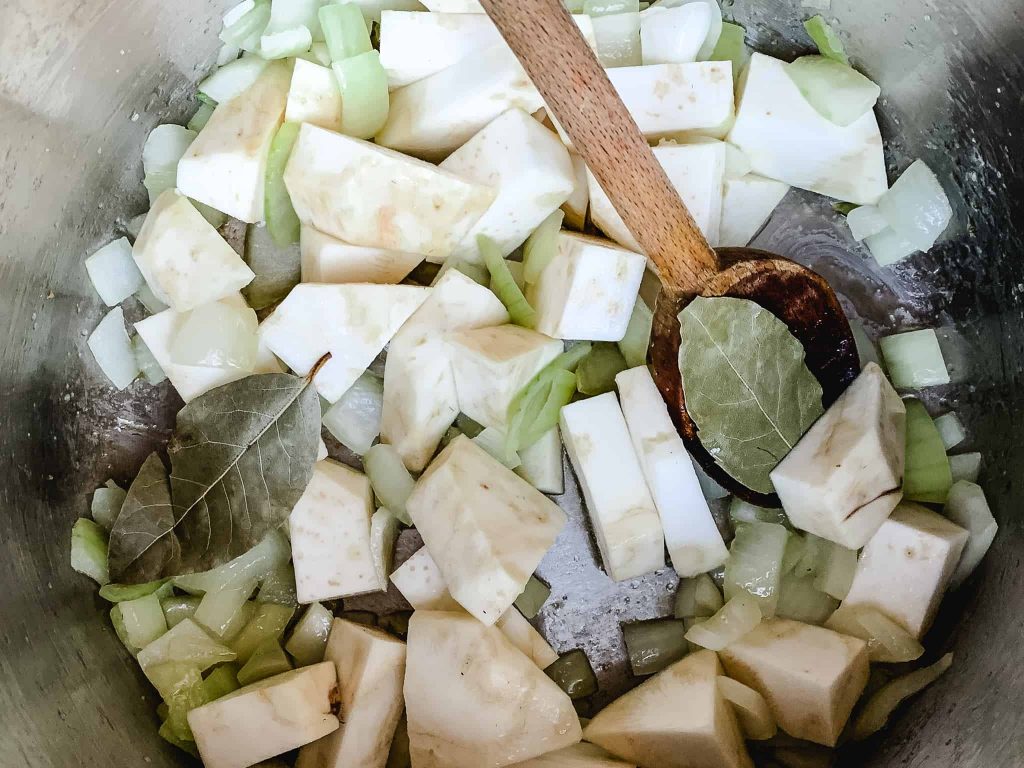 How To Cook Celery Root Soup
This particular celery root soup recipe is pretty minimal. It's basically a guideline so you can add or improvise in any way you see fit. After sweating an onion in some olive oil and salt until soft, add the cubed celery root to the pot, add only enough water, vegetable stock, or chicken stock to cover, and throw in a few bay leaves. Bring to a boil, reduce the heat to medium, then cover with a lid and cook until tender.
Depending on how large or small your celery root chunks are, this could take anywhere from 10 to 20 minutes. You'll know the soup is ready to be blended when the celery root is tender when pierced with a knife.
Celery root and onion are the only veggies I used in this recipe. However if this level of minimalism leaves you wanting more, I'd recommend leeks and green apples as really nice additions to this soup. The leeks would go in with the onions, and the apple would go in at the same time as the celery root.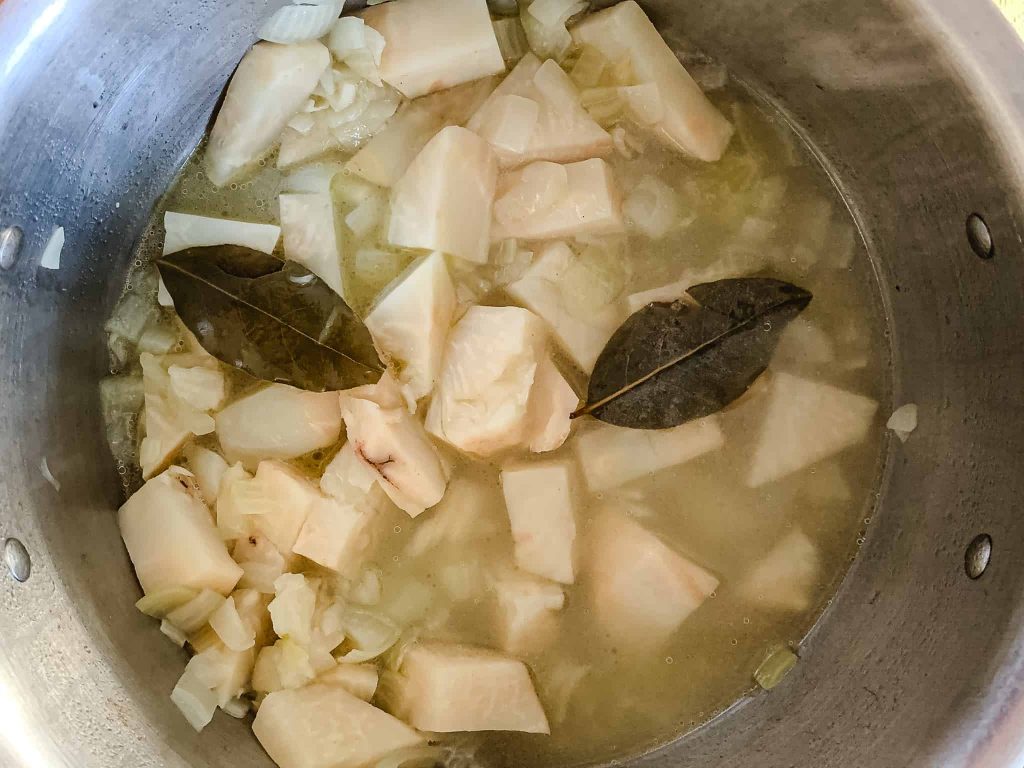 Blending Options
I love my stick blender, but this soup is at its best when it's as silky as possible. For that, I like to bust out my high powered blender. I would love to find a stick blender that achieves the level of smoothness that a Vitamix does, but I don't think it'll happen in this lifetime. You can definitely use a regular blender or a food processor to blend this soup, but just know that it might not come out as silky as it could be.
That being said, I went 36 years without owning a Vitamix, and I never had any complaints about the smoothness of my soup. It will taste good no matter what you use to blend it.
The blending stage is a good opportunity to give it a taste, and season with salt if it needs it. This is also the time to add additional water or stock if the soup is too thick. We want soup, not baby food.
How To Serve This Celery Root Soup
I like to serve this soup in a really big bowl. Because it's so silky smooth, it's nice to garnish it with a few extra bits to add texture, flavour, and visual interest. A few nice options for toppings include:
Crunchy sea salt and Black pepper
Creme fraiche
Shaved Parmesan cheese
Thinly sliced green onion (just the green parts if you want a mellower flavour)
Celery leaves
Fresh parsley
Grated nutmeg
Chives
Green apple–cut into matchsticks and tossed with lemon juice so it doesn't go brown
Storage, Freezing, and Reheating Tips
As far as storage is concerned, this celery soup is basically invincible. You can store it in the fridge for up to a week, or freeze it in a freezer-safe container for months. You can reheat this soup easily in the microwave or in a saucepan.
And that's about it! I hope you give this soup a try! If you do, be sure to tag me on Instagram. I'd love to see what you've topped yours with!
If you're in the market for more blended vegetarian soups, check out my deliciously coconutty spiced tomato soup, or this Creamy Carrot Tahini Soup. They're some of my absolute favourites.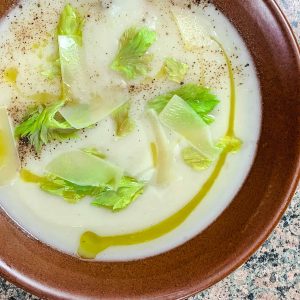 5-ish Ingredient Celery Root Soup
This smooth and creamy celery root soup is low fat, low carb, and low fuss. It's fancy enough for a dinner party, yet simple enough for a weeknight dinner.
Ingredients
2 Tbsp olive oil

1 medium onion, diced

1 tsp salt

1 large celery root, cubed

1 litre water or stock

2-3 bay leaves

Parmesan cheese to garnish (optional)

Celery leaves to garnish (optional)
Instructions
In a large pot or dutch oven, heat the olive oil. Add the onion and salt and sweat until the onions are soft and translucent.

Add the cubed celery root and enough water or stock to cover.

Add 2-3 bay leaves and bring the soup to a boil.

Reduce heat to medium and cover until the celery root is tender, approximately 10-20 minutes.

Blend the soup using a stick blender, regular blender, or food processor.

Check for seasoning and adjust with salt if needed.

Serve in a large bowl with optional garnishes.
Video
Notes
This soup can be frozen
Don't cook it too long or it will lose it's bright white tone
Nutrition
Calories:
137
kcal
Carbohydrates:
16.9
g
Protein:
2.6
g
Fat:
7.5
g
Saturated Fat:
1.1
g
Sodium:
746
mg
Potassium:
511
mg
Fiber:
3.4
g
Sugar:
3.7
g
Calcium:
81
mg
Iron:
1
mg