This soup is the exact thing that I want when I have less than 20 minutes to make dinner. It's perfect for when I want to feel healthyish AND deeply comforted at the same time.
I find myself in this exact situation fairly often, so I wanted to share this recipe with you.
This quick and easy creamy tomato soup only takes about 15 minutes to make. It's flavourful enough to fulfill the adults, and at the same time it's not too spicy, so kids love it too.
Like so many of us, I grew up eating lots of tomato soup, usually out of a can. So it's no surprise that it's one of the most popular comfort foods out there. This version is quite a few notches up from the stuff we used to get in the can though, and I'd argue that it's not that much more effort to make.
If you are new to HTMD, check out my YouTube channel to get caught up on the easy dinner ideas I share every Wednesday. Subscribe if you want to catch every new episode!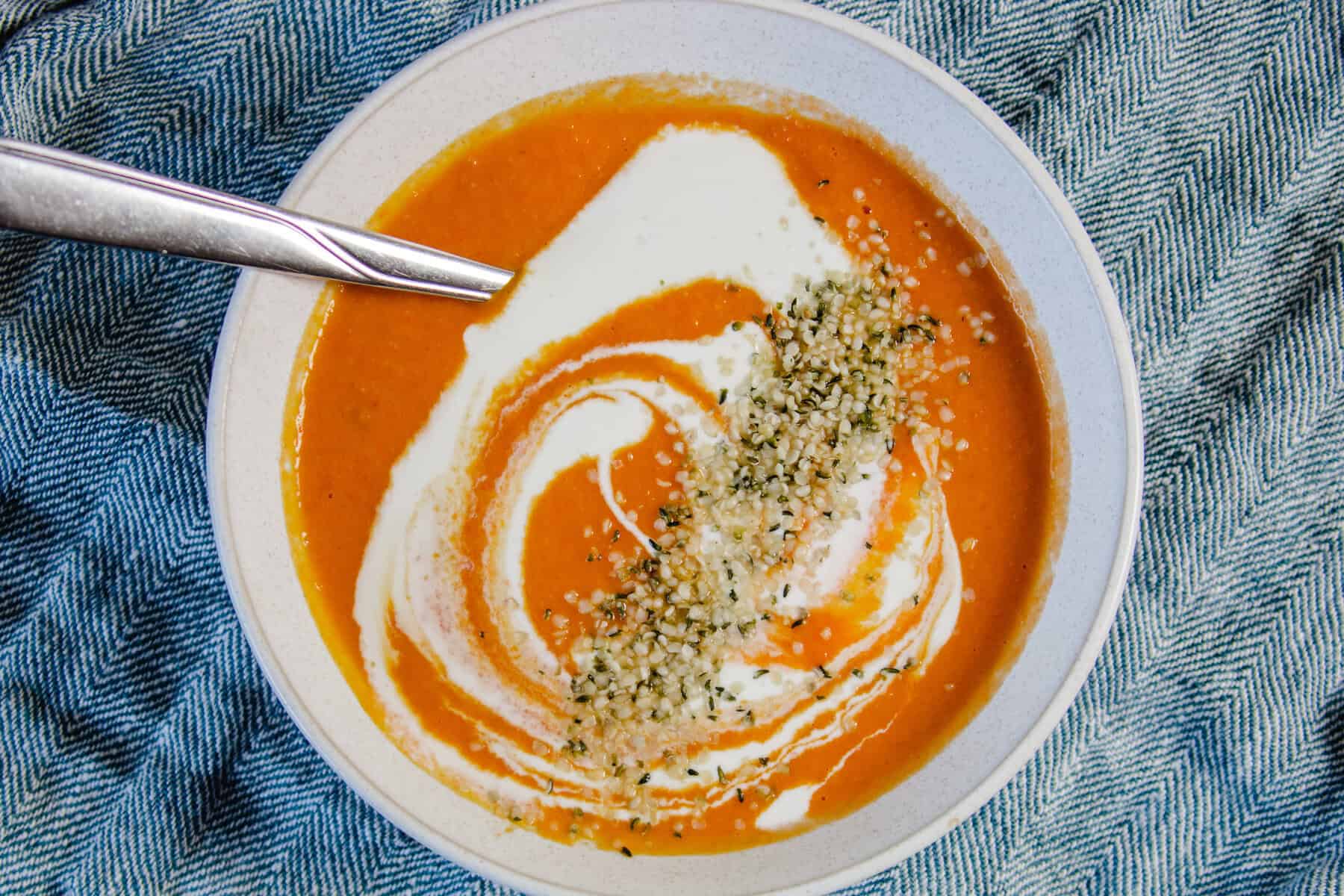 There are about a million tomato soup recipes on the internet, (this isn't the first one I've shared either) but I've never made one so reliably as this one.
There are a few reasons this soup is so good:
It's spiced, but not spicy. The ginger and cumin in this soup give it some really delightful warmth, without blowing people's faces off.
It's creamy with coconut milk, rather than dairy. I am a dairy consumer, that's for sure. But I definitely appreciate recipes that don't require cream or milk, because I often don't have any on hand. This recipe uses coconut milk which I ALWAYS have in the cupboard. That means I can make this soup at a moment's notice. It also means more of my friends can enjoy it, because it's a VEGAN tomato soup.
It's blended, which means chopping is no big deal, and it looks really pretty when it's done.
Most of all, I love this soup because of the rave reviews I get from the loved ones who eat it! This is a sure fire crowd pleaser, especially when it's been fridge-cooked (ie. the next day)
This is a great recipe to make ahead for non-boring desk lunches throughout the week. Top if with something different every day and you won't get bored. I promise!
That's it! Now all you need is a grilled cheese sandwich and you've got a one way ticket to cozy town.
Some people have asked me if it's possible to make this in the Instant Pot. The answer is yes, but it seems like a lot of work for a soup that only takes 20 minutes in a normal pot! Do what you will.
As far as garnishes and toppings are concerned, you can go to many places with this soup. A few cracks of black pepper are a nice touch, but if you want to get really wild, you can top this with fresh herbs, toasted pita bread, chopped red onion, grilled sweet corn, toasted chickpeas, the list goes on.
I hope you love this Tomato Coconut Soup as much as I do! Let me know in the comments on the Youtube Video or on Instagram! Those are the places I hang out the most.
Happy dinner making!