I love a good Thai curry. Whether it's a refreshing green curry loaded with prawns, or a red curry with tender chicken, or this black lentil and broccoli curry, there's nothing quite like sitting down in front of a big bowl of perfectly balanced sweet, spicy, creamy saucy goodness ladled on top of sweetly scented Jasmine rice. I love making them at home too, but that wasn't always the case. Until recently, I had always put Thai-style coconut curry in the category of "better ordered from a restaurant that knows what they're doing", rather than make it myself.
Not to say that my attempts weren't delicious. I've had plenty of success mixing curry paste with coconut milk, veggies and some kind of protein in a pot and ending up with a tasty dinner. But when I crave a Thai curry, I want it to taste like it does in my favourite Thai restaurants and takeout joints. I want that perfectly balanced, salty, hot-sour-sweet magic. And I definitely want puddles of brightly coloured spicy oil floating on top.
While whatever I was making at home always tasted pretty good, it never tasted quite like what I wanted.
A few tips changed everything
That all changed when I volunteered to help out at a Thai cooking class at a local community centre. The teacher, Chef Heidi Fink, had previously been the head chef at a beloved vegetarian restaurant in town, and she had travelled all over Asia for years–leading food tours abroad as well as in our city's famously tiny Chinatown.
In the class, Heidi demonstrated a handful of Thai recipes–one of which was a Red Thai Curry. After just a few minutes of paying close attention, It became clear to me that I had been missing quite a few key steps in my homemade Thai Curry attempts. Now, regardless of which recipe I choose, I apply these key steps every single time, and my homemade Thai curries have dramatically improved because of it.
A few key steps:
When possible, use a mortar and pestle to pound your aromatics. It really does extract far more flavour than chopping.
Buy thick coconut milk. The kind that you can scoop with a spoon.
Cook the curry paste with a few spoonfuls of thick coconut milk until the oil separates. This ensures maximum flavour extraction.
This Thai-inspired black (beluga) lentil and broccoli curry is a new favourite of mine. It's packed with all the right flavours and it feels quite light, while also being incredibly satisfying. It's great for an easy weeknight dinner because based on ingredients that many of us already have on hand. I've replaced a few hard-to-find ingredients with some more readily available ones, but we're still applying many of the techniques Heidi taught me. It's a crazy delicious curry, and it even does the trick for me when I'm craving that takeout experience!
If you want to learn more about Chef Heidi Fink, I highly recommend you check out some of her other recipes. You can also watch Heidi and I making her Thai Curry together here.
Black Lentil and Broccoli Curry
This is a fairly straightforward recipe built on a few primary components. Let's walk through the building blocks of this curry.
The lentils
I love it when even the protein component of a dinner is a pantry item. In this case, dried black lentils take a front seat–which means you can make this curry at the drop of a hat. If you don't have black lentils on hand, and you can't find them in the stores, you can swap them out for the dark green puy lentils – or even canned black beans.
Use what you've got
Any lentil will really do here, but I do enjoy the way the black dots look next to the green sauce and the bright green broccoli.
Whatever legume you choose, you have to cook it before it enters the curry. The easiest way to cook black lentils is to add them to a medium sized pot and cover them with plenty of cold water. Bring to a boil without a lid, then reduce the heat to medium-low, cover, and simmer for 35 minutes. Drain and rinse the lentils and set them aside until needed. You can do this part days in advance.
If you're using canned lentils or beans here, they'll need a good rinse before taking the green curry plunge.
Want to expand your lentil cooking repertoire? I've got a video for you!
The broccoli
Broccoli has a permanent place in my fridge. It's always there for me when I need a quick roasted side dish or a last-minute green thing to add to my pasta. I chose broccoli for this recipe because I think many of us keep it on hand, and because I love the way the florets soak up the green curry sauce. Plus, the green on green effect is visually quite pleasant. I like to chop the broccoli into florets that are small enough to comfortably fit onto a big spoon.
The coconut milk
As I mentioned before, thick coconut milk is crucial for this curry. Surprisingly, some of the most expensive brands of coconut milk on the shelves of our grocery stores are thin and watery and no good. How to avoid the watery coconut pitfall? Here's when I bust out another one of Heidi's tips: When selecting your coconut milk, give the can a shake. If you hear any sloshing around, it's watery. Put it back. When shaken, a good can of coconut milk will be silent. That's how you know that it's nice and thick and scoop-able.
If you're a fan of the wonderful combo of coconut and ginger, my coconut tomato soup might be right up your alley. And, it might be the fastest easiest soup you've ever made.
The aromatics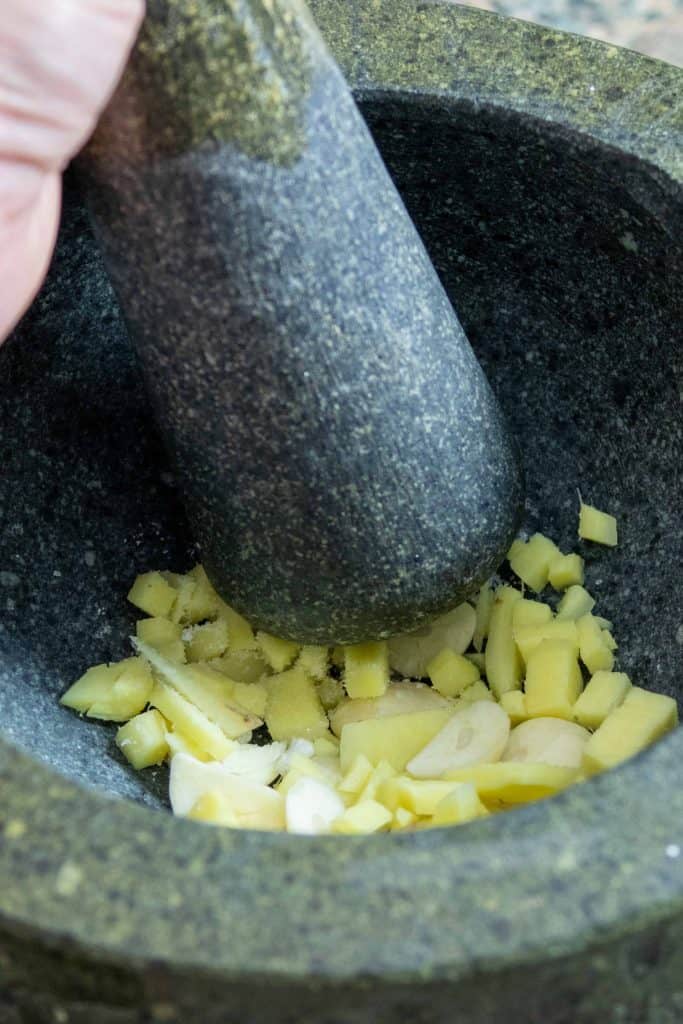 The aromatics for this black lentil and broccoli curry recipe are garlic, ginger, store-bought curry paste and Kaffir lime leaves. Kaffir lime leaves can be tricky to find, but I encourage you to try. They add such an unreplicable aroma and deliver a very Thai flavour. They are often available fresh, in those little plastic herb clamshells in the produce section.
Don't worry about using them up! You can freeze whatever you don't use in this recipe and they'll be ready for you next time. If you can't find them, this curry will still be damn tasty.
A word on fish sauce
Fish sauce is arguably the main ingredient that makes Thai food taste like Thai food. Its salty fishy flavour instantly transforms Thai dishes and takes them from boring to incredible. If you wanted to make a vegan version of this recipe, there are plenty of recipes out there for vegan fish sauce. I've never tried making one, but if you do, I'd love to hear how it goes!
If you make this recipe, remember to tag me on Instagram. I'd love to see your dinners! Here are a few beauty shots from my dear friends and recipe testers. Thanks gals!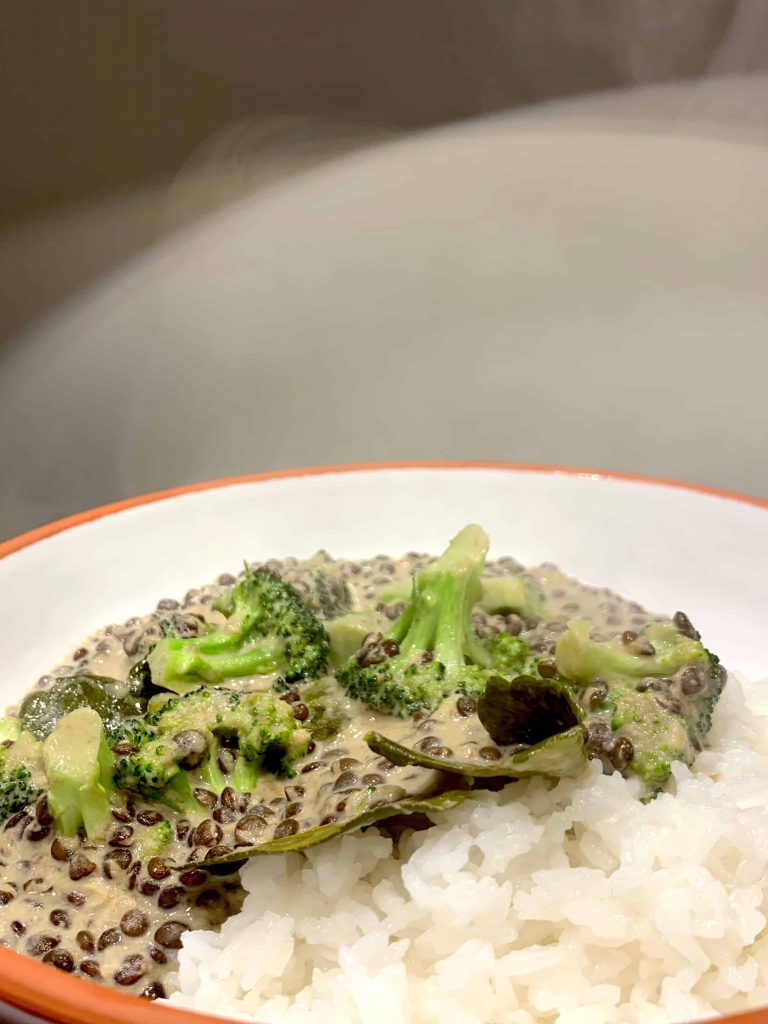 Black Lentil and Broccoli Curry
This Thai-inspired black lentil and broccoli curry is a new favourite of mine. It's packed with all the right flavours and it feels quite light, while also being incredibly satisfying.
Ingredients
1

cup

dried beluga lentils (to equal 2 cups cooked)

1

Tbsp

vegetable oil

5

cloves

garlic

1

inch

fresh ginger

50

grams

green curry paste (3 Tbsp)

1

can

coconut milk (400 ml)

2

tsp

fish sauce

6

ea

kaffir lime leaves

250

grams

broccoli

1

ea

limes

4

sprigs

fresh mint, cilantro, or Thai basil
Instructions
Cook the Lentils (skip this step if you are using canned).
Add the lentils to a medium-sized pot and cover them with 3-4 cups cold water. Bring to a boil, then reduce the heat to medium low, cover, and allow to simmer for 35 minutes.

Drain, rinse, and set aside until needed.
Building the Curry
Smash the garlic and ginger in a mortar and pestle until it forms a paste, or mince very finely with a knife or food processor.

Prepare yourself by having your garlic, ginger, curry paste and coconut milk close by. The next few steps happen fast.

Heat a medium-sized pot over medium heat, and add the vegetable oil. 

Add the minced garlic and ginger, and sauté for 30 seconds.

Add the curry paste and sauté for another 30 seconds

Add the thick part of the coconut milk, and simmer until the oil starts to separate. You will notice small puddles of green oil rising to the surface. That's what you want!

Add the rest of the coconut milk (including the watery part), the lime leaves and the broccoli, and stir to combine.

Cover and cook for 2-3 minutes, until the broccoli is just tender.

Add the cooked lentils and the fish sauce, remove the lime leaves, and give it a final stir to make sure everything is combined and the lentils are nicely warmed through. 

Serve with Jasmine rice, big wedges of lime, and a scattering of fresh herbs.
Notes
The lentils can be cooked days in advance and kept in the fridge until needed.
If you're a salty one like me, you might need to add 1-2 more tablespoons of fish sauce.
Nutrition
Calories:
445
kcal
Carbohydrates:
44.7
g
Protein:
17.1
g
Fat:
24.6
g
Sugar:
4
g