This Creamy Turkey Lasagna with White Sauce recipe is so creamy and silky. The smoothest béchamel sauce is layered with pasta and a super flavourful ground turkey and zucchini ragu. It's my personal favourite lasagna recipe and I hope it will become yours too!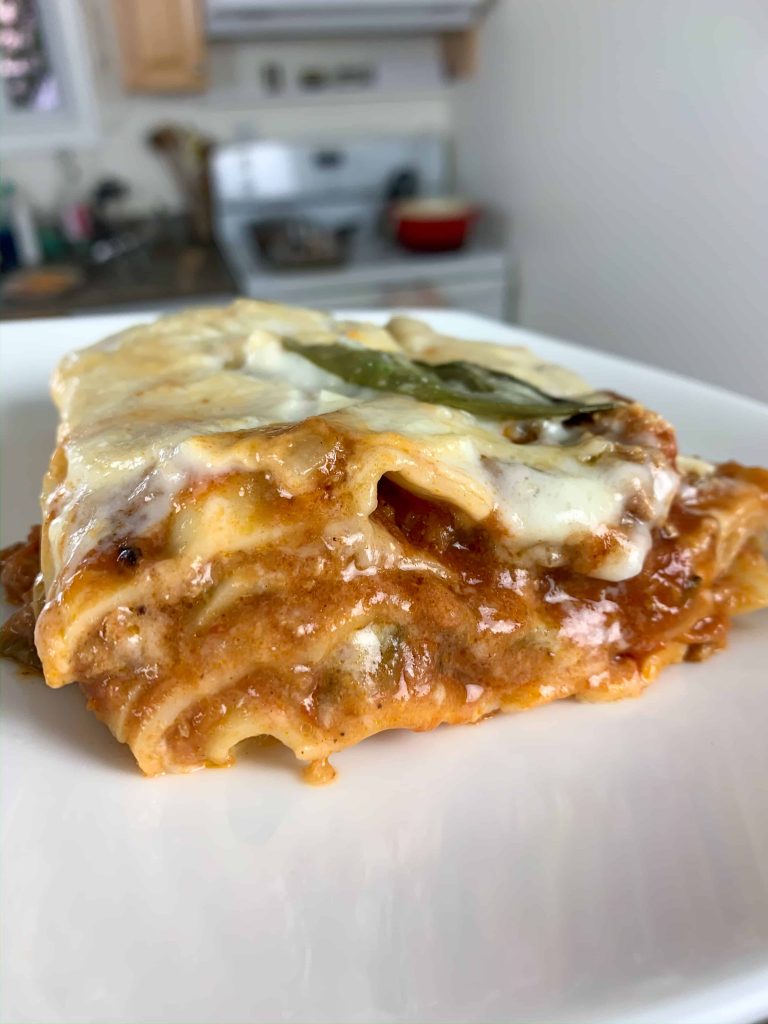 If you're looking for a silky, creamy lasagna, this recipe is for you
This is not the lasagna I grew up with. The lasagna of my youth was made with ripply boxed lasagna sheets, (not that there's anything wrong with that) separating three to four thick layers of beefy sauce, mozzarella cheese, and a good half-inch section of a mixture made with ricotta (or cottage cheese), chopped frozen spinach, and a beaten egg.
Warning: If you are looking for a lasagna recipe with pounds of mozzarella and a thick layer of ricotta cheese mixture in the middle, you're in the wrong place. This turkey lasagna with white sauce recipe is all about lots of thin layers of meaty turkey and zucchini sauce, the SILKIEST nutmeg-scented white sauce (béchamel), and of course–tender sheets of pasta. It's truly my favourite lasagna recipe.
*I should mention, there is no mozzarella cheese in this turkey lasagna either.
My lasagna epiphany
When I travelled to Italy in my 20's, my lasagna ideals shifted. I wish I could remember the name of the particular trattoria in Bologna I was sitting at when it all changed. As I sat there, enjoying my wine, there were some pretty intoxicating smells coming from the kitchen that I couldn't put my finger on. All I was thinking was, "what are they cooking in there? How does it smell so good? I have NO idea how to create whatever that is!"
When the lasagna arrived at my table, I was momentarily unenthused. This thing was like, a very boring looking square of what looked like dry, crumbly meat, pasta sheets, and not much else. There was no bright red puddle of sauce surrounding it, no gooey cheese, no garnishes of any kind. I thought I'd been duped.
And then I took a bite.
And it was perfect. A harmony of rich, deep, cooked-all-day meaty ragu, between stacked layers of tender, thin pasta sheets, and super silky béchamel sauce. If there was any cheese in this lasagna whatsoever, it was only there to lend a nutty aroma. It didn't interrupt the flow–as thick layers of gooey cheese tend to do.
For this turkey lasagna with white sauce recipe, I wanted to recreate my Bolognese lasagna experience with a slightly lightened-up twist.
The components of a great lasagna
Lasagna is really three recipes in one. It's the hearty red sauce, the creamy white sauce, and the pasta–all of which can be made way ahead of time. The only other component is a small amount of grated parmesan cheese–which I like to "grate" (grind) in a blender or food processor.
The Pasta layers
I won't dive too deep into the ins and outs of homemade pasta here, and you can certainly achieve success by using a good store-bought brand of dry or fresh lasagna sheets. (Gluten free or whole-wheat lasagna sheets work too!) I personally love the kind that you don't have to boil, because boiling lasagna sheets is a huge pain.
If you want to make your own lasagna noodles, you'll need a three-egg batch for this lasagna. That means three eggs to 300 grams of flour (all purpose is fine). The dough gets rolled out to a #6 on your pasta roller. Protect your pasta sheets by laying them out on a tea towel-lined baking sheet with lots of flour between each one so they don't stick together. We're going to cook them on an as-needed basis during assembly.
Ground turkey sauce for lasagna
I love this ground turkey pasta sauce for lasagna because it is super flavourful, full of veggies and lean turkey, and doesn't take all day to cook. It's made with lean ground turkey which gets a flavour boost from fennel seeds, and a moisture boost from loads of juicy zucchini. A couple of tablespoons of fennel seeds make the flavour reminiscent of turkey sausage, which I love.
How to make this ground turkey sauce
Sizzle the fennel seeds in the olive oil for a minute, then add the finely chopped onions and celery (I like to chop them in a food processor).
Throw the zucchini and garlic into the food processor and chop finely, then add to the pot along with the salt.
After a few minutes of cooking, add the ground turkey to the pot, and mix it all together with the veggies.
Once the turkey is no longer pink, add the tomatoes and water. Bring the sauce to a boil, then reduce the heat and simmer for 30 minutes. It will still look quite thin, but it will thicken as it cools.
Silky white béchamel sauce for lasagna
Absolutely nothing beats white sauce (béchamel) for lasagna. It's like layers of silk! I don't use the word "mouthfeel" very often, but white sauce sure makes for a really good one. This turkey lasagna recipe needs about 3 cups of white sauce.
How to make the béchamel sauce (Summary)
Start by making a roux with the butter and flour, then whisk in the milk.
Add the salt, pepper, bay leaves, and nutmeg.
Bring the sauce to a boil while whisking constantly. It should thicken up quite obviously at this point. Reduce the heat to a simmer and continue to cook, whisking, for 5-10 minutes. (This will help to cook out the flour flavour).
Remove the sauce from the heat and allow it to cool. You can place some saran wrap directly onto the surface of the sauce to prevent a skin from forming.
Assembling the Turkey Lasagna with White Sauce
The name of the game here is really to get as many layers as possible. I aim for a minimum of 5, but by practicing good noodle-economics I have managed to get up to 7 before. I think lasagna is best when the layers are thin and delicate. It's a pasta dish after all, there should be lots of pasta in it!
Start with a well-oiled baking dish. For me that's usually a casserole or brownie tin. I spread a spoonful of the ground turkey sauce in the bottom to prevent noodle suction.
Boil the lasagna noodles in batches. While you're preparing the baking dish, start boiling the noodles two at a time, for 1-2 minutes each. That way you can layer them in as they are ready, instead of wrestling with a pile of unruly pasta sheets.
The first pasta layer sets the stage. I like the first layer of pasta to creep up the sides a bit, as it helps those corner pieces hold together.
The order of assembly goes like this:
A thin layer of turkey sauce
Cooked lasagna sheets
Turkey sauce
White sauce
A sprinkle of parmesan
Repeat
I think it's really important to end with a generous layer of white sauce and a light sprinkle of parmesan cheese on top. It gives the lasagna a beautiful golden crust. Sometimes I add a garnish of fresh herb leaves like fresh basil leaves on the very top. This little flourish makes it look pretty special when it's done!
Baking the Turkey Lasagna with White Sauce
I like to cover my turkey lasagna with an oiled piece of parchment over the top, followed by a tightly wrapped lid of tin foil. I used to work with a chef that always insisted tinfoil be placed shiny side down–as its shine reflected more heat onto the food. Although I don't think it makes much of a difference, I've done it this way ever since.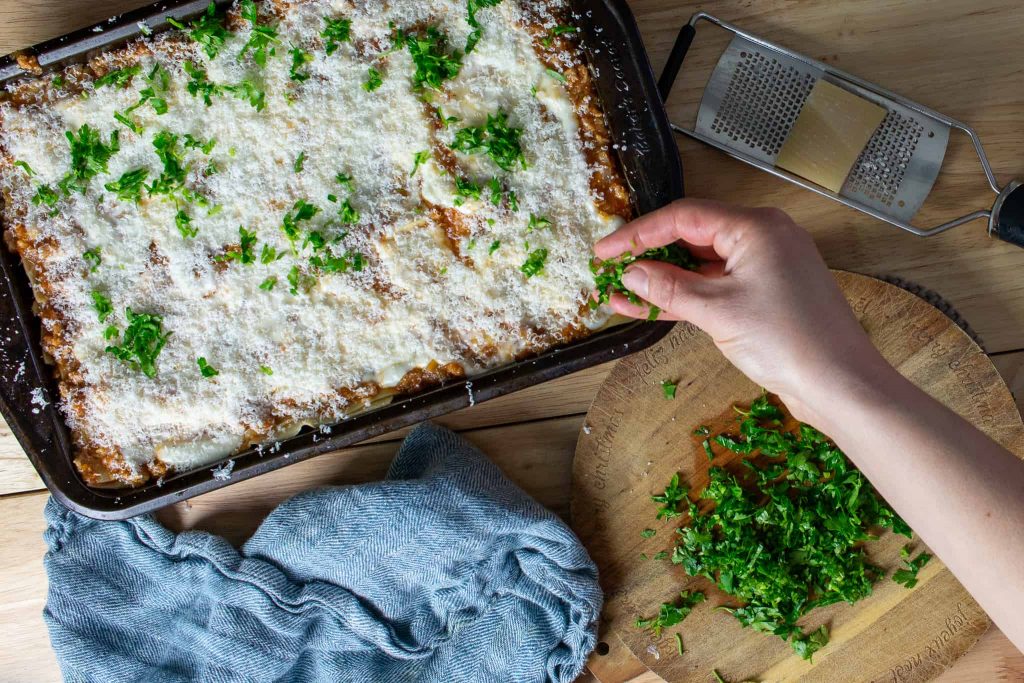 To bake this turkey lasagna right away, fire it into a 350 degree oven for 40 minutes covered, then remove the parchment paper and foil and bake for an additional 20 minutes. If you're refrigerating it to bake later that day or the next day, pull it from the fridge an hour or so before you bake it so it's not super cold going into the oven.
Try to resist cutting into this creamy lasagna for a good 20-30 minutes after pulling it from the oven. This will make your lasagna pieces so much more uniform and the layers will be more distinct and beautiful!
I hope you love this lasagna as much as I do! You won't be missing that ricotta mixture I promise! I can't wait to see how yours turns out. Tag me at @howtomakedinner when you make it!
Looking for more top-notch pasta recipes?
Here are some options that are great for busy weeknights!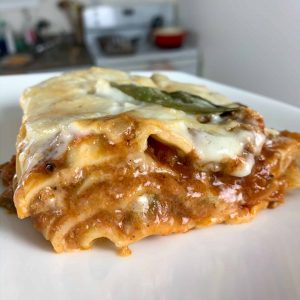 Creamy Turkey Lasagna with White Sauce (Bechamel)
This turkey lasagna with white sauce is all about lots of thin layers of meaty turkey sauce, the SILKIEST nutmeg-scented bechamel, and of course, tender sheets of pasta.
Ingredients
For the Lasagna Noodles:
300

grams

all-purpose flour

3

eggs
For the Ground Turkey Sauce:
3

Tablespoons

extra virgin olive oil

2

Tablespoons

fennel seeds

1

onion

large

2

sticks celery

2

zucchini

small

4

cloves

garlic

500

grams

lean ground turkey

2

teaspoons

salt

28

ounces

crushed tomatoes

300

millilitres water
For the Bechamel Sauce (White Sauce):
6

Tablespoons

butter

5

Tablespoons

all-purpose flour

750

millilitres

whole milk

2

bay leaves

1/2

teaspoon

grated nutmeg

1/2

teaspoon

salt

1/4

teaspoon

black pepper
Instructions
If you're making your own pasta sheets, start here:
Pile the flour in a mound on a large cutting board. Create a well in the middle of the flour.  Crack the eggs into the well. Use a fork to begin whisking the eggs. Then begin gradually whisking some of the surrounding flour into the egg mixture, adding more and more until the egg mixture is nice and thick. Once the mixture starts looking somewhat like a dough, start kneading the remainder of the flour in as needed.

Knead the dough for about 10 minutes or until the dough is smooth and elastic, sprinkling some extra flour on the cutting board if needed to prevent sticking or if the dough seems too sticky.  (You want the dough to be pretty firm.)  Form the dough into a ball, place an upside-down bowl over it and let the dough rest at room temperature for 30 minutes.  Use immediately or seal tightly and refrigerate for up to 1 day.

Divide the dough into six, and flatten each piece with your hands so they will fit through the pasta roller.

Prepare a large tray or baking sheet by lining it with a tea towel and sprinkling it with ample flour. This will be where your noodles hang out before you cook them.

Roll each piece of dough through the pasta roller starting on level 1 and gradually increasing to level 6. Transfer the rolled pasta sheets to the prepared tray and sprinkle each sheet with ample flour to prevent them from sticking together. Cut them as needed so they will fit into your baking dish.
Making the Turkey Sauce:
Roughly chop the onions and celery, then transfer them to a food processor and pulse until fairly finely chopped.

Heat the olive oil In a large pot over medium heat. Add the fennel seeds and watch them sizzle. Add the onions, celery, and salt. Sweat for 5 minutes with the lid on.

Add the zucchini and garlic, cover, and let cook for another 5 minutes. Then add the ground turkey, breaking it up with a potato masher or wooden spoon. Continue to toss and cook until the turkey is no longer pink.

Add the crushed tomatoes and water. Stir, and simmer on medium-low for 30 minutes.
Making the Bechamel Sauce:
Heat the milk slightly in the microwave.

In a pot over medium heat, melt the butter, add the flour and whisk to form a smooth paste.

While whisking, gradually add the milk. Drop in the bay leaves, salt, and nutmeg. Bring to a boil, then reduce the heat to low and simmer for 5-10 minutes.

Cover and set aside. This can also be made ahead and kept in the fridge for up to 3 days.
Assembling the Lasagna:
Preheat the oven to 350 degrees F.

In a wide, shallow pot, bring 2-3 litres of salted water to a boil. You'll be using this to cook the lasagna sheets 1-2 at a time, for 1-2 minutes each during assembly.

While cooking your first two lasagna sheets, pour a heaping cup of turkey sauce into the bottom of an oiled baking dish.

Lay down your first layer of cooked lasagna sheets over the sauce layer. Try to jigsaw the noodles together so you have an even layer without too much overlap.

Scoop a heaping cup of turkey sauce over the pasta and spread evenly.

Drizzle 1/2 cup of bechamel sauce evenly over the turkey sauce. If your bechamel is quite cold, it will have stiffened up a bit. You can warm it gently in the microwave or on the stovetop to make it easier to drizzle.

Sprinkle a third of the parmesan cheese over the bechamel, then repeat the layers. Skip the meat sauce in the top layer–finishing with pasta, bechamel, parmesan.

Place an oiled piece of parchment paper over the lasagna, and wrap the entire thing tightly with tin foil. Bake for 40 mins covered. Remove the foil and parchment and bake for an additional 20 minutes.

Let the lasagna rest for at least 20 minutes before cutting into it. Enjoy!!
Video