I can't believe it took me this long to start making homemade yogurt. It's so much easier than I expected! It's also much cheaper, and in my opinion, more delicious than any store bought yogurt you can get. Making this Easy Instant Pot Yogurt has quickly become one of my favourite weekly rituals. I get comfort in knowing that my fridge is full of yogurt that I can use for breakfasts, baking, quick sauces, dips, spreads, and a whole lot more. I even started using yogurt in place of butter and milk for mashed potatoes!
How long does it take to make yogurt?
As easy as homemade Instant Pot yogurt is, there is a bit of a timeline involved, so some planning is needed. Heating and cooling the milk takes a good hour, after which it spends 8-12 hours incubating (cooking). I usually start the process around 8pm so it's ready when I wake up in the morning.
What equipment do you need?
This method requires an Instant Pot or other brand of electric pressure cooker with a yogurt setting. I know it's also possible to make yogurt in the oven or a crock pot. These methods might even be just as easy! But this method is the one I use and it's crazy reliable, so I'm sticking with it for now!
The only other piece of equipment you need is an instant-read thermometer so you don't overheat or over-cool your milk. If you don't already have one, they are certainly a worthwhile investment. My ThermoPop digital thermometer was worth every penny. (If you're in the market for a digital thermometer and use that link, I get a little cut.) 
What ingredients do you need?
I always make my Instant Pot yogurt using plain whole milk. Preferably organic whole milk if the one gallon jugs are available. Making yogurt with organic milk is still cheaper than buying pre-made yogurt, which is pretty awesome.
The only other ingredient you'll need is some starter yogurt. This contains the bacteria needed to turn your milk into yogurt. If this is your first batch, you'll need to buy some store-bought yogurt to kick things off. Look for a full-fat, Balkan-style plain yogurt with no gelatin or other weird additives. When you get into the rhythm of making yogurt, you can reserve a small amount from each batch to start the next.
The ratio I use is: One gallon of milk to 1/4 cup of starter yogurt.
Don't let the temperatures scare you
The part of the yogurt-making process that held me back for so long, was the initial heating and cooling of the milk. I'm a fairly impatient person, and I'm also a fairly uncalculated person.
The idea of heating something until it reaches a specific temperature, then cooling it until it reaches another specific temperature has never appealed to me. But after taking the initial plunge and doing it a couple of times, I started to feel a lot more casual about it.
Also, the temperatures are only ballparks. I've definitely overheated and over-cooled the milk on several occasions and it has always worked out pretty well.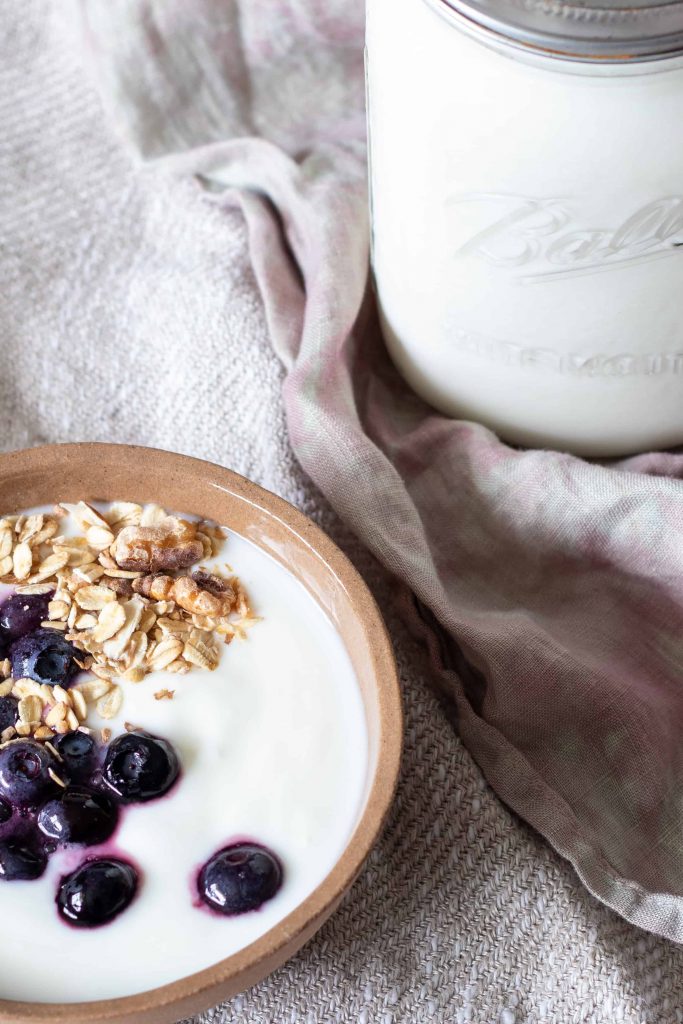 How to make Instant Pot plain yogurt
Making the yogurt only takes a few steps. If you're using Ultra Heat Treated (UHT) milk, you can skip the heating and cooling steps, but I always by fresh non-UHT milk, so heating and cooling is necessary to kill any dangerous bacteria in the milk.
Heat the milk
I like to heat my milk on the stovetop in a normal pot rather than in the Instant Pot. This is because I find that no matter how careful I am, a brown crust always forms on the bottom of the pot. Instead of fighting this fate, I just let it happen, then transfer the milk to the Instant Pot afterwards–being careful not to scrape the bottom.
This also means I can crank the stove up to full blast and get the heating process over with faster. This part of the process usually takes about 15 minutes on my stovetop. The minimum temp you should be looking for is 180 degrees, but I usually take it to 200. Just keep an eye on the pot so it doesn't boil over.
Cool the milk
Once heated, the milk needs to cool to about 100-110 degrees. The best way to do this is to set the pot in an ice water bath in your sink. It will cool down in 15-30 minutes this way.
Combine the ingredients and let it incubate
Once cooled, it's time to dump your milk into the inner pot of your pressure cooker, whisk in your yogurt starter, set the timer for 8-12 hours, smash that yogurt button, and go to bed.
Your Instant Pot plain yogurt is ready!
When your yogurt is ready, you've got some options. You can enjoy it as it is, which is my usual choice, or you can stir in some jam or maple syrup to sweeten it up.
Add a bit of salt and lemon zest and you've got an amazing drizzly sauce for my Green Pea Fritters.
Toss in some squeezed out cucumber, garlic, walnuts and fresh dill, and you've got a delicious Tzatziki-style dip. (The walnuts turn it into snejanka; tzatziki's Bulgarian cousin.) You can see me make snejanka in my Mediterranean Dinner Party video.
If you are a fan of plain Greek yogurt, you can rig up a wooden spoon tea-towel contraption to strain out some of the whey and thicken it up.
You can also strain it longer—to the point where it becomes yogurt cheese (or Labneh). I use this instead of store-bought cream cheese for spreading on crackers, dipping with veggies, or using on sandwiches.
*Whenever you strain or press yogurt, you will end up with a lot of whey as a bi-product (the watery stuff that comes out). This stuff is great for using in smoothies, or for replacing some of the water in bread baking. Don't throw it out if you can help it!
I hope you give my Instant Pot yogurt recipe a try! Let me know if this becomes part of your new weekly or bi-weekly ritual by tagging me on Instagram @howtomakedinner.
Easy Instant Pot Yogurt | So much better than store-bought
This is the easiest method I've come up with for turning milk into yogurt using my trusty Instant Pot. The yogurt is creamy and tangy and I use it in so many things!
Equipment
Instant Pot or other electric pressure cooker
Ingredients
4

litres

whole milk

1/4

cup

plain, full fat yogurt (the good stuff)
Instructions
Heat the milk in a large covered pot over high heat until it reaches between 180-200 degrees Fahrenheit. This usually takes 12-15 minutes. Keep an eye on it so it doesn't boil over.

Place the pot in the sink and fill the sink with cold water along with some ice or a few ice packs you'd use in your kid's lunch kit. Cool the milk until it reaches 100-110 degrees Fahrenheit, which should take about 15-20 minutes.

Transfer the cooled milk to the Instant Pot liner along with the 1/4 cup of plain, starter yogurt. Be careful not to scrape the bottom of the pot, as it will likely have formed a brown crust.

Cover with a regular pot lid and set it on the yogurt function for 8-12 hours.

Scoop your yogurt into clean glass jars and store in the fridge for up to two weeks.
Nutrition
Serving:
250
ml
Calories:
152
kcal
Carbohydrates:
11.5
g
Protein:
8.2
g
Fat:
8.2
g
Saturated Fat:
4.7
g
Cholesterol:
25
mg
Sodium:
101
mg
Potassium:
363
mg
Sugar:
13.3
g