Here we go again with another non-recipe recipe. You're going to be so glad to have this one in your back pocket. These green pea fritters make a great snack, side dish, brunch item, or lunch (give or take a salad), and they're just an all around wonderful little way to turn some frozen veg into something really special!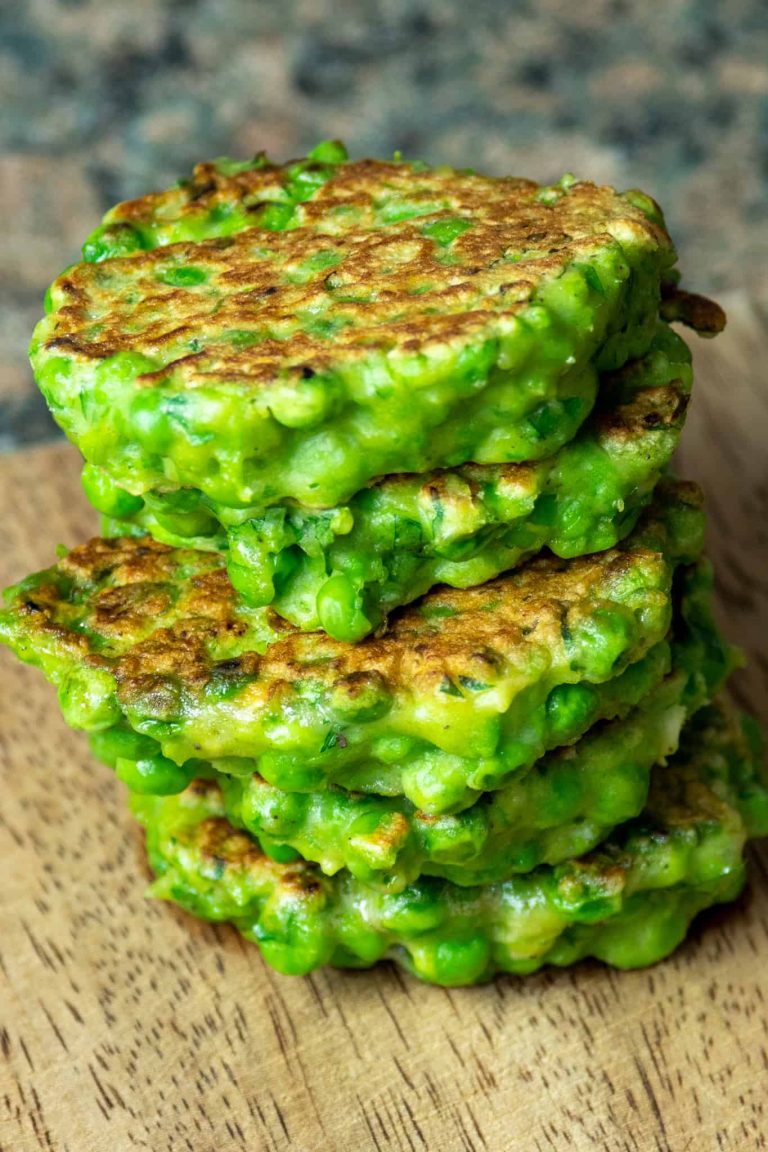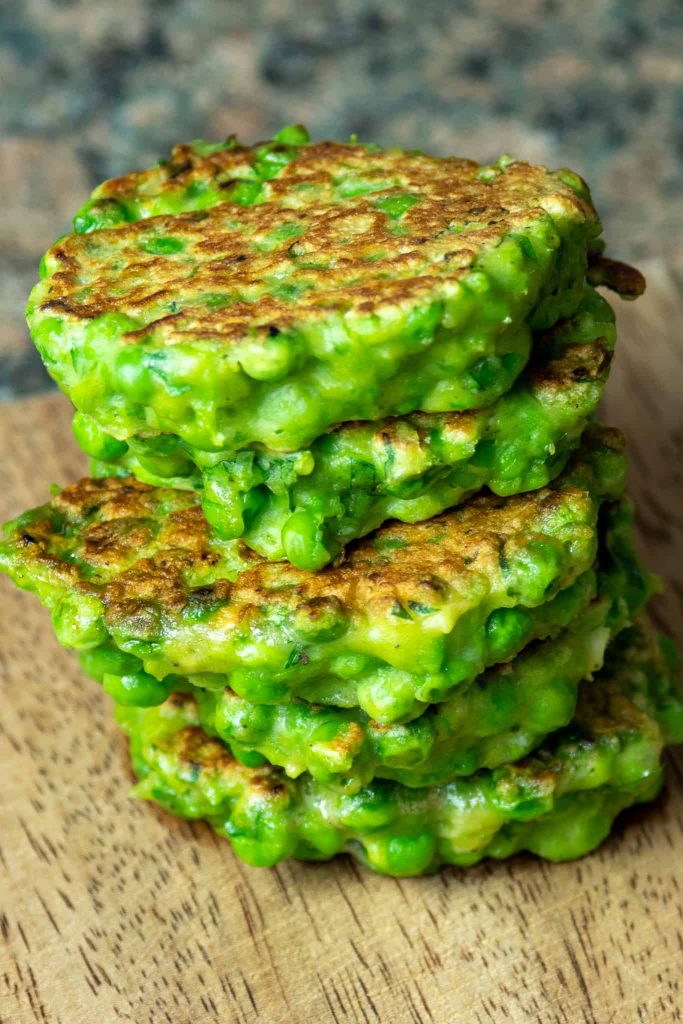 Less batter, more veggie
I had been playing around with the basic formulation of this recipe for a while. Many of the recipes I see online are made up of mostly batter, with a few veggies suspended within. I didn't want that. I wanted a full-fledged-veg scenario, and that is exactly what I ended up with here.
The thing about recipes…
If you've been watching my YouTube show or following my blog for any length of time, you'll know that I'm not a huge recipe person. I mean, I love recipes–I think they open up our stubborn minds to new possibilities and help us break out of our samey-samey routines… but I rarely ever post a recipe that is very specifically meant to be followed to a T. My recipes are usually more like frameworks, or foundations, on which you can switch and swap and explore.
This one is no different. Although the parent recipe is based on frozen peas, I've made these fritters with a multitude of different veggies including carrots, corn, parsnips, broccoli and cauliflower, and they are all wonderful. When choosing which veg will be the star of this fritter show, there are a couple of considerations you will want to make.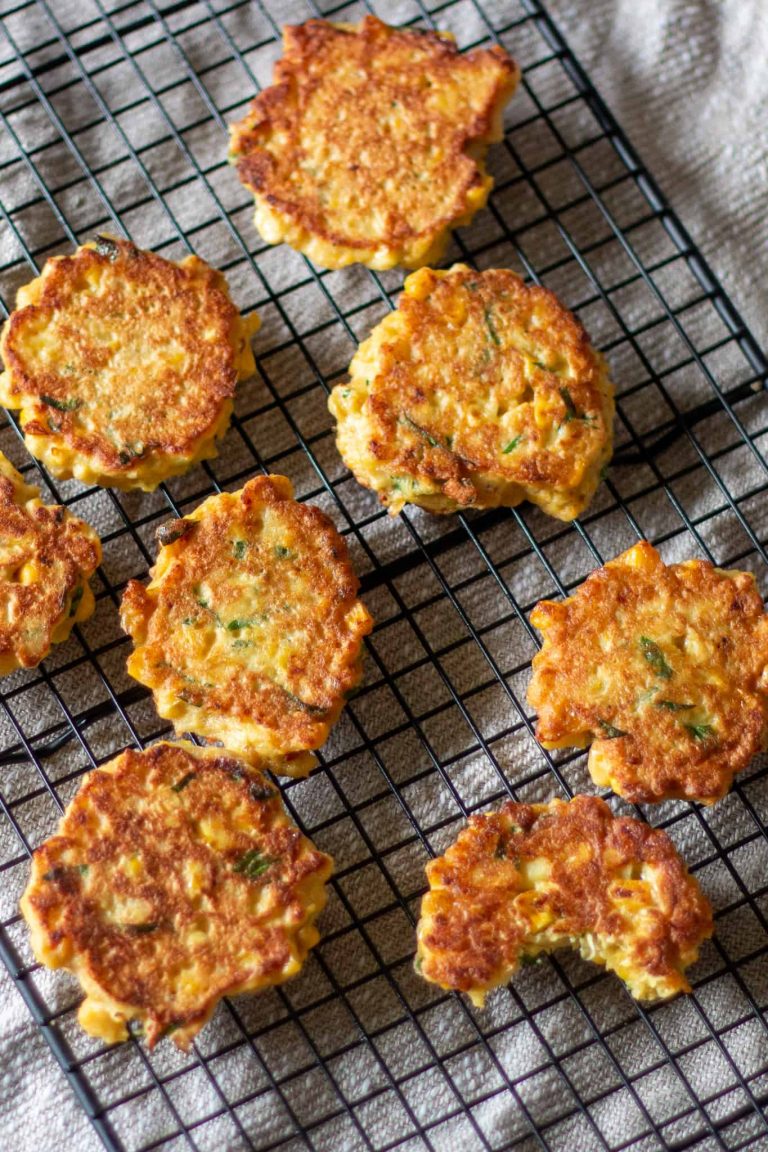 When making substitutions, consider:
The cooking time of the thing you're using
The water content of the thing you're using
That's pretty much it! I'll break those down a bit further here for ya.
Cooking time
With frozen peas for example, they are essentially cooked already, and all they need is to be warmed through. The same goes for frozen corn. If you are going all-in with say, carrots or cauliflower–you'll want to pre-cook those, as they are not getting much cooking action once they've arrived in the fritter batter. The best approach for pre-cooking, in my experience, is with a quick blanch or steam. I usually do this with a splash of water in a covered bowl in the microwave.
Water content
Some vegetables are just wetter than others. Spinach and other leafy greens will want to be blanch/steamed first, then have the water squeezed out of them. Otherwise, you're going to end up with watery fritters. Starchy veggies like squash or potatoes always need a good squeezing before they become fritter-ized. I use the squeeze-first method in my recipe for Rutabaga Latkes.
I might also say, maybe steer clear of trying these fritters with say, a mushroom? It just doesn't feel like a good idea to me. Although I would secretly love it if someone did do it and they turn out amazingly.
Start with the peas
All that being said, I do encourage you to try it first with the peas. Mostly because they're just so friggin beautiful! The bright green is totally uplifting and so darn pretty. Once you've been around the block with this frozen peas recipe, feel free to move on to frozen corn and other veggies, and get creative with the flavour profile.
Corn fritters love things like fresh basil and chiles, or cilantro and onion with crumbled queso fresco. Carrot fritters do well when spiced with Za'atar or ground cumin and coriander. There are a million directions you could go here, and I'd love to hear about which versions you make!
How To Make These Green Pea Fritters
You only need five ingredients to make these little green beauties, plus salt and whatever flavourings you want.
Start by defrosting the peas–either by letting them sit in the fridge overnight, or at room temp for a couple of hours, OR by giving them a minute or so in the microwave.
Add half the peas, a sliced clove of garlic (technically optional but encouraged), salt, and two eggs to a food processor and pulse to combine. You can also use a mini chopper, immersion blender, or regular blender for this. The mixture doesn't need to be silky smooth, just roughly blended so the peas spread their bright greenness throughout the fritter batter.
Then fold in your flour, baking powder, and flavourings. My favourite flavours with peas are of the springy herby variety. Things like lemon zest, mint, chives, and parsley.
These only take about two minutes per side in an olive oil laden frying pan over medium heat. Once they're done, remove them from the pan and either eat them right away or transfer them to a wire rack until they've cooled completely. These are great hot, cold, or room temperature. You can keep them in the fridge for several days, or in the freezer for up to a month or so.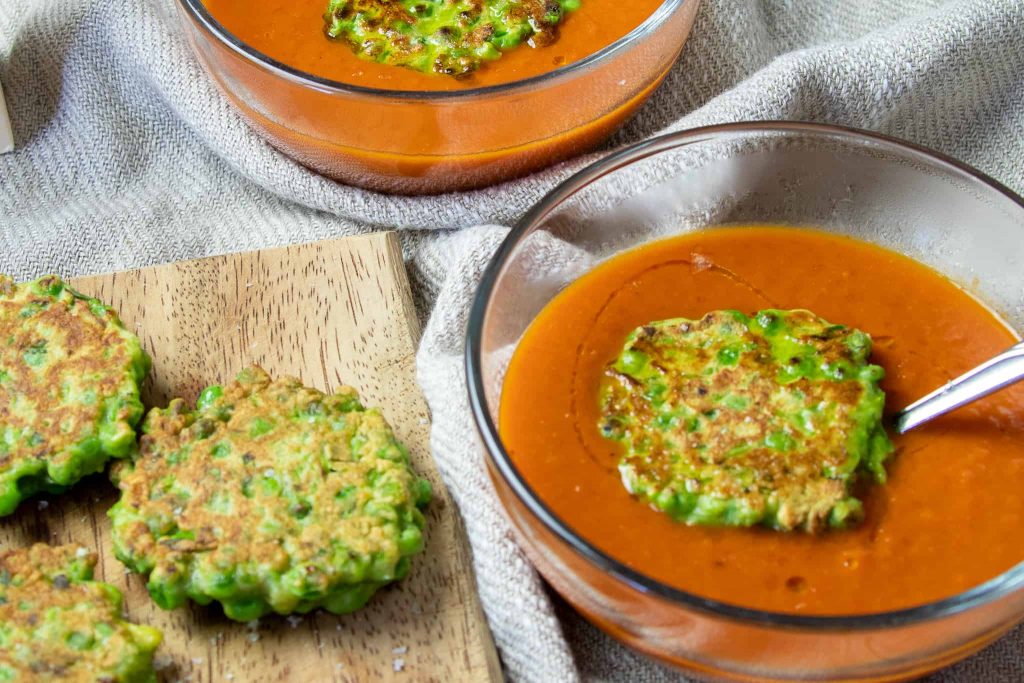 Serving them up
I like to serve mine warm with a drizzle of plain yogurt, sometimes seasoned with a pinch of salt and maybe a squeeze of lemon.
I have also enjoyed these vibrant green pea fritters floating atop a silky smooth tomato soup for lunch. Or how about dipping corn fritters into some creamy corn chowder for a bit of a corn extravaganza?
And like I said in the video, I am dying to make these into the base of an Eggs Benny. Draped with smoked salmon and lemony hollandaise sauce? Sign me up.
As I said earlier, get crazy with the flavours and the serving styles, and please let me know how it goes! Tag me @howtomakedinner on Instagram so I can see what you've made!
Easy Green Pea Fritters: A Fritter Framework
These green pea fritters are even easier than pancakes and they're just so special! Perfect for breakfast, brunch, lunch or dinner. They require very few ingredients, which you probably already have on hand.
Ingredients
2

cup

frozen peas, defrosted

1

clove

garlic

1

teaspoon

salt

2

eggs

1/2

cup

all purpose flour

1/2

teaspoon

baking powder

1

teaspoon

lemon zest (optional)

1

tablespoon

fresh mint (optional)

2

tablespoon

olive oil, for frying
Instructions
Blend half of the peas with the sliced clove of garlic, the salt, and the eggs.

Add the flour and baking powder, along with the lemon zest and mint (or whichever flavourings you use), and a crack of pepper if desired, and stir to combine.

Fold in the remaining half of the peas.

Heat 2 Tbsp olive oil in a frying pan over medium heat and fry the fritters in batches. You can make them whatever size you want. I tend to use a heaped soup spoon, which yields about 8-10 fritters.
Nutrition
Serving:
1
fritter
Calories:
109
kcal
Carbohydrates:
12.2
g
Protein:
4.5
g
Fat:
4.9
g
Saturated Fat:
0.9
g
Cholesterol:
47
mg
Sodium:
338
mg
Potassium:
106
mg
Fiber:
2.5
g
Sugar:
2
g
Calcium:
33
mg
Iron:
1
mg