I know, the titles sounds dramatic right? How can a pasta recipe really change someone's life? Well, this summer spaghetti sure represents a huge turning point in my culinary life.
Summer Spaghetti – the backstory
On a Tuesday evening in 2011 I stepped into the kitchen at a well-respected local Italian restaurant to try out a shift there.
At the time, I was questioning my choice to be a professional cook. I was kind of trying to get out of the kitchen, so my heart wasn't totally in it.
But I aproned up, tried to get my head in the game and got down to work.
They had me bake the bread, wash and trim green beans, scale the fish, organize the walk-in cooler. The cooler was impressively filled to the brim with house made mustard, house brined olives, and an entire pig that was butchered there that morning.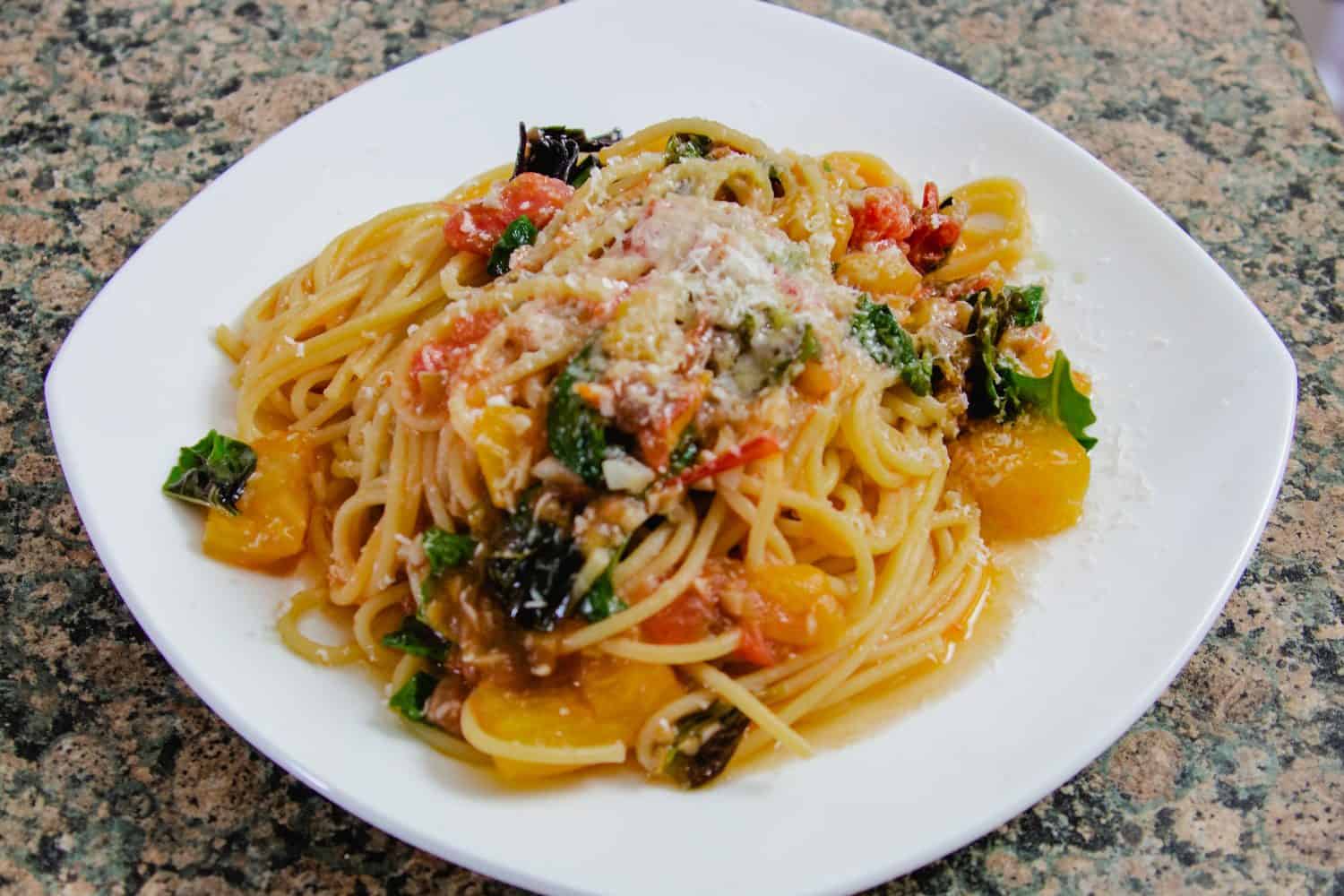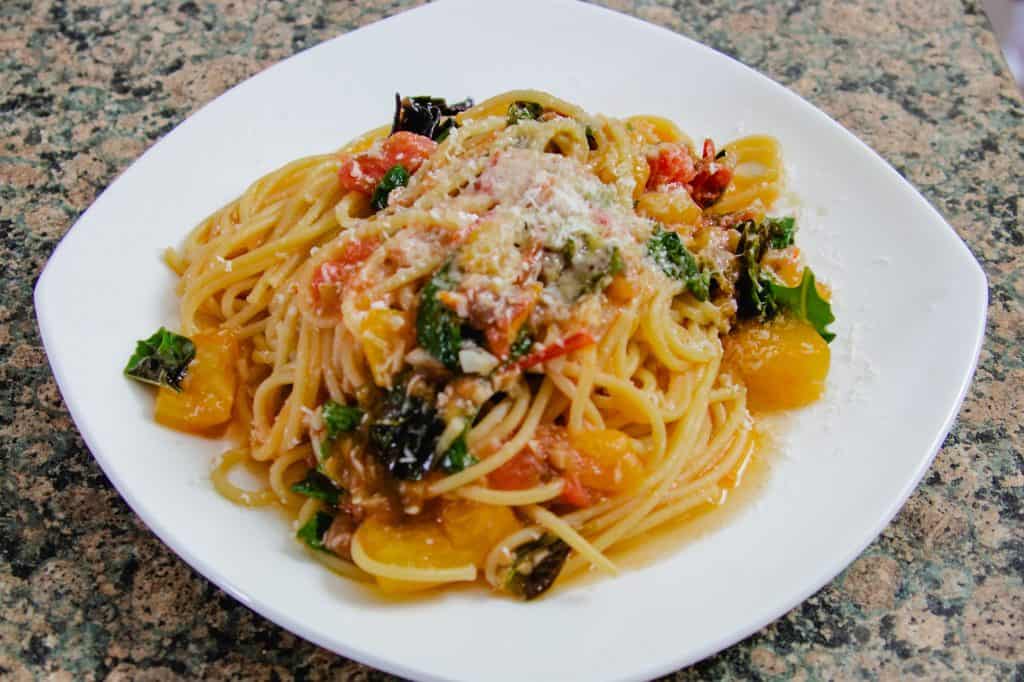 When service was about to start, they put me on the pasta station. I had about 6 small sauté pans and a couple of giant pots of boiling water to manage, and about 3 different pastas to prepare to order. The guy who normally did salads & dessert had called in sick, so I was jumping in on that stuff too. It was overwhelming to say the least.
Once most of the salads were out, I dove into the pasta station. Everything they produced in that kitchen was great, but there was one particular spaghetti dish that really hit home for me.
It was the simplest spaghetti ever. It barely had anything going on. Just tomatoes, garlic, fresh basil, olive oil, and salt. All pretty standard stuff, but it was SO freaking delicious.
I cooked about 30 orders of this simple spaghetti throughout the night. Like in any good restaurant, the chef was adamant that I tasted every single one.
So I was getting into the zone and starting to feel good, when about seven or eight orders in, I tasted a strand of spaghetti from one of the pans… and it was totally flat.
It literally tasted like nothing.
This pan of spaghetti looked just like the others. Lots of garlic, juicy tomatoes, cooked perfectly, nice sauce, but NO flavour WHATSOEVER.
The Key Missing Ingredient
The key missing ingredient was SALT. I forgot to season the water.
So it was in that moment, because of how insanely bland that spaghetti tasted, that I truly learned the importance of salt. I always knew that salt was important, but this lightbulb moment was more profound than any of my previous salt-induced lightbulb moments, if you know what I mean.
I didn't end up taking the job, but since that day I've been making this completely amazingly perfect summer spaghetti MULTIPLE times every summer, and every time, I try to make it slightly better than the last.
Let's break this simple summer spaghetti down a little bit: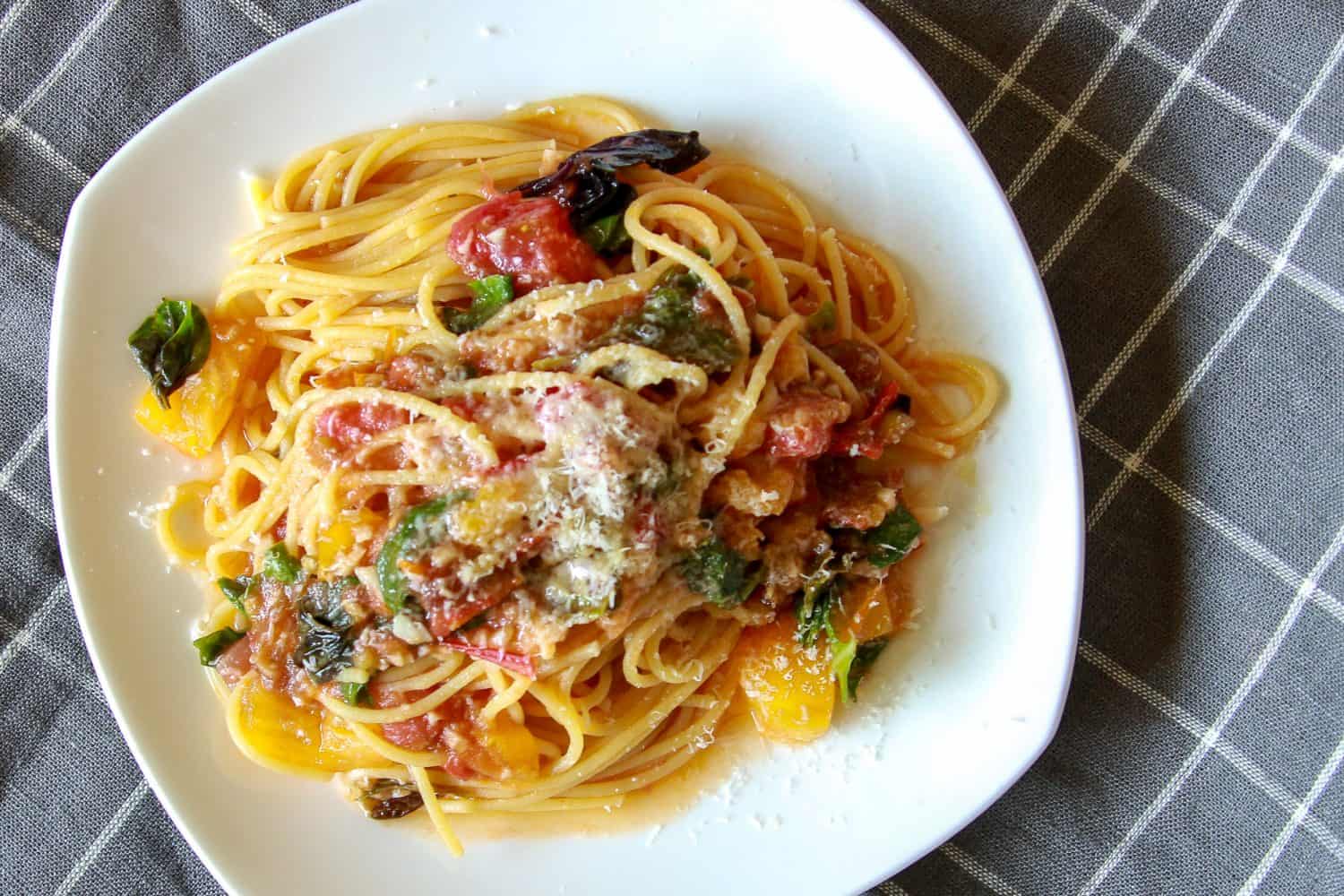 What kind of pasta is best for this Summer Spaghetti?
This simplest of spaghetti dishes uses dried spaghetti. Dried pasta is amazing, and unlike with fresh pasta, you can achieve al-dente status pretty easily. The key here is that the water has LOTS of salt. I like to say that the pasta water should taste like your tears. That's right, I taste my pasta water. Every time. Use a large pot so the spaghetti has lots of room to move around as it cooks.
What about the sauce?
I remember watching Mario Batali as a teenager and he'd always refer to pasta sauce as a condiment. That is really true here, because this sauce isn't really all that saucy. Instead, it's a delightfully light and flavourful mixture of fresh tomatoes, garlic, and olive oil. The starch from the pasta helps this mixture coat the strands of spaghetti so perfectly. You can use big beefy tomatoes or cherry tomatoes, just make sure they are at their peak. You cannot make this in the winter, sorry.
Final product: Life-Changing Summer Spaghetti
What you get at the end of this is the most beautiful and simple summer spaghetti ever. The key here is to toss and cook the sauce and pasta together for just long enough that the pectin in the tomatoes combines with the starch in the pasta to just coat the strands. The end result will be light, not watery, flavourful, and so very satisfying.
Storage, reheating, and freezing tips
You will most likely not end up with leftovers here. If for some reason you do, you can absolutely chill this overnight, toss it in a large bowl, add a little more olive oil and a squeeze of lemon, and call it a spaghetti pasta salad. I wouldn't recommend freezing this one. It's gotta be fresh!
Still hungry?
If you're looking for an even easier spaghetti recipe that you can make any time of year? This Marmite Spaghetti is a personal favourite of mine, especially on a solo night in.
Or, if you're in the mood for something a bit more luxurious, try my Creamy Blue Cheese Pasta with Lemon and Walnuts. It's perfect for an indulgent night in.
Also, this Creamy Sausage and Leek Pasta is a favourite for busy weeknights.
I love this simple summer spaghetti recipe so damn much, I hope you love it too. If you make it, be sure to tag me @howtomakedinner in your Instagram photos! I will be happy to share them.
Until next time, happy dinner making!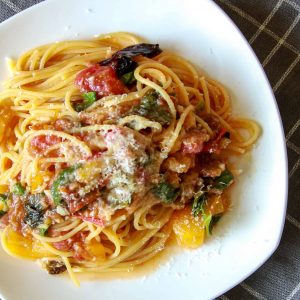 Life Changing Simple Summer Spaghetti
This is the simple summer spaghetti that changed my life, culinarily speaking. Use the best in-season ingredients and it's total perfection.
Ingredients
200

grams

dried spaghetti

2

tablespoons

salt (for the pasta water)

3

tablespoons

olive oil (extra virgin)

200

grams

tomatoes (chopped)

4

cloves

garlic (minced)

1

handful

fresh basil (torn)

freshly grated Parmesan cheese (to taste)
Instructions
Cook spaghetti in boiling salted water until it's on the firm side of cooked. (also known as Al Dente). Put a mug or a measuring jug in the sink under the strainer to catch some of the pasta water as you drain it.

Meanwhile, heat the olive oil in a nice wide pan on medium heat, and add the garlic and tomatoes.

As the garlic and tomatoes start to sizzle a bit, dump in the cooked spaghetti and a splash of the pasta water.

Toss gently until the tomatoes just start to break down and you start getting a glossy coating on the spaghetti. Adjust with extra pasta water if needed.

Throw in the basil leaves and toss for another few seconds.

Taste and adjust for seasoning and serve with lots of fresh Parmesan cheese grated over top, and a drizzle of olive oil.
Notes
Use only the juiciest, in-season tomatoes for this recipe.
Nutrition
Calories:
625
kcal
Carbohydrates:
81.3
g
Protein:
19.1
g
Fat:
25.8
g
Saturated Fat:
5.3
g
Cholesterol:
10
mg
Sodium:
724
mg
Potassium:
514
mg
Fiber:
4.7
g
Sugar:
5.4
g
Calcium:
185
mg
Iron:
4
mg