I don't think there is a single better thing in this world than a one-pot dinner that is easy to throw together, fills your house with the smell of warm, cozy spices, is dirt cheap in cost but rich in flavour, and offers a ton of satisfaction and comfort. This Spiced Kabocha Squash and Chickpea Stew ticks all of those boxes, and I'm pumped to be sharing it with you.
Eaten on its own, with a hunk of bread, or with a spoonful of steamed rice or couscous – this spiced chickpea stew is just the thing for an easy dinner in the fall and winter months. Plus, it makes for some heavenly leftovers for tomorrow's lunch!
This stew has taken inspiration from the scents and flavours of North Africa and the Middle East, but It is certainly not traditional. I was originally inspired to make this stew after making the incredibly delicious Israeli Couscous and Pumpkin in Tomato Star Anise Sauce from Ottolenghi's Flavour
(Check out this video where I test drive that cookbook.)
What do you need to make this?
Here's what you need to make this lovely spiced stew.
Kabocha Squash – or any winter squash of your choice (butternut works really well)
Chickpeas – pre-cooked or canned
Onions – the base for all great one-pot-wonders
Olive oil – to cook the onions
Garlic – for that background oomph
Tomato Paste – for that deep, rich, tomato flavour
Canned tomatoes – I prefer canned cherry tomatoes if you can get them, but diced work well too
Raisins – they burst like little sweet jewels in this stew
Zaatar – The all-around superstar spice blend that makes everything taste great
Cinnamon – giving this stew an unbeatable warmth (this is a key ingredient)
Water – to bring everything together
Salt – always
How to make this Spiced Kabocha Squash and Chickpea Stew
Making this stew could not be easier if it tried.
Start by throwing your onions, salt, olive oil, and garlic into a Dutch oven – and put it on the stove over medium heat.
Stir and cook the onion mixture for a few minutes until the onions soften slightly, then add in the spices, the tomato paste, the seeded and chopped (not peeled) squash, along with the tomatoes, chickpeas, raisins, and water.
Crank the heat to high until the stew comes to a boil, then reduce the heat to medium, pop a lid on the pot, and cook for 20 minutes. By this point, the squash should be tender when pierced with a knife.
Remove from the heat, and serve with your choice of toppings and sides. I usually add a blob of homemade yogurt and a drizzle of chilli oil and look around for a hunk of bread to dunk in it.
Success Tips
Make sure you cut your squash into relatively equal sizes so they cook evenly in the stew.
Cutting into any winter squash can be a tricky process. So be careful, use a big, heavy, sharp knife and a big steady cutting board. Some people microwave the whole squash for 2-3 minutes before cutting into it, which helps to soften it slightly.
Use good quality tomatoes. In most cases, that means not the no-name brand. Spend an extra dollar or two on your tomatoes and your stew will be significantly better for it. I love canned cherry tomatoes, but chopped up San Marzanos are great too.
If using canned chickpeas, give them a good drain and rinse before adding them to the stew. That starchy liquid (aquafaba) can be used to make easy homemade vegan mayo! But it is not welcome in this stew.
Frequently asked questions
Can I use other squash if I can't find kabocha?
Yes indeed. Butternut is probably the best substitute, but any sweet pumpkin or even sweet potato would work too.
Really? We're not peeling the squash?
Nope! The skin of most winter squash, including kabocha, is nice and sweet. And it cooks to be almost just as tender as the flesh. That being said, it's your dinner. So peel if you want!
Are raisins really necessary?
If you don't like raisins, no problem. But I do think a sweet burst is a really good addition. You could swap out the raisins for dried cranberries, dried cherries, chopped up dried apricots, or even dates if you prefer.
What if I can't find zaatar?
This middle eastern spice blend is becoming more and more prevalent on grocery store shelves these days. (Online too.) But if it's not available for you, I would recommend checking out this article from The Stone Soup which provides a few DIY options.
Freezing, reheating, and storage options
This stew is a dream for leftovers. It can be stored in the fridge for up to 4 days and reheated on the stovetop or in the microwave, and it is also delicious eaten cold or at room temperature.
This stew also freezes well in an airtight container for up to a month. When freezing anything, it's always best to defrost slowly in the fridge if possible. Don't freeze and defrost this stew more than once.
What goes well with this stew?
If you're like me, all you need with a stew like this is something starchy to soak up the juices. I usually go with a hunk of bread, flatbread, or some simple steamed rice.
I tend to enjoy toppings in general. And for this one, plain yogurt and a little chilli oil get my vote. Maybe a sprinkle of fresh parsley or cilantro too!
Still hungry?
I hear ya. If you're into squash, try these recipes next!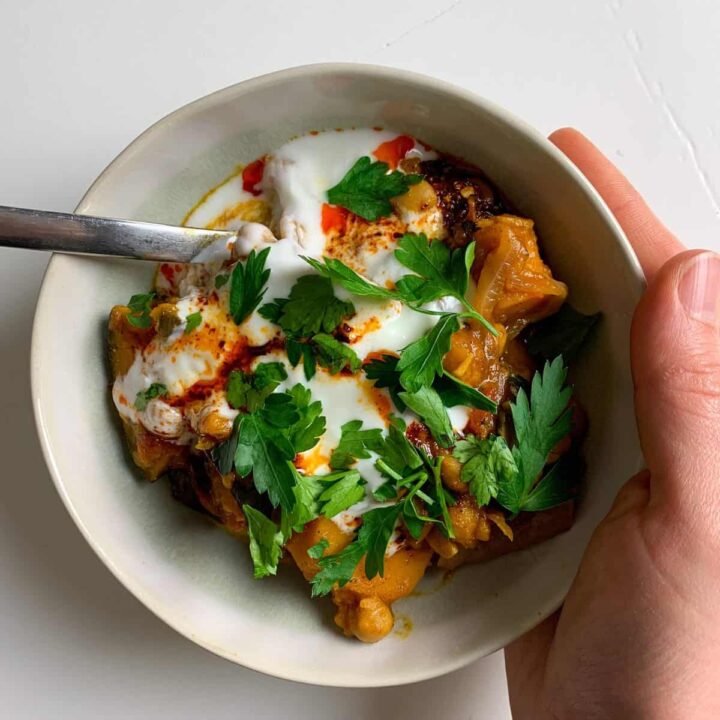 Spiced Kabocha Squash and Chickpea Stew
This Spiced Chickpea Stew with Kabocha Squash is so warming and fills the house with the comforting smell of cinnamon. And, you only need about 30 minutes and one pot to make it!
Ingredients
1

large onion

1

red onion

1

tablespoon

olive oil

1

tablespoon

salt

3

cloves

garlic

2

tablespoons

za'atar

1

tablespoon

tomato paste

1

teaspoon

cinnamon

700

grams

kabocha squash

1/2 a large one

400

grams

canned tomatoes

cherry or diced

400

grams

chickpeas

drained and rinsed

100

grams

raisins

golden for me

300

millilitres

water
Instructions
Slice the onions and add to a Dutch oven over medium-high heat along with the salt, olive oil, and garlic.

Sweat while stirring with a wooden spoon for 4-5 minutes, until the onions soften slightly.

Add the za'atar, the tomato paste, and the cinnamon, and stir to coat.

Add the kabocha squash, toss them with the flavourful onion mixture, before adding the chickpeas, canned tomatoes, raisins, and water.

Turn up the heat to max. Once the mixture has come to a boil, reduce the heat to medium, cover with a lid, and allow to cook for 15-20 minutes, or until the squash is tender.

Serve with rice, pasta, bread, or nothing at all.
Nutrition
Serving:
1
g
Calories:
179
kcal
Carbohydrates:
34
g
Protein:
7
g
Fat:
4
g
Polyunsaturated Fat:
3
g
Sodium:
1465
mg
Fiber:
7
g
Sugar:
15
g