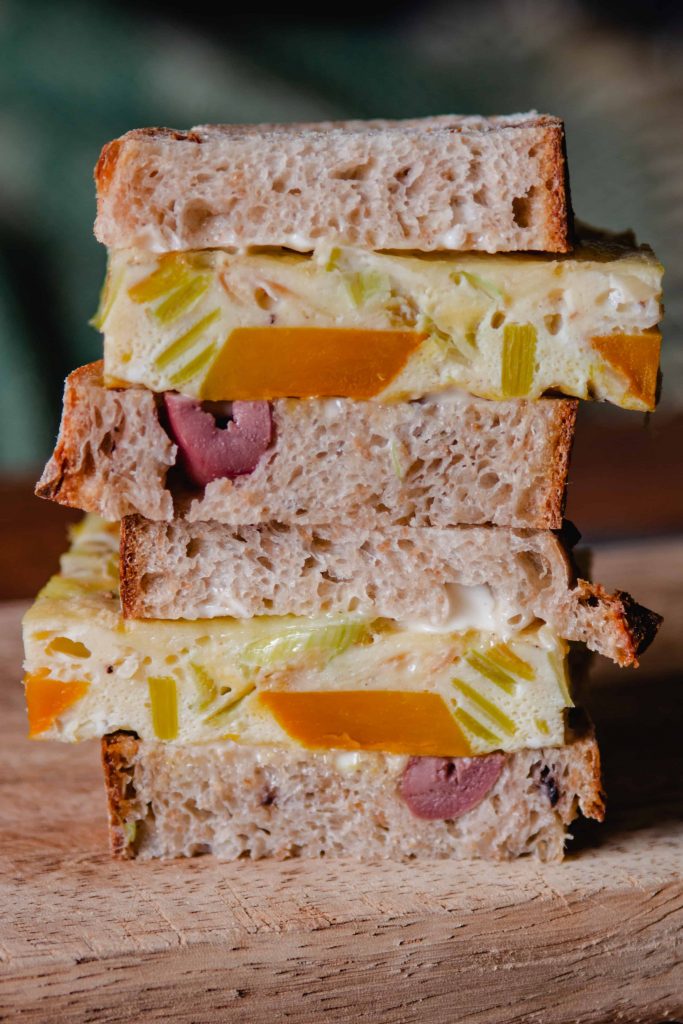 If you're someone who likes to feel full and satisfied but doesn't like spending tons of money on meat (or just wants to eat a bit less meat for a number of probably good reasons), a baked omelette might just be the breakfast, lunch, and dinner (or breakfast FOR dinner) powerhouse you've been waiting for.
Eggs are an amazing food. I talk about them a lot, because I eat them alot. I have an egg guy who delivers us two dozen local farm eggs almost every Wednesday. We soft scramble them for breakfast, boil them to jammy perfection for lunch, poach them, use them to make homemade mayo, or in this case, make a baked omelette for multi-purpose snack-ability and dinner options throughout the week.
Here's why a baked omelette might just become your new favourite thing.
You can put almost anything into a baked omelette
Including leftover veggies, scraps of meat, scraps of cheese, scraps of any kind. (OK maybe not any kind).
In terms of leftover veggie usage, you can't do much better than a baked omelette. It's up there with soup in the – good ways to use things up – category.
Things you can stuff into a baked omelette
Greens – Things like broccoli, spinach, chard, leeks, asparagus, peas.
Winter squash – The hearty creamy quality of winter squash is so nice next to the custardy eggs.
Onions – Green, red, white, caramelized, anything goes.
Herbs – Especially soft herbs like parsley, dill, tarragon, and basil.
Beans – White beans, chickpeas, lentils, yum.
Cooked grains like rice or pseudo-grains like quinoa can be thrown in.
The main thing to remember is that whatever you throw into your baked omelette has to have already been cooked. If you skip this step, you'll end up with a bunch of raw, watery veggies in your omelette. No good.
You can eat them hot, cold, or room temperature.
Honestly I tend to prefer cold or room temp over hot. I like sliding back a slab on its own, or sandwiched between a couple pieces of crusty bread–slathered with a flavoured mayo of some kind. My spinach walnut pesto would be a really really good option here! When cold or room temp, these make such a great packed lunch item. If you've got a kid to feed, cut the baked omelette into fingers and turn that pesto mayo into a little dipping sauce. Sour cream is also a great dip for this. Your family will love it.
You can make them ahead of time and eat them for days.
A baked omelette is one of those –make it on Sunday, eat until Wednesday– kinda things. One batch will give you about 6-8 reasonable-sized slabs.
Baked omelettes are cheap to make
Depending on what you put in them of course, a baked omelette can be a very economical staple. Buying the best, free range, organic eggs is still cheaper than buying meat, and if you load up your omelette with cooked grains, onions, & squash, your pennies are taking you even further.
Baked omelettes keep you full
And they're loaded with protein.
I had to look this up because I'm not much of a nutrition nerd these days, but here goes.
A large egg contains 77 calories, with 6 grams of quality protein, 5 grams of fat and trace amounts of carbohydrates. Most of the protein is in the white, most of the other good stuff is in the yolk. No offence, but if you want to talk to me about egg white omelettes I probably can't be your friend.
You can flavour them however you want
At the very least, your seasonings should include salt and pepper. But if you want to mix it up a little, here are some fun ideas:
Try a samosa flavoured baked omelette with potatoes, onions, peas, garam masala, cumin & coriander.
Go for a Mediterranean vibe with cooked orzo, crumbled feta, cooked & squeezed out spinach & roasted tomatoes.
How about a Denver omelet–inspired thing with bell peppers, onions, and sausage?
Maybe a green onion, cheddar, black bean and broccoli kinda thing?
You can literally go in any direction with this. Have fun with it!
Baked omelettes are super easy to make
Making a baked omelette is literally as easy as greasing up a casserole dish or other baking dish (I usually use cooking spray), then whisking together eggs, fillings, and seasonings in a large bowl, pouring it all into the tin and baking until the omelette is set and the top is slightly golden brown.
I like to use a square or rectangular baking vessel so I can cut the omelette into squares.
Depending on the width of your tin–ergo the thickness of your omelette, the baking time of an 8 egger is usually in the 25 or 30 minute range.
Here is the recipe for the baked omelette in the pictures. It's loaded with leeks and kabocha squash, and it's one of my faves.
Let me know if you make this! I'd love to see your creations.
Easy Baked Omelette with Squash and Leeks
This baked omelette is creamy and hearty and super satisfying. Eat it hot, cold, or room temperature. Makes a great sandwich too!
Ingredients
1/2

kabocha squash

1

leek – washed thoroughly

1

tablespoon

olive oil

8

eggs

1

cup

milk, cream, or alt milk

1

teaspoon

salt

1/2

teaspoon

pepper

15

grams

parmesan cheese – optional
Instructions
Preheat the oven to 425 degrees F

Cut the squash into quarters, then carefully remove the skin using a heavy-duty knife. Cut the squash into 1-centimetre wedges, and cut the (washed) leeks into 1-centimetre slices.

On a large baking sheet, toss the squash and leeks with olive oil and 1/2 teaspoon of salt, and roast until the squash is soft but not mushy. About 20 minutes

Remove the baking sheet from the oven, reduce the oven temperature to 375 degrees, and allow the squash and leeks to cool while you make the egg mixture.

In a medium bowl, whisk together the eggs, milk, the remaining 1/2 teaspoon of salt, and pepper until you get a nice smooth mixture.

Spray a 9 x 13 baking dish with non-stick spray. If you're worried about your omelette sticking, you can also line the bottom of the pan with a sheet of parchment paper

Arrange the squash and leeks in the bottom of the baking dish, and pour the egg mixture over them. If using parmesan cheese, now. is the time to sprinkle it over the top of the omelette.

Bake the whole thing at 375 F for 20-30 minutes, or until the top is slightly golden and the middle is no longer runny.
Notes
This super basic squash & leek omelette is just a nice little guideline. Feel free to add cheese, herbs, & spices to your heart's content.
Serve hot, cold, or room temp.
Nutrition