Ok I know it's a bit weird to have two corn chowder recipes on the same site, but can you blame me? Corn chowder is the best! I grew up eating Campbells chicken corn chowder (you know the one right)? and I'm still chowing down on corn chowder in many different iterations–all of which are a little bit lightened up and a lot tastier than the canned stuff. (No offence to the canned stuff.) This coconut corn chowder is a new favourite of mine. It is loaded with cubes of sweet potato, creamy coconut milk, a ton of corn and just a hint of spice for colour and character.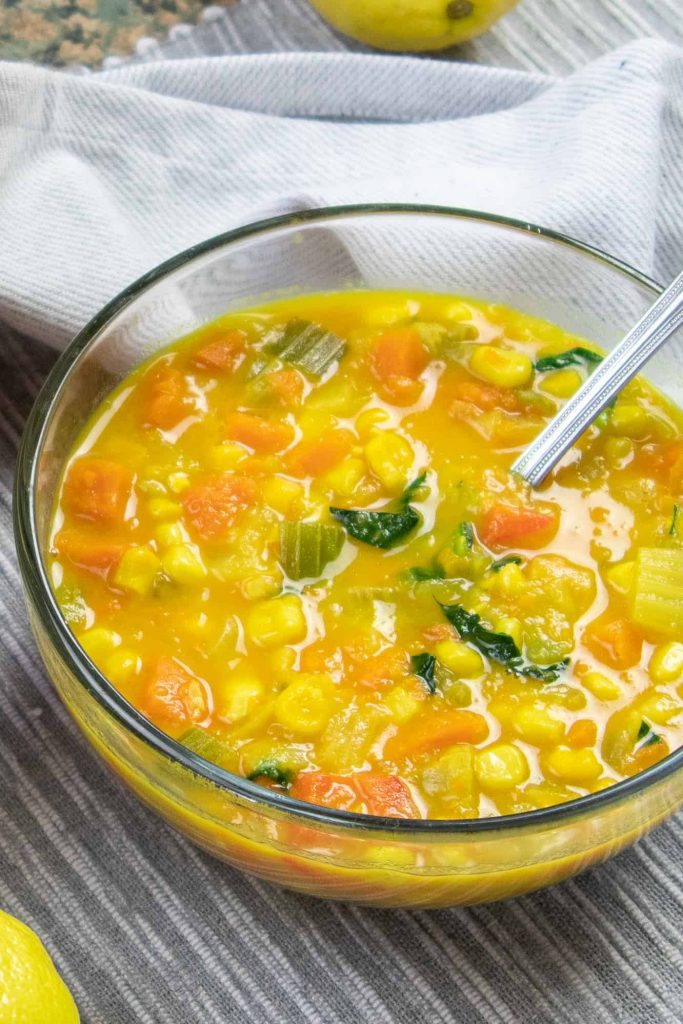 There are so many things to love about this coconut corn chowder. It's fairly quick to make, you only need one pot, (ok I guess that's a pretty common soup trait in general, but appreciated nonetheless), it's super easy and very satisfying.
There are so many things to love about this Coconut Corn Chowder
This is one of those hearty feel-good meals. It won't weigh you down, but it will fill you up. You can make it any time of year, using frozen corn, but you will have even better results if you make it with fresh corn in peak season. If you do have access to good fresh sweet corn, it's a very good idea to scrape the cob after you've cut the kernels off. Add all that milky goodness to the pot too. It's full of flavour. You can also simmer the corn cobs in water ahead of time, making a corny broth to add to the soup. This is an optional extra step that goes a long way in flavour.
If you live somewhere that doesn't really ever get good corn (I'm looking at you UK dwellers), stick with frozen corn kernels. It's always better to have frozen corn than sub-par fresh corn.
Oh, and if you're thinking about using canned corn, I'd advise against it. It's loaded with sugar and it makes this soup way too sweet!
Bonus: This Coconut Corn Chowder is vegan-friendly!
I'm not a vegan, or a vegetarian, but I do opt for plant based dinners often. I also tend to make creamy coconut-based soups often. Why? Well for one thing, I love coconut milk. And secondly, milk and cream aren't items I always have on hand. But I always have multiple cans of coconut milk in my cupboard. I just feel that there are so many great dinners at my disposal when I have coconut milk on my side.
How to select the best coconut milk
You should always buy full fat coconut milk, and avoid the light stuff. It's really watery and just not a good bang for your buck. If you want to lighten this up (which I don't really recommend), use half the amount of coconut milk than what's called for and make up the difference with water.
To make sure you're buying the best, thickest, most creamy coconut milk, give the can a bit of a shake. If you can hear the coconut milk sloshing around inside, it might be a little on the watery side. If you shake the can and hear nothing, that tells you that the coconut milk inside is super thick. That's the one you want!
Sweet potatoes vs. yams
Depending on where you are in the world, sweet potatoes and yams might mean different things. In Canada, we refer to the bright orange sweet potatoes as "yams", and the big beige coloured ones as sweet potatoes. In the UK and parts of the US, the orange ones are called sweet potatoes. Those orange ones are what I'm using here.
Confusing, I know. The good news is, either one will work for this recipe.
Whether you're using the beige ones or the orange ones, sweet potatoes are all incredibly varied in size. If I were to instruct you to use one sweet potato in this recipe and you had a big giant one, it would be way too much. Yet another reason why I am a huge advocate for using a kitchen scale. Weigh your yams before you chop them so you know you're in the right ballpark.
Speaking of creamy, luscious, yet dairy-free dinners: Check out my friend Mel's creamy vegan kale and garlic gnocchi recipe. It's truly incredible. I made it on camera for the first time and it worked out perfectly!
How to make this Coconut Corn Chowder
The method for this creamy coconut corn chowder is very simple.
In a large pot over medium heat, sweat the onions & celery in oil and salt for 5 minutes. Then add the peppers, garlic, ginger, and spices, and cook for another minute or two.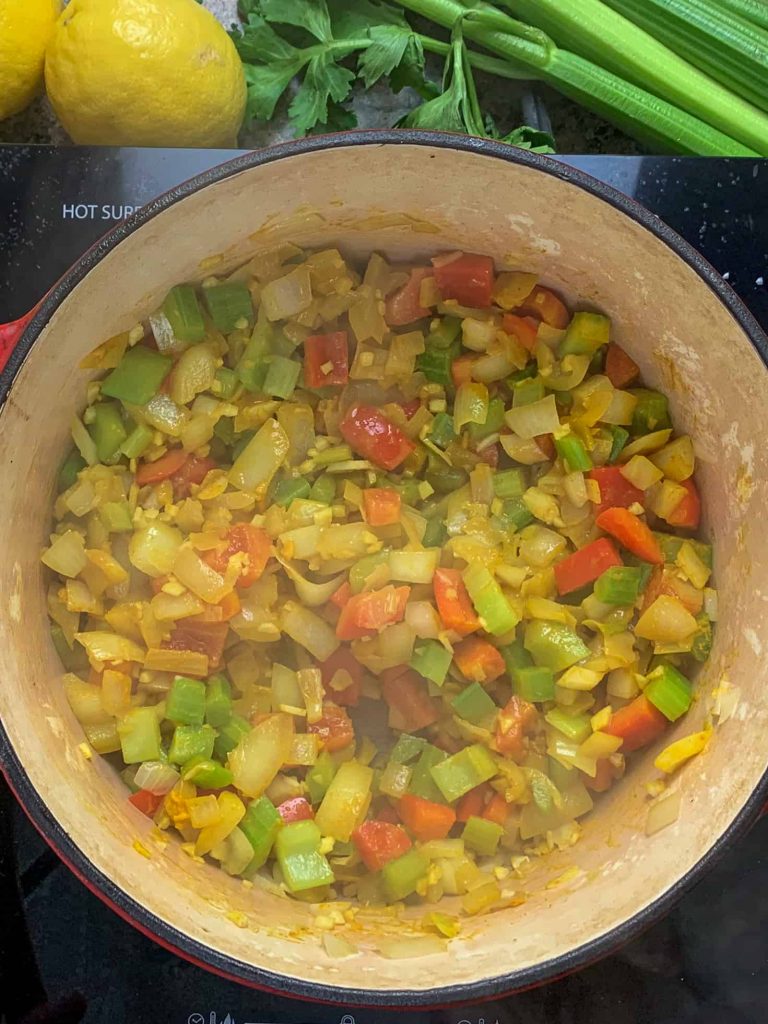 Add the sweet potatoes and the corn. Dump in the coconut milk and add enough water to barely cover the vegetables. You can use vegetable broth or stock if you want, but water does the trick just fine. Simmer until the sweet potatoes are tender, about 10-15 minutes.
*An optional step (but one I like to take) is to slightly mash some of the sweet potatoes with a potato masher. It makes everything a bit thicker and kinda marries the veggies with the broth.
A few minutes before serving, I like to add the green leafy or fresh herby part for a pop of colour. I'm using Swiss chard here but it could just as easily be spinach, kale, arugula, or even just an insane amount of fresh herbs if that's your thing! I personally like cilantro or fresh basil with this one.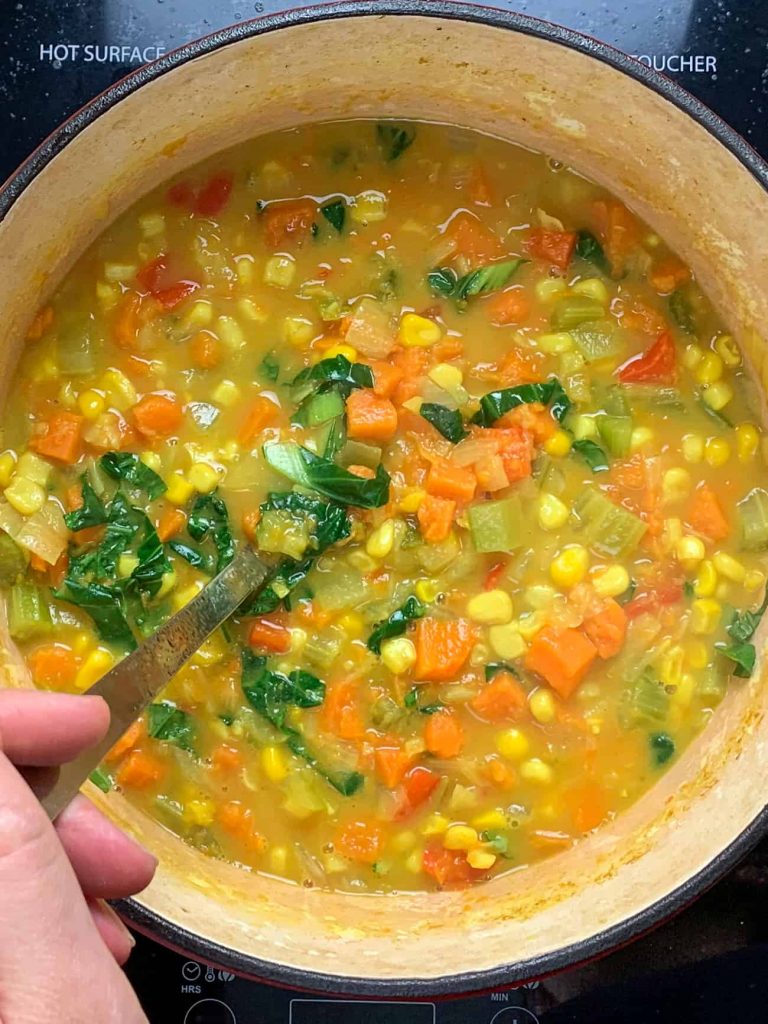 How to serve this Coconut Corn Chowder
Serve this Coconut Corn Chowder in big bowls with a wedge of lemon and a few cracks of black pepper. If you're like me, you'll also have a bottle of chilli oil or hot sauce at the ready. You know, in case of emergency.
This Coconut Corn Chowder is perfect on its own as a light lunch or dinner. It also goes very nicely next to a bowl of rice, a grilled sandwich or a big hunk of bread. It's even better the next day and It keeps for up to a week in the fridge.
In the mood for more hearty soups?
Try these next:
I hope you love this recipe! Be sure to tag me on Instagram @howtomakedinner if you make it!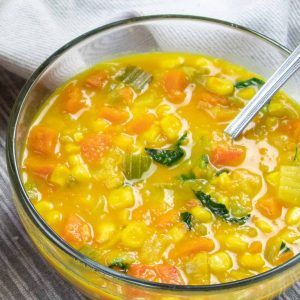 Coconut Corn Chowder
This coconut corn chowder is loaded with sweet potatoes, creamy coconut milk, and kissed with South Asian spices like turmeric and ginger. It's totally vegan and satisfying as heck. A perfect weeknight one pot wonder.
Ingredients
2

Tablespoons

vegetable or coconut oil

2

onions (medium)

3

celery stalks

2

teaspoon

salt

3

cloves

garlic

3

Tablespoons

fresh ginger

1

red bell pepper

450

grams

sweet potatoes or yams (2 very small or one medium)

1

teaspoon

ground cumin

1.5

teaspoon

ground turmeric

1

can

coconut milk

450

grams

corn, fresh or frozen (3 cups)

1

handful

leafy greens or fresh herbs

ground black pepper

to taste
Instructions
Dice the onion, celery, sweet potato, and red pepper. Mince the garlic and ginger or smash them in a mortar and pestle.

Heat a large pot over medium heat.

Add the oil, then add the onions, celery, and salt – saute for 5 minutes

Add the red pepper, ginger, garlic, and spices and saute for another minute.

Add the yams, the corn, and the coconut milk – with enough water to barely cover the vegetables. Bring to a boil, then cover and simmer for 10-15 minutes, or until the yams are tender.

OPTIONAL: Take a potato masher and mash up some of the soup right in the pot. It'll break up some of the sweet potatoes and help thicken the chowder.

Finish with a few pinches of thinly sliced leafy greens – this could be thinly sliced Swiss chard, spinach, kale, or even fresh herbs like cilantro.

Serve with a squeeze of lime or lemon and a few cracks of black pepper to brighten up each bowl.
Nutrition