As someone who loves to cook, potluck invitations always launch me into a sweet little daydream where I imagine all the things I could bring. I start thinking about what's in season, what I've been craving lately, and what are the people going to be in the mood for. I usually settle on something seasonal and fresh, but very easy, uncomplicated, and most of all – transportable. So for me, especially in the summertime, I often bring this grilled zucchini salad.
Why Grilled Zucchini Salad?
In the middle of summer, which is the time of year it is now as I'm writing this, it's pretty special to bring something that celebrates the season's bounty. This grilled zucchini salad is a great way to do that, without breaking the bank and without breaking a sweat. Bonus – you can make it in about 20 minutes.
Another factor that makes this grilled zucchini salad recipe an especially good option for a potluck, is that it can be (and should be) eaten at room temperature. There's nothing worse than those people who show up with potluck dishes that require an oven. It's almost as bad as the people who bring a bag of ingredients and need to mess up your whole kitchen to make their item on the fly. That wasn't the deal!
It's obvious I have opinions on this matter. I'm all about potluck ideas that arrive ready to go, in the bowl or container it's going to be served in.
The totally underrated zucchini
The thing about zucchini, is it's kind of a 'whatever' vegetable. It doesn't have much flavour on its own, the texture is not everyone's favourite, and it's just never really had its moment in the limelight. But when given the right treatment, zucchini is great! It can be eaten raw or cooked, it comes in a few different colours, and it's cheap as heck! You can grill it, roast it, dip it in blue cheese dressing, or stuff it with any number of things. As far as versatility is concerned, the humble 'zucc' scores a ten out of ten.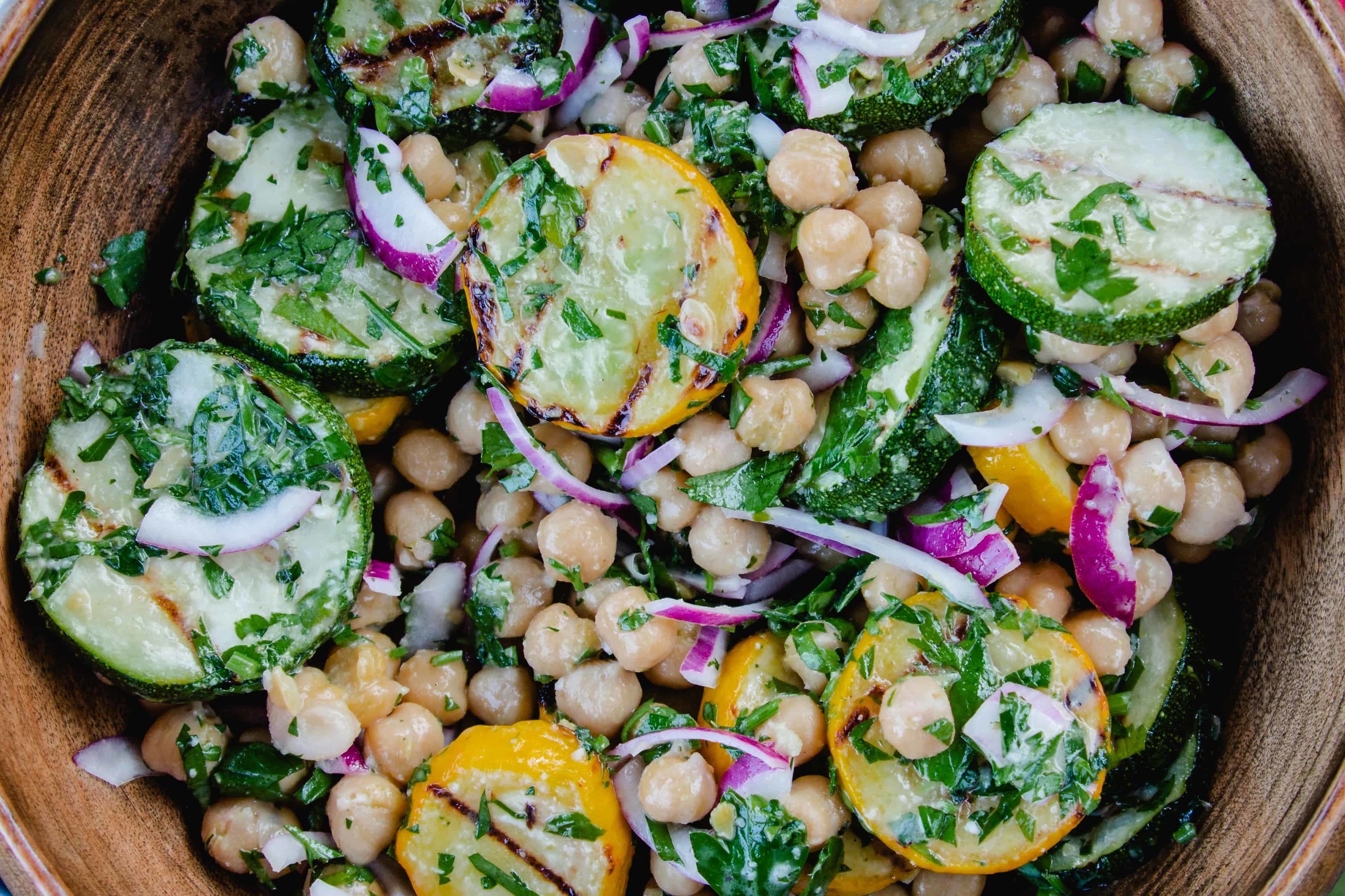 So here is just one of the many ways I like to eat zucchini. The complete lack of flavour in zucchini is perfect in this case because the dressing is SO zingy and flavourful.
A Word On Chickpeas
Soaked and pressure cooked chickpeas are SO MUCH BETTER than canned. I'm sorry if you've heard me yap about this before, but it's one of those little changes I've made in my cooking lately that has made a huge difference. If you use chickpeas often, I'd say it's worth investing in a pressure cooker for that reason alone! I use an Instant Pot, but there are other good pressure cookers on the market. I made an Instagram highlight on my chickpea cooking process so be sure to check that out if you're a chickpea cooking newbie!
Storage tips
In my opinion, this salad is most delicious when eaten right away, or within an hour or two after it's made. Mostly because I like everything to be at room temperature, rather than fridge cold. If you do make it in advance, or you have leftovers to contend with, I recommend keeping it in a sealed food container in the fridge for up to two days and let it sit out for 20 minutes or so before you eat it.
What goes well with this?
If you want a little something extra on top, crumbled feta would be an excellent option. A little extra squeeze of lemon juice over the top never hurt anyone either.
This grilled zucchini salad also makes a perfect side dish for grilled meats (try my tips for grilled chicken thighs), grilled or roasted halloumi, or a perfectly poached egg.
I hope you add this to your summer potluck recipe list! It's a good one, and even non-zucchini lovers tend to like it as long as you don't overcook the zucchini. Keep them on the firm side and you will have some converts on your hands!
And if it goes terribly wrong, stop at the store and pick up a tub of seven layer dip and a bag of tortilla chips and everybody will love you. Just steer clear of the macaroni salad from the deli counter. It's never a good idea.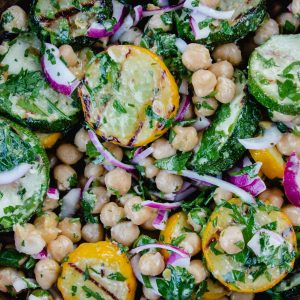 Grilled Zucchini and Chickpea Salad
This grilled zucchini salad is bright, light, lemony and flavourful. You're going to appreciate the humble zucchini a lot more after this one!
Ingredients
2

zucchini, medium

1

handful

fresh parsley

2

tablespoon

fresh mint

250

grams

cooked chickpeas (one can)

1

lemon – zest and juice

1

clove

garlic

3

tablespoons

olive oil

.5

small red onion

Salt and fresh cracked pepper, to taste
Instructions
Prepare the zucchini by cutting it into quarters lengthwise, or into round disks and rub it with some vegetable oil and salt.

Grill the zucchini on high heat until the cut sides have nice grill marks and the zucchini is cooked slightly but still firm.

Cut the long quarters of zucchini into cubes and transfer to a large bowl.

Toss the warm zucchini with the herbs, garlic, lemon, chickpeas, salt and pepper, and serve slightly warm or at room temperature.
Video
Nutrition
Calories:
345
kcal
Carbohydrates:
43.4
g
Protein:
13.8
g
Fat:
14.6
g
Saturated Fat:
2
g
Sodium:
31
mg
Potassium:
877
mg
Fiber:
12.7
g
Sugar:
9.2
g
Calcium:
98
mg
Iron:
5
mg