I've never been the biggest fan of pie. A piece of pie would almost never be my first choice for dessert, and I definitely never loved making pie. Getting the bottom baked perfectly while not burning the top has always been a challenge, and it's just never been worth the trouble for me. But this summer fruit galette is different.
Dessert Pizza Anyone?
There's something very awesome about galettes. They have all the best features of pie, but they're so rustic and easy to make, that they're more like a dessert pizza than a traditional pie. I love em!
When the sun is shining, and the summer fruit is calling out to you to turn them into something delicious, this is a really good way to go.
This is the 2nd time I've shared a galette recipe on the HTMD blog, and I'm kinda cheating because this one uses the same pie dough as the other one. It's so good! It's worth a double share. Plus, I don't want to make you flip back and forth. So, you're welcome.
Here's the link to the apple galette recipe that also uses this same magic pie dough. That post includes a video too!
Making the foolproof pie crust
The crust for this summer fruit galette is special. Even when it's a little bit too thick (which it was in this case because I had leaky galette paranoia) it's still really really good. In fact, it might be even better. Even if you get a big chunk of it without any fruit, it's still super delicious. It stands up to all the juicy fruit you fill it with and it is always flaky and tender.
Making the summer fruit galette filling
This summer fruit galette—with it's foolproof crust—can handle just about any fruit you throw at it! In this case I'm using locally grown blueberries, juicy peaches, and a ton of fresh ginger.
Other fruit to try:
Raspberries
Strawberries
Nectarines
Apricots
Plums
Blackberries
A word of caution though: I've always been too scared to try this with frozen fruit in case it becomes a really leaky situation. If you try yours with frozen fruit, I'd love to know how it turns out.
Success tips
Always use a rimmed baking sheet to bake this galette. Because there is no pie plate keeping everything contained, leaks are inevitable. And cleaning sugary fruit juice off the bottom of your oven isn't fun. Plus it'll set off your smoke alarm real quick!
Make sure the dough remains as cold as possible until the minute it goes into the oven. If you're done assembling the galette and the dough feels kinda soft, throw the whole thing into the fridge for 15 minutes to chill it down again before baking. Otherwise, the butter melts too quickly in the oven and the crust turns to mush.
Parchment paper is your best friend for transporting this thing on and off of the baking sheet. It'll also ensure an easy cleanup.
How to serve this summer fruit galette
One of the best things about making a galette instead of a pie is that you don't need to wait for it to cool down too much before diving in. You can basically eat this straight out of the oven and it won't turn into a giant mess. This galette is great on its own, but I like serving mine with ice cream, whipped cream, or thick yogurt with honey. It can be enjoyed hot or cold, and it is the best dessert to share at a summery outdoor dinner party.
I hope you give it a try! Let me know which fruit combinations you use! Find me on Instagram @howtomakedinner to share your creations.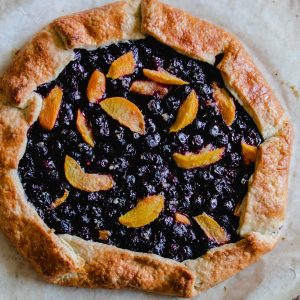 Summer Fruit Galette with Foolproof Pie Dough
This summer fruit galette is the perfect dessert to wrap up a summer dinner. It's more like a dessert pizza than a pie, and it's super easy to make!
Ingredients
For The Crust
160

grams

all-purpose flour (1 1/3 cups)

1

tablespoon

sugar

1/2

teaspoon

salt

120

grams

cold butter – unsalted (1/2 cup)

50

millilitres

cold water
For The Filling
500

grams

mixed berries or stone fruit

125

grams

sugar (1/3 cup)

2

tablespoons

cornstarch

1

teaspoon

salt

1

tablespoon

Any extra desired spices or flavours. I like fresh ginger!
Instructions
Measure the flour, sugar, & salt directly into the bowl of a food processor.

Add cubed cold butter to the flour mixture and pulse until there are no big chunks left, but lots of little bits.

Dump all the water in at once, and pulse until the mixture just starts to look like dough.

Transfer dough to a lightly floured surface and bring it all together.

Form into a disc and wrap in plastic or cover in a bowl. Keep the dough in the fridge for 30 minutes while you make the filling.

Make the filling by tossing the ingredients together in a large bowl.

Roll the chilled dough until it is about 1/2 cm thick. It should be just thin enough not to leak or break.

Dump the filling into the middle, leaving about 2 inches around the edge for folding over.

Fold the edge over in an overlapping fashion, and press the overlapping bits slightly so they stay put.

Brush the edge with a beaten egg and sprinkle with sugar.

Bake at 375 for 35 – 45 minutes, or until the galette is nicely golden brown and the fruit is bubbling inside.
Notes
If all you have is salted butter for the crust, no problem. Just omit the salt from the dough recipe.
Nutrition
Calories:
383
kcal
Carbohydrates:
55.4
g
Protein:
3.5
g
Fat:
16.8
g
Saturated Fat:
10.3
g
Cholesterol:
43
mg
Sodium:
697
mg
Potassium:
141
mg
Fiber:
3.7
g
Sugar:
28.5
g
Calcium:
21
mg
Iron:
2
mg