I'm a huge fan of recipes that use nice round numbers.
Mainly because I find it really annoying to put a 1/3 of a can of tomatoes back in the fridge, and don't even get me started on wrapping up half onions and hoping you'll remember it's sitting there in the crisper drawer next time you need one. I just don't subscribe to this kind of cooking.
I find something really satisfying about using the ENTIRE contents of a jar, a can, an onion, or just about anything. When I'm writing recipes, I always try to find ways to round up or down, to avoid partial tins and half onions cluttering up your fridge.
Which Is Why I LOVE This Recipe
This creamy tomato tortellini soup is a perfect example of that. Nice round numbers, no fussing with awkwardly storing the ends of the tins. Some might call this lazy, I just call it sensible.
This is the kind of thing I could eat multiple times a week without getting tired of it. I think the Campbells soup company did something to my brain early on, which means that I instantly associate creamy tomato soup with comfort. I love it so much. Since the Campbells days though, I have upgraded my tomato soup eating habits. I now depend on this homemade version for my tomato soup needs.
I am obsessed with this tomato soup. It hits every spot on a cozy evening at home. It's also really easy to make, and feeds a decent sized crowd pretty easily. Make this on those nights when you want your food to hug you.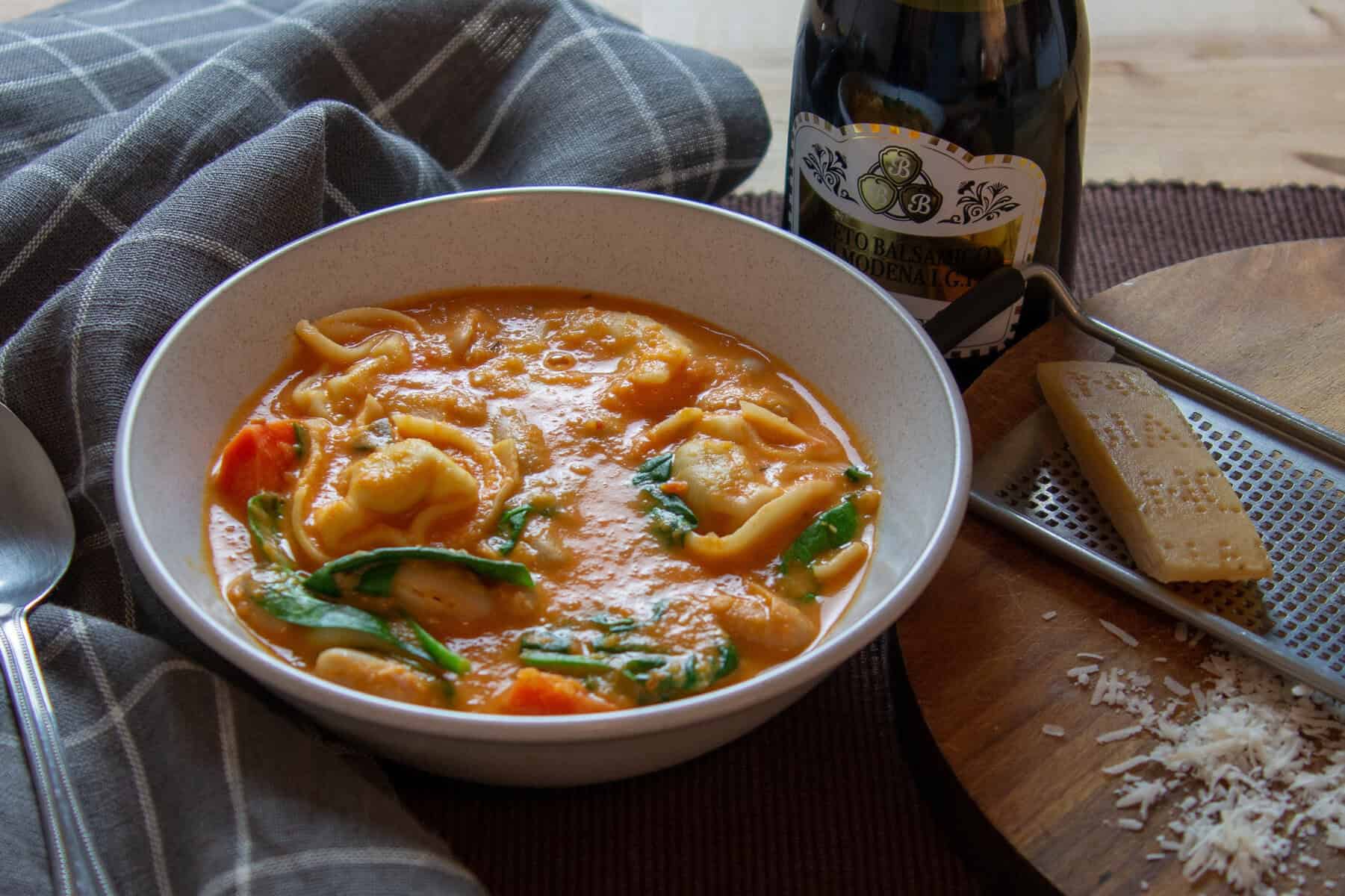 Always In The Mood For Tomato Soup
At its core, this creamy tomato soup could be embellished with pretty much whatever you want. Swap out the tortellini and white beans for gnocchi and Italian sausage. Or wild rice and rotisserie chicken. Or, one of my personal favourites, just keep it silky smooth and serve it with a whole soft-boiled egg right in the middle.
Dairy not your thing? No problem.
Because this creamy tomato tortellini soup has so much other stuff in it, it doesn't even really need dairy at all. The onions, carrot, and celery blend together to give a smooth creamy vibe. I've added sour cream here, because I love it. But if you choose to leave it out, you won't be disappointed. Just refrain from using a cheese tortellini if you're going dairy free!
Whatever you do, DO NOT try to use any low-fat dairy in this soup. Tomatoes are acidic, and anything with less than about 35% fat will almost definitely curdle once you add it in. I love sour cream, and I feel really confident in it's stability within this soup, but heavy cream or creme fraiche are also good options.
The Process In A Nutshell
I made a quick little video to show how easy this soup is to make. Basically, you heat a pot over medium heat, sweat some veggies in a little olive oil, season with salt, and add diced tomatoes or some kind of canned tomato product plus a few bay leaves and some water or stock.
When the veggies are softened, blend up the soup and add the tortellini. Cook for 5 minutes, then stir in the sour cream, a leafy green something (fresh basil is a nice option too), and adjust the seasoning with salt and pepper.
BOOM! You've got an amazing dinner in under 30 minutes and your family loves you even more than they did before.
All that's left is big chunk of crusty bread (or a grilled cheese sandwich) for dipping, and you've got one of the ultimate crowd pleasing soup recipes on your hands. Depending on how much gets absorbed by those tortellini, you may need to adjust with water so it's not too thick. It's soup we're after, not tomato sauce!
Let me know what tomato soup combos you come up with! I'd love to hear from you.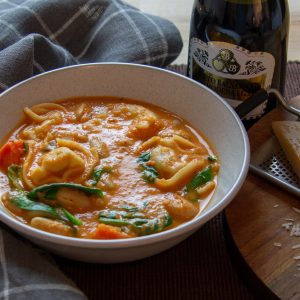 Creamy Tomato Tortellini Soup
I am obsessed with this creamy tomato tortellini soup. It hits every spot on a cozy evening at home. It's also really easy to make, and feeds a crowd.
Ingredients
2

Tbsp

olive oil

1

large

onion

1

large

carrot

1

stalk

1 celery

1

teaspoon

salt

3

bay leaves

500

millilitres

water

796

millilitres

whole, diced, or crushed tomatoes (1 large can)

1

sprig

fresh rosemary (or 1 Tbsp dried)

300

grams

white cannellini beans (1 small can)

300

grams

fresh tortellini (I usually buy spinach & ricotta)

250

grams

sour cream (full-fat)

100

grams

(a couple of large handfuls) baby spinach or other leafy greens

1

tablespoon

dried chili flakes
Instructions
Dice onion, carrot, and celery and saute for 5 minutes in olive oil and salt in a large pot over medium heat.

Roughly chop the garlic and add to the veggies in the pot. Saute for another minute.

Add the tomatoes, water, and bay leaves.

Bring to a boil over high heat, then reduce and simmer for 8 minutes with the lid on.

Remove the lid, add the rosemary and blend until smooth.

Add the white beans and the tortellini. Cover and simmmer for another 5 minutes.

Stir in the sour cream and spinach and turn the heat off.

Check for seasoning and add crushed chili flakes and fresh basil if desired.

Serve in big bowls, drizzle with balsamic vinegar and sprinkle with Parmesan cheese.
Notes
Depending on how much liquid is absorbed by the tortellini, you might need to add more water. Adjust with salt as needed!
Nutrition
Calories:
510
kcal
Carbohydrates:
58.4
g
Protein:
20.8
g
Fat:
22.6
g
Saturated Fat:
10.3
g
Cholesterol:
55
mg
Sodium:
780
mg
Potassium:
454
mg
Fiber:
10.6
g
Sugar:
10.7
g
Calcium:
312
mg
Iron:
5
mg