The Dutch Baby Is The Ultimate Weekend Breakfast.
I've been wanting to make one of these ever since I first saw Nigella make one in the early 2000s back when Food Network was good. I have no idea why it took me so long!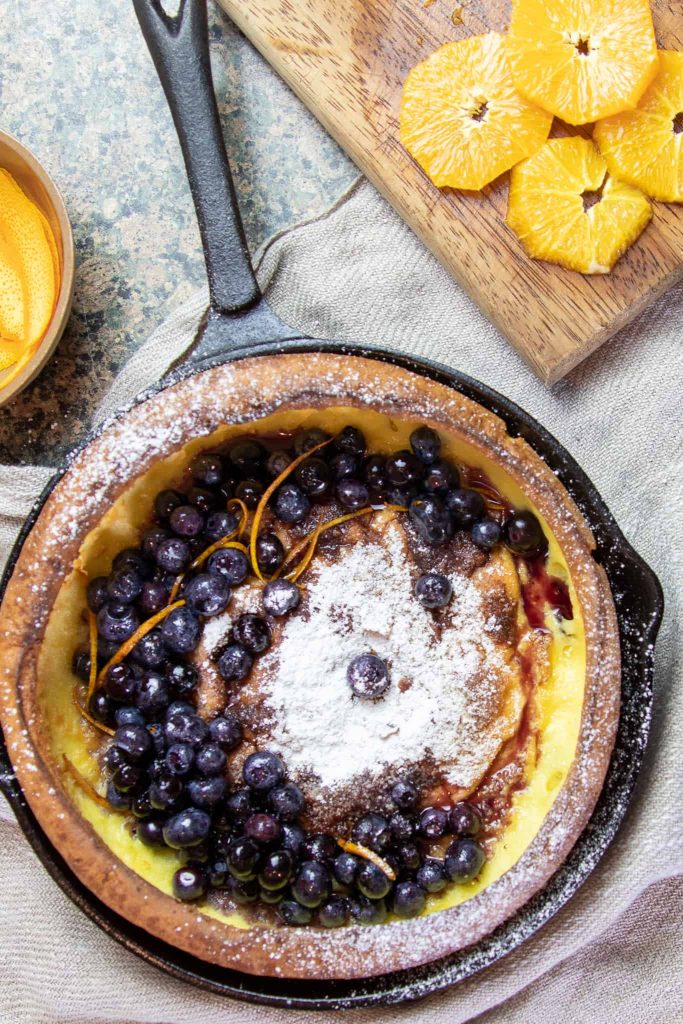 Although the name suggests otherwise, The Dutch Baby pancake is actually an American thing. From what I've read, they were made popular by German immigrants in the US, which makes sense because they do loosely resemble traditional German Pannekoeken. Apparently Dutch Baby Pancakes are fairly commonly found at diners in the states, but I've never encountered them on breakfast menus in Canada. I have a feeling that will change soon though, these babies are so impressive and really easy to make.
A Different Kind of Pancake
The Dutch Baby pancake is a few steps away from your average pancake, It's basically a giant popover. Similar to a Yorkshire pudding, usually (but not always) made sweet, baked in a cast iron pan with melted butter, and eaten for breakfast.
Like Yorkshire pudding, Dutch Babies are simple to make, and there are only a few ingredients to worry about. That being said, there are a few key guidelines you have to follow if you want a successful, seriously puffed up pancake experience.
Here are the rules of thumb:
Pre-heat your pan. You're going to need that instant heat to give the batter that initial lift off to make it puff to its full potential.
You need a runny batter. If the batter is too thick, the pancake will be dense and won't have the opportunity it needs to expand the way it should.
Bake it WELL. The first one I made

turned out great, but I wished that I had left it in the oven for another 5 minutes. When you let it get really brown, it forms a nice sort of outer crust which gives a really nice contrast to the syrup and berries you're likely going to soak it with.
The Dutch Baby should be deep golden brown, and magnificently puffy.
I made a quick blueberry sauce for this one, by heating frozen blueberries and a touch of honey in a small pot and thickening slightly with potato starch.
I doubled down on the sweet sauce by drizzling the whole thing with a decent amount of pure maple syrup.
This recipe comfortably fed three of us, and could technically serve four. But I'd be pretty happy to split it in two if I had to. If you're serving four, just make sure there are some other things on the table to supplement it with. Like Bacon, sausages, or some perfectly poached eggs.
Sweet toppings to consider:
Lemon Curd
Powdered sugar
Fresh berries
Chocolate sauce (or melted nutella)
Savoury options:
Green onions, avocado & bacon
Fresh basil & goat cheese
Roasted tomatoes & herbs
Wild mushrooms & thyme
Poached eggs & smoked salmon
Now that I've found my winning recipe for this giant magnificent baked pancake, I'll likely be making these most weekend mornings from now on. Come to think of it, I don't see any reason why this wouldn't make a great "breakfast for dinner" option! I hope you'll give it a try too!
And if you do give it a try, I want to see your pictures! Tag me in your Instagram and Facebook pictures and I'll share yours in my stories. I'm @howtomakedinner on all the platforms.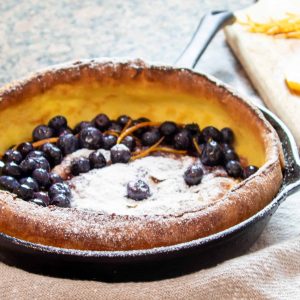 The Amazing Dutch Baby Pancake
This Dutch baby pancake is a total show stopper for brunch. It puffs up like crazy and creates the perfect foundation for tons of delicious toppings.
Ingredients
3

eggs

160

millilitres

milk

1

teaspoon

vanilla

85

grams

(2/3 cup) all purpose flour

1/4

teaspoon

salt

3

tablespoon

butter

1

tablespoon

sunflower oil
Instructions
Combine everything except for the butter and oil into a large measuring jug. Use a stick blender to blend until it makes a silky smooth batter.

Let the batter rest in the fridge for a minimum of 10 minutes, preferably 20.

While the batter is resting, put a 9 inch cast iron skillet in the oven and preheat to 450. If you don't have a cast iron, any oven-safe dish will work.

When the batter has rested and the oven and pan are hot, remove the pan from the oven.

Add the oil and butter to the pan and give it a swirl till the butter melts.

Pour the batter into the hot skillet, and get it back in the oven to bake for 20 minutes and watch that pancake rise.
Nutrition
Calories:
254
kcal
Carbohydrates:
18.6
g
Protein:
7.8
g
Fat:
16.4
g
Cholesterol:
149
mg
Sodium:
274
mg
Potassium:
94
mg
Fiber:
0.6
g
Sugar:
2.3
g
Calcium:
71
mg
Iron:
2
mg