Is there anything better than two slices of bread jam-packed with a creamy hearty tangy filling? This smashed chickpea sandwich will hold up against any egg salad or tuna salad sandwich, and bonus—it's cheap and super easy to make.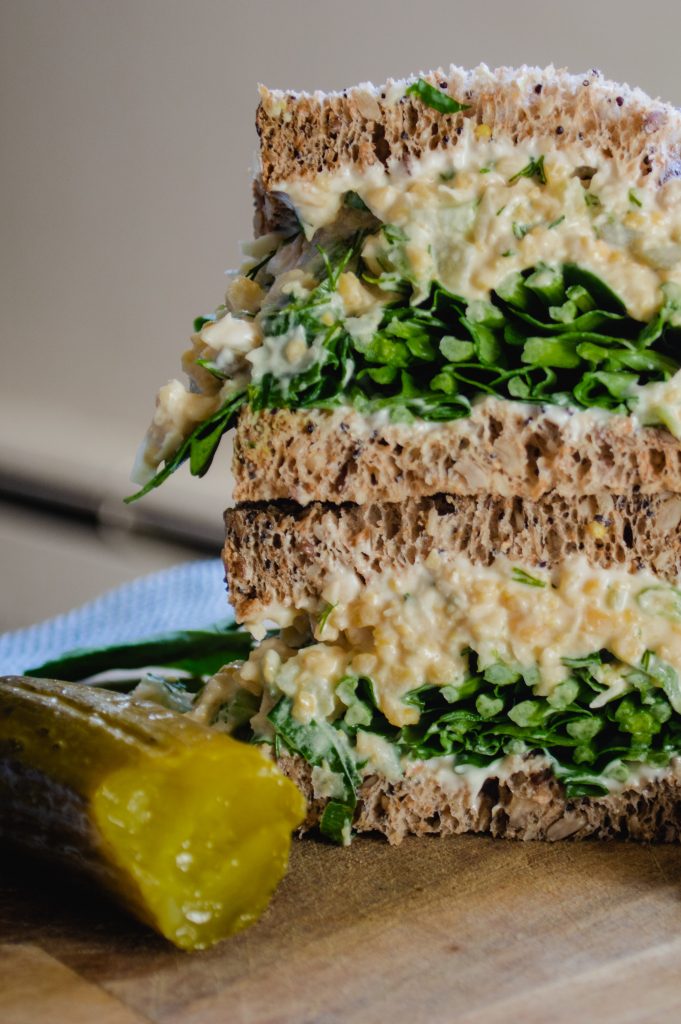 The rise of the chickpea
The chickpea is at the top of its game right now. I mean, when asked if you'd prefer a smashed chickpea sandwich, vs. a smashed kidney bean sandwich, which one would you go for?
Chickpeas are so popular these days and I can totally understand why. They have a cute name (way cuter than kidney bean), they are very photogenic and they are so damn versatile. From creamy hummus to roasted and crunchy salad toppers, these peas can do it all.
Calling it like it is
I've seen recipes like these on the internet going under the guise of a chickpea "tuna sandwich" or something similar, but I think that's misleading. First of all, it doesn't taste anything like tuna, or egg, or anything else that it isn't. Second, I just can't bring myself to make a name for a recipe that includes air quotes.
You won't catch me calling something a vegan "steak" or a plant-based "egg salad" sandwich, and so, this is not a "vegan tuna sandwich" or a "vegan egg salad sandwich," as some people would like to call it.
I like calling things what they are. Cauliflower is cauliflower, it isn't a cauliflower "wing" even if it's been doused in hot sauce. Shredded jackfruit is shredded jackfruit, it's not jackfruit "pulled pork." This is a chickpea sandwich, and it's delightful.
Take this smashed chickpea sandwich on the road
This sandwich travels really well, which makes it perfect to pack for school, work, or to bring to a picnic. I'd recommend using parchment paper or waxed paper – or even better, a reusable beeswax wrap (one of my favourite new inventions) to keep your sandwich generally sandwich-shaped. Plastic wrap just doesn't cut it when a squishy backpack is involved.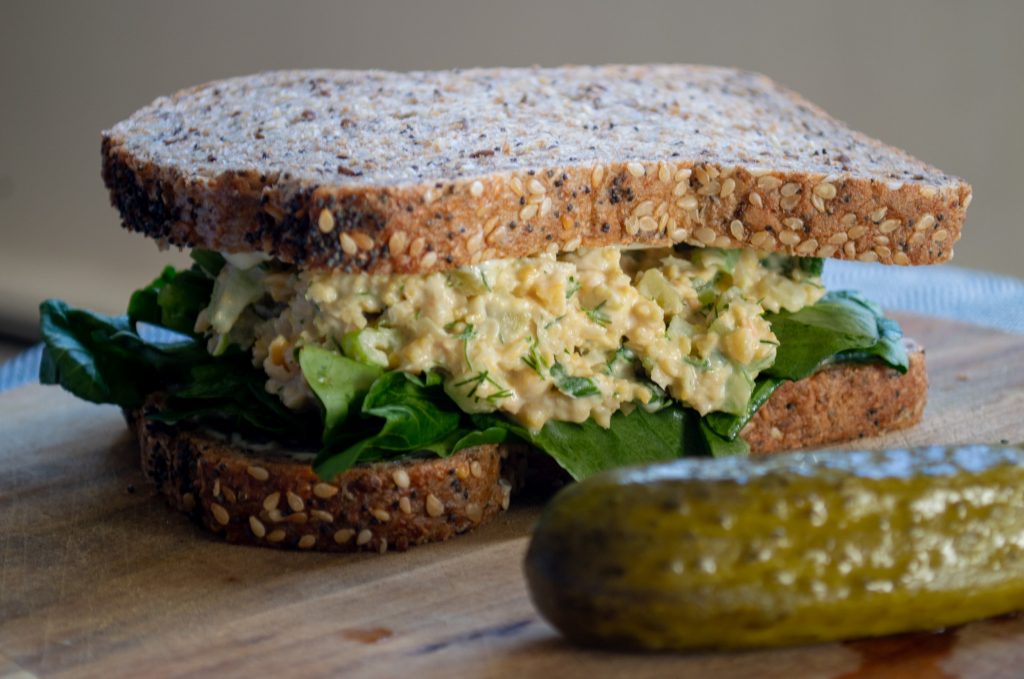 Some tips on making this chickpea sandwich mixture:
If you want to go the extra mile and soak/cook dried chickpeas instead of using canned, you will be rewarded with a more tender creamy final product. You may even start by adding a bit less mayo to the mixture in case you don't need it.
If you leave the mixture to sit in the fridge overnight, it will be even better than eating it right away. At my house we call this process "Fridge Cooking," and it makes a real difference.
Although using a food processor isn't exactly smashing, I find it works much better than using a potato masher or a fork. If you use freshly cooked chickpeas, they may be soft enough that you could mash them by hand.
Side note – Pressure cooked beans & chickpeas are incredible. They cook so evenly it's amazing. It's one of my favourite ways to use my instant pot. If you've never pressure cooked chickpeas before, I've got an Instagram highlight for you! Check it out here.
Also, did you know that homemade mayo is AMAZING and you can make it in about a minute? There's a vegan version too, and it's equally as delicious. Check out the video here and I'll show you how to make it.
Why Watercress?
If you haven't had a lot of watercress in your life, it might be time to consider picking some up. It's a little bit peppery, the leaves are tender, and the stems are juicy. They remind me of sunflower sprouts a little bit. I LOVE watercress on all kinds of things, but its especially good on egg sandwiches. Since this chickpea sandwich is a little bit reminiscent of an egg salad sandwich, I thought it was a good fit. If you can't find watercress, or you don't like it, any crisp leafy green will do. Sunflower sprouts or arugula would probably be my next choices.
I'm pretty sure this sandwich is going to be a new favourite in your spring picnic rotation! Please share your picnic pics with me by tagging @howtomakedinner on Instagram. Here's the recipe!
Smashed Chickpea Sandwich with Watercress
This smashed chickpea sandwich is the perfect picnic staple. Piled on top of seedy bread with crunchy watercress and homemade mayo, this is sure to be a regular in your sandwich rotation!
Ingredients
340

grams

canned chickpeas, rinsed and drained

1

stick

celery

2

dill pickles, finely chopped

80

grams

mayo

3

dashes

tabasco sauce

2

tablespoon

pickle juice

2

tablespoon

fresh dill, chopped

12

slices

seedy sandwich bread (for 6 sandwiches)

1

bunch

fresh watercress
Instructions
Pulse the chickpeas in a food processor about 5-6 times, until coarsely chopped.

Transfer the mixture to a bowl, add all other ingredients and mix until nicely combined.

Taste for seasoning. You will most likely not need salt because pickle juice usually does the trick.

Build a sandwich with extra mayo on both slices of the bread, a nice stack of watercress, and a big scoop of the chickpea mixture.
Notes
If you like it extra creamy, don't be afraid to add more mayo!
Nutrition
Calories:
312
kcal
Carbohydrates:
47.6
g
Protein:
12.8
g
Fat:
8.6
g
Cholesterol:
3
mg
Sodium:
502
mg
Potassium:
559
mg
Fiber:
10.8
g
Sugar:
8
g
Calcium:
99
mg
Iron:
5
mg