I've been trying to come up with a bean patty recipe worth writing home about for awhile now, and I haven't been stoked on any of them—until now. This Chickpea Patty recipe is super flavourful thanks to the fresh dill, lemon, feta, and garlic. They're low-fuss, filling, and perfect to make ahead.
The problem with most bean patties
Most bean patties can be either too mushy or too dry due to a few different reasons.
Using too much binding agent (like flour, breadcrumbs, etc…) can make the patties dry and crumbly, and using too little can result in mushy patties. For these chickpea patties, we're using just enough crushed-up rice crackers to bring the mixture together.
Blending the beans too much can result in a mushy texture. That's why for this recipe we're just mashing the chickpeas with a fork, rather than puréeing them in a blender.
Cooking the patties for too long or at too high of a temperature can result in dry, overcooked patties. It's important to cook the patties just enough to cook through without drying them out.
This Chickpea Patty recipe addresses all of these factors so the patties are a nice, non-crumbly texture.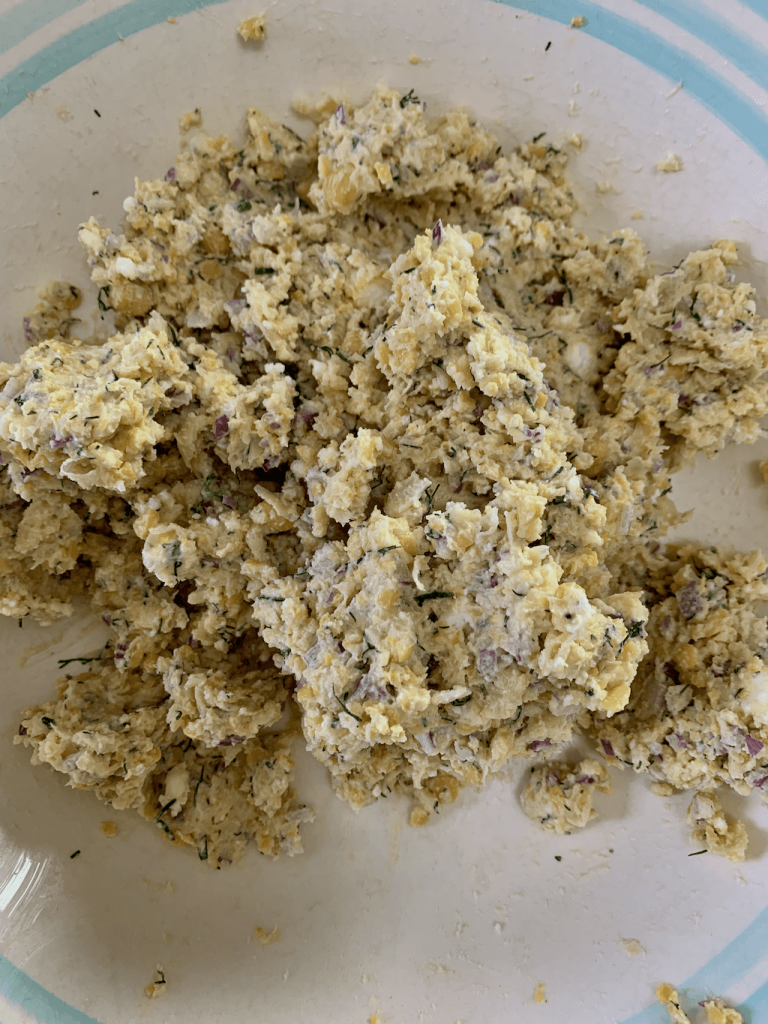 How to make these Chickpea Patties
These patties are super easy to make and you don't even need a food processor.
First, I like to crush up the rice crackers. Put the rice crackers into a sturdy bag (a Ziploc works well), and crush them with a rolling pin or another round, heavy implement like a wine bottle. Set the cracker crumbs aside and finely chop the onions, garlic, and fresh dill.
Next, rinse and drain the chickpeas, dump them into a large bowl, and mash them with a fork. You can pulse them in a food processor if you prefer, but be careful not to blend them too much or the patties will lose their nice texture. (If you are using a food processor, feel free to chop the onions and garlic in there too).
Add the rest of the ingredients to the chickpeas and mix thoroughly. I like to use my hands so I can be sure that everything is mixed well.
Chill the mixture in the fridge for 10-30 minutes so the rice crackers have a chance to absorb some of the moisture. While the mixture is chilling, preheat the oven to 450 degrees Fahrenheit.
Scoop the mixture into golf ball-sized balls, and form them into patties. You can spray (or brush) the tops with a bit of oil to help them get a bit golden.
Bake the patties for 20-25 minutes until golden. Enjoy them right away or store them for later.
What goes well with Chickpea Patties?
Chickpea Patties are great a snack on their own, but they're even better with some accompaniments.
Any patty is greatly improved with sauce. A creamy tahini sauce, made by mixing tahini, lemon juice, and garlic, is a perfect addition. A simple yogurt sauce also goes perfectly with chickpea patties.
Serve the patties with a fresh salad of mixed greens, tomatoes, cucumbers, and a nice vinaigrette, or with a big plate of roasted vegetables like zucchini, bell peppers, and eggplant.
And for a filling lunch or dinner, bring all these elements together by stuffing the patties, veggies, and sauce into a pita pocket or flatbread.
Storage and freezing tips
To store chickpea patties, allow them to cool completely before transferring them to an airtight container. Place the chickpea patties in a single layer in the container, making sure they are not touching each other. If you need to stack the patties, separate each layer with a sheet of parchment paper. Cover the container with an airtight lid and store it in the refrigerator. Chickpea patties can usually be stored in the fridge for up to a week.
If you want to store the patties for longer, you can freeze them. To freeze, place the cooled patties on a baking sheet lined with parchment paper and place them in the freezer for about 30 minutes to an hour until they are partially frozen. Then, transfer them to a freezer-safe container or bag and store them in the freezer for up to 2-3 months. When you're ready to eat, thaw the patties in the refrigerator before reheating them.
Enjoy!
Lemon Feta Chickpea Patties
This recipe for Chickpea Patties is a total winner. They're packed with protein, baked, not fried, and full of flavor. Perfect for meal prep!
Equipment
1 mixing bowl

1 baking sheet

1 fork
Ingredients
540

ml

chickpeas

drained and rinsed

2

tbsp

fresh dill

chopped

3

cloves

garlic

minced

60

grams

red onion

finely chopped

100

grams

feta

crumbled

100

grams

plain yogurt

greek, or strained (thick)

10

cracks

black pepper

to taste

28

grams

rice crackers (one row)

crushed

1

lemon

zest and juice

1

tsp

salt

*Taste before adding! It might not be needed
Instructions
Crush the rice crackers by placing them in a bag and rolling them with a rolling pin or a wine bottle. Set aside.

Chop the onions, garlic, and dill, and set aside.

Drain and rinse the chickpeas, add them to a large bowl, and mash with a fork until no whole chickpeas remain.

Add the onions, garlic, dill, Greek yogurt, crumbled feta, lemon zest and juice, and pepper to the chickpeas. Mix well to combine.

Taste the mixture and add salt if needed.

Chill the mixture in the fridge for 10-30 minutes. In the meantime, preheat the oven to 450.

Scoop the mixture into golf ball-sized balls, and shape into patties. Spray or brush the tops with oil (optional), and bake for 20-25 minutes or until golden.

Enjoy right away, or store for later.
Nutrition
Serving:
1
patty
Calories:
150
kcal
Carbohydrates:
23
g
Protein:
8.2
g
Fat:
3.7
g
Saturated Fat:
1.4
g
Cholesterol:
7
mg
Sodium:
258
mg
Potassium:
325
mg
Fiber:
5.8
g
Sugar:
4.3
g
Calcium:
87
mg
Iron:
2
mg