Who doesn't love a chocolate chip cookie?
I'm a purist about lots of things. It's not like me to mess with a chocolate chip cookie, because they are definitely in the category of 'things that don't need to be messed with'. But I seem to be obsessed with tahini these days, and I had the urge. So, I decided to dive in and try a bunch of different versions of tahini chocolate chip cookies from other peoples blogs, pick my favourite attributes and come up with a recipe of my own.
And I'm so glad I did.
Chocolate chip tahini cookies are all over the internet these days. And all of the versions I found online were good. Some of them were very good–I ate a lot of real nice cookies before arriving at these ones. But… there was some tinkering to be done. These ones, I assure you, after all the tinkering, are great.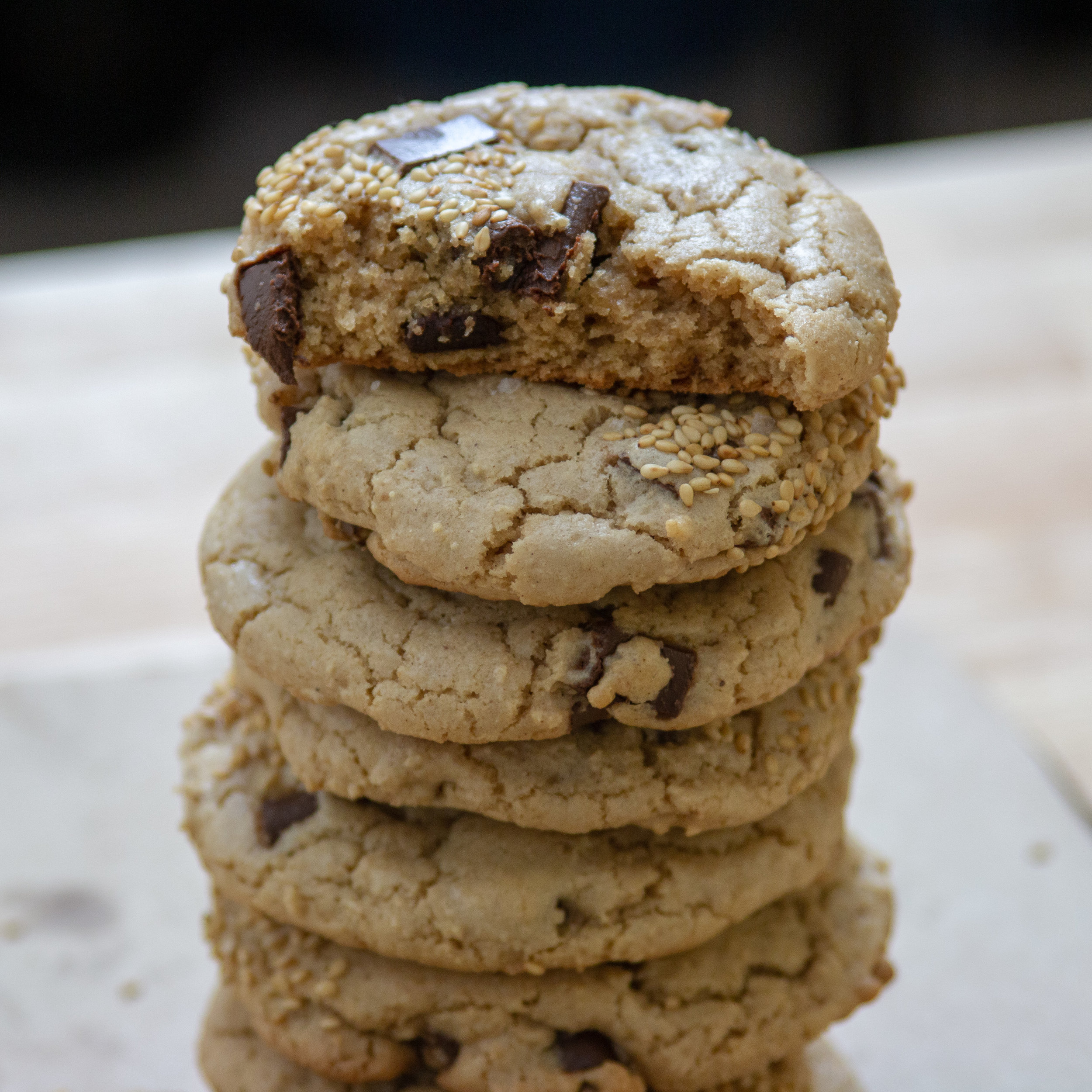 I tested quite a few variations of these cookies. I played with a few different spices, and tested the addition of several different liquid elements–including water, vinegar, and orange juice.
Once I worked through the spice vs no spice debate, the water vs vinegar debacle, the all- tahini or tahini-olive oil combo conundrum, I landed us in a really good place with this one. The final result: these cookies are chewy, not cakey (and they stay chewy for DAYS). They also have a really nice undertone of tahini flavour, without being overwhelming. The vinegar combined with plenty of vanilla help mitigate that sticky roof-of-the mouth thing that you'd expect from the presence of a nut or seed butter.
What is tahini?
Tahini is the Arabic name for ground sesame seeds. Like other nut and seed butters/pastes, it is thick and creamy and extremely versatile.
Tahini is widely used all over the Middle East extending from North Africa to parts of Asia. Although references of it date back to as early as the 13th century, it entered into the North American food world by way of health food stores in the 1940's.
I recently found this wonderful video by Turkish chef Refika Birgül that teaches how to make tahini at home, as well as showing us several great ways to use it.
Where to buy tahini?
The tahini that's available at standard grocery stores where I live is usually pretty expensive. It's also fairly thick and difficult to work with. When possible, I prefer to jet over to a Middle Eastern shop to buy the nice runny tahini. It's usually available in bigger tubs, and it's WAY cheaper than the grocery store brand.
A few words on chocolate chips.
Generic store brand chocolate chips are terrible. If your grocery store has a range to choose from, I'd say go for the most expensive ones every time. I'm not saying that because I'm fancy or rich. I'm a total cheapskate. But with chocolate chips, I say go big or go home. Nobody wants to eat sugary wax chips.
Not sure if your chocolate chips are any good? Throwback a handful of them straight out of the bag. If they taste good, they're good! If they taste like sugary wax, keep walking.
Making the dough
I love making this chocolate chip tahini cookie dough. Mainly because there is no butter–which means there is no softening (or creaming) of butter needed. The fat in these cookies is a combination of olive oil and tahini. That makes them easy to mix by hand. It also makes them dairy free!
I like to use a portion scoop to scoop the dough into balls. Portion scoops are the best because they ensure each cookie is the same size. Place the balls about two inches apart on a parchment-lined cookie sheet, and flatten them slightly to help them form their shape in the oven.
Final flourishes
I like to roll my flattened cookie dough balls in toasted sesame seeds and sprinkle the tops with a bit of flaky salt before baking. This is totally up to you, but I love the way they look. Plus, the crunch from both the seeds and the salt makes these cookies extra addictive.
Baking the cookies
These cookies only take about 12-15 minutes in the oven. They don't brown much, so be careful not to overdo it. You're mostly looking for them to puff up and set. When they come out of the oven they will collapse slightly, leaving you with that inviting cracked top.
I hope you try these out! I really can't remember the last time I've been so satisfied with a cookie recipe. I hope you love them as much as I do!
You're going to love these tahini cookies! Be sure to tag @howtomakedinner on Instagram or Facebook when you make them!
Ultimate Chocolate Chip Tahini Cookies
These chocolate chip tahini cookies are delightfully chewy, not cakey. A touch of spice and a crunchy salty top make these cookies totally addictive.
Ingredients
180

grams

tahini

50

grams

olive oil

200

grams

sugar

140

grams

brown sugar

2

eggs

2

Tablespoons

Vanilla

1

Tablespoon

cider vinegar

300

grams

all-purpose flour

1 1/4

teaspoons

salt (plus a pinch of flaky salt to sprinkle on top)

3/4

teaspoons

baking soda

2

teaspoons

cinnamon

1

teaspoon

ground cardamom

340

grams

chocolate chips

2

tablespoons

toasted sesame seeds for garnish
Instructions
Cream the sugar with the tahini and olive oil. Add the eggs, vinegar, and vanilla, then add in the dry ingredients and mix until it forms a dough.

Scoop with a portion scoop, or roll into golf ball sized balls.

Top with sesame seeds & sea salt (optional).

Flatten slightly and bake in a 350 degree oven for 11-15 minutes.
Nutrition
Calories:
333
kcal
Carbohydrates:
45.6
g
Protein:
5.7
g
Fat:
14.7
g
Saturated Fat:
5.3
g
Cholesterol:
23
mg
Sodium:
282
mg
Potassium:
156
mg
Fiber:
2.3
g
Sugar:
28.7
g
Calcium:
103
mg
Iron:
2
mg