I know. Kale Caesar Salad? What is this, 2015? Food trends aside, kale is the perfect leafy green to hold up to a classic, creamy Caesar salad dressing. And this Creamy Kale Caesar Salad recipe is heavenly.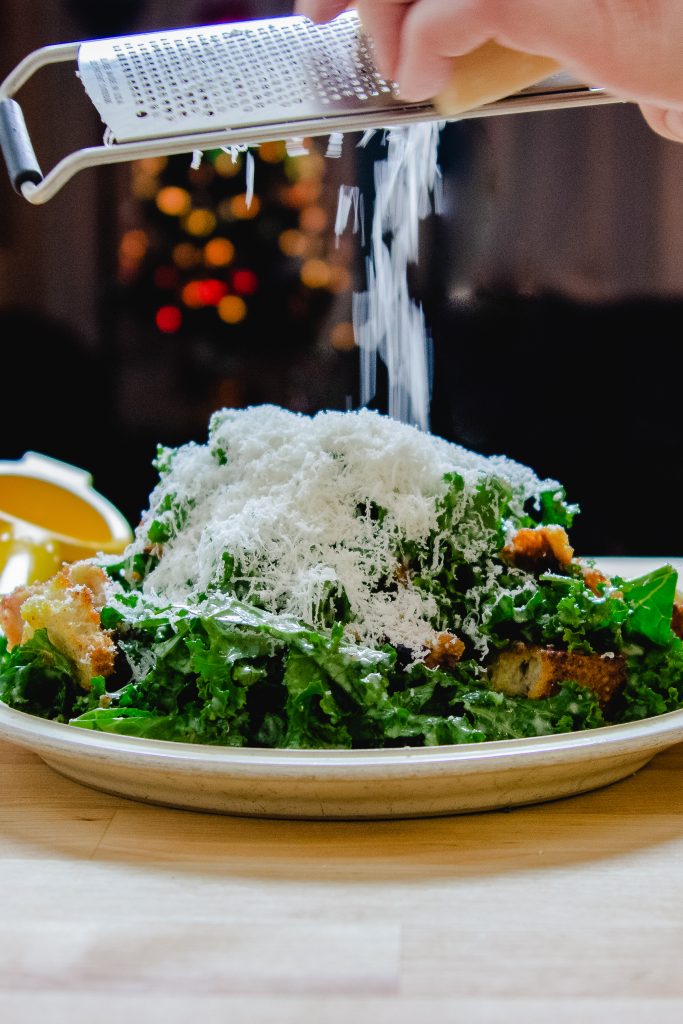 I'm not one to throw kale into everything I consume. You probably won't catch me drinking kale smoothies or eating kale chips, but something about the briny lemony garlicky goodness of homemade Caesar dressing does a real number on this tough hearty leaf, and I love it.
The dressing is key!
The point of this post is mostly to talk about the dressing. Once you have a great Caesar dressing, you open up a world of possibilities. You can dip veggies into it, dump it over chicken, drizzle it over roast veggies, jazz up a baked potato, the possibilities are endless. If you're not feeling the Kale Caesar salad thing, feel free to use this classic Caesar dressing on any other hearty leaf like romaine (which happened to be under a recall when I made this post) or even some nice bitter greens like escarole or radicchio. All I request is that you please stay away from any of the wimpy delicate leaves like spring mix or red leaf lettuce. They're too flimsy at the best of times, and they're way too flimsy to hold up to Caesar dressing.
Creamy Kale Caesar Salad: The Components
The main components for this Creamy Kale Caesar Salad recipe are:
The Kale
The Croutons
The Dressing
How to shop for kale
Although I normally buy the green leafy variety of kale when it looks really lively in the store, my very favourite variety is the black lacinato kale (also known as "dinosaur kale" or Cavolonero) which is a bit trickier to find. No matter what variety of kale you use, the main thing to consider when buying kale—especially when you're eating it raw—is that it looks as fresh as possible. Avoid buying kale that looks wilted and sad.
How to prepare kale for Kale Caesar Salad
When you bring your kale home, you need to wash it very well. It's very common for dirt and bugs to hang out in the nooks and crannies of the leaves, and especially along the inside near the ribs. The best way to wash kale is to fill a large bowl with cold water, submerge the kale in the water, and inspect each leaf before you pull them out.

Once the kale is washed, you'll want to remove the ribs because they are too tough to eat raw. The easiest way to remove the ribs is to fold the kale leaves in half lengthwise like a piece of paper and pinch the leaves off by pulling upwards on them. You can use the ribs (stalks) later by finely slicing them and adding them to a slow-cooked dish like a soup or stew.

Tear or chop the kale leaves into bite-sized pieces and use a salad spinner to dry them well.
*Note: Many people will advise you to massage the kale with salt before using it in a salad, but I feel that in this case it isn't necessary. The dressing is so salty and acidic that simply tossing the kale in the dressing will tenderize the leaves adequately.
Choosing your croutons
As far as croutons are concerned, you've got options. I like to save up the ends of my loaves of bread and collect them in a bag in the freezer. That way I can bust out some nice croutons at a moment's notice. The gluten-free folks have popularized quite a few varieties of 'alt' croutons, like toasted chickpeas, fried polenta cubes, roasted potatoes, etc… and those are kinda cool too. Whatever you do, just don't buy pre-made croutons in a box. They're dry and salty and really expensive when you compare them to the cost of a couple crusts of bread.
For really good, basic croutons, simply tear or chop some crusty bread into bite-sized pieces, drizzle generously with extra virgin olive oil, and season with salt and pepper. Bake at 325 degrees until the croutons are nicely toasted and crunchy all the way through, approximately 15-20 minutes.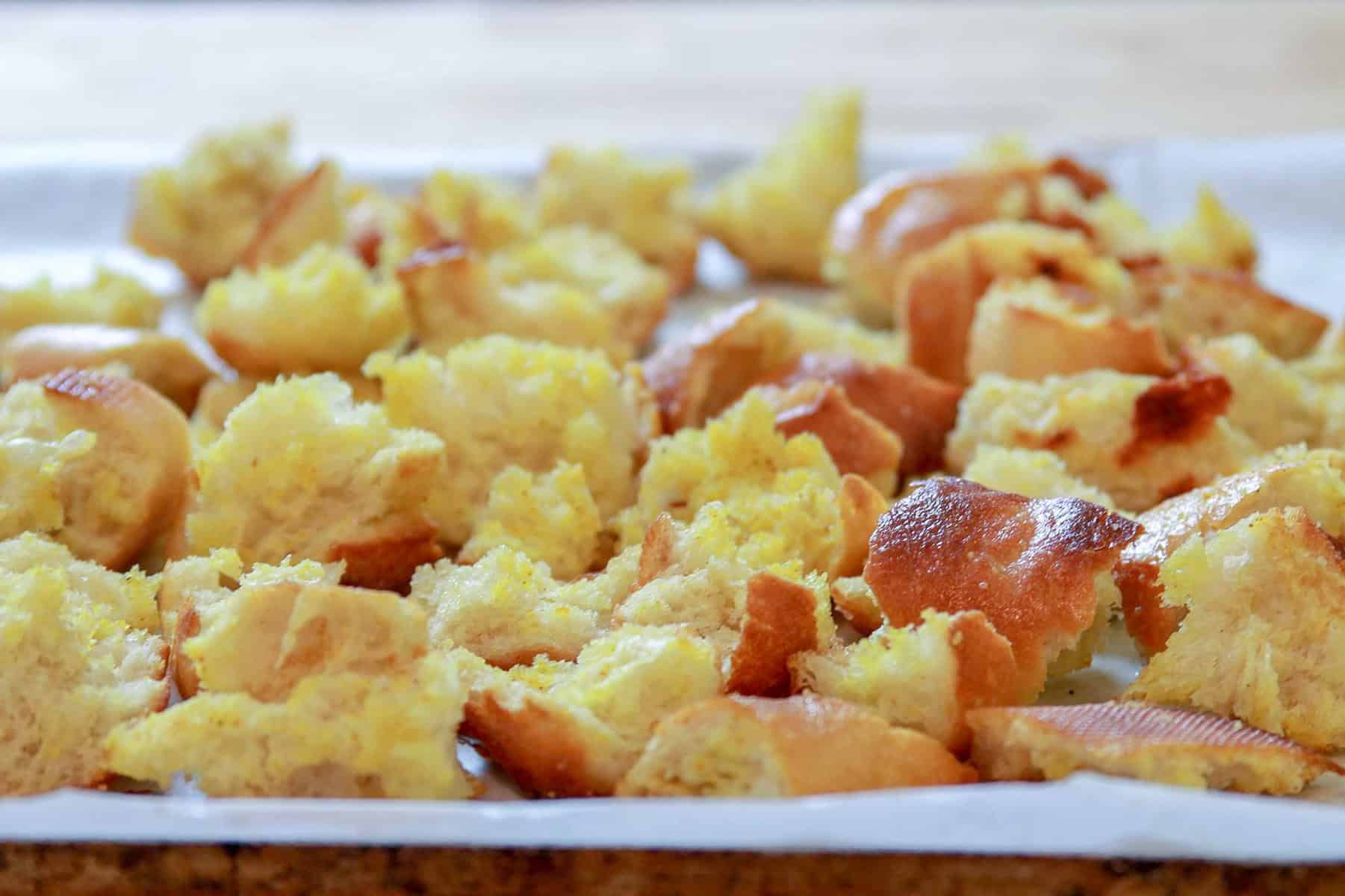 How to make a great homemade Creamy Caesar Salad Dressing:
Use a neutral-flavoured oil, (for the most part).
It's natural to assume that using extra virgin olive oil would make the best caesar dressing, but I prefer a neutral vegetable oil for the most part. I tend to go with sunflower oil, but any neutral oil will do. I finish it off with a small amount of extra virgin oil. Too much extra virgin olive oil delivers a really strong flavour, so just a hint is perfect.
If it doesn't have anchovies, it isn't a Caesar Salad.
I see a lot of recipes out there saying that anchovies are optional. To me that's a bit like saying garlic is optional. Really, it's your salad, so everything is optional. But in my opinion it doesn't have anchovies, it isn't a Caesar salad. Do with that opinion what you will.
*If you're allergic to fish or don't eat fish for any other reason, use 1 tablespoon of vegan Worcestershire sauce instead.
Use good parmesan cheese
I grew up on the tubs of pre-grated parmesan cheese, but it was the kind that the grocery store made, not that green shaker with the red lid. but to be totally honest I do have a fondness for the grocery store grated stuff that you can sprinkle over with a spoon. However nowadays I always buy my parmesan by the wedge grate it myself. It's the best guarantee that you'll have real, authentic parmesan (because you can read it right there on the rind), you know it'll be grated fresh, and I think it works out to be a bit cheaper in the end. If you want to mimic the store-grated stuff, you can buy a wedge and grate it in the food processor or blender (AKA "blender parm") in the style of Ina Garten, rather than using a microplane or a box grater. It ends up kinda knobbly and I like it.
Tips for egg procurement
If you live in the kind of place where you can find farm fresh eggs regularly, cool! You're lucky. Easy access to high quality fresh eggs is a luxury. If you're buying eggs from a regular grocery store, try and strike the balance between freshness, ethics, flavour, and locality. Unfortunately, these factors aren't always synonymous. My local organic grocery store has really nice eggs, but the turnover isn't high enough for them to be really fresh. It's very disappointing to crack into an expensive box of locally raised eggs just to find a watery white that spreads across the pan like crepe batter.
When I'm shopping for eggs, I find that the free-range eggs are right in the sweet spot of being raised well, taste good, and have the longest date on the box. If I'm going to poach them or eat them raw (like in Caesar salad) I try to choose eggs where the best before date is at least two months in the future. So in December, I look for best before dates in February. This ensures I'm buying the freshest eggs I can get.
That being said, if I'm making big batches of something where freshness doesn't matter quite as much, like pancakes or french toast, I'm less fussy about the dates and I even kind of feel like I'm doing the store a favour by helping to use up the older produce. Eggs last a long long time in the fridge. They're still good for lots of things when they're on the older side.
*I always buy eggs from the farmer's market if possible. However my market, which happens once a week, runs out of eggs about 3 minutes after the market opens. Let's just say, it isn't always possible.
And finally, the garlic
It wasn't until I was in my late teens and spent some time with garlic farmers that I learned how different fresh garlic was to the store-bought stuff. It's actually a totally different thing. The first time I smashed a clove of fresh local garlic, it was impossible to peel and it stuck to my fingers like crazy, but the smell of it was so fresh and there was no green sprout poking up the middle. It was a game-changing moment. Now I try to buy the freshest most local garlic that I can, but all garlic is harvested at the same time, (where I live, it's late June – mid July) which means that by the following spring, no matter how local and organic it is, it's well preserved and useable but much dryer and less sticky than in the few months after it's harvested. Garlic (as well as tomatoes & strawberries) is one of the things I'll buy from the farmer's market in the summer whenever I can.
Let me know what other greens you've used for your Caesar Salads! I'd also love to hear about other things you like to drizzle with Caesar dressing. It's one of my all time favourites and I know I'm not alone on that. Tag me @howtomakedinner on Instagram with your Caesar dressing creations!
Enjoy!
Creamy Kale Caesar Salad
This creamy Kale Caesar salad is pretty much perfect. Kale is the ultimate leafy green to hold up to this classic creamy dressing.
Ingredients
1

tablespoon

anchovy paste (or 3 anchovy fillets)

1

egg yolk

1

clove

garlic

1

juice of lemon

100

millilitres

vegetable oil

1

tablespoon

olive oil

extra virgin

1

teaspoon

Dijon mustard

1

Tablespoon

grated parmesan

1/2

teaspoon

ground black pepper

1

handful

croutons

salt (to taste)

1

bunch

kale
Instructions
In a large bowl, mash up the anchovy with a fork.

Add the egg yolk to the anchovy and whisk to combine.

Add the Dijon mustard and lemon juice and keep whisking.

Slowly drizzle in the oil (really slowly at first, like a few drips at a time.

Grate in the garlic, add pepper and parmesan cheese, and make your final adjustments (*hint* add more Cheese)

Wash the kale, remove the stalks and tear or chop the leaves into bite-sized pieces. Use a salad spinner to dry the leaves well.

Toss the dressing with the kale and the croutons. Hold back on some of the dressing at first, since you can always add more but you can't take it away. If you have any leftover dressing, make another salad tomorrow!
Notes
Kale Caesar is one of those salads that does taste pretty darn good when it's been left to sit for 10-20 minutes after tossing, as the dressing kinda softens the greens a bit which is nice.
Nutrition
Calories:
499
kcal
Carbohydrates:
6.8
g
Protein:
5
g
Fat:
51.4
g
Saturated Fat:
10.8
g
Cholesterol:
111
mg
Sodium:
290
mg
Potassium:
49
mg
Fiber:
0.6
g
Sugar:
0.1
g
Calcium:
88
mg
Iron:
1
mg