I love baked potatoes. When I was a teenager I would bake a potato in the microwave every day after school and eat it with butter and salt while watching "Saved By The Bell." And although I don't eat them every day anymore, I still love them dearly, and I especially love eating them with a bunch of toppings, and a bunch of friends. A baked potato party is one of the best kinds of dinner parties you can have.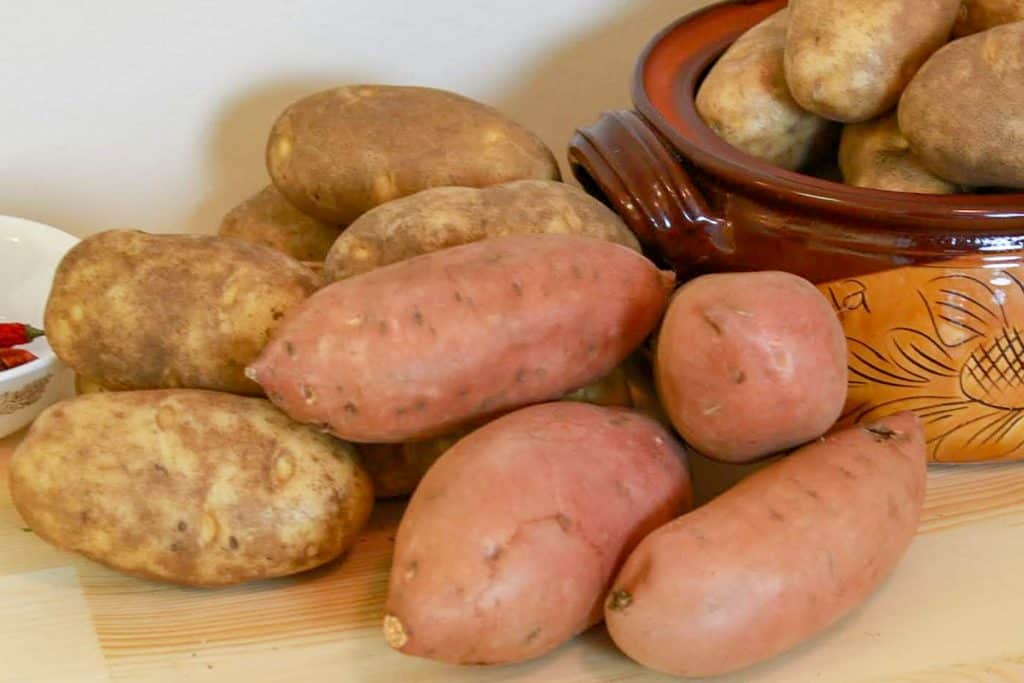 When I tell outsiders about my baked potato parties I get a mixed bag of reactions.
Some people are stoked and say "Oh man I love baked potatoes! What a great idea!" And a lot of people assume I'm going to twice bake and stuff and do all kinds of complicated things with them. But my favourite part of the baked potato party concept is the the buffet style build-your-own vibe.
Don't let the skeptics derail you
A lot of people are on the low carb train. On top of that, I happen to live in an especially kale smoothie and sprouted almond milk obsessed part of the world. Many of these folks could never imagine diving into a whole potato. These types can be pretty skeptical of baked potato parties, but they'll likely be converted once they see the incredible range of toppings you can use. We can go far beyond the standard sour cream, cheese, bacon, and chives.
There are a million ways to stuff a potato
I love the basic baked potato fillings. Butter or olive oil is a must, sour cream or some kind of aioli is hugely beneficial, and green onions, bacon, and grated cheese are always very welcome–but it doesn't end there.
I like to think of a baked potato as being as versatile as a sandwich. Nearly anything can be shoved into a hot baked potato. I love stuffing them with lighter things like leafy green salads (kale caesar anyone?) fresh salsa, or hummus, as well as hearty things like turkey chili or pulled apart braised chicken thighs. Seriously though, think about it. What doesn't go with potato?
To appease the low carb people in your circle, it is a really nice touch to bake a few sweet potatoes as well. Cut those bad boys in half and offer them as an option alongside the standard russets. And if any of your friends are against potatoes entirely, they can treat the toppings bar as a salad bar.
Seriously, this dinner party will please anybody in their right mind.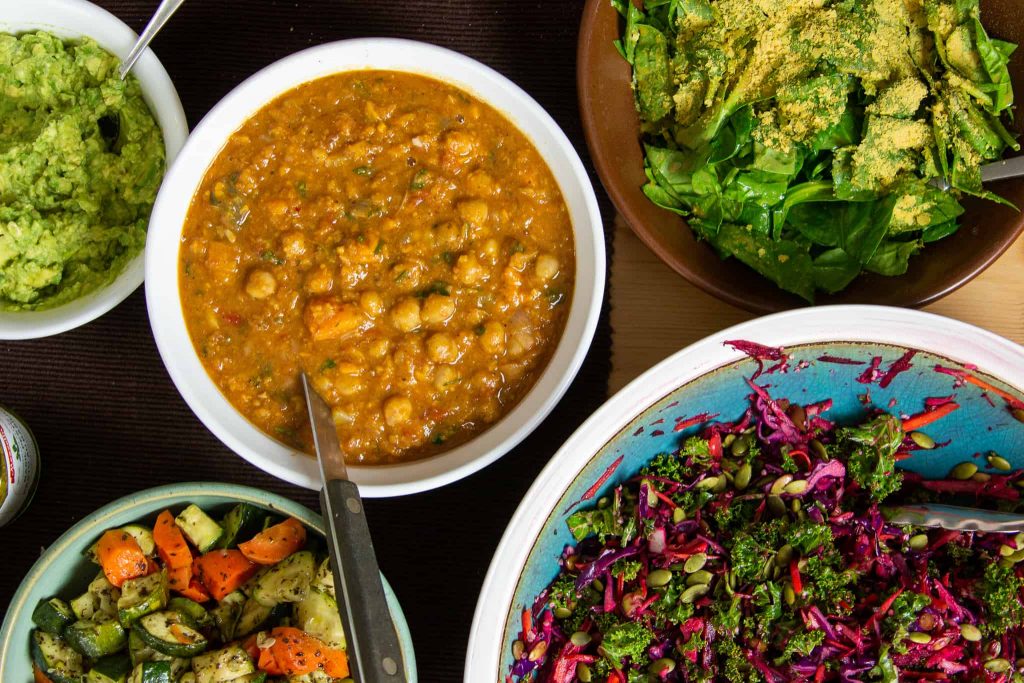 How to bake potatoes
I don't give any special treatment to my baked potatoes. They get washed, they get poked with a fork, and they go straight onto the oven rack. Some people tell you to rub your potatoes with oil and salt before baking, or nestle them in a bed of salt so the skin gets extra crispy. These are nice touches, but not necessary in my world. The main consideration when baking potatoes is that they take literally forever to cook through, so it's important to plan ahead. A more detailed description is in the recipe card below.
Still not convinced?
One of the best things about throwing a baked potato party is how easy it is for you, the host. If you're making all the toppings yourself you can rely on a lot of make-aheads. But an even better plan is to use my personal favourite tactic–asking each of my guests to bring a topping with them. That way all you have to do is crank on the oven, do a bit of scrubbing, and your fully loaded baked potato bar experience will build itself.
If you're feeling real casual, you can let your friends decide which toppings they want to bring. If you're more of a control freak, you can stick with a theme and assign certain things to people. I tend to let folks bring what they feel like bringing. And if we end up with 10 tubs of sour cream and nothing else, c'est la vie.
My final pitch
A baked potato party is the type of event where nobody needs to worry about dietary restrictions and likes and dislikes, because it's totally customizable and everyone builds their own adventure.
Unless one of your friends is allergic to potatoes, which is pretty rare (I think?) In which case, they can build a bowl of toppings and still be pretty happy. I hope I have made a believer out of you! Tag me with your baked potato party photos on Instagram if you have one.
I'd love for you to share your ideas! Leave a comment below with your favourite baked potato toppings!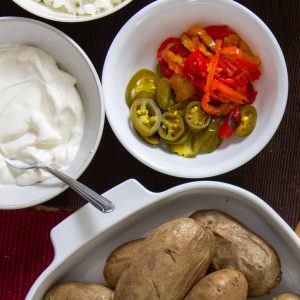 Basic Baked Potatoes
Baked potatoes are one of life's simplest and best pleasures. If you're hosting a baked potato party, you'll need to bake some potatoes. Here's how.
Instructions
Preheat the oven to 425 degrees.

Scrub your potatoes well to remove any excess dirt.

Use a fork to poke a few holes in each of the potatoes.

Place the potatoes directly onto the rack of the oven, ensuring there is some space in between each one so they cook evenly.
Notes
If you're baking sweet potatoes too, those will need to be on a pan of some kind or they will ooze sugary syrup that will burn on the bottom of the oven. Not fun.
If your potatoes are done and it's still going to be awhile before your friends arrive, transfer them to an oven-proof dish and keep them covered while they stay warm in the oven. This will prevent them from drying out.
Nutrition