If you're looking for a flavourful and easy side dish that's quick to make and doesn't require too many ingredients, this curried cabbage recipe is a great way to go. This dish is packed with flavor and is perfect for cabbage lovers and cabbage skeptics alike.
I love cabbage, and I'm always jazzed to find new ways to eat more of it! My friend and former classmate Preeti from My Holistic Kitchen taught me this curried cabbage recipe back in 2009 and I've been making it ever since.
Curried Cabbage Ingredients
I love how short this ingredient list is! All you need is:
Green cabbage
Garlic
Turmeric
Cumin seeds (whole)
Salt
Oil, butter, or ghee
How to make this Quick Curried Cabbage
It doesn't get much easier than this. Here are the steps:
Veg prep: Mince the garlic and shred the cabbage. I usually just use a good knife for the cabbage, but a mandolin works well too.
Heat the oil in a large sauté pan over medium heat. Add the cumin seeds and stir for 10-30 seconds or until you can smell their delicious aroma. Add the cabbage and salt, and cook for a few minutes until it starts to wilt.
Add the garlic and continue to cook, stirring occasionally, for 10-15 minutes or until the cabbage has become tender. You can intermittently cover it with a lid during this time, and if you see brown bits forming on the bottom of the pan, you can add a splash of water here and there to prevent it. You want the cabbage to cook in a steamy moist environment.
Throw in the turmeric and stir to combine. Taste, adjust for seasoning, and enjoy!
Tips for Making the Perfect Curried Cabbage
While the recipe is simple, there are a few tips to keep in mind to ensure that your curried cabbage turns out perfectly every time. Here are a few tips:
Choose the right cabbage
While you can use any type of cabbage, green cabbage is the best choice for this dish. Other types of cabbage like savoy or napa are a bit too watery and not sturdy enough to hold up to the cooking process. And purple cabbage just wouldn't look right.
Whole cumin seeds are key!
Whole cumin seeds provide the predominant flavor in this dish, and they have a completely different flavor than ground cumin. If you don't have whole cumin seeds, don't make this recipe! They are that important!
Steam/sauté, don't fry
If at any point during the cooking process, you notice that the bottom of the pan is getting dry, or if brown bits are starting to form, add a splash of water to the pan to bring the temperature down and keep the cabbage in steaming mode. The browned flavor is not what we're going for here.
What to serve with this Curried Cabbage
This is a super versatile side dish. I love it with steamed rice, salmon, or chicken. Since it is a dry curry and doesn't have its own sauce, I'd recommend making a yogurt sauce to go with it. I have a whole video devoted to my favourite easy yogurt sauces. Check it out here!
Freezing, storage, and reheating tips
This cabbage recipe makes fantastic leftovers. (In fact, it was a day or two old the first time I ate it!) Store it in the fridge for up to 4 days and reheat in the microwave or in a small sauté pan with a touch more water to help it steam.
I don't recommend freezing this dish because the texture of the cabbage changes when frozen.
Let me know what you think!
Curried cabbage is a simple but delicious side dish that's packed with goodness and flavour. By following these tips, you can make the most delicious curried cabbage you've ever tasted. Give it a try and let us know what you think!
Still hungry?
If you're looking for more veggie side dishes, check these ones out: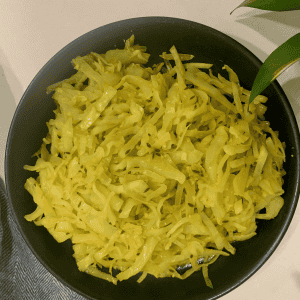 Quick Curried Cabbage
This quick curried cabbage recipe is packed with flavor and is perfect for cabbage lovers and cabbage skeptics alike.
Ingredients
500

grams

green cabbage

sliced

4

cloves

garlic

minced

1

tablespoon

whole cumin seeds

1/2

teaspoon

ground turmeric

1

teaspoon

salt (plus more, to taste)

1

tablespoon

butter, oil, or ghee
Instructions
Slice the cabbage, mince the garlic, and set them aside.

Heat a large sauté pan over medium heat and add the oil

Once the oil is hot, add the whole cumin seeds and stir for 30 seconds or until the kitchen starts to smell like toasted cumin seeds.

Add the cabbage, garlic, and salt, and cook, while stirring, for 10-15 minutes. You want the mixture to be steaming rather than frying, so if the pan starts to look dry, add a splash of water. Keep the lid on in between stirring to help retain the moisture.

Once the cabbage is tender, add the ground turmeric, and stir. Taste for seasoning, and add more salt if needed. If you like it spicy, you can also add some hot red pepper flakes or chili pepper. Enjoy!
Video
Nutrition
Calories:
77
kcal
Carbohydrates:
9.6
g
Protein:
2.3
g
Fat:
4.2
g
Saturated Fat:
0.5
g
Sodium:
609
mg
Potassium:
278
mg
Fiber:
3.5
g
Sugar:
4.1
g
Calcium:
84
mg
Iron:
3
mg