Making crepes is a really fun weekend project that can stock you up with a stack of one of the most versatile foundations for dinner or brunch there is. Crepes (or crêpes), like any pancakes, usually start with one or two bad ones before your frying pan starts to understand what's going on and works for you. Don't feel bad if your first few crepes break, stick, or end up somehow imperfect. You will get better at it, and there's no need to cry over a little crepe batter.
(Scroll to the bottom for the video where I actually almost cry).
Crepes are a starchy vehicle for any filling that suits your mood. Your imagination is the limit as to what you can wrap or roll into a crepe. In this version, the neutral, nutty flavour of buckwheat flour is a welcome switch from regular white flour, and using buckwheat instead of wheat flour means that all of your friends & family can enjoy them, regardless of gluten tolerance. Side note: gluten intolerance seems to be less of an issue in 2019 than it has been in previous years. What's up with that?
Bonus: You don't need a special crepe pan to make crepes, although it is nice to have a big wide nonstick pan. I made mine in a smaller, well seasoned cast iron pan, which worked fine too.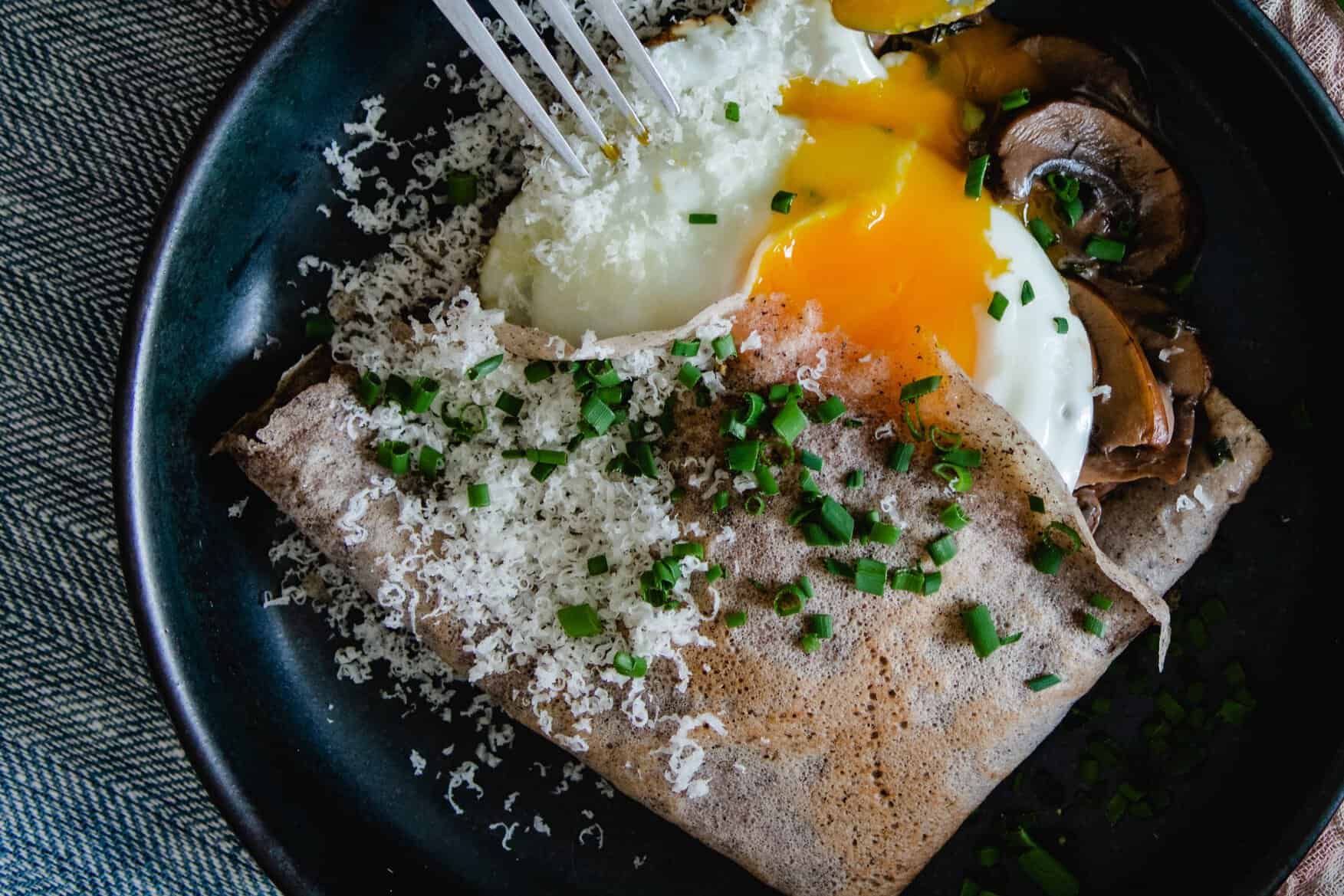 What is Buckwheat?
Buckwheat is a cute little heart shaped grain that, like quinoa and amaranth, is not actually a grain at all. It's a seed. It's also been called a 'pseudocereal' which I think sounds pretty cool. Despite its name, buckwheat has no relation to wheat, and it can be prepared and eaten in a number of ways. It's also really really good for you for many reasons we won't go into here.
How To Cook and Eat Buckwheat
Raw Buckwheat
Ok so technically, raw buckwheat is edible, but it's pretty powdery and lacklustre in flavour. If you're into the idea of having something to crunch on, it would be highly advisable to roast the buckwheat groats before diving in. Roasted buckwheat is called kasha.
Roasted Buckwheat
Roasted buckwheat, or kasha, is a pretty common staple in many parts of the world. In Russia and other parts of Eastern Europe it's commonly made into a porridge. You can buy kasha as is, or you can roast your own raw buckwheat groats by tossing them around in a pan over medium heat for 5 minutes or so. Roasted buckwheat also makes a very good granola or crunchy topping.
Cook It like Rice
You can cook Kasha just like you would rice. Put 1 cup kasha in to a small pot with 1 ¾ cups water. Add a knob of butter and a big pinch of salt, bring to a boil on high, then put the lid on and reduce the heat to low. In 18-ish minutes, the kasha should be tender and and fluffy.
Buckwheat Flour
Buckwheat flour is commonly used to make things like crepes, pancakes, and soba noodles. It's fairly readily available in most grocery stores these days, and it's cheaper than many of the other gluten-free flour choices like almond and coconut flour. You can swap some (up to 50%) wheat flour with buckwheat flour in most recipes with good results. But today, it's all about crepes.
These buckwheat crepes are prepared in a similar way to wheat flour crepes, but they're made with 100% buckwheat flour so they're gluten free and dairy free. This batter works well with almond milk, oat milk, coconut milk, or any other alt milk of your choosing. That being said, if you are a dairy eater, grated cheese makes for a very good filling. A bit of ham is also a classic addition.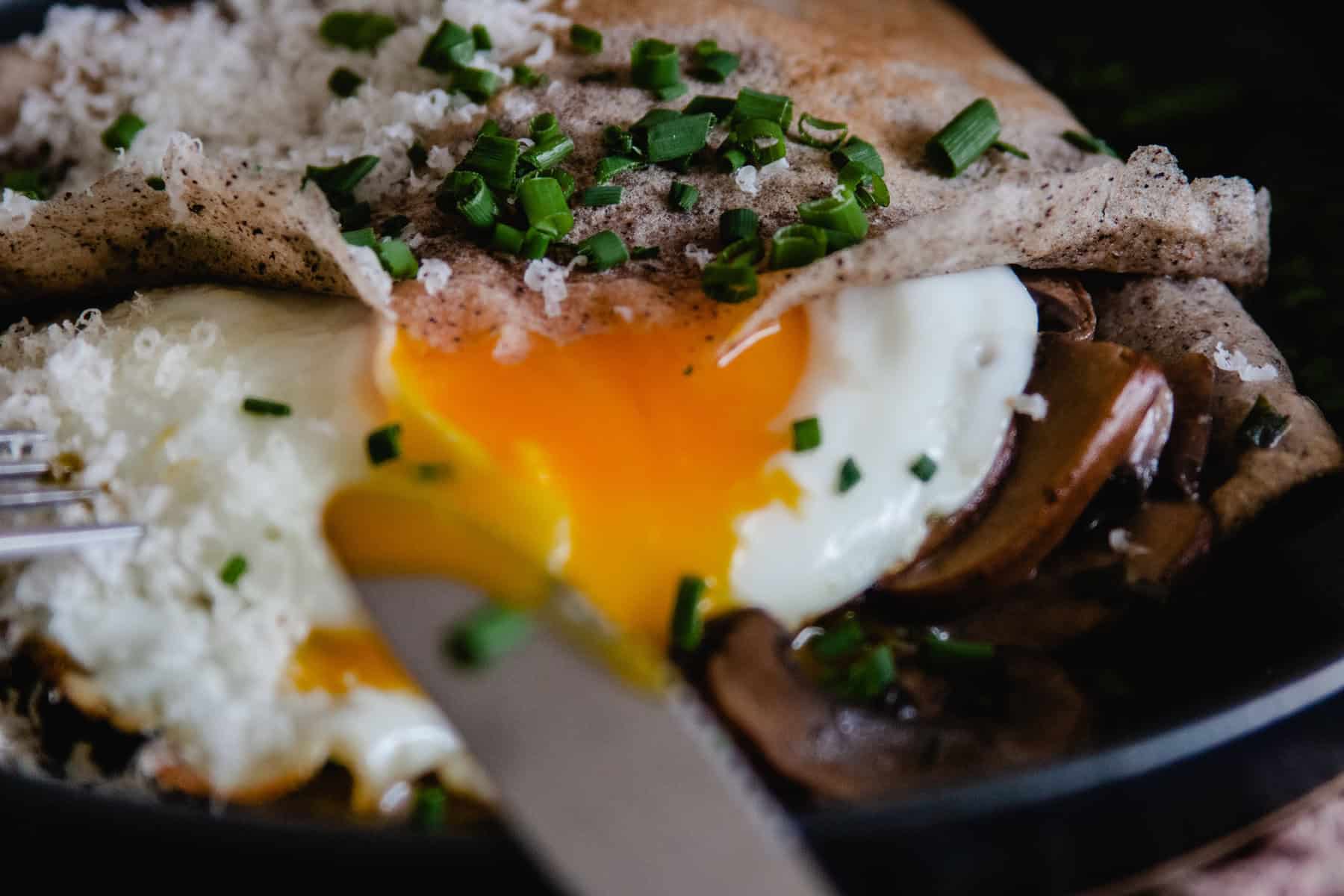 Some really good fillings to get you started:
Cheese and ham
Creamy mushrooms with herbs (as per the video)
Chicken and asparagus
Chickpea or white bean stew
Spinach and feta
An egg – either fried separately or cooked right on the crepe as it cooks.
Labneh (strained yogurt) or Ricotta and berries
Nutella and Banana
I don't know why I don't make these more often!
Buckwheat is a totally under appreciated starchy staple. It's as versatile as bread, it's tasty, (especially when it's roasted) and it's really easy to work with. Buckwheat Crepes are great for home cooks to have on hand. Make a batch to keep in the fridge for a few days, and fill them with sweet or savoury fillings to suit your mood. Serve them for breakfast, brunch, lunch, or dinner, just don't use an induction burner to cook them on. Don't know what I'm talking about? Watch the video where I come very close to throwing my induction burner out the window.
What will you fill your crepes with this weekend?