Crepes are a wonderful thing. You don't need too many ingredients or any special equipment to make them, and you get to fill them with tons of delicious things. These Savory Buckwheat Crepes are inspired by the kind they make in Brittany, France. From what I gather, the most classic version (crêpe complète) is filled with ham, egg, and gruyere cheese.
In this recipe, I've gone with a mushroom and egg version, but you can do whatever feels right for you–or use whatever you've got lying around. You'll find a few fun ideas listed further down in this post.
Your imagination is the limit as to what you can wrap or roll into a crepe. In this version, the neutral, nutty flavour of buckwheat flour is a welcome switch from regular white flour, and using buckwheat instead of wheat flour means that all of your friends & family can enjoy them. If , like me, you have a lot of friends with gluten intolerances, buckwheat crepes are just the thing.
Are you a savory breakfast person? try my Spinach and Feta Waffles next!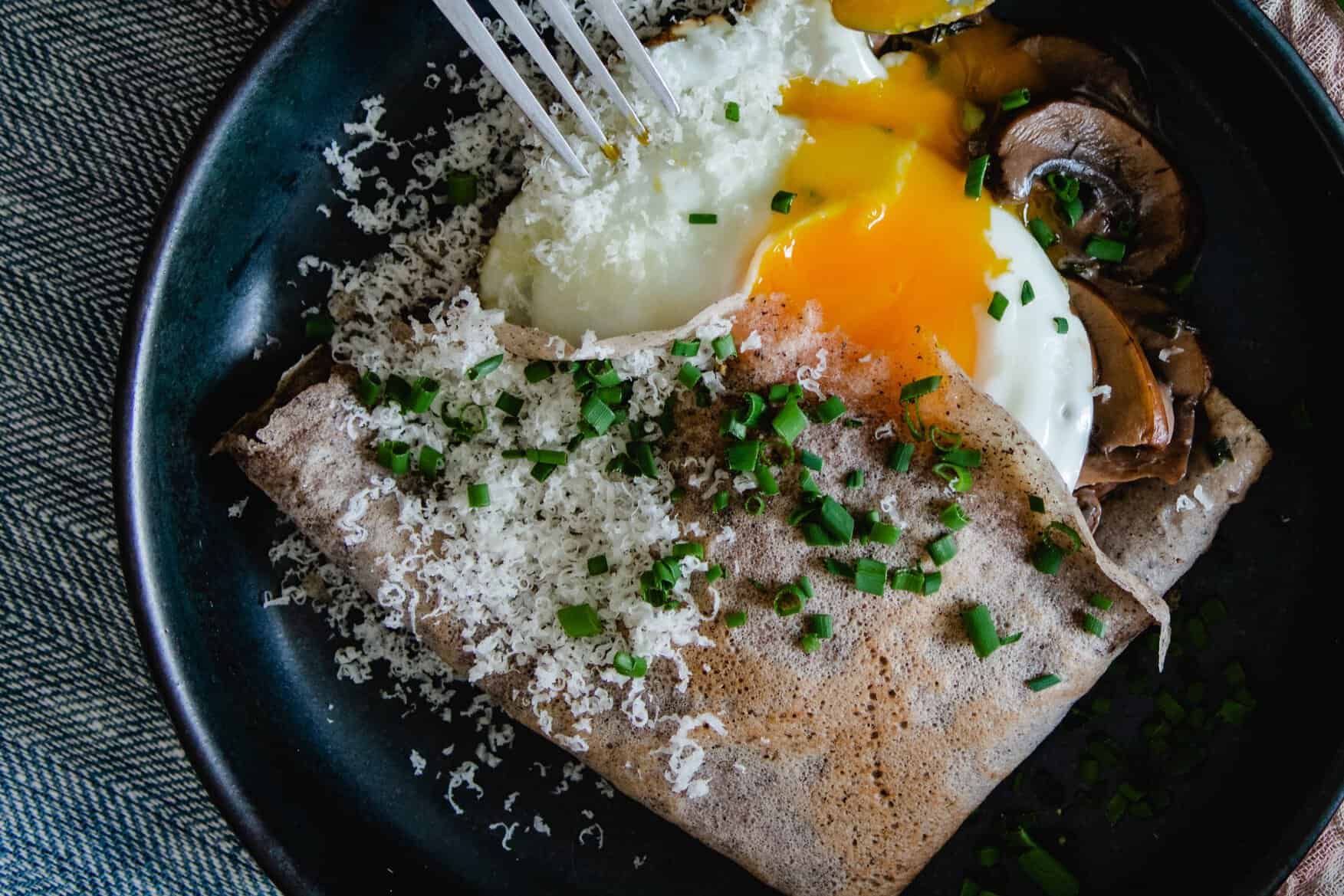 What is buckwheat?
Buckwheat is a cute little heart shaped grain that, like quinoa and amaranth, is not actually a grain at all. It's a seed! You may have heard people use the term 'pseudocereal' for things like this.
Despite its name, buckwheat has no relation to wheat whatsoever. It is an extremely versatile little grain/seed and it can be prepared and eaten in a number of ways. Buckwheat is also really really good for you.
How to cook and eat buckwheat
Raw Buckwheat
Although raw buckwheat is technically edible, it's pretty powdery and lacklustre in the flavour department. That's why I say roasting is the way to go.
Roasted Buckwheat
Roasted buckwheat (AKA kasha), is a common staple in many parts of the world. In Russia and other parts of Eastern Europe it's commonly made into a porridge.
Kasha is available already roasted and ready to go, or you can roast your own raw buckwheat groats by tossing them around in a pan over medium heat for 5 minutes or so. The crunch of roasted buckwheat can't be beat as an addition to a granola or other crunchy topping.
Cook It like Rice
You can cook Kasha just like you would rice. Put 1 cup kasha in to a small pot with 1 ¾ cups water. Add a knob of butter and a big pinch of salt, bring to a boil on high, then put the lid on and reduce the heat to low. In 18-ish minutes, the kasha should be tender and and fluffy.
Buckwheat Flour
Buckwheat flour is great for making things like crepes, pancakes, and soba noodles. It's available in most grocery stores these days, and it's cheaper than many of the other gluten-free flour choices like almond and coconut flour. You can swap some (up to 50%) of your wheat flour with buckwheat flour in most recipes with good results.
Making the Buckwheat Crepe batter
If you've ever made regular crepes, you need no extra instruction. You can make these buckwheat crepes exactly the same way as you would regular crepes. All you need is a bowl and a whisk.
For this recipe I'm using oat milk, because I have a few dairy-free friends who I want to share these buckwheat crepes with. That said, the batter works well with cow milk, almond milk, oat milk, coconut milk, or any other milk of your choosing.
How to cook Savory Buckwheat Crepes
You do not need a special crepe pan to make crepes. All you need is a nice, wide nonstick pan. I make mine in a well seasoned cast iron pan, which works very well.
As with pancakes, your crepe-cooking adventure will likely begin with one or two ugly crepes. Isn't this a weird phenomenon? It's almost like the frying pan needs to crank out a few duds before it starts to understand what's going on.
Don't feel bad if your first few crepes break, stick, or end up somehow imperfect. You will get better at it.
There's no need to cry over a little crepe batter.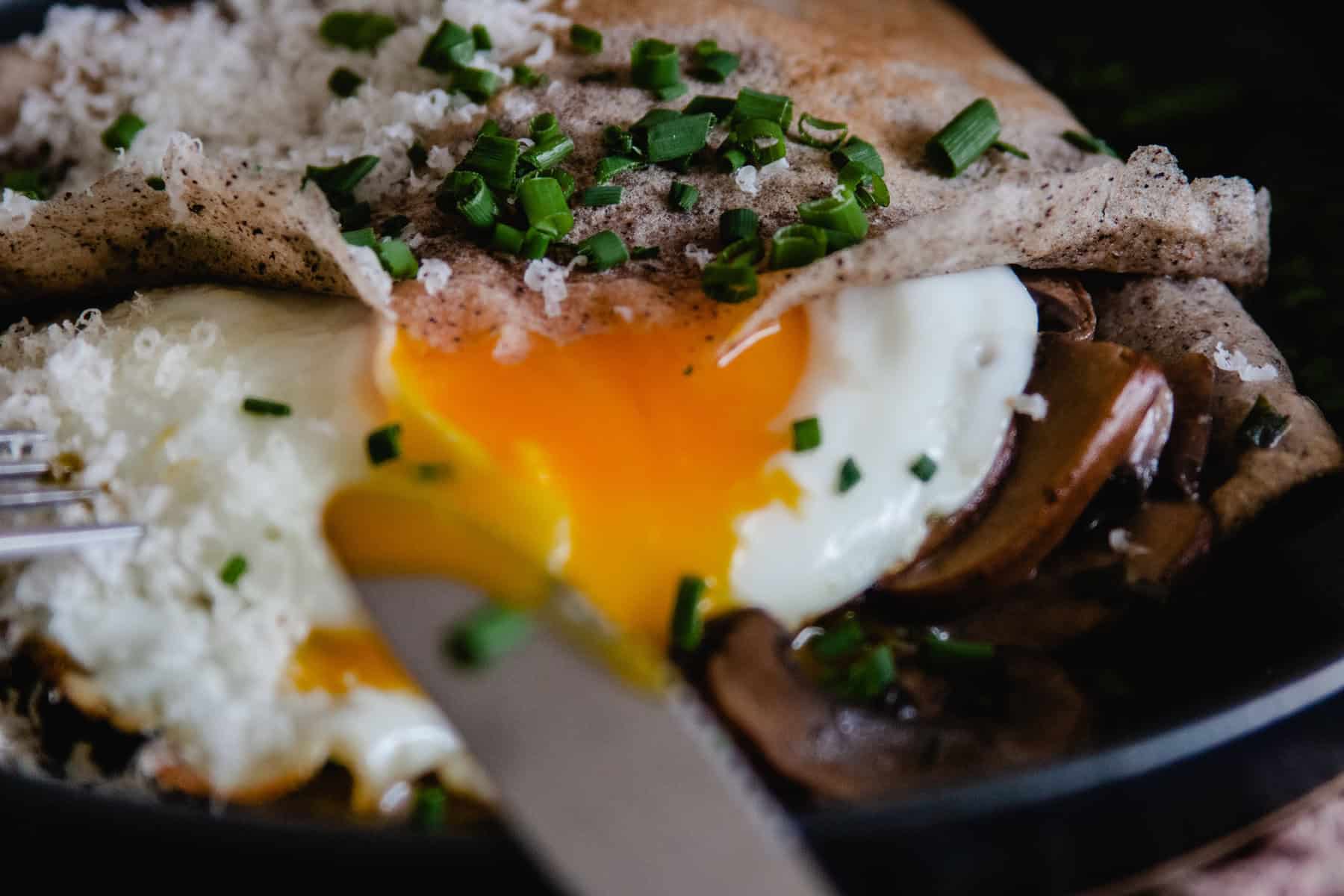 Savory Buckwheat Crepe fillings
Cheese and ham
Creamy mushrooms with herbs
Chicken and asparagus
Tomato and white bean stew
Spinach and feta
An egg
Spicy chickpea curry. Yes please!
I don't know about you, but I plan on topping all of my savory buckwheat crepes with a fried or poached egg.
I don't know why I don't make these more often!
Buckwheat crepes are a totally under appreciated starchy staple. Make a big batch to keep in the fridge for a few days, or in your freezer for even longer. Then, when you need a quick fix, you can warm them up and fill them with whatever your heart desires. Serve them for breakfast, brunch, lunch, or dinner.
What will you fill your savory buckwheat crepes with this weekend?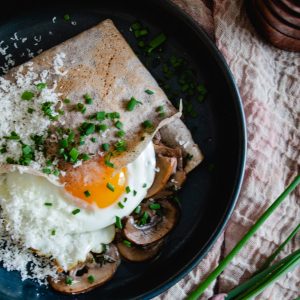 Savory Buckwheat Crepes
These savory buckwheat crepes are prepared in a similar way to wheat flour crepes, but they're made with 100% buckwheat flour. Gluten and dairy free!
Ingredients
70

grams

(1/2 cup) buckwheat flour

1

egg

1

tablespoon

vegetable oil or melted coconut oil

60

millilitres

(1/4 cup) milk or nut milk

125

millilitres

(1/2 cup) cold water

1

pinch

salt
Instructions
Heat a cast iron or nonstick skillet over medium-high heat, around level 6.

Dump all of the ingredients into a bowl and whisk lightly until combined.

Brush the pan lightly with vegetable oil using a brush or a piece of paper towel.

Use a ladle or a measuring jug to pour each crepe into the pan, while swirling the pan to create a thin layer of batter on the bottom of the pan.

Cook for about 1 minute, then flip by loosening the edges then turning with a spatula or gently with your fingers.

Cook for another 10-20 seconds, then remove and keep cooking crepes until you get bored.

Fill with your choice of delicious mixtures.
Nutrition
Calories:
70
kcal
Carbohydrates:
7.8
g
Protein:
2.5
g
Fat:
3.5
g
Saturated Fat:
0.6
g
Cholesterol:
27
mg
Sodium:
67
mg
Potassium:
80
mg
Fiber:
1.1
g
Sugar:
0.7
g
Calcium:
11
mg
Iron:
1
mg