When I decided to make a spinach and feta waffle, I was pretty surprised when I couldn't find many recipes online. There were some protein-packed keto ones (not really my style) – and some potato/sweet potato ones which sound good, but not what I wanted. I didn't find much in the way of a standard non-sweet waffle batter packed with cheese and greens.
So, I had no choice but to come up with my own.
Why Do We Love Waffles So Much?
What's not to love about a waffle? They deliver on so many things that we love. You can have waffles for dinner, breakfast, brunch, or lunch. They're fluffy and light, and you can top them with any number of things. They can be sweet or savoury (case in point), and best of all, they are an absolute hotbed for crispy edges.
Because of all these wonderful characteristics, waffle lovers have taken to waffle-izing all kinds of other foods. Things like mac & cheese, omelets, mashed potatoes, hash browns, grilled cheese sandwiches, and possibly my favourite – The Falafel Waffle. I heard about that one years ago on a podcast and it hasn't slipped my mind!
These all sound like a lot of fun, and give us all the more reason to dust off the ol' waffle iron and have a party. Don't you think?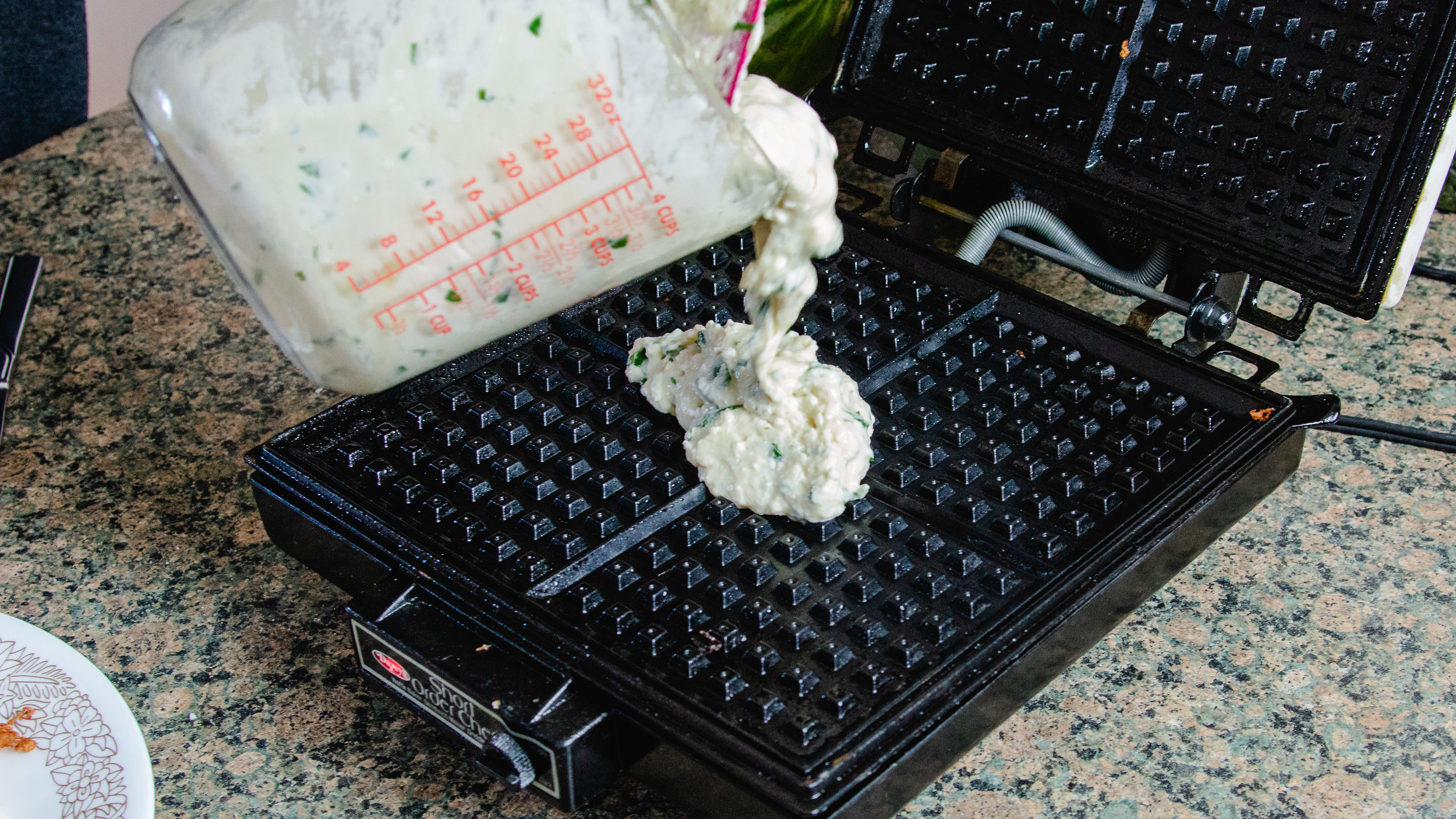 How Cool Are Waffle Irons?
If I were to hazard a guess, I'd say that about 70% of households have a waffle iron somewhere in the back of their kitchen cupboards. And I'd guess that about 99% of that 70% haven't been used in the past year.
Please don't fact check me, I'm just spitballing here.
But seriously. The waffle maker is probably one of the most universally under-used kitchen appliances out there. It's up there with the grilled cheese press for sure. And it's easy to see why – when a kitchen tool does only one specific thing, it's hard to justify busting it out.
But waffle irons are cool! Although they only do one thing, (known in some circles as a "uni-tasker," They do that one thing really well. AND there's no other way to achieve what the waffle iron achieves. Without this specific tool you can still make French toast or pancakes, but the waffle iron is the only way to waffle!
My waffle iron is about a bazillion years old (OK more like 30 – I think it belonged to my Grandma), and although it could stand to be a touch more efficient (watch the video to see my disdain at how slow it is), it's still pretty good for such an ancient artifact of a kitchen tool. The waffles, when they are done, are gooooood.
So to celebrate the kitschy novelty of the waffle iron, i suggest that you invite a bunch of friends to pull out their waffle irons and come on over for a brunch party.
Ain't No Party Like A Waffle Party
I mean, just think of the possibilities. We can go in so many directions here.
Depending on how many people you invite, that will determine the amount and variety of waffle batter you will need. A good rule of thumb is that for every different batter, you will have a different waffle iron. I'd say plan for 1 waffle iron/batter for every 2-3 people. That way if there are 8 people, you'll have 3 waffle irons on the go, and lots of variety of waffles.
Cooking waffles is a really good social activity too. You can plug in the irons in all over the place so you're not all huddled around the stovetop.
Along with this spinach and feta savoury waffle batter, you can also have traditional Belgian waffles, chocolate waffles, gluten free waffles, heck you could even go crazy with a mac and cheese waffle. Anything goes.
And while some people are supplying the waffle batter and waffle irons, the rest of the folks can supply a waffle topping. The topping bar is going to be one of the mega highlights of your party. Suggest things like fresh berries, cream cheese, whipped cream, maple syrup, yogurt, bananas, and for the savory waffles – slow roasted tomatoes, garlicky mushrooms, fresh corn salsa, avocado, fried chicken – you name it.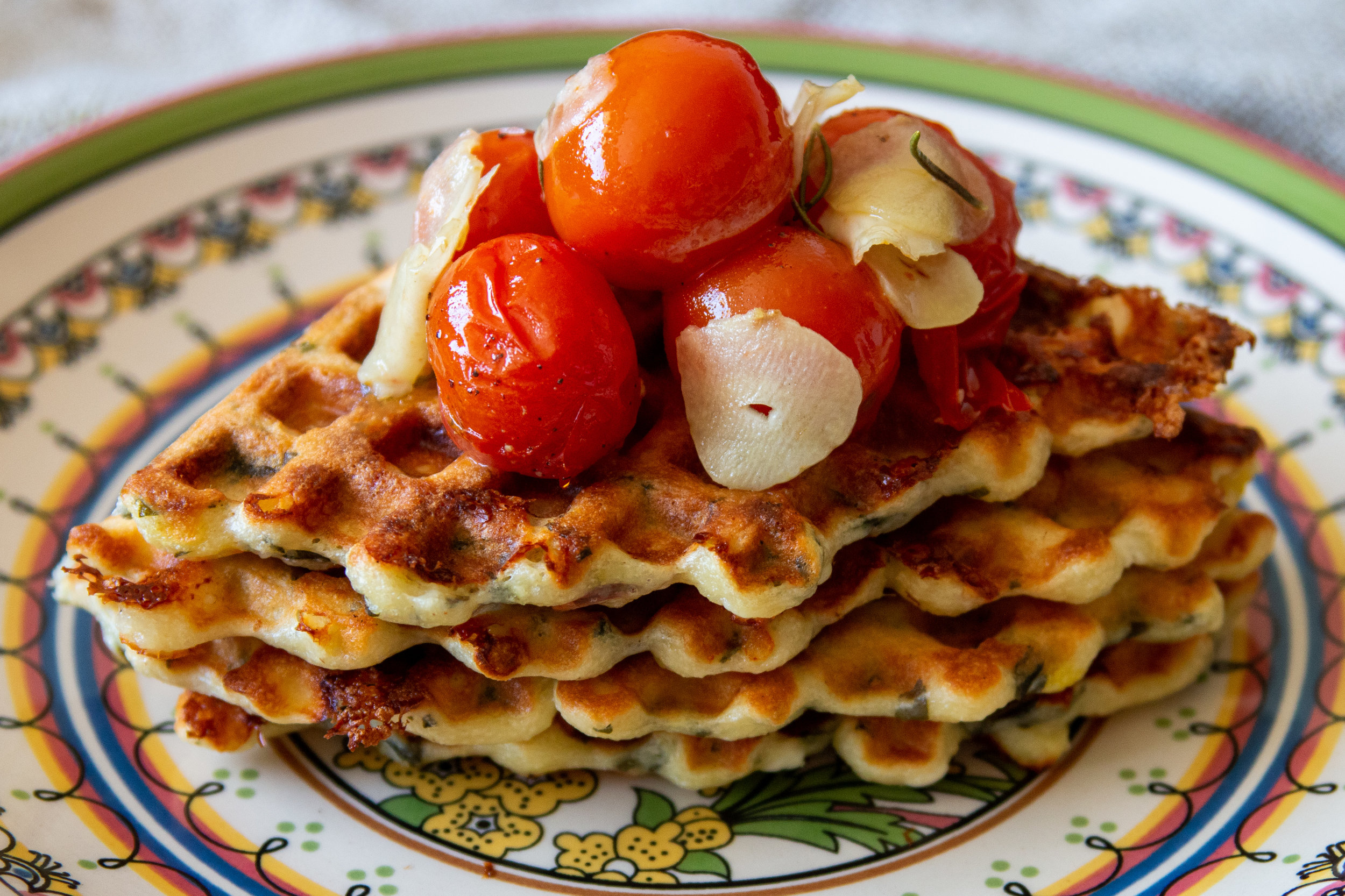 Plus, You Can't Beat The Leftovers
Waffles make superb leftovers. Throw em in the toaster for a quick breakfast or sandwich them up with an egg or a chicken thigh. They can be frozen too, but who's kidding who? You're probably not going to stop eating them until they're gone!
These Spinach And Feta Waffles
These waffles are a result of me not finding any waffle recipes online that suited my fancy. I've made them 3 times with the recipe as it is now, and they are REALLY good and really easy.
I'm sorry but you will have to separate a couple of eggs.
I don't usually condone extra steps, but this one is worth it.
As far as sourcing ingredients goes, you can make these bad boys with any leafy green that you have on hand – (in the video I use Swiss Chard). You can use yogurt, sour cream, or buttermilk, and you will need some feta cheese. You probably have everything else on hand already.
These are good enough to eat on their own, no toppings required. My favourite thing about them is the way the feta cheese melts on the inside and gets crispy on the outside. They really are a ten out of ten.
So I hope you'll make these savory waffles! And PLEASE share pictures of your brunch party with me!
Savoury Feta and Spinach Waffles
These waffles are outrageously good. Perfect for breakfast, brunch, or dinner. Bust out the waffle iron and have a go!
Ingredients
2

eggs, separated

365

grams

plain yogurt (1.5 cups)

80

grams

butter, melted and cooled

180

grams

180 grams all-purpose flour (1.5 cups)

1.5

teaspoons

baking powder

1

teaspoon

salt

50

grams

cooked spinach (or other greens) squeezed well and finely chopped

150

grams

feta cheese
Instructions
Separate the eggs and put the yolks into a large bowl. Reserve the whites in a smaller bowl and set aside.

Using a whisk, stir the yogurt into the egg yolks.

Add the melted butter into the yolk and yogurt mixture.

Sift the flour, baking powder, and salt into the wet mixture and fold together gently with the whisk. Do not overmix!

Add the feta and greens to the batter.

Using an electric mixer, whip the egg whites until they are light and fluffy. No more than soft peaks.

Fold the whipped whites into the batter until just combined.
Nutrition
Calories:
507
kcal
Carbohydrates:
43.8
g
Protein:
18.5
g
Fat:
28
g
Saturated Fat:
17.5
g
Cholesterol:
164
mg
Sodium:
1222
mg
Potassium:
579
mg
Fiber:
1.5
g
Sugar:
8.3
g
Calcium:
469
mg
Iron:
3
mg