I've been hovering around the snack table my entire life.
Between the veggies & dip, the crustless sandwiches, and all of the usual suspects on the party snack tables of my youth, one of my all time faves has always been been those crackers you get at holiday parties that basically taste like straight cheddar cheese.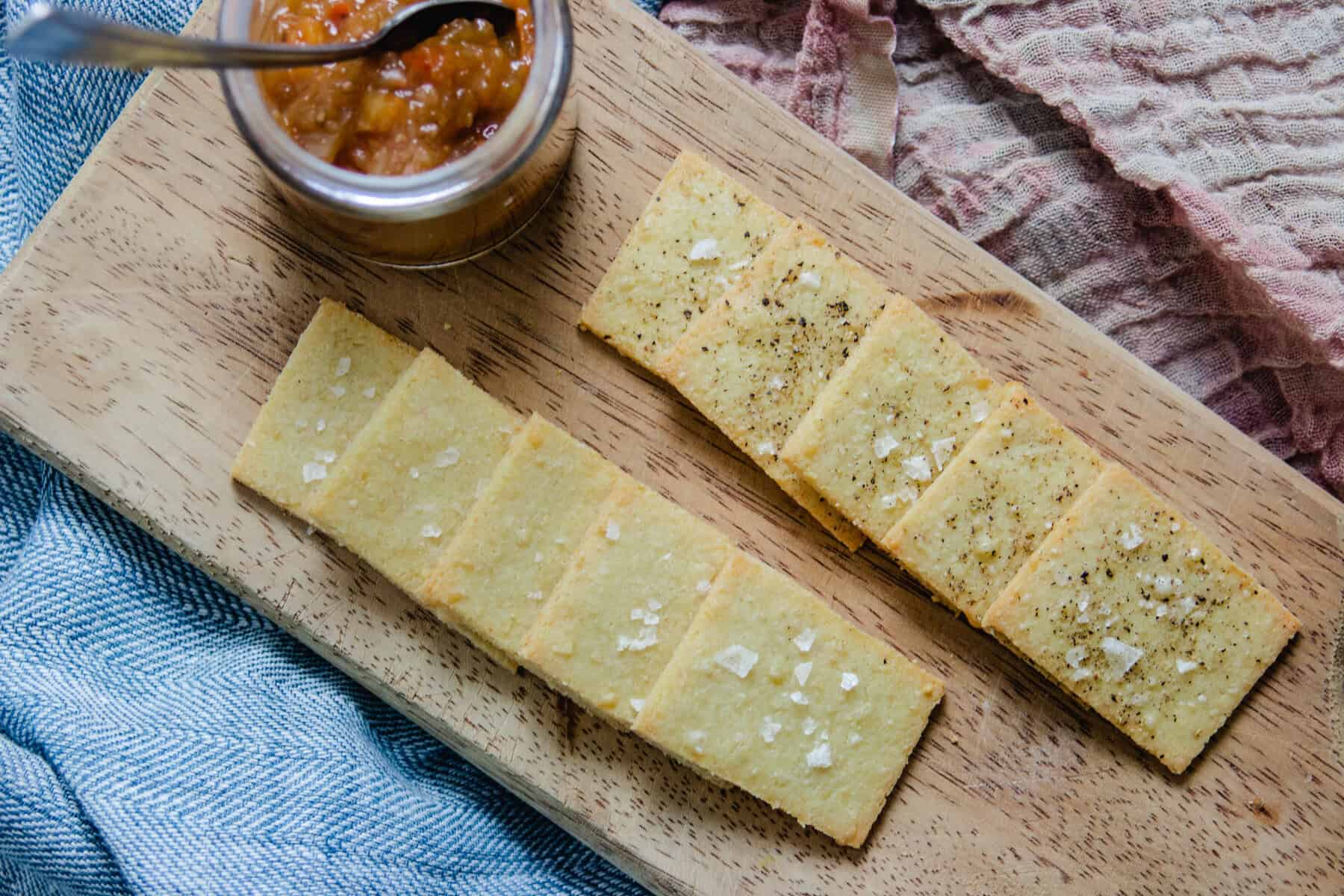 Those crackers are almost as elusive as those baggies of pastel coloured pillow mints I remember stealing from place settings at family weddings.
Is it just me? I LOVE those mints and they literally don't exist outside of weddings in the 1980s.
But we're getting off track. We're here to talk about the cheese crackers. These crackers in particular are very reminiscent of those same cheese crackers from the holiday parties. They're just a little fancier, and if you use good cheese, they're a lot more delicious.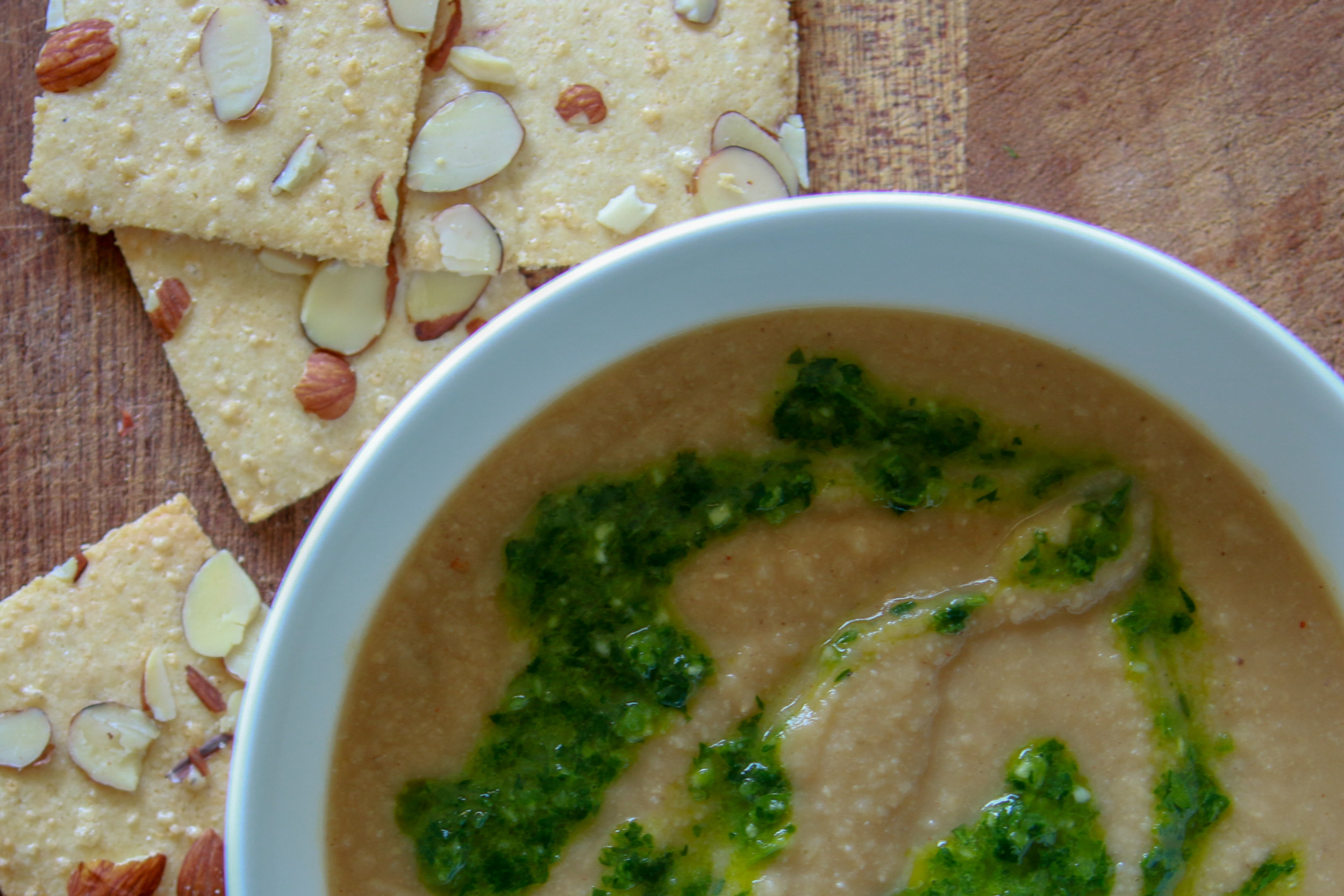 Almond crackers make a great companion for this roasted cauliflower soup with chimichurri
Fulfilling All The Snack Requirements
Now, I'm not on any special diets, which is possibly why I'd let a little gem like this almond cracker slip under my radar without noticing. What brought this to my attention was a keto diet following colleague who so desperately expressed his desire for a cracker. He was just totally jonesing for a crunchy delivery vehicle for pâté.
This specific need for a particular snack sensation really hits home for me. Something in the core of my being feels the need to help people with their snack requirements. So, I decided to find a keto-friendly cracker solution for this poor guy. And if I didn't find one that I liked, I'd create my own.
What I ended up with is a very easy recipe for a totally irresistible almond flour cracker, loaded with Parmesan cheese and not much else. They're a gluten-free, grain-free, sugar-free, low carb cracker. Bonus: This has got to be one of the easiest cracker recipes out there.
How To Serve Almond Parmesan Crackers
These crackers are so good on their own, they don't really need anything on them, but admittedly they do perform very well as a delivery vehicle for cured or potted meats, savoury chutney (although that throws the low carb part out the window), or with – you guessed it, more cheese.
As well as being a welcome addition to your next holiday staff party (to 1-up your coworker's mom's homemade Cheez-its) these crackers are a great way to kick off a dinner party, or a lovely way to end one with an after dinner cheese plate, some wine and a good chat.
I hope you give them a try and let me know how they turn out!
How To Store Almond Parmesan Crackers
Once you've got these crackers baked and cooled, I find it's best to store them in a paper bag, or even just loosely covered with a tea towel rather than enclosing them in a sealed plastic environment. There is a lot of moisture and fat in the cheese and the almonds, which, when trapped, causes them to lose their crisp texture. These are best eaten within a day or two of making them.
Disclaimer
What these crackers are not, are low fat or cheap to make. Almond flour and Parmesan cheese are both high ticket items, and because there are so few ingredients in these crackers, I'd definitely recommend that you use real Parmesan cheese because it really is the predominant flavour.
* Note: Almond flour, ground almonds, and almond meal, are all the same thing. Just so you know what to look for in the grocery store.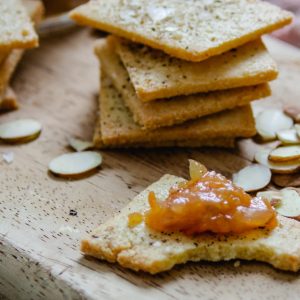 Irresistible Almond Parmesan Crackers
This is a very easy recipe for irresistible almond flour crackers. They're basically carb free and loaded with Parmesan cheese.
Ingredients
130

grams

(1 Cup) Parmesan Cheese

170

grams

(1 ½ Cup) Ground Almonds

1

teaspoon

Garlic Powder

.5

teaspoon

tsp Salt

1

egg
Instructions
Grind Parmesan in food processor or grate using a fine grater

Add ground almonds, egg, salt, and garlic powder, and blend together until it forms a ball. This can be done in a food processor, or by hand.

Roll the dough between two pieces of parchment paper until it's ¼ inch thick or slightly thinner.

Cut the dough to the shape of crackers that you want, I normally go for classic rectangles. You can use a large chef's knife or a pizza cutter for this part.

Sprinkle the tops with your choice of final flourishes. Sea salt, ground black pepper, flaked almonds, or sesame seeds are all great options.

Arrange the cut crackers on a parchment paper lined baking sheet. Depending on the size of your baking sheet, you might need an additional sheet.

Bake at 350 degrees for 10-12 minutes. If you have multiple baking sheets on the go, be sure to rotate the sheets in the oven once or twice during the baking process.

Remove from the oven, transfer to a wire cooling rack and allow to cool completely.
Notes
Add Sea salt, pepper, ground almonds or sesame seeds for the tops if you wish!
These crackers retain their shape as they bake. They don't rise or spread at all.
Nutrition
Serving:
1
cracker
Calories:
67
kcal
Carbohydrates:
1.7
g
Protein:
4.5
g
Fat:
5.2
g
Saturated Fat:
1.6
g
Cholesterol:
13
mg
Sodium:
140
mg
Potassium:
47
mg
Fiber:
0.8
g
Sugar:
0.3
g
Calcium:
100
mg