I'm always looking for more ways to incorporate eggplant into my cooking. This Bulgarian eggplant and red pepper dip, called Kyopolou, is one of my new favorites. The eggplant is cooked to a complete mush (just how I like it) and it's combined with roasted red peppers, tomatoes, garlic, lemon, and parsley, which is a delightfully summery combo.
How to roast red peppers and eggplants
I have to preface this section by saying that I was lucky enough to use a really cool Bulgarian pepper roaster for this recipe. It's called a "chushkopek," and it does a bang-up job of roasting peppers and eggplants. The skin gets evenly blackened and the vegetables soften perfectly. It's pretty quick too! I would love to see this kinda thing back home! (I'm currently considering stuffing it in my suitcase.)
Without a purpose-built roaster like this one, you've got some options. You can either roast them on an open flame, like directly on your gas burner, or you can roast them in the oven at 450 degrees F (or even higher).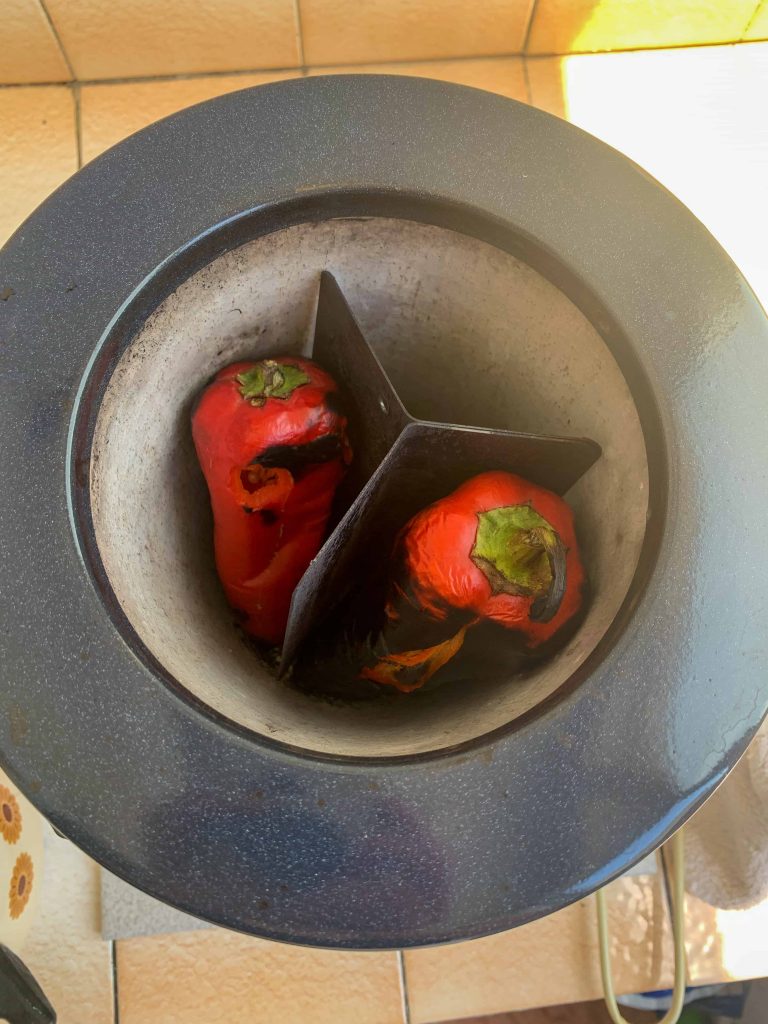 As soon as they've fully softened, put the eggplant and red peppers into a closed container to steam and cool. I use a small pot with a lid. Once they're cool, the skin should be fairly easy to peel off with your fingers. You can remove the pepper seeds by cutting the pepper open and scraping them away with a knife.
*NOTE: Peeling and seeding roasted peppers is fiddly. If roasting peppers isn't your thing, you can definitely use the store-bought ones for this recipe. The eggplant is easier to deal with. Just poke a few holes in the skin and throw them on a baking tray in the oven until your eggplant is completely soft—up to an hour at 450 degrees F. When it's soft, cut it in half lengthwise and scoop out the flesh with a spoon.
What you'll need to make this recipe
The only equipment needed for this recipe is a food processor (although a knife works fine if you don't have a food processor), and a heat source for roasting the vegetables (either a gas burner, a hot oven, or if you're lucky, a chushkopek.
As far as ingredients go, all you need is an eggplant, a couple of red peppers, a tomato, some garlic, lemon, fresh parsley, and salt.
How to make Kyopolou
Making this Bulgarian eggplant and red pepper dip isn't difficult, but it does take time. It's the kind of thing you'll want to do on a lazy Sunday in the summertime. If you have a couple of cold beers and some friends around, even better. Here's the process:
Roast the eggplant and peppers until the skin has blackened and blistered. If you don't happen to have a pepper roaster (which is likely), this can be done over a gas burner or under the broiler on the hottest setting. The eggplant and peppers should be completely soft.
Place the peppers and eggplant in a covered container (a pot with a lid works well) and allow them to steam/cool for 20-30 minutes.
Peel the peppers and eggplant and remove the seeds of the peppers and set them aside.
Prepare the tomato by removing the skin and the seeds (optional) and chop roughly.
Mince the garlic, chop the parsley, and cut the lemon in half.
If you have a food processor, add the eggplant, peppers, tomatoes, garlic, and salt to the food processor and pulse until you achieve a coarse texture.
Add the chopped parsley, juice the lemon into the processor, and pulse 2 or 3 more times to combine. (Don't blend too much after you've added the parsley or the dip will become a greenish color.)
Serve with bread.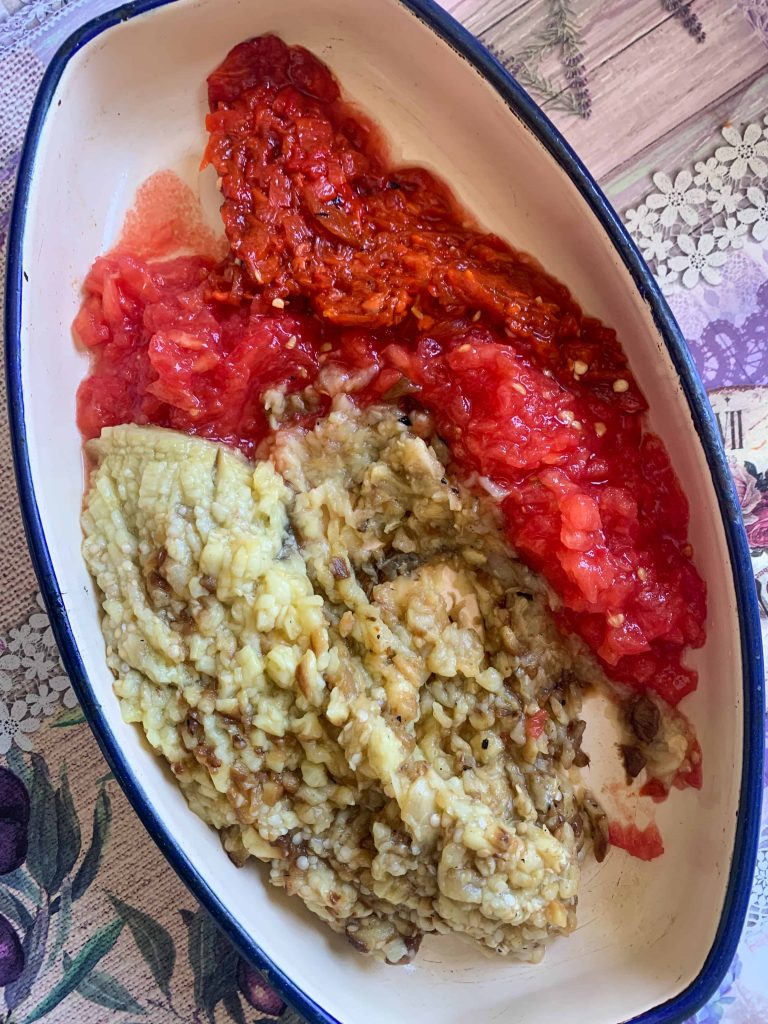 Success tips
Make sure you cook the eggplant until it is completely mushy. If it is undercooked, the dip will not have the right texture.
Don't rinse your peppers and eggplant after peeling them. The little remnants of blackened skin add a lovely smoky flavor to this dip.
Resist the urge to use a blender for this dip, as it'll make it too smooth. It's nice to have some texture here.
What goes well with Kyopolou?
My favorite way to eat this dip is with soft bread and a briny white cheese like feta. We buy Bulgarian cheese at my house and I tend to prefer it over any feta we get in Canada, but you can go with whatever your favorite one is. Kyopolou can also be tossed with pasta for a light sauce or used to top crostini, meats, or fish.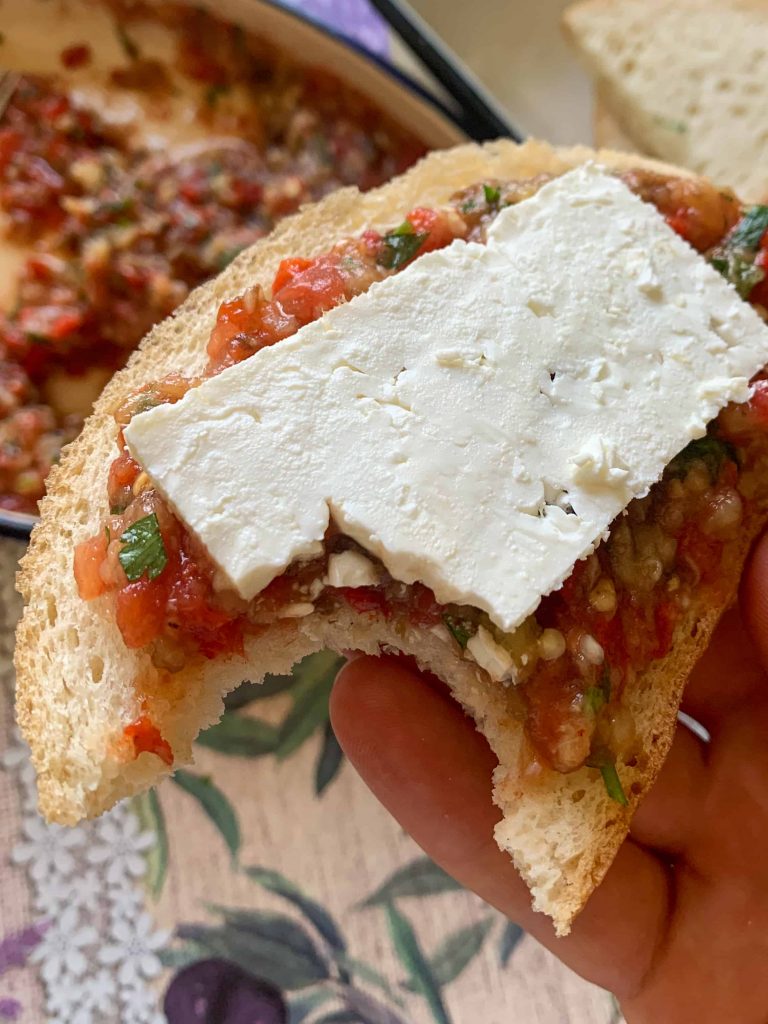 Storage, freezing, and reheating tips
Kyopolou is lovely when eaten right away, but it also benefits from some "fridge-cooking." It will keep in the fridge for up to a week. You can also freeze Kyopolou in an airtight container for up to a month. Just remember to transfer it to the fridge to defrost slowly for a couple of days before you are ready to eat it.
Looking for more summer recipes? Try these next:
Kyopolou – Bulgarian Red Pepper and Eggplant Dip
Kyopolou is a delicious and flavourful dip made from roasted eggplants and peppers. Perfect with bread on a summer day.
Equipment
1 oven or gas stovetop

1 Food processor

optional
Ingredients
1

eggplant

2

red peppers

1

tomato

3

cloves

garlic

10

sprigs

parsley

1

lemon (juice)

1/2

tsp

salt

1

tablespoon

oil (olive or sunflower)
Instructions
Roast the eggplant and peppers until the skin has blackened and blistered. If you don't happen to have a pepper roaster (which is likely), this can be done over a gas burner, or under the broiler on the hottest setting. The eggplant and peppers should be completely soft.

Place the peppers and eggplant in a covered container (a pot with a lid works well) and allow them to steam/cool for 20-30 minutes.

Peel the peppers and eggplant and remove the seeds of the peppers and set them aside.

Prepare the tomato by removing the skin and the seeds (optional) and roughly chop them.

Mince the garlic, chop the parsley, and cut the lemon in half.

If you have a food processor, add the eggplant, peppers, tomatoes, garlic, and salt to the food processor and pulse until you achieve a coarse texture.

Add the chopped parsley, juice the lemon into the processor, and pulse 2 or 3 more times to combine. (Don't blend too much after you've added the parsley or the dip will become a greenish color.)
Video