You know how sometimes the paths of our lives meander somewhat before we realize what we're actually doing is just another way of deviating from what we really want and therefore should be doing?
Well in my case, there was a period of time a few years back when I decided I wanted to start a scone company. It's not that I particularly love scones or felt there was some kind of gap in the market that I wanted to fill, I did it because I felt that I was really good at making them, and they had a pretty decent profit margin. I also knew that they were considered a "low risk" food item to the local health and safety department, so I was legally allowed to make them in my own little apartment to sell. This meant keeping a nice low overhead on my venture.
I called my company "Butter and Jam." I bought a folding table, built a basic website, launched an Instagram profile and a Facebook page, and I even threw down a couple hundo to have a friend build me a "Scone-mobile" bike trailer so I could bring my goods to market without the need to buy a car. (Ask me to tell you more about that story, it wasn't exactly a smooth ride.)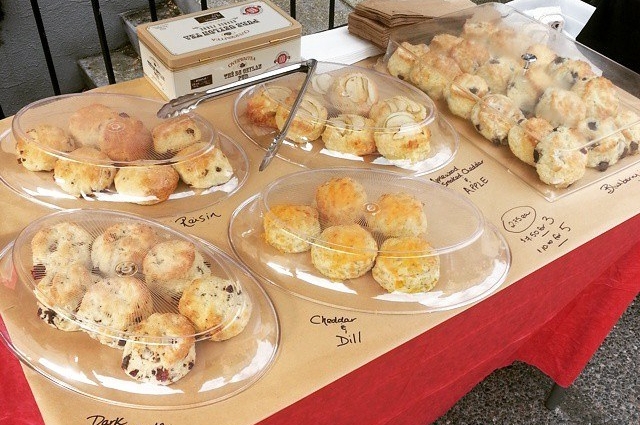 I spent the spring and summer selling hundreds of my little creations at a local market, as well as supplying a couple of coffee shops. It was fun! I love to bake, after all, and there's something very soothing about waking up early and cranking on the oven first thing in the morning and working my little home factory.
It didn't take me long to figure out that this wasn't really my end game. I even admitted to people at the time that what I really wanted was to start a baked potato company, and that I was using the scone company to earn money first. Since then, I've realized that I don't really want a baked potato company either, and all I've really ever wanted is my own cooking show. I think I'm more on track now, and that this blog/website is helping me move closer to that goal in a big way.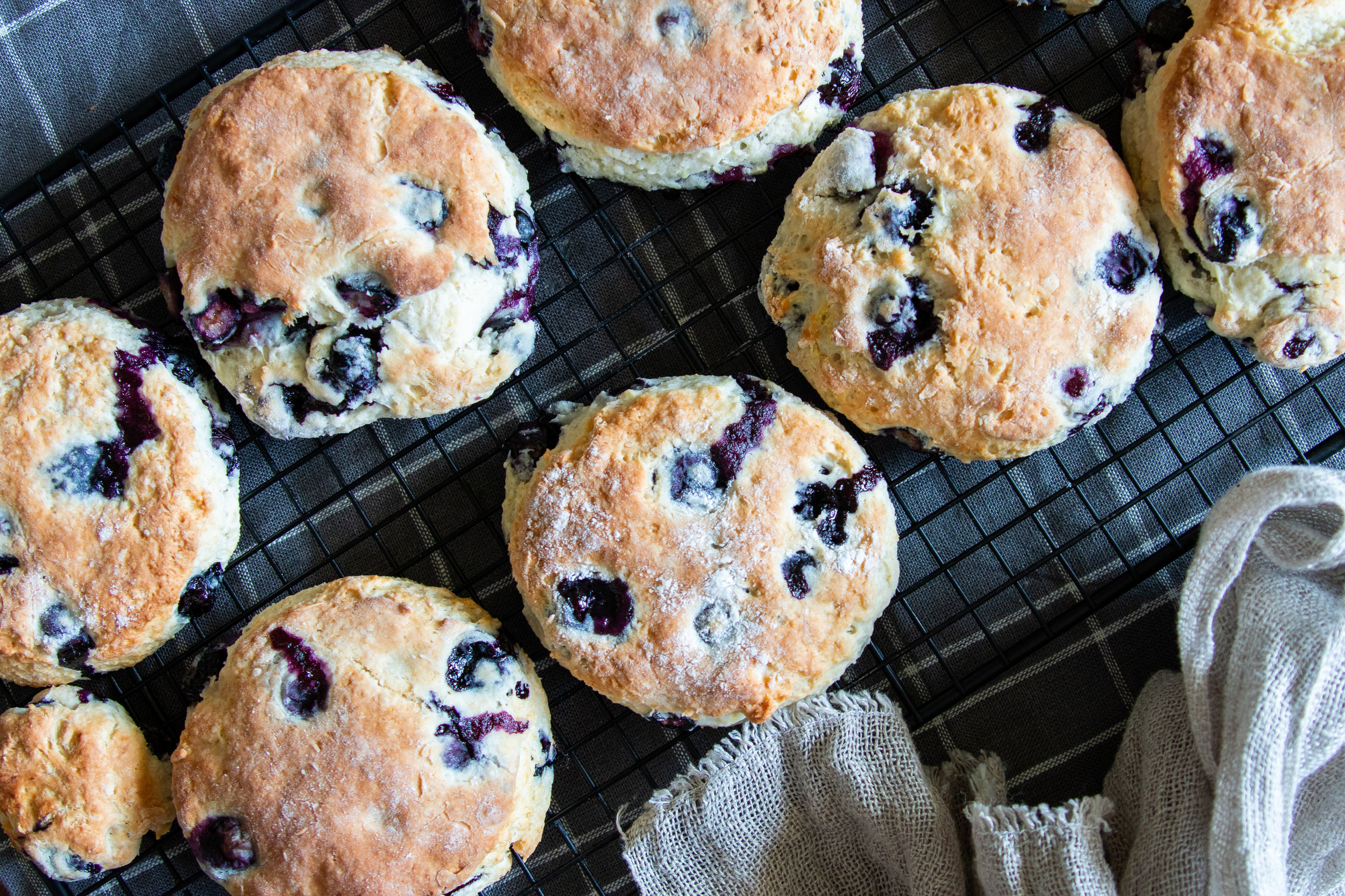 But Enough About Me, I Know You're Here For The Scones.
So the thing about scones, is, they aren't the kind of thing I want to eat every day. Some of them are really bad! There are a lot of dry hockey pucks out there in the coffee shop world. But, with a bit of know-how, a solid recipe, and a good cup of tea (or coffee, or whisky), a scone can be an absolutely perfect treat. These happen to be some of the lightest fluffiest scones out there. This recipe is by weight, because I'm evangelical about weighing ingredients for baking. If you haven't bought a scale yet, you can use my quick guide to convert this recipe to cups. Or, just pop out and buy a scale!
Some people like to put egg wash and sugar on the top of sweet scones, but I tend to leave them floury. It's just a preference thing. I DO, however, like to put a bit of extra cheese on top of cheese scones.
A few words on gluten-free scones:
Long story short, I don't recommend it. The best gluten-free baked goods of the world are the ones that DON'T rely too heavily on flour. Flourless chocolate cake like this one, or cheesecakes are great examples. A floury food like a scone needs flour. That's my opinion on the subject anyway.
Here comes the best scone recipe I know. I hope they serve you well for years to come!
The Best Scone Recipe I Know
Course: Brunch
Difficulty: Easy
Ingredients
400 grams all purpose flour

2 Tbsp baking powder

100 grams granulated sugar (omit for savoury scones)

100 grams butter

Pinch of salt

1 egg

275 ml buttermilk or soured milk

For Sweet Scones, add things like:

100 grams raisins or dried cranberries

200 grams fresh or frozen blueberries

Lemon zest

Chopped chocolate

For Savoury Scones, add things like:

100 grams grated cheese

A handful of sliced green onions

100 grams chopped cooked bacon or ham

Fresh herbs
Directions
Sift dry ingredients into a medium-sized bowl
Add butter and flake it into the dry ingredients with your fingers until there are no big chunks.
Add any extras to the dry mixture (cheese, berries, raisins, whatever)
Mix egg and buttermilk together in measuring jug
Add milk mixture to dry and bring together with a fork until just combined. Don't overwork!
Dump onto a floured surface and roll to about 1 inch thick
Cut out with biscuit cutters or a knife, to the desired size.
Bake at 400 degrees for 15 – 18 minutes. They should be puffed up and beautiful!