As I'm eating this thing, I can't decide what my next bite should be. Crust? Filling? A bit of both? The decision is so tough because they're both so good. And the combination of the two is beyond anything I'd ever dream of in a dessert.
This Is The Recipe And Method For The Easiest And Best Apple Pie I've Ever Made.
The main reason it's so easy, is because it's technically an apple galette, which is pretty much just a free form apple pie.
Pie Vs Galette
A galette usually refers to a flat, freeform, round baked thing with stuff inside. Even things like stuffed crepes and certain pancakes can be referred to as galettes. A pie on the other hand tends to be decidedly NON freeform, ie: made in a pie plate with crimped edges, etc. That being said, people also refer to pizzas as pies, so maybe this whole paragraph doesn't matter.
Why I Love This Easy Apple Galette Recipe
It can be made in any size you want (even mini ones!)
It doesn't require a pie plate
You only have to roll one crust
Cutting into it is more like cutting into a deep dish apple pizza. It's easy to get great wedges.
FUN FACT: In a recent study I conducted over Instagram a few days ago, I found that an overwhelming percentage of eaters agreed that a top crust on an apple pie isn't necessary.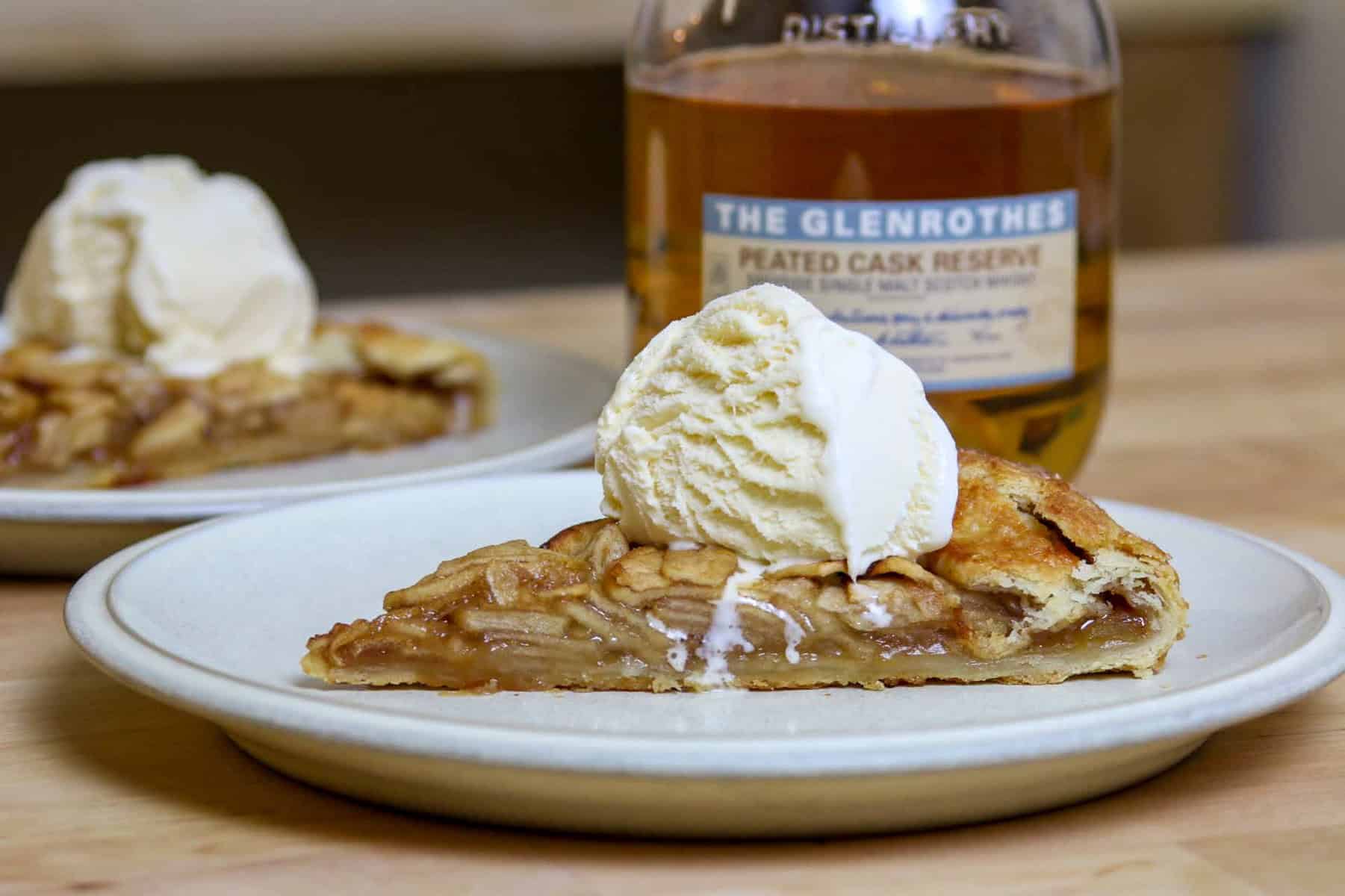 Worried About Making Pie Dough? Leaning Towards Store Bought?
I think pastry is one of those things that we've been taught to be afraid of. We're told that the butter has to be super cold, you have to be very concerned about overworking the dough, and that one false move will cause a pie dough catastrophe.
And while there are certain guiding principles that will make you a successful pastry maker, the worst case scenario is still not the end of the world.
Yes, your butter should be cold. Yes, you should work the dough just enough so that it holds together. However, it's also ok if your first few batches turn out a little on the tough side. There is a learning curve that comes with pie making. The sooner you jump on it, the sooner you'll master it. I think the most important thing is that you start trying it.
This free form pie crust is a great place to start, because imperfections are ok. You can patch holes and make the pie in whatever oblong shape you want. It'll taste good no matter what shape it ends up in!
A Few Points Before We Dive In:
I like to use granny smith apples, because they're nice and tart and they hold their shape well when they bake.
I made my pie dough in a food processor, but by all means feel free to make it by hand if that's your preference.
Whatever you do, be sure to use a rimmed baking sheet to bake this on. That way you won't end up a mess in your oven if your apple galette springs a leak!
Now Let's Get Down To It.
The Easiest Apple Galette
Course: Dessert
Cuisine: French
Difficulty: Medium
Ingredients
For The Dough

320g all purpose flour

25g sugar

1 tsp salt

240g cold butter

100ml cold water

For The Filling

1kg peeled and sliced apples (so, start with 1200g -ish of whole apples)

Zest and juice of one lemon

1 tsp cinnamon

1 tsp salt

Freshly grated nutmeg – to taste

40g flour

150g brown sugar

75g granulated sugar

45g chilled butter, in cubes
Directions
Making the dough
Weigh flour, sugar, & salt directly into the bowl of a food processor.
Add cubed cold butter to the flour mixture and pulse until there are no big chunks left, but lots of little bits.
Dump all the water in at once, and pulse until the mixture just starts to look like dough.
Transfer dough to a lightly floured surface and bring it all together.
Form into a disc and wrap in plastic or cover in a bowl. Keep the dough in the fridge for 30 minutes while you make the filling.
Making the Filling
Peel, core, and thinly slice the apples.
Put the sliced apples into a big bowl, and add sugar, spices, lemon juice, lemon zest, and flour.
Toss the apples until thoroughly combined.
Preheat Your Oven To 400 Degrees
Assembly
Roll the chilled dough out until it is as big as an extra large pizza. Use extra flour while rolling, so the dough doesn't stick to the countertop.
Transfer the giant dough circle onto a large (½ size) baking sheet.
Carefully pile the apple slices into the middle of the disc, leaving the juices in the bowl (as best as you can)
Distribute the apple slices evenly over the dough, leaving about 3-4 inches of bare dough around the edges, for folding over.
Fold the edges over so each one overlaps the next, so nothing leaks.
NOW you can drizzle the rest of the juices over the top of the filling.
Brush the dough with egg wash and sprinkle with granulated or coarse sugar.
Bake at 400 degrees for 35-50 minutes. The apples should be tender when you poke them with a knife, and the crust should be golden brown. I would recommend very carefully lifting up a corner to peek at the bottom to make sure it's nice and brown too.
Take it out of the oven and let it sit for 10-20 minutes to relax and let the juices settle.
I hope this gives you all the confidence to have a go at this easy apple galette! Please let me know if you have any questions! Happy pie making!