The first time I made this Biscuit-Topped Onion and Mushroom Pot Pie was on camera, filming an episode for my YouTube cooking show. As an avid free-styling cook, I knew it would work out pretty well—but I didn't expect it to be THIS good.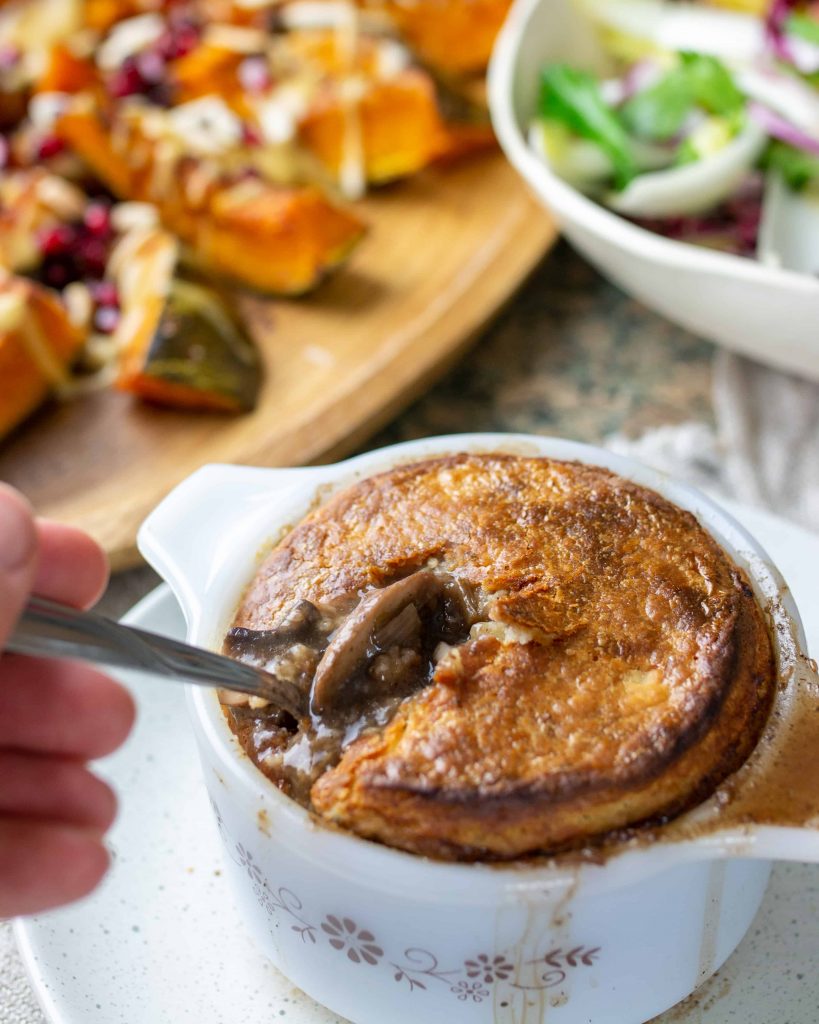 I'm a huge mushroom fan, and a huge fan of any food that involves rich, red winey gravy-like sauce. So it only made sense to turn a saucy mushroom stew like this into an Onion and Mushroom Pot Pie.
What you'll need to make this recipe:
Mushrooms: They are the star of the show, after all
Onions: Because they add the rich sweetness you want in a pie like this
Leek: So underrated, so lovely
Garlic: An especially important ingredient in a meat-free mixture
Olive oil: Just a tablespoon to sweat the veg
Red wine: Because just the smell of red wine cooking away in a pan is a source of great pleasure
Stock: Either a rich, dark veggie stock or mushroom stock is perfect here
Za'atar: One of my favourite Middle Eastern spice blends. If you wanted to take this in a more European direction, you could use rosemary instead.
Salt: For obvious reasons
Soy sauce: A great way to add salt and rich flavour at the same time
Corn starch: The easiest way to thicken, IMO
Butter: Just a dab to add some gloss to the mushroom stew mixture
Biscuit dough: Make your own, or buy some ready-made from your grocery store freezer
Egg wash, milk, or cream: For brushing the biscuit tops (optional)
How to make these Biscuit-Topped Onion and Mushroom Pot Pies
Follow these steps to make these delightful little pies
In a large saute pan over medium heat, sweat the onion and leeks with the salt in the olive oil for 5-7 minutes, until lightly softened.
Add the mushrooms and garlic, and cook, stirring occasionally for 10 minutes or until the mushrooms are quite soft.
Add the red wine and za'atar to the pan, and cook for 1 minute
Add the stock and simmer for 5 minutes
Combine the corn starch with some cold water in a small bowl, and add to the mushroom mixture and stir together. Once the mixture comes back to a bubble, taste for seasoning. Add a splash of soy sauce if needed, remove the pan from the heat and finish by stirring in the butter. 
Portion the mushroom mixture into oven-proof dishes, and top with a round of biscuit dough. 
Brush the biscuit top with milk, cream, or egg wash (optional, but good for shine) and bake at 425 F for 20-25 minutes, or until the biscuit is golden brown and the stew is bubbling over. (I like to place my pie dishes onto a rimmed baking sheet to catch any overflow.)
Success Tips
These tips will help ensure you get the best Onion and Mushroom Pot Pies possible!
When sauteeing your mushrooms, don't be afraid of letting some brown bits form on the bottom of the pan. These will just add to the rich flavour of the pot pies.
Use a low-sodium or salt-free stock, so your pies don't become too salty. I love using mushroom stock here, which is made by pouring boiling water over dried mushrooms and letting them "steep" for 15 minutes or so. You can also chop up the mushrooms and add those in!
When rolling out your biscuit dough, make sure it is still nice and cold when your pies hit the oven. The biscuits will puff much better that way.
What goes well with these Onion and Mushroom Pot Pies?
Even though this pot pie is loaded with veggies, it's still on the rich side, flavour-wise. My best advice is to serve these pot pies alongside a super crunchy green salad. The citrus salad I made in the video is lovely, but any refreshing green salad will do. 
Storage, freezing, and reheating tips
Fully assembled and baked, these Onion and Mushroom Pot Pies will keep well in the fridge for up to 4 days. If you'd like to make them ahead and freeze them, I'd recommend keeping the mushroom mixture and the biscuit topper separate and assembling the pies just before baking.
To reheat from chilled, just bake in the oven at 425 F for 25-30 minutes.
Frequently asked questions
What kind of wine should I use?
Any dry wine, red or white, would work. I like red wine as it adds to the rich, deep colour of the filling.
I want to make the biscuits from scratch. How do I do that?
Sure thing. I don't have a basic biscuit recipe on my site (yet) but here's the one I use.
What is Za'atar?
Za'atar is a spice blend that is used across parts of the Mediterranean and Middle East. Once you start using it, it'll likely quickly become a staple. It's great stuff!
What if I can't find Za'atar?
You can use any spice or herb that you want in these pies. If you don't like za'atar or can't find it where you live, fresh rosemary or thyme are both great alternatives. They'll give the mushroom mixture a bit more of a classic French vibe.
Hungry for more mushrooms?
Try some of my other favourite mushroom recipes:
Biscuit-Topped Onion and Mushroom Pot Pie
These Onion and Mushroom Pot Pies are so rich and satisfying, are totally meat-free and a breeze to make.
Ingredients
1

Tablespoon

olive oil

1

teaspoon

salt

1

large onion

1

large leek

5

cloves

garlic

big ones

500

grams

crimini mushrooms

200

millilitres dry red wine

2

Tablespoons

Za'atar

500

millilitres mushroom stock

1

Tablespoon

corn starch stirred into 100 millilitres cold water

1

Tablespoon

soy sauce

1

Tablespoon

butter

200

grams

biscuit dough

1

teaspoon

egg wash

milk, or cream (optional)
Instructions
In a large saute pan over medium heat, sweat the onion and leeks with the salt in the olive oil for 5-7 minutes, until lightly softened.

Add the mushrooms and garlic, and cook, stirring occasionally for 10 minutes or until the mushrooms are quite soft.

Add the red wine and zaatar to the pan, and cook for 1 minute

Add the stock and simmer for 5 minutes

Combine the corn starch with some cold water in a small bowl, and add to the mushroom mixture and stir together. Once the mixture comes back to a bubble, taste for seasoning. Add a splash of soy sauce if a bit more salt is needed, remove the pan from the heat and finish by stirring in the butter. 

Preheat the oven to 425 F

Roll out the biscuit dough to approximately 1-centimetre thickness, and cut out one round for each pot pie

Portion the mushroom mixture into individual oven-proof dishes, and top with a round of biscuit dough. 

Brush the biscuit top with milk, cream, or egg wash (optional, but good for shine) and bake at 425 F for 20-25 minutes, or until the biscuit is golden brown and the stew is bubbling over. (I like to place my pie dishes onto a rimmed baking sheet to catch any overflow.)
Video
Nutrition
Calories:
232
kcal
Carbohydrates:
25.3
g
Protein:
5.9
g
Fat:
10.2
g
Saturated Fat:
3.5
g
Cholesterol:
8
mg
Sodium:
1026
mg
Fiber:
2.2
g
Sugar:
5.3
g