I Am A Sauce Junkie.
I LOVE sauce. I want all the condiments on the table all the time. I often decide what to make to eat based of its ability to deliver me a particular sauce. One of my favourite dinnertime strategies is to start by making a batch of a sauce or dressing that I LOVE, and figuring out what to make from there. A good sauce can turn any bowl of rice, pasta, or salad into a great dinner. This includes my current obsession, spinach walnut pesto.
A Sauce For Every Mood
I go through phases with my sauce preferences. It depends on my mood, the weather, the season, all kinds of things. Last month I was obsessed with Lemon Tahini dressing. Other times I just want creamy blue cheese on everything. Right now, in this very moment, it's all about my easy spinach walnut pesto.
I put this stuff on everything!
In the past few weeks, this bright green multi-purpose magic sauce has made its way onto things like roast chicken, (dry brined of course) sweet potatoes, french lentils, salads, a delicious pan roast of cubed paneer, fennel and peppers, and an ultimate bagel sandwich that I'll be talking about in the next post (It's so good that I need to work up to it).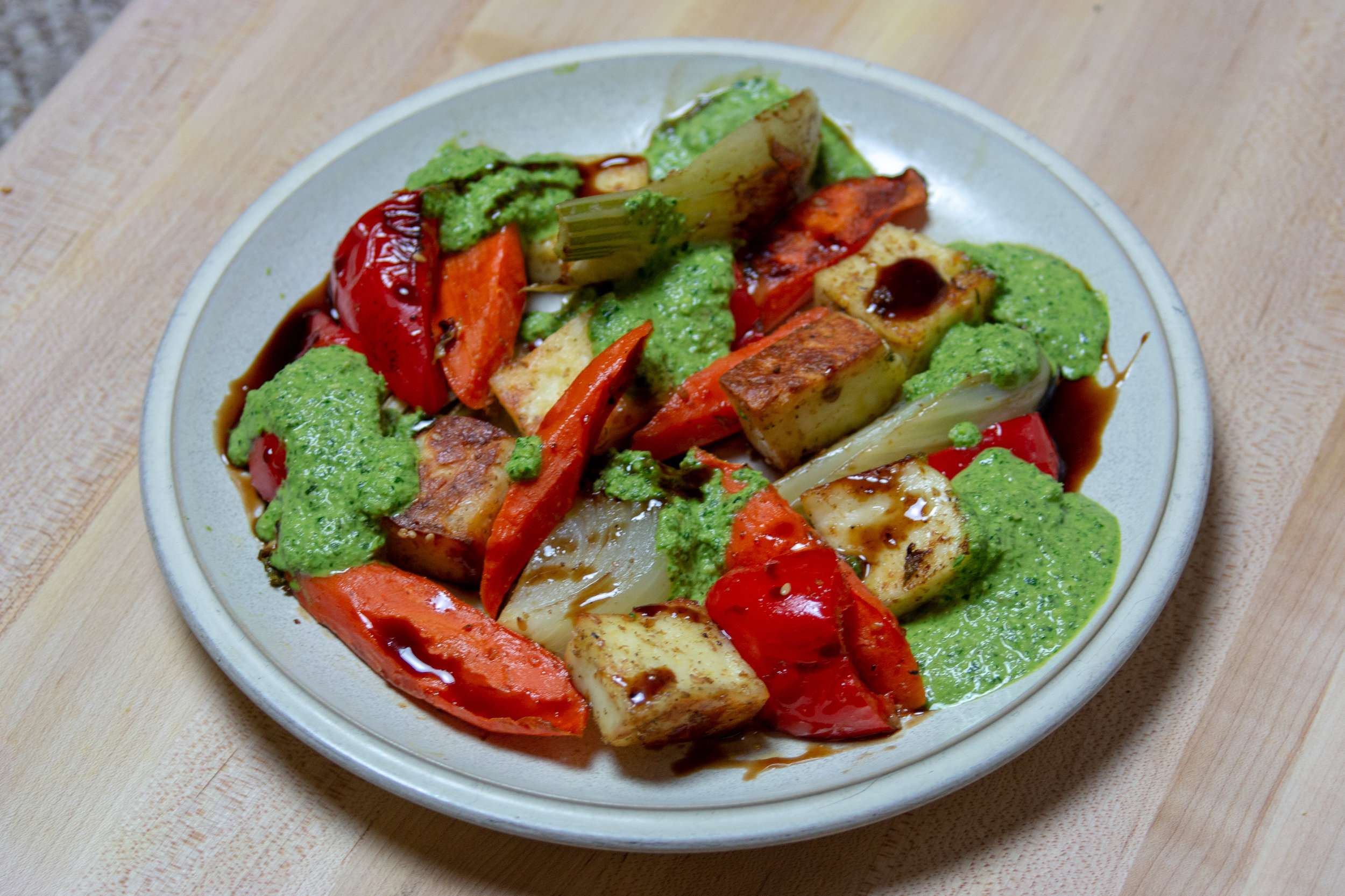 Packed with good stuff
Any pesto is a really nice way to get your greens in too. Pulverizing them with a food processor or mortar and pestle transforms them from a massive pile, into something that will fit nicely in a jar. I can say with some confidence that a spoonful of this spinach walnut pesto has the same amount of green veggies in it than your average side salad. And I don't always feel like eating salad, y'know? Or even better, toss your salad with spinach pesto, like I did with this skillet salad and you've got a delicious greens-on greens-scenario.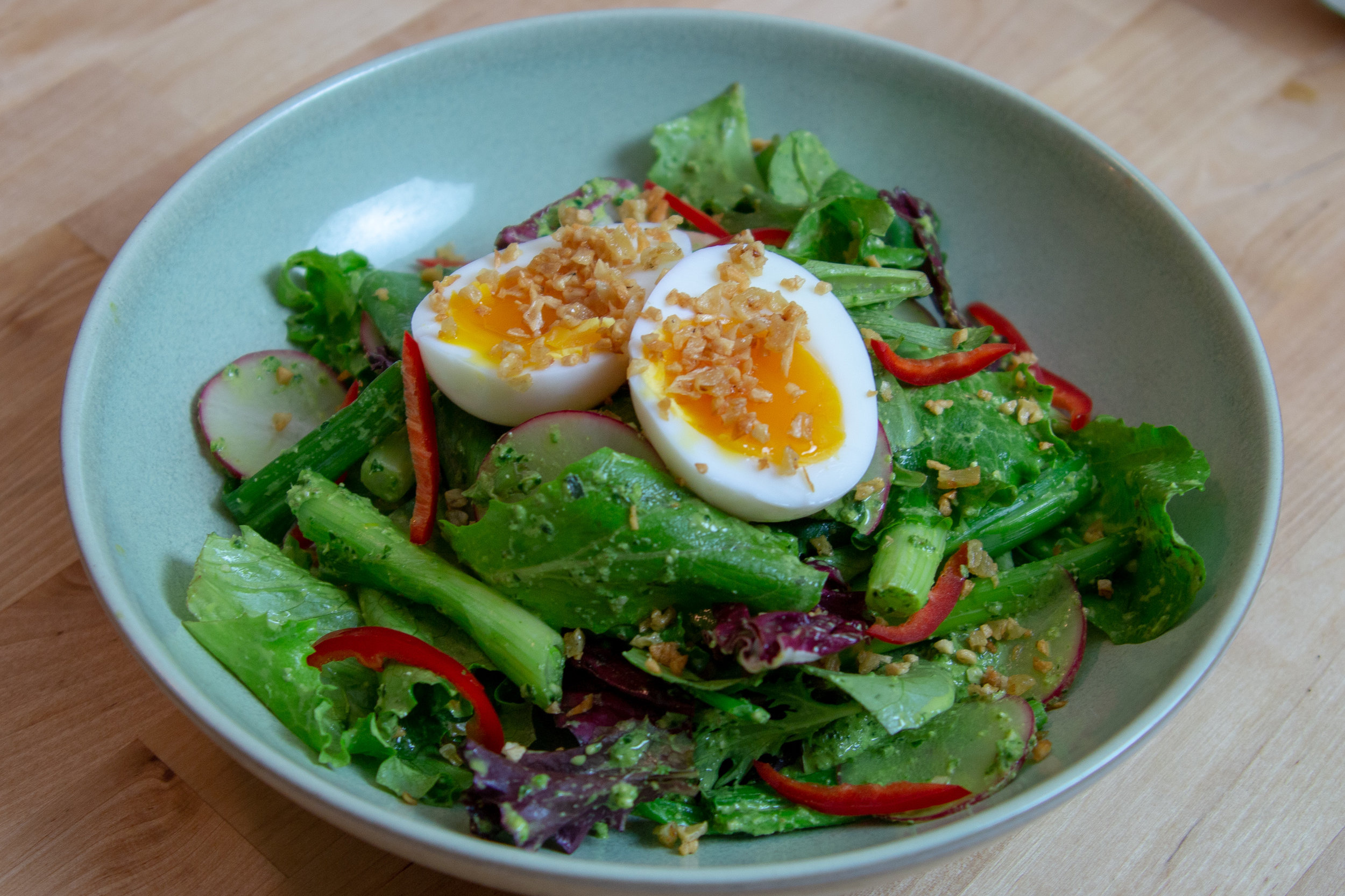 And who can afford pine nuts?
I'm not just talking about basil here. In fact, I rarely make the traditional Genovese-style basil & pine nut pesto. Basil isn't readily available all year round, at least not where I live, and who can afford pine nuts anyway? My various versions of pesto are all over the map. I use basically any nut or seed I have on hand, and any green thing that looks fresh and calls out to me. Nut-wise I tend to go with almonds, walnuts, or pumpkin seeds, and my contenders in the greens department are usually things like parsley, spinach, arugula, or a combination of a few of those.
Pesto doesn't have to be green either. Directly translated, pesto means PASTE, so theoretically it could be made from anything. For example you've probably seen the jar of sun-dried tomato pesto in your travels around the grocery store. It tends to live right next to the green one on the shelf.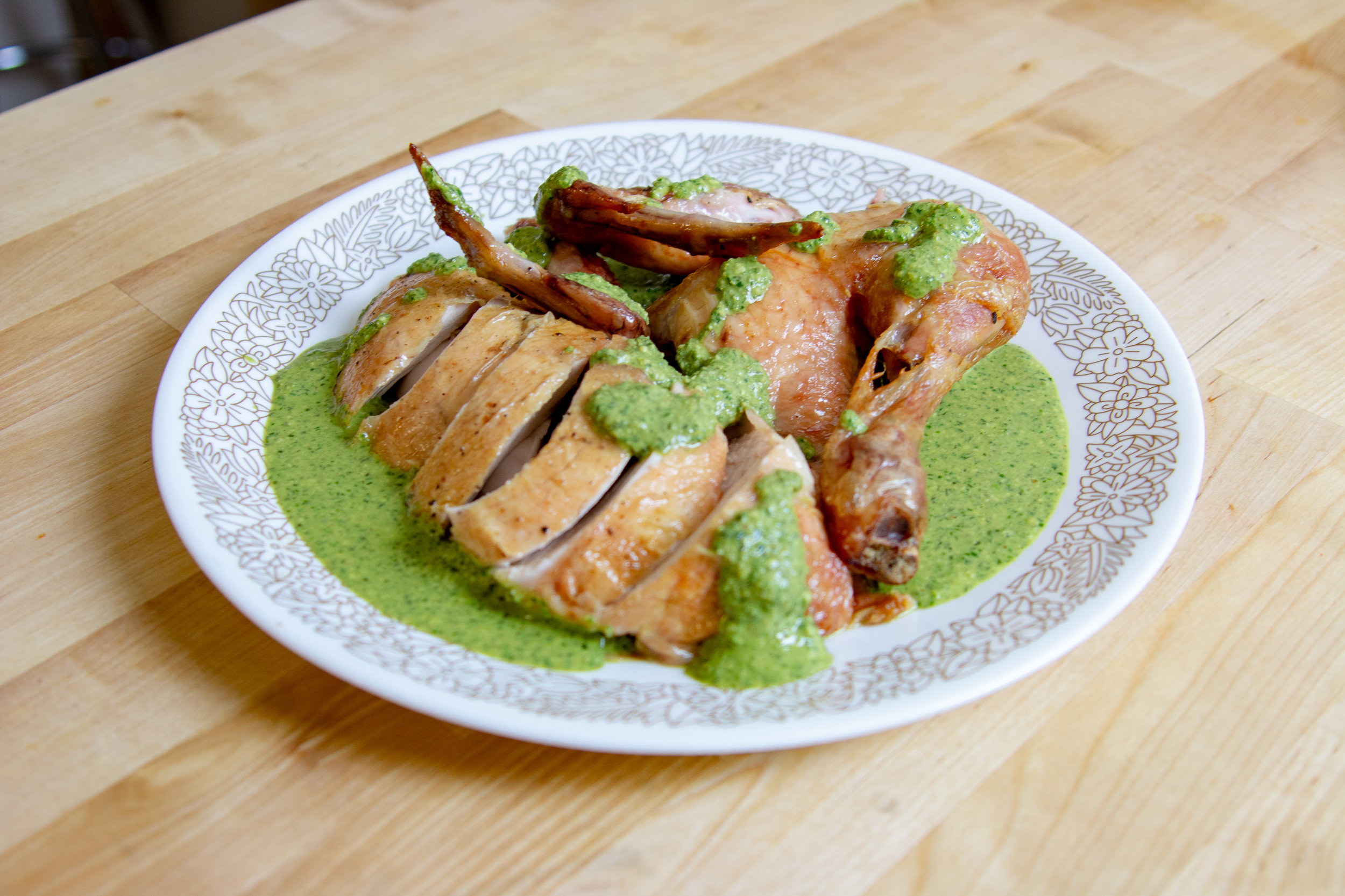 A pesto framework
This basic spinach walnut pesto recipe can also be altered in many ways. If you want to thin it out for a dressing, squeeze in some lemon juice and/or water. If you want it to be cheesy (which pesto usually is) by all means get some Parmesan in there! I wanted to show you the most basic version so you could tweak it to suit your mood, and what you have in your fridge.
Spinach Walnut Pesto
This spinach walnut pesto is amazing when drizzled over just about anything! Walnuts are much cheaper than pinenuts and spinach stays bright green for longer than basil.
Ingredients
100

grams

raw walnuts

150

grams

baby spinach

50

grams

fresh parsley

3

cloves

garlic

100

millilitres

extra virgin olive oil

1

teaspoon

salt
Instructions
Start by grinding the walnuts and the garlic in the food processor until they are coarsely but evenly chopped.

Add the greens and salt, then blend while adding the olive oil in slowly while blending.
Nutrition
Calories:
124
kcal
Carbohydrates:
1.8
g
Protein:
2.5
g
Fat:
12.8
g
Sodium:
206
mg
Potassium:
139
mg
Fiber:
1
g
Sugar:
0.2
g
Calcium:
23
mg
Iron:
1
mg