Why did it take me so long to clue into the wonderfulness of savoury porridge?
I remember the first time I heard about it. It was 2014 and my co-worker walked into the kitchen with a bowl of oats covered in cheese.
I was not into it.
She reasoned with me. "Oats aren't sweet, we just make them that way by putting sweet stuff on them." I listened, and I agreed, but as if my daily blueberry and maple syrup fix was being threatened, I rejected the idea.
Fast forward to 2020 and I'm putting all kinds of savoury salty things in my oats. Veggie stock. Chicken stock. Cheese. Nutritional yeast. KALE for crying out loud.
And I'm loving every bite.
Embracing this new oat reality has opened up a whole world of possibilities. I now have a whole new excuse to fry an egg, another way to use up any veggie scraps from the fridge, and I still get to have my blueberries whenever I choose.
Making savoury oatmeal is a breeze. If you're already an oatmeal maker, you know what to do. But let's walk through the key steps because it's fun.
Choosing your oats
Oatmeal is a highly personal gruel. If you're anything like me, you may have already been through the gamut of oat varieties and come full circle. I grew up on a combination of quick oats (often from a packet with maple and brown sugar flavour) and old fashioned oats. Then I became 'woke' to nutrition and went all in on steel cut for their minimally processed benefits. My move to Scotland in 2013 pulled me away from the chewy wholesome texture of minimally processed oats and turned me into a Scottish oat gal. Scottish oats are milled quite fine, and are reminiscent of quick oats. They cook super fast and your porridge turns out deliciously creamy.
Nowadays, I mix things up – with a strong leaning towards the quicker smoother creamier (highly processed but still good for you) genre.
I whipped up a little oat cooking guide because it's impossible to remember these kinds of things: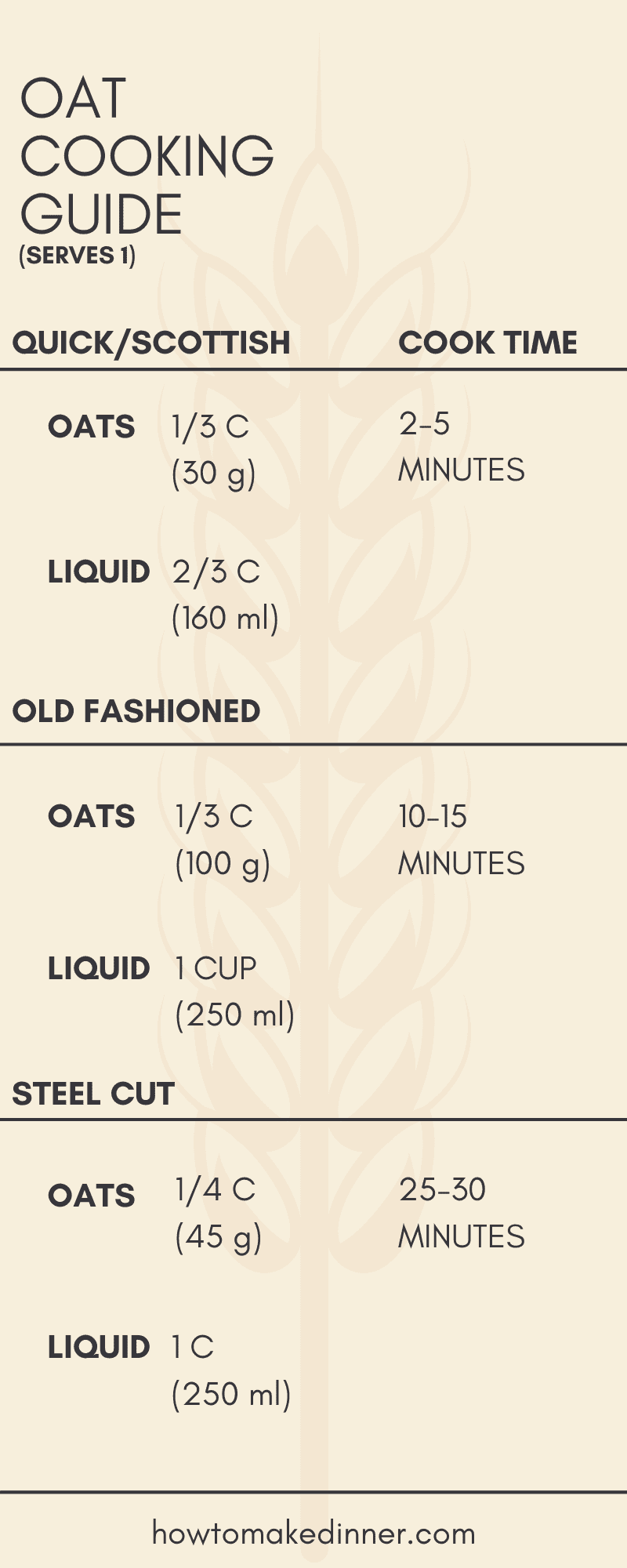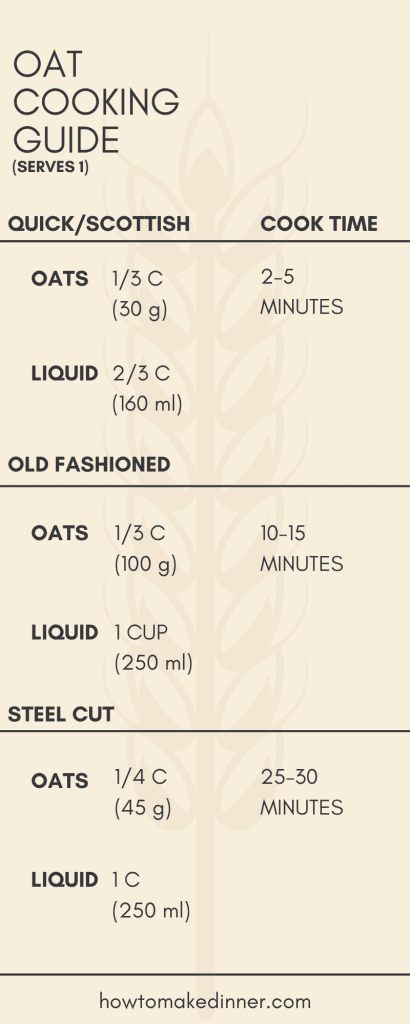 Choosing your liquid
When I'm making sweet porridge, I tend to use a ratio of 1-1-1, water, milk, oats. For some reason, I feel less inclined to use milk for a savoury preparation. Instead, I use either 100% water (always with a good pinch of salt) or a veggie or meat stock. The choice of liquid is yours to make. Just don't accidentally throw in your vanilla flavoured almond milk by mistake.
Choose your cooking method
Although the microwave is a popular oat cooking machine, I tend to prefer the stovetop method, even for quick oats. Cooking oats in a pot on the stove gives you much greater control. It means you can stir and watch and increase or decrease the heat to perfection. The stovetop method also allows you to cook more than one bowl of porridge at a time, ideal for feeding a family.
The stovetop method is easy. Simply heat your oats, liquid, and seasoning in a small pot over medium heat, stirring occasionally until they reach the desired consistency. This can take anywhere from 2-5 minutes.
Bonus tip: If you want your oats to be extra delicious, toast the oats in a little bit of olive oil or butter in the pot before adding your liquid. It brings out a nutty flavour in the oats which is very special.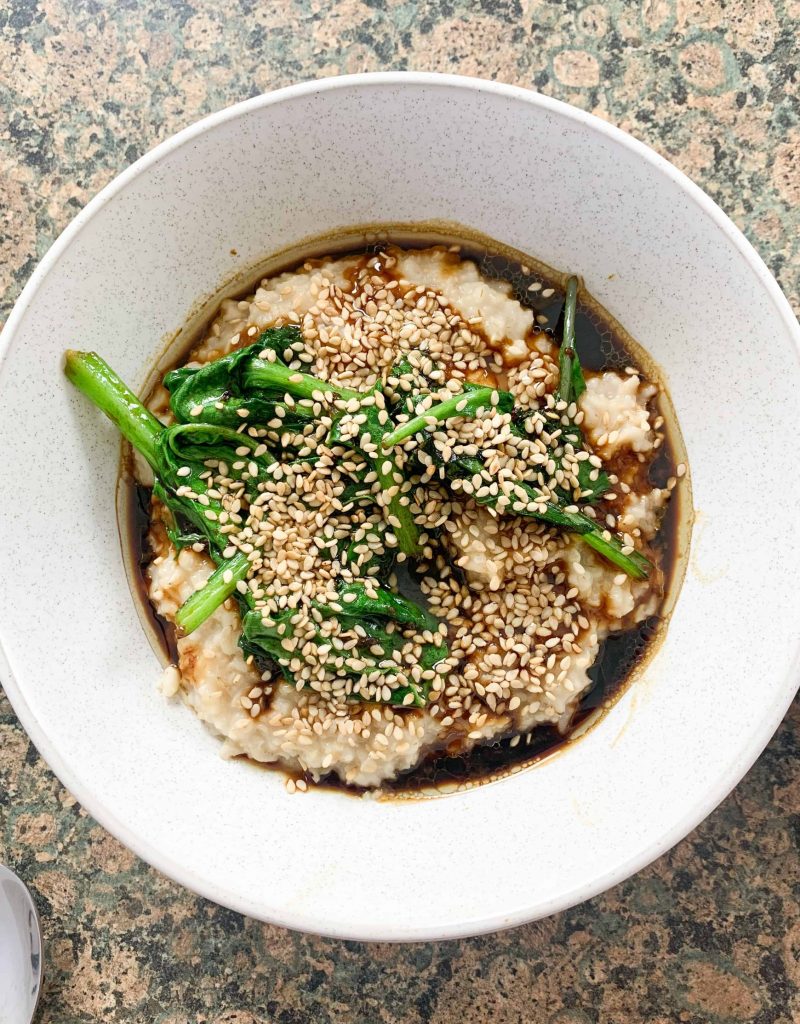 When I'm cooking steel cut oats, I tend to rely on my Instant Pot. A bit of pressure goes a long way to cooking these otherwise slow-cooking oats in a reasonable amount of time.
For you overnight oat lovers – You can make your overnight oats savoury, although I find it to be a little bit less conducive since many of the savoury toppings I desire are best with a bit of heat applied to them. So, I tend to cook my savory oats.
I always use a wooden spoon when stirring my oats because it makes me feel earthy and old school. Wooden spoons are so much more pleasurable to cook with than plastic implements, and, I absolutely can't stand the sound of metal on metal–so that's out.
Choose your toppings
We've arrived at the best part! It's time to open your fridge and your heart to all the wondrous possibilities. Have you ever put it in your pasta? Great. It can probably go in your oats. Have you ever added it to an omelette? Perfect! It's oat-worthy. You get where I'm going here right? Pretty much anything goes. Savoury oatmeal can be as healthy or as greasy as you want. You can double down on meat and cheese, or go big on the veg.
If you're hesitant to enter this brave new land, I'd suggest you start with some of the food items you're accustomed to at breakfast time. Cured pork products, fresh herbs, cheese, spinach, tomatoes, eggs, are all wonderful in your savoury porridge. But if you want to get a bit wild, try adding in some garlicky braised leafy greens, sauteed buttery peas, or even a bit of smoked fish. When considering toppings, a variety of textures is always nice. As with sweet porridge, nuts and seeds are always welcome for a little crunch.
My favourite savoury oatmeal recipes almost always include either a fried egg, a poached egg, or a soft boiled egg (yep, I'm an egg person), a few finely chopped fresh herbs, a sprinkle of sesame seeds or hemp hearts and a bit of salt from soy sauce or miso. Curling up with a savoury oatmeal bowl in front of the TV on a weekend morning is pretty much my idea of paradise.
What is your favourite savoury oatmeal recipe? I'd love to see your combos. Leave a comment here or tag me on Instagram @howtomakedinner with your savory oatmeal creations!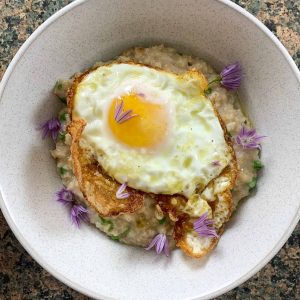 3 Savoury Porridge Ideas
This is my basic quick oats recipe and 3 ideas for savoury porridge combinations to play around with. I encourage you to get creative and use up what's in your fridge, what's in season, and what you feel like eating!
Ingredients
1 1/3

cups

quick oats (120 grams)

2 2/3

cups

liquid (640 ml)

3/4

teaspoon

salt
Savoury Toppings Version 1
1

cup

cooked porridge

1

Tablespoon

grated parmesan cheese

1

Tablespoon

chopped chives or other fresh herbs

1

ea

fried or poached egg
Savoury Toppings Version 2
1

cup

cooked porridge

1

teaspoon

everything bagel seasoning

2

teaspoons

nutritional yeast

1

teaspoon

chili oil or hot sauce of your choice
Savoury Toppings Version 3
1

cup

cooked porridge

1

teaspoon

vegetable oil

1

clove

garlic, minced, crushed, or grated

1

handful

cooking greens

1

teaspoon

soy sauce

1

teaspoon

toasted sesame oil

1

teaspoon

toasted sesame seeds
Instructions
For the Porridge
Combine the oats, liquid, and salt in a pot and bring to a boil.

Reduce the heat to medium and simmer for 2-3 minutes, stirring occasionally until the porridge reaches the desired consistency.
For Savoury Porridge Version 1
Stir the parmesan cheese into the cooked porridge and adjust the consistency with water, stock, or milk as desired.

Top with the egg and sprinkle with chopped chives.
For Savoury Porridge Version 2
Simply sprinkle the everything bagel seasoning and nutritional yeast over your bowl of porridge and drizzle with chilli oil or hot sauce.
For Savoury Porridge Version 3
Heat the vegetable oil in a small frying pan over medium-high heat.

Add the greens and the garlic and sauté until the greens are wilted slightly.

Add the sesame oil and soy sauce to the pan and stir to combine.

Add the saucy greens to your porridge bowl and top with toasted sesame seeds.
Notes
Everything Bagel seasoning is available to purchase in certain grocery stores, but you can also make it yourself by combining sesame seeds, poppyseeds, and dehydrated garlic and onion.
By "cooking greens" I mean any leafy greens that you would like to eat cooked. Things like spinach, Swiss chard, bok choy, and kale are perfect here.
Nutrition