If you've never eaten haggis before—either because you're freaked out by the idea or you choose not to eat meat, Vegetarian Haggis is a great way to get your feet wet. This Vegetarian Haggis recipe is vegan-friendly, gluten-free, and absolutely delightful.
Growing up in Canada, I knew about haggis as a concept. There was a bit of lore around it. Kids would tell their friends about it for the sheer purpose of grossing them out. The description alone made it a hard pass for me and my friends in our suburban Canadian upbringing. But when I moved to Scotland in 2013 to work in a rural farm shop, I was tasked with cooking haggis weekly and realized quickly that haggis is a true staple for most people. I rarely encountered a Scottish person who didn't like it and eat it regularly.
Thus began my journey to haggis-love.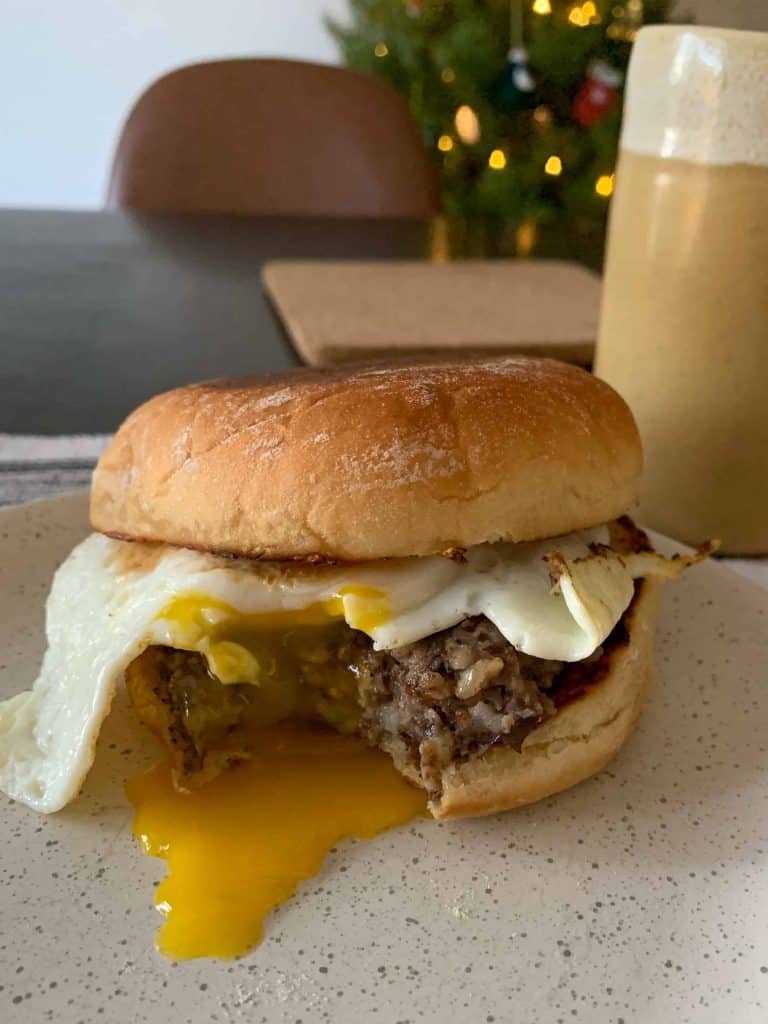 What is Haggis?
*Vegetarians – you might want to skip this part
Haggis is traditionally made by preparing a mixture of oats, minced organ meats, fat, and spices, then stuffing them into a sheep's stomach and boiling it. It's a highly savory, warmly spiced dish, often served with a side of mashed potatoes (tatties) and mashed turnips (neeps), with a creamy whisky sauce drizzled over top. Haggis is the national dish of Scotland, and it's commonly served at Hogmanay (New Years Day), as well as at Burns supper on January 25th (a very lengthy celebration which includes lots of bagpipes, Robert Burns poetry readings, and plenty of food).
Why make a Vegetarian Haggis Recipe?
My reasons for coming up with a great Vegetarian Haggis recipe are three-fold:
Even though Haggis is traditionally animal-based, it lends itself really well to vegan-ification. Instead of oats + organ meat + spices, use oats + beans + spices. It's kind of a no brainer!

Believe it or not, it's not easy to find offal (organ meats) in the regular grocery store or even the butcher shops in many parts of the world. Procuring a can of black beans is generally much easier and cheaper.

Store-bought haggis (vegetarian or otherwise) it's not readily available where I live in Canada. So I like having the option to make it myself.
What you'll need to make Vegetarian Haggis
As far as equipment is concerned, all you need is a couple of pots, a heat-proof bowl, a small wire rack (that fits inside of a large pot) and a food processor.
Vegetarian Haggis Ingredients
Steel-cut oats – Oats are traditional for haggis, but this recipe also works really well with brown rice.
Cooked black beans – These add to the meatiness of the haggis. (I use canned).
Mushrooms – I use crimini or button mushrooms here, nothing fancy.
Water – to cook the mushrooms.
Flax meal – (AKA ground flaxseed) They help to bind the mixture in an egg-like way.
Butter – or plant-based spread (AKA margarine).
Seasonings – Spices and seasonings vary greatly from recipe to recipe, but the most important ones (in my opinion) are salt, pepper, nutmeg, and ground coriander.
How to make Vegetarian Haggis
Making Vegetarian Haggis at home is a project. That being said, there's nothing complicated or difficult about it—it just takes a bit of time and effort.
Cook the steel-cut oats (or brown rice, whichever you're using) and allow it to cool.

Slice the mushrooms and add them to a medium-sized pot with 1 litre of water, 1-2 bay leaves and 5-6 peppercorns. Bring to a boil then reduce to a simmer and cook for 15 minutes.

Drain and rinse the black beans.

Add the black beans Into the bowl of a food processor and pulse until the beans are coarsely ground. If you're using brown rice, you can grind that up slightly with the beans, but if you're using steel-cut oats there is no need to grind them as they are already cut. Transfer the beans (and rice, if used) to a mixing bowl.

Remove the mushrooms from the water (now mushroom broth) and place them into the bowl of the food processor. Add the butter, flax meal, and a bit of the stock, and grind until the mixture is somewhat smooth. Transfer the mushroom mixture to the bowl with the bean mixture.



Add the spices to the haggis mixture and mix with a rubber spatula until very well combined.


Transfer the haggis mixture to a heat-proof bowl or casserole dish, cover tightly with a lid or wrap tightly with saran wrap and tinfoil and place into a large pot fitted with a wire rack. Add 2 inches of water to the pot. The water should come up to the bottom of the bowl, but the bowl shouldn't be submerged in the water. This will create a nice steaming environment for the haggis.

Turn the heat on high until the water comes to a boil, then reduce the heat to low and simmer for 2 hours.
Success Tips
These tips for success will ensure your Vegetarian Haggis is as delicious as possible:
Be careful not to grind the onions and beans too finely. You need those bits for texture!
Use the method outlined in the recipe for cooking the oats. It's a bit less liquid than you'd use for porridge, since we don't want the haggis to be too soft.
When frying the haggis to use in sandwiches, lean towards the crispy side. Haggis is sooo good with crispy bits.
Try to use coarsely ground black pepper if possible.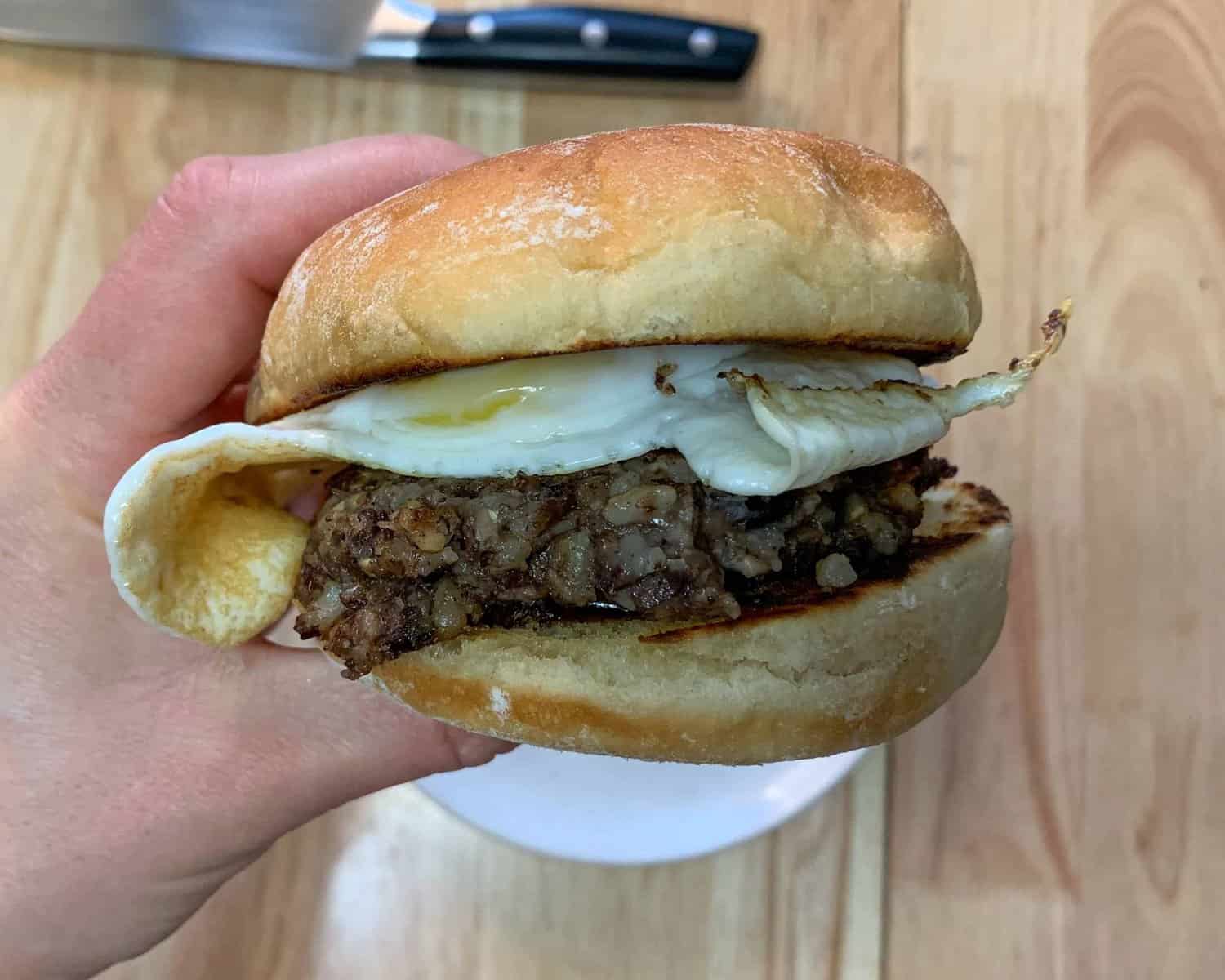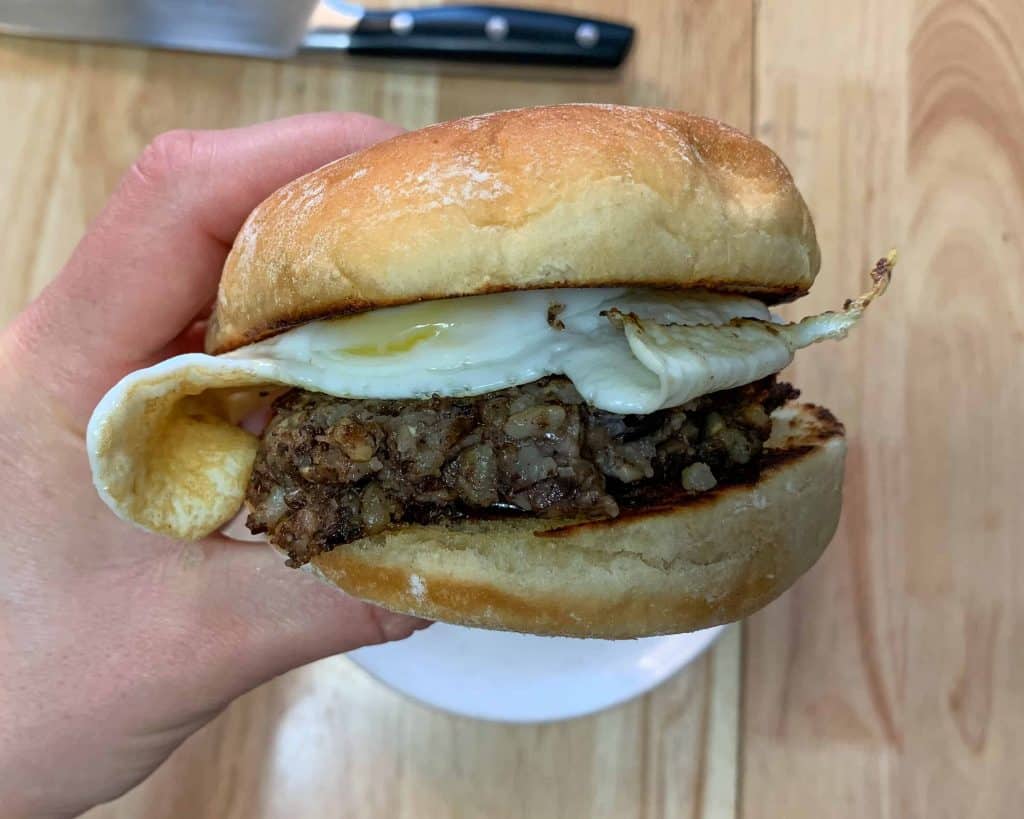 What goes well with this Vegetarian Haggis?
I love eating this Vegetarian Haggis in a few ways:
Serve a big scoop next to mashed potatoes and mashed turnips with whisky sauce
Fry a slice in a frying pan and add it to a fried egg sandwich (on a fluffy white roll of course)
Add to some cooked peas and diced carrots and top with mashed potatoes for a spin on shepherd's pie
Storage, Freezing, and Reheating Tips
This vegetarian haggis keeps really well, which is handy if you want to make a larger batch.
When storing and reheating any food, it's important that you keep it out of the danger zone. That means cooling it down to fridge temperature (4 degrees C) as quickly as possible after cooking it. The best way to do cool things quickly is to remove them from the heat source right away, transfer them out of the hot pot or pan, and ensure heat can escape easily by placing them on a wire rack. Once the item is cool to room temperature, get it into the fridge.
You can store this Vegetarian Haggis in the refrigerator for up to 5 days, or in the freezer for up to 1 month.
To reheat from frozen, allow the Vegetarian Haggis to defrost in the fridge overnight, then reheat using the double boiler method until the internal temperature is 170. Or, slice the cold Vegetarian Haggis into slices, and fry in a frying pan until warmed through and crispy.
Do not reheat more than once.
Frequently asked questions
Does it have to be black beans? Or can I use another type of bean?
You can definitely use any cooked bean here. Kidney beans would probably work really well. I like black beans because of the colour.
Do I have to use steel-cut oats? Or can I use rolled oats for this?
I haven't tried making this with rolled oats but my hunch is that the texture would be a bit too mushy. I like using steel-cut oats or brown rice as it offers a nice chewy texture to the haggis.
Still hungry?
If you're into this Vegetarian Haggis recipe, here are a few other hearty vegetarian recipes you might like: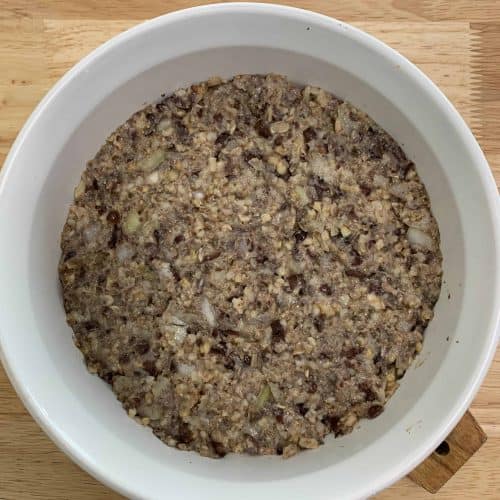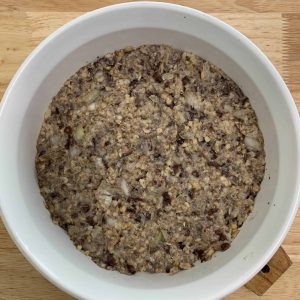 Ultimate Vegetarian Haggis Recipe
This Vegetarian Haggis recipe tastes just like the real thing. It's 100% vegan, it can be easily made gluten-free, and super easy to make.
Ingredients
1

cup

cooked steel cut oats (pinhead oats) or brown rice

1

medium onion

1

cup

cooked black beans

200

grams

button or crimini mushrooms

.5-1.5

teaspoons

fresh ground black pepper (see recipe notes)

1.5

teaspoons

salt

1

teaspoon

ground coriander

.5

teaspoon

ground nutmeg

2

tablespoons

ground flaxseed (flax meal)

2

tablespoons

butter or plant based spread

3

tablespoons

mushroom or vegetable broth
Instructions
Cooking the oats
Measure 1/2 cup steel cut oats, rinse well, and drain

Add the oats to a small pot with 1 cup of cold water to the oats and 1/2 teaspoon of salt, and bring to a boil

Reduce the heat to medium-low, stir a couple of times with a fork, then put the lid on and cook the oats for 20 minutes or until all the liquid is absorbed

Allow the oats to cool before making the haggis
Making the Haggis
Slice the mushrooms and add them to a medium-sized pot with 2 cups of water. Bring to a boil, then simmer for 20 minutes until the mushrooms are tender. Set aside.

Grab a medium-sized bowl, and add 1 cup of the cooked, cooled oats

Peel and roughly chop an onion, chop it finely in a food processor, then add the onion to the bowl with the oats

Add the black beans to the food processor, grind coarsely, and add to the bowl with the oats and onions.

Squeeze the water out of the mushrooms then add the mushrooms to the food processor along with the ground flaxseed, the butter or margarine, and 2 tablespoons of the mushroom broth. Pour the mushroom mixture into the bowl with the other ingredients

Add the spices and seasonings to the mixture and combine thoroughly.

Transfer the haggis mixture to a heatproof bowl and wrap tightly with saran wrap and tinfoil.

Place a rack inside of a large pot, place the haggis on the rack, and fill the pot with 1-2 inches of water. Place the pot on the stove with the lid on on high heat until the water boils. Reduce the heat to a low simmer and cook the haggis in the steamy simmering environment for 2 hours.

Enjoy the haggis piping hot right away, or chill in the fridge to firm up the haggis so it can be sliced, formed into patties, and fried until crispy for breakfast sandwiches. YUM.
Video
Notes
This recipe is uses coarsely ground, fresh black pepper, and I find 1.5 teaspoons to be just right. However, if you're using the powdery pre-ground black pepper, you will probably need much less, as the finer it is ground, the stronger the flavour. The safest bet is to start with 1/2 teaspoon of pepper and taste the mixture before adding more. (Let me know your experience with the pepper levels in the recipe so I can keep other readers in the loop!)
You will likely end up with slightly more cooked oats than you need. Put them into a little container and heat them up for breakfast the next morning 😉
Nutrition
Calories:
137
kcal
Carbohydrates:
19.7
g
Protein:
6.9
g
Fat:
4
g
Saturated Fat:
1.1
g
Sodium:
471
mg
Potassium:
465
mg
Fiber:
5.1
g
Sugar:
1.6
g
Calcium:
38
mg
Iron:
2
mg