Gnocchi is so comforting and delicious. While many people think that making gnocchi from scratch is a time-consuming and difficult process, it can actually be pretty easy to make—especially if you have leftover mashed potatoes on hand. Plus, you can freeze gnocchi easily so it's a perfect make-ahead food. Here's the lowdown on how to make gnocchi.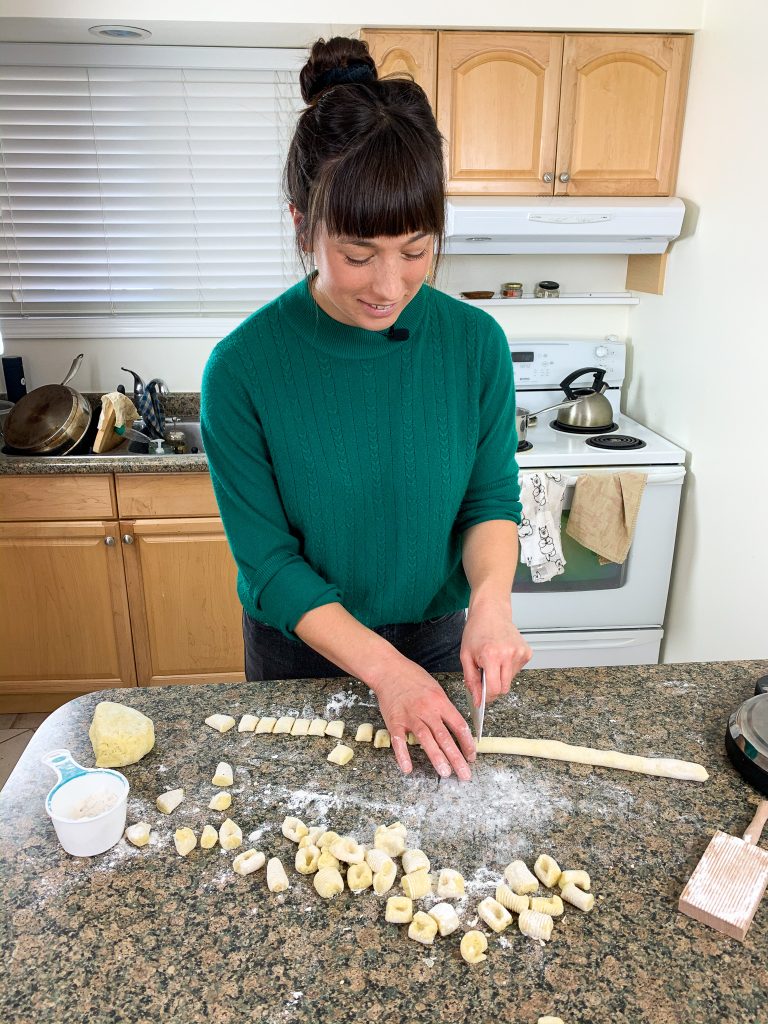 Gnocchi ingredients
Potatoes: You can use russet or Yukon gold potatoes for gnocchi. These varieties have a lower water content and a higher starch content, which is great for creating light and fluffy gnocchi. You can also use other vegetables as a base for gnocchi—like sweet potatoes, squash, cauliflower, or parsnips—but those will require you to use more flour as they have a much higher water content than potatoes do.
Flour: You will need all-purpose flour to bind the potato mixture together and create the dough.
Egg: Adding an egg to the dough is somewhat optional, but it helps bind the ingredients together and create a more cohesive texture.
How to make gnocchi
Classic potato gnocchi is super easy to make. Here are the steps:
1. Add an egg and some flour to cooled mashed potatoes, mix it together to form a dough (be careful not to overmix), and then cut little pillows out of the dough. You can do this by rolling the dough into a thin log and cutting the log into little sections, or you can roll the dough out to about 1/2 inch thickness and cut it into squares.
2. If you prefer your gnocchi to have little ridges, you can take the optional step of rolling each pillow over the back of a fork or on a gnocchi board to create a ridged texture. I like adding the ridges (when I have the energy) because the ridges add a bit more surface area which helps the sauce cling to the gnocchi. A third way to add a bit of interest to the shape of your gnocchi is to make a little indentation with your thumb. This creates a little place for sauce to get trapped, and it only takes a few seconds to dent the whole batch!
3. Once the gnocchi is shaped into little pillows (ridged or not), they just need to be cooked in boiling water until they float to the top, which takes about 2-3 minutes.
4. Serve the finished gnocchi with your favourite sauce. (I list a few good options further down. 👇)
One of the best things about making gnocchi with leftover mashed potatoes is that it is a great way to use up leftovers and reduce food waste. Plus, making your own gnocchi means you can customize the flavours and experiment with different sauces and toppings.
Can you freeze gnocchi?
Yes, you can freeze gnocchi! Freezing gnocchi is a great way to preserve leftovers, so it's a good idea to make a big batch in advance for future dinners. Here's how to freeze gnocchi:
Shape the gnocchi: Roll the gnocchi as usual, adding ridges if you prefer.
Spread the gnocchi out: Spread the gnocchi out in a single layer on a baking sheet or tray. Make sure the gnocchi aren't touching each other, otherwise they will stick together.
Freeze the gnocchi: Place the baking sheet or tray of gnocchi in the freezer and allow them to freeze completely. This should take around 1-2 hours.
Transfer the gnocchi to a freezer bag: Once the gnocchi are frozen, transfer them to a freezer-safe bag or container. Make sure to label the bag with the date and type of gnocchi.
Store the gnocchi in the freezer: Store the gnocchi in the freezer for up to 3 months.
To cook frozen gnocchi, simply add them directly to boiling water and cook for 2-3 minutes until they float to the top. Drain the gnocchi and serve with your desired sauce or toppings. It's important not to thaw the gnocchi before cooking them, as this can cause them to become mushy.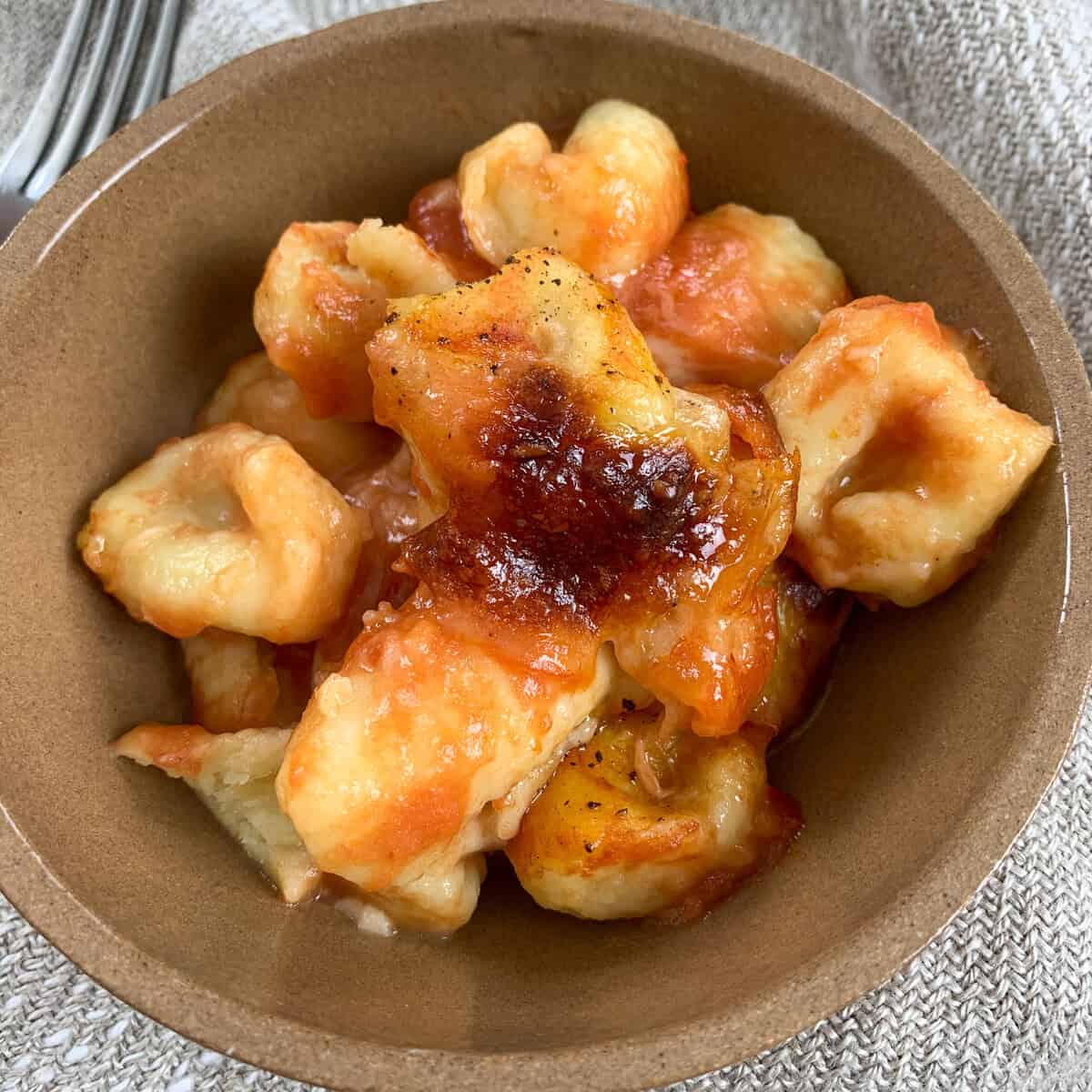 Tips for making really good gnocchi
Use the right type of potatoes: The best potatoes for making gnocchi are starchy potatoes, such as russet or Yukon gold potatoes. These potatoes have a lower water content and a higher starch content, which helps to create a lighter and fluffier texture in the gnocchi.
Don't overwork the dough: When making gnocchi dough, it's important not to overwork it. Overworking the dough can make the gnocchi tough and chewy. Mix the ingredients together just until the dough comes together, and then stop mixing! You're not kneading bread here.
Be gentle: When shaping the gnocchi, use a light hand and don't press too hard. The goal is to create a light and fluffy texture, so you want to be gentle with the dough.
Ridges help: Using a fork or gnocchi board to create ridges on the surface of the gnocchi helps the sauce cling to the pasta.
Don't overcrowd the pot: When cooking the gnocchi, don't overcrowd the pot. Cook the gnocchi in small batches to prevent them from sticking together.
Season the water: Add salt to the water when boiling the gnocchi. This will help to flavour the pasta and make it taste infinitely better.
Serve immediately: Gnocchi is best served immediately after cooking. If you need to hold it for a short period of time, toss it in a bit of olive oil to prevent it from sticking together.
What goes well with gnocchi?
Gnocchi is super versatile and pairs well with a plethora of sauces and ingredients. Here are some ideas for what to serve with gnocchi:
Tomato sauce: A classic tomato sauce is a simple and delicious pairing for gnocchi. You can use a homemade tomato sauce or a store-bought version.
Pesto: A basil pesto or a pesto made with other herbs, such as parsley or cilantro, is a flavorful option for serving with gnocchi.
Brown butter and sage: This is a classic sauce that pairs well with gnocchi. The nutty flavour of brown butter is such a nice addition, and the earthy flavour of sage is so cozy.
Cream sauce: A cream sauce made with heavy cream, parmesan cheese, and garlic is a rich and indulgent option for serving with gnocchi. Alternatively, you can use a creamy vegan sauce like this one from A Virtual Vegan.
Roasted vegetables: Roasted vegetables, such as cherry tomatoes, zucchini, and bell peppers, are a colorful and healthy option to serve with gnocchi.
Meat sauce: If you prefer a heartier sauce, a meat sauce made with ground beef or Italian sausage is a tasty option for serving with gnocchi.
Salad: A simple salad with mixed greens, cherry tomatoes, and a vinaigrette dressing is a refreshing complement to a rich and indulgent gnocchi dish.
These are just a few ideas for what to serve with gnocchi. Get creative and experiment with different sauces and ingredients to find your favourite combination!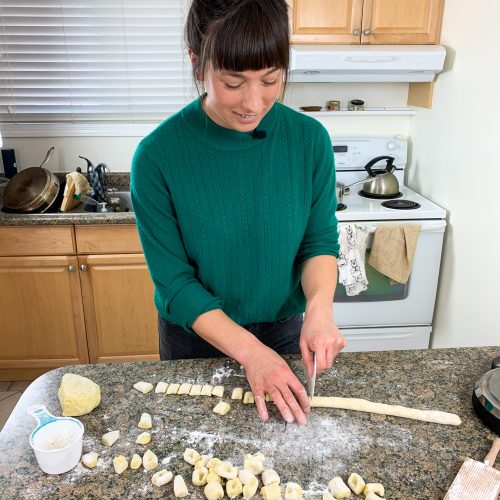 Basic Potato Gnocchi
This basic potato gnocchi is easy to make, easy to freeze, and of course, delightful to eat.
Equipment
large pot

1 mixing bowl

1 fork or gnocchi board

optional
Ingredients
500

grams

cooled, mashed potatoes

120

grams

all-purpose flour

plus more for rolling

1

egg
Instructions
Add the cooled mashed potatoes to a mixing bowl.

Add the egg to the mashed potatoes and mix well.

Add the flour to the egg and mashed potatoes and mix until a dough forms.

Dump the dough onto a floured countertop and knead only enough to form a smooth dough. Do not overmix!

Roll the dough into a log about 1/2 inch in diameter, or roll the dough out into a large circle of the same thickness.

Cut the dough into little pillows. Optionally: Roll the pillows over the back of a fork or a gnocchi board to add ridges to the gnocchi.

Boil the gnocchi in boiling salted water for 2-3 minutes or until they float to the top. OR, freeze the gnocchi using the instructions below.
To freeze gnocchi for later:
After shaping the gnocchi, spread them out evenly on a baking sheet and place in the freezer until they are fully frozen—about 1-2 hours.

When the gnocchi is firmly frozen, transfer them to a freezer bag or container to store until you are ready to eat.

To prepare frozen gnocchi, simply remove them from the freezer and cook, from frozen, by boiling them in boiling salted water for 2-3 minutes or until they float to the top. Serve however you'd like!
Video
Nutrition
Calories:
211
kcal
Carbohydrates:
42.6
g
Protein:
6.6
g
Fat:
1.5
g
Saturated Fat:
0.4
g
Cholesterol:
41
mg
Sodium:
24
mg
Potassium:
556
mg
Fiber:
3.8
g
Sugar:
1.6
g
Calcium:
22
mg
Iron:
2
mg