Every comment section of every cooking video on YouTube has messages that start this way. "I'd love to try this recipe but I'm allergic to…." or "This looks fantastic – how to I modify it to be vegetarian/vegan/dairy-free/wheat-free" etc. Pretty impossible for content creators to create and test every imaginable variation of a recipe.
And I sympathize! Personally, I can't eat peppers, and the other person I cook for (who shall be nameless but…is Paula's dad) doesn't eat wheat and abhors onions with a fairly unbridled passion. So, pretty much every "How to Make Dinner" episode has me doing mental gymnastics wondering how I can take the recipe and make it work for us.
Successful Switch-outs
The Mushroom and Walnut Burger was a great opportunity to try some switches. I've been making a chickpea veggie burger a lot recently as they are perfect to make in batches, toss in the freezer and pull out as needed for quick and easy lunches or even dinners.
We get around the "ewww, onions!" factor with dehydrated onion flakes. And once I went there, I chose garlic powder as well—since they are both things I always have on hand.
I switched out the bread crumbs for large flake quick oats and while we're at it, tried using a flax egg. A big plus for the flax egg is that it makes everything in the burger fully pre-cooked, so I didn't have to worry about undercooking the patty.
And wow – I was seriously impressed with this burger! Full of flavour with a nice texture that held together and wasn't mushy.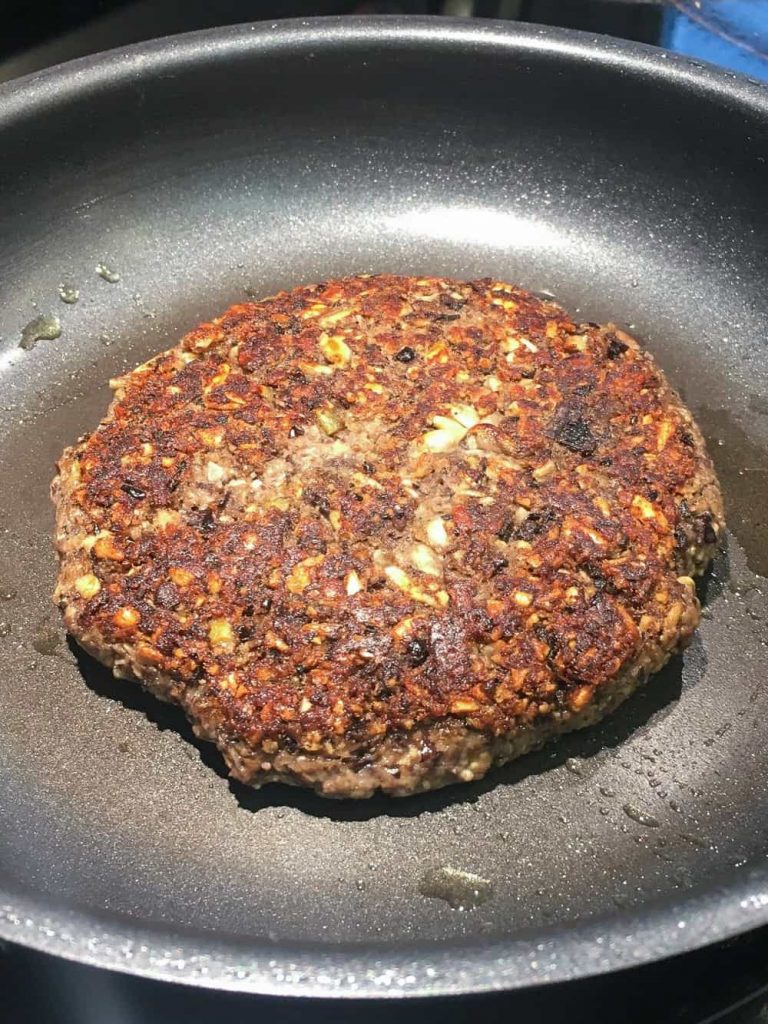 But, why stop there?
What about those nut allergies? And how to cut the cost? Can I do it without having to cook anything and just toss all the ingredients into the food processor? I made the final iteration of this burger with the modifications above, plus a sunflower and pumpkin seed combo to replace the nuts and canned mushrooms.
And it was still a darn good veggie burger! Throw some pickles on mine and some aged cheddar and bacon on Dad's and we're happy.
Modifications:
Replace the onion with 1 – 2 Tablespoons dehydrated onion flakes
Replace the garlic with 2 teaspoons garlic powder or granulated garlic
Replace the bread crumbs with 100 g. large flake, quick-cooking oatmeal
Replace the egg with a flax egg. One tablespoon ground flax plus 2 tablespoons warm water
Replace the walnuts with 80 g pumpkin and sunflower seed mix
Replace the sautéed mushrooms with 195 g. canned, sliced mushrooms (about 1 ½ can)
Thanks mom!